DeKALB – Like many women over the past 50 years, Kanjana Thepboriruk of DeKalb said she made a personal choice when she decided to terminate a pregnancy.
It's a choice that many now will have made for them, after the U.S. Supreme Court on Friday struck down Roe v. Wade, which legalized abortion under the U.S. Constitution nationwide in 1973.
With the court ruling, hinted at May 3 after Politico reported on leaked draft documents of the opinion, states now are able to take individual action to protect or abolish the procedure under state laws.
Sweeping "trigger" laws went into effect in many states Friday, largely banning abortion or taking steps to limit access, including in neighboring Missouri, Kentucky and Indiana.
"It is very heavy in my heart," Thepboriruk, 42, said Friday of the ruling, which overturned almost 50 years of precedent that protected the procedure across all states. "Because as a woman who has terminated a pregnancy by choice and was given that choice ... I had my reasons. The women who choose to do it also have their reasons."
Thepboriruk recalled the gravity of the decision. She said she and her partner discussed the procedure a lot before making a joint decision, although she felt in the end it was her choice.
"It wasn't an easy decision for me, and I think about it all the time," Thepboriruk said. "I mean, I don't regret it, and it was the best decision for me at the time, but to imagine that that wouldn't have been an option when I needed it ..."
In Illinois, abortion – which once was subject to jail time – is, and will remain, legal across the state, where it's also in some cases publicly funded. Under the Reproductive Health Act passed in 2019, access to reproductive health care, including abortions, is protected under state law. Lawmakers appealed the 1995 Parental Notice of Abortion Act last year. The law required doctors to give parents a 48-hour notice before their underage child underwent an abortion.
Gov. JB Pritzker on Friday said he would call the General Assembly into a special session to bolster existing protections.
Kate Decker, 43, of DeKalb said she has mixed feelings on the ruling, and that she believes state law should decide more than federal policy.
"I hope that it doesn't make it harder for people to get the care that they need in the states that they live in," Decker said. "I can understand that someone living in some place like Texas, they're kind of completely surrounded by anti-abortion rhetoric. So it's very hard for them to get any kind of care that they need, not just abortion care."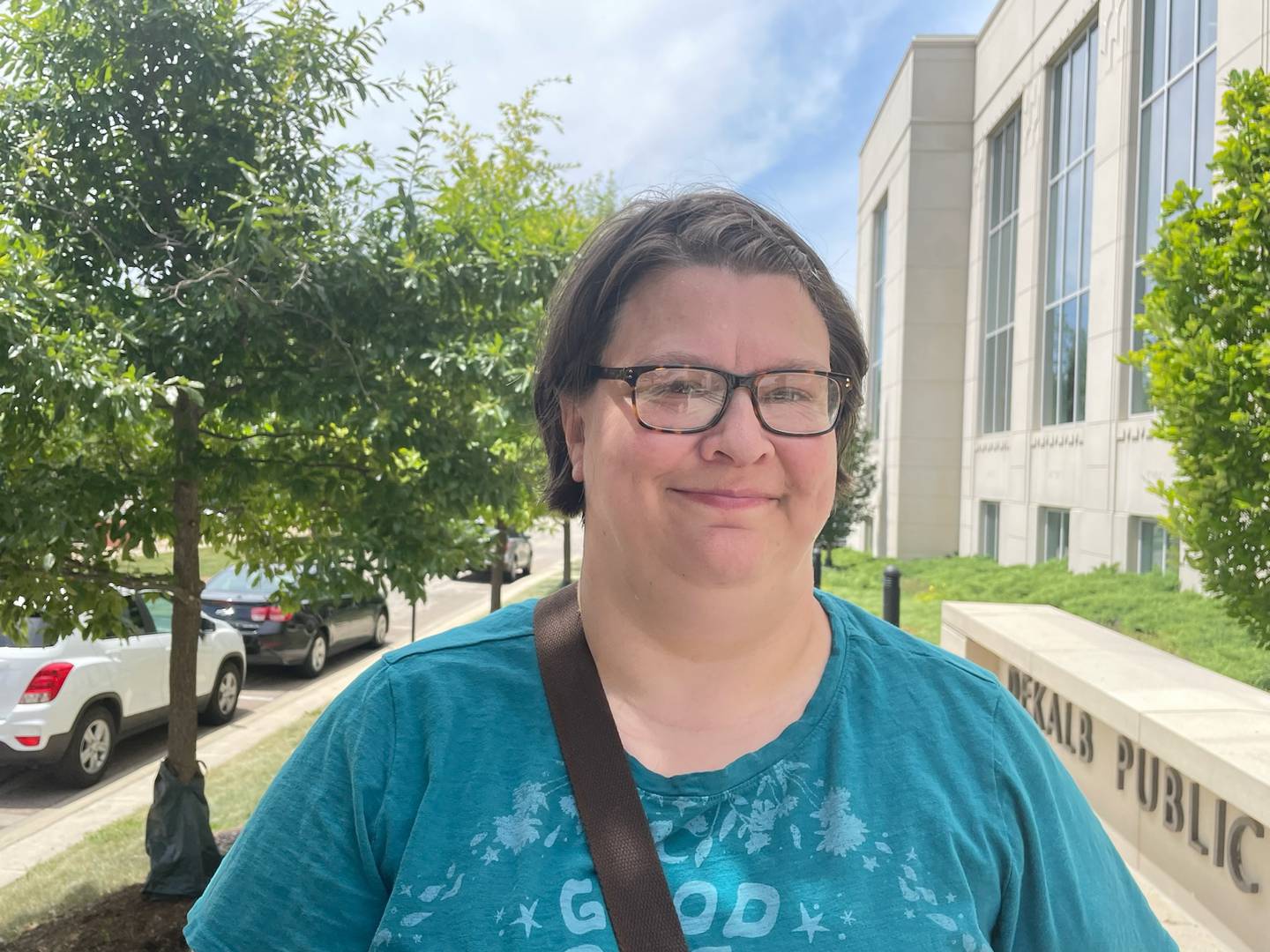 Thepboriruk said she wants to de-stigmatize abortion and show people it's not a decision taken lightly. With it often comes long waits in health offices, deliberation and what can be a deeply personal toll.
"The process is not impulsive," Thepboriruk said. "I think the way that it's being portrayed for people who have gone through it or know anyone who openly talks to them about it, they don't realize the process that it is emotionally. Depending on which method you choose to terminate your pregnancy, there's health repercussions that come afterwards."
It's taken Thepboriruk time to be able to speak on her experience, and she said she hopes that others see her as a safe place to share questions.
"For a long time, I didn't talk about it because so many of my friends wanted to get pregnant and had fertility issues," Thepboriruk said. "It seemed cruel to talk about it with them. And, also, I didn't have the words to talk about it. And now in my 40s, as a professor, as a teacher, as an educator, I want to de-stigmatize all of the things I grew up as a young woman not talking about because it was shameful to normalize it."
Locals react to Supreme Court ruling
Supporters of the Supreme Court's ruling Friday issued statements that heralded the ruling as a step in the right direction for anti-abortion policy. Opponents harshly condemned the court, with many expressing fears that the ruling could create a precedent for other laws.
"I'm concerned with the lack of women's health services in general because I do see it as women's rights issue," said Mary Gawrys of DeKalb, adding that she's against the ruling and supports a woman's right to an abortion. "I think it's also opening up some other civil rights that a lot of people have that might become overturned."
In a statement, the Rev. David Malloy, a bishop of the Catholic Diocese of Rockford, said the Catholic church had long sought to overturn Roe v. Wade, and called the decision "a moment for profound reflection for our nation."
"Today's decision by the Supreme Court does not end our national debate about protection for the right to life of the preborn," Malloy said in a statement. "By overturning Roe v. Wade, the Supreme Court has recognized the flawed legal reasoning that removed that discussion from the legislative bodies elected by the voters."
Mary Rita Nelson, president of the League of Women's Voters of DeKalb County, a nonpartisan organization that advocates to expand voting rights, said she wasn't shocked by Friday's ruling, although she had remained hopeful it might not happen.
She said she believes abortion should be offered to everyone, regardless of which state they call home.
"My thought is that this is going to mean that some people are going to try to go some place unsafe and have an abortion, or try to do it themselves, or it is going to become financially unavailable to some people," Nelson said. "The whole thing is still a shock."
She said the ruling shook her faith in the Supreme Court.
Northern Illinois University associate professor Dr. Kathryn Cady, whose specialties include feminist theory and critical and cultural studies, said Roe v. Wade wasn't just about abortion rights in 1973. It coincided with a societal evolution that saw women's status shift in the home and workplace.
"When Roe v. Wade was upheld in a 7-2 decision, women's position in the labor force, their earning power, their ability to have a career and to be breadwinners, it has really kind of incredibly expanded in the last 50 years," Cady said. "That is not entirely because of the right to have an abortion, but that certainly plays a role."
With women's roles and responsibilities expanding outside of the home, legalized abortion also meant greater access to reproductive health care for women from varying demographic and socioeconomic backgrounds, Cady said.
"Restrictions on women's rights to abortion disproportionately harm women with more limited financial means," said Cady, who added that she personally believes it's a woman's right to have an abortion.
"This is not going to stop abortion," Cady said of the court's ruling. "It will just be worse on women's health and worse on women's economic standing."
Those seeking the procedure may have to travel farther at more expense to obtain a safe and legal abortion, Cady said.
"Women being able to plan their families the way that they think works best for them just leads to more financial opportunity and better life outcomes," Cady said.
Colleen Bredeson, 53, of DeKalb said she grew up Catholic and was taught in her family that abortion wasn't right. She said she understands women's voices have evolved over time.
"But then as I got older and got a broader view on things, [I] talked with more people [and] my opinion changed," Bredeson said. "I decided it's not as simple a decision as maybe they make it out … to be. ... I just think, rightfully so, women are more empowered and people of different races are more empowered. It just seems like it's just going back to the typical middle class white man having the control."
Bredenson's 23-year-old daughter, Molly Bredeson, said the ruling makes her worry about what else could happen next, or if other Supreme Court decisions could be overturned in 2022.
"I think it's scary," Molly Bredeson said. "As a young woman who hasn't had kids yet, I don't think it's as simple as 'I just don't want that pregnancy.' Sometimes you get in a situation where you can't have that pregnancy, like an ectopic pregnancy. Those have to be cared for sometimes with an abortion,and if you don't get that abortion, you have serious health risks and people can die from it. I just think that's really terrifying."
For Thepboriruk, the road ahead looks clear.
"Despite all of this, I'm still an optimist," Thepboriruk said. "I think that if nothing else, the Supreme Court represents the legal attitudes of our time. For too long we've perceived them to be this apolitical nebulous organization that is detached from society, detached from politics, detached from popular opinion. I think if nothing else, this ruling shows they are none of those things."