As hospital beds fill amid the latest COVID-19 surge and medical staffing levels face persistent strains, Northwestern Medicine and local health officials are urging residents to avoid clogging up emergency rooms by making unnecessary trips such as seeking COVID-19 testing.
Health experts also are urging unvaccinated folks to get vaccinated to help alleviate pressure on an already taxed health care system. Those who've already received the appropriate doses of the vaccine should acquire a booster shot as well, officials said.
"If you don't have to come to the hospital, please don't," said Dr. Michael Kulisz, the chief medical officer with Northwestern Medicine's Kishwaukee and Valley West hospitals. Kulisz has been working as a doctor in the emergency department, which is undergoing a $12 million renovation expected to be completed in fall 2022, at DeKalb's Kishwaukee Hospital since 1990.
People who feel sick should continue to seek medical care if needed, but right now it's important to know when something is an emergency, and when it's not, Kulisz said. Northwestern also has noticed an uptick in those seeking COVID-19 tests at Valley West and Kishwaukee emergency departments. As patient volume increases, hospitals are attempting to prioritize patient care with the remaining staff available, he said.
"The majority of people that are hospitalized continue to be those that are unvaccinated," Kulisz said. "We haven't seen a significant amount of pediatric [COVID-19 hospitalizations] yet. But here the demographics continue to be the same: The elderly tend to be the sickest, those that have comorbidities."
The health system hasn't yet hit its threshold to begin utilizing its COVID-19 surge plan, Kulisz said. But officials are looking to free up space and eventually might have to double up patients if they run out of room, Kulisz said.
"The system can only take so much," Kulisz said. "If there's a huge surge, or stress then obviously we would go into our surge plan."
How dire is the situation?
On Tuesday, the Illinois Department of Public Health reported only four Intensive Care Unit beds are available and staffed throughout the entire northern Illinois region known as Region 1, a geographical area which includes all of DeKalb County, the Rockford area and the Sauk Valley.
COVID-19 surges are overtaking hospitals across northern Illinois.
In Will County's region, six ICU beds remain available and staffed, according to the IDPH. In McHenry County's region, 20% of ICU beds are available, averaging 223 COVID-19 patients regionally. In Kane County's region, 447 patients are hospitalized for COVID-19, according to state data, which also reports 20% of ICU bed availability. And in Kendall County's region, 12% of ICU beds are available, with nearly 450 patients hospitalized regionally with the virus.
DeKalb County Public Health Administrator Lisa Gonzalez said health officials and hospital leaders are working to educate the public on when it's best to go to a hospital right now, and when you can avoid it for nonemergency care.
"There definitely is concern about ICU bed availability in our region. I'm definitely worried about the impact of the demand at the hospital systems and how far can they stretch," Gonzalez said, adding she was on a call with Region 1 leaders Tuesday who shared similar sentiment. "And, because it's a regional issue, it's not like it's easy to send someone to the next county over because they're experiencing the same thing."
That means less beds available for anyone who needs them, COVID-19 or otherwise, and longer emergency room wait times.
"As volumes do go up, there may be longer waits for the patients," Kulisz said. "And if they could just bear with us, we're all in this together. Our goal is to give them the highest quality of care at the most appropriate time and as quickly as possible."
He said as more patients return to the hospital for non-COVID-19-related treatments, availability for COVID-19 patients amid the surge decreases, and vice versa. There's only so many beds, he said, which leads to patient volume increases and taxes the healthcare system.
"It means that our resources at times can be stretched," Kulisz said. "People should continue to seek medical care at the appropriate place. Meaning if you were exposed to somebody with COVID or you need a COVID test for travel or socialization, the emergency room isn't the appropriate place to come to. If you were exposed, it's important to monitor yourself for symptoms but you really shouldn't get tested for five to seven days."
Local pharmacies such as CVS, Walgreens and grocery stores offer COVID-19 testing by appointment, and pop-up sites or clinics such as Physicians Immediate Care welcome walk-ins. Northwestern Medicine patients can also go to MyNM.org to locate testing sites that aren't the hospital.
If people are having difficulty breathing, Kulisz said, they should head to the emergency room, but if they're going for mild symptoms or fear of exposure, they should test somewhere else.
Northwestern Medicine is recording comparable COVID-19 hospitalization rates to the winter 2020 surge, Kulisz said, and the majority of patients continue to be those who aren't vaccinated. Northwestern Medicine didn't provide numbers related to patients or bed availability, however.
"The catch is this tends to change on a daily basis so it's really hard to be able to quantify," Kulisz said. "We obviously have a surge at this point and we are getting close to numbers that we had this time last year. So it's very comparable."
He said ICU bed availability also fluctuates daily, which affects both COVID-19 and non-COVID patients.
For Northwestern Medicine staff, working a nearly two-year pandemic takes a toll, Kulisz said. He regularly holds twice daily huddles with his team to ensure his ER staffing pool is sufficient, and encourages those who take time off to really rest.
Northwestern Medicine last week received several additional surge staff to aid local hospitals, part of Gov JB Pritzker's Monday announcement that the state was sending additional people to aid overwhelmed hospitals.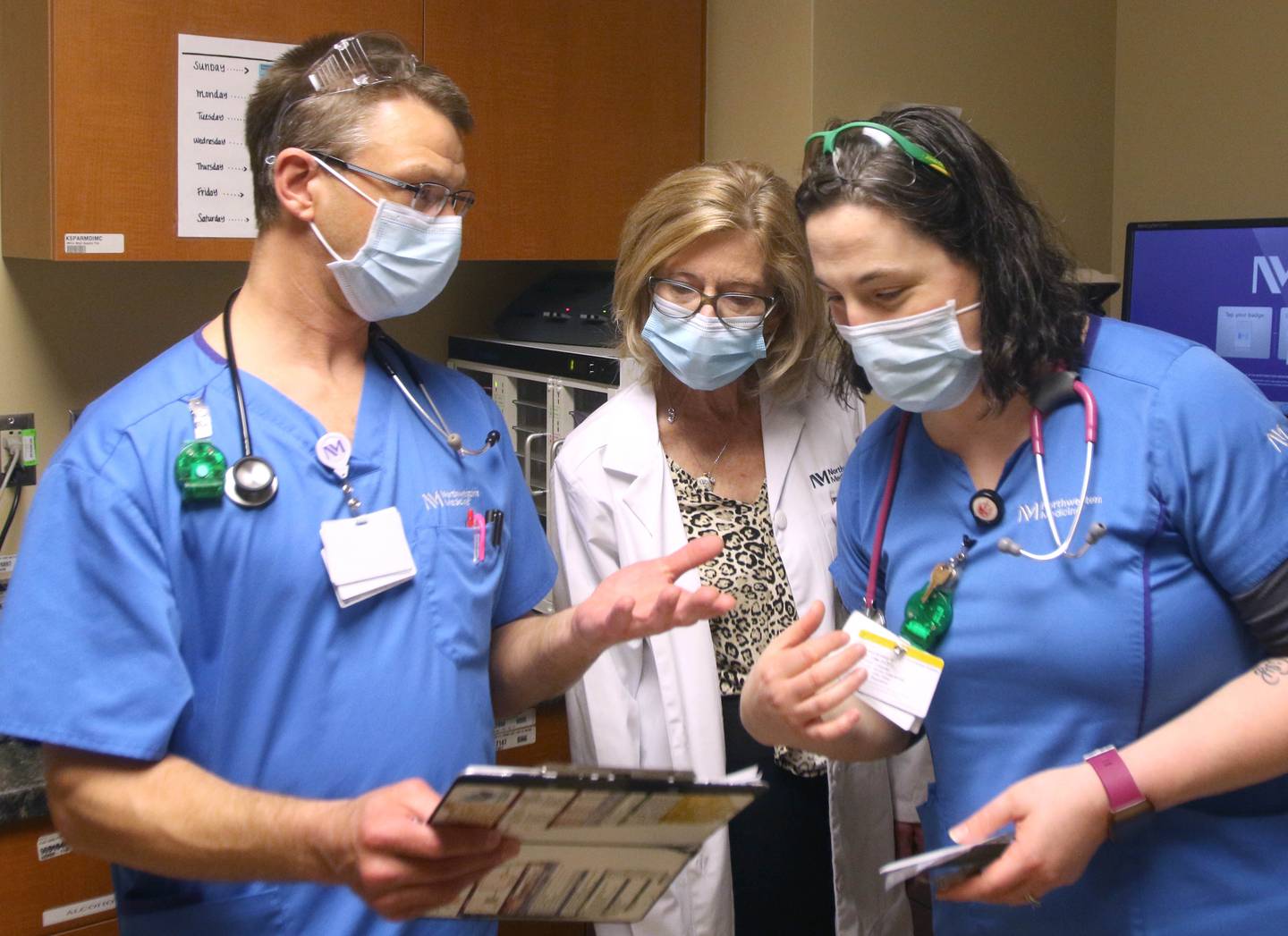 Who's taking up the beds?
Much of the new cases in DeKalb County – more than 610 cases over the past week, according to the local health department – are in the younger population, Gonzalez said. Monday's report of more than 450 new cases over the Christmas holiday included a large number of those 19 or younger, she said.
"It definitely skews towards the younger age," Gonzalez said Tuesday. "It sort of goes from there. The smallest number of cases are in that 70 and 80-plus group. As far as what we're seeing, it's really all over the place."
She said the health department doesn't have a specific breakdown of how many are breakthrough cases or in the unvaccinated, since the state tracks that. Vaccination rates are correlating with cases, though, she said.
"If you look at the data and age breakdown, and then you compare vaccination rates by age group, it really is pretty telling," Gonzalez said. "I would encourage people to look at that."
One year later
As of Tuesday, just under 55% of all DeKalb County residents are fully vaccinated, a status that Kulisz said offers the highest protection against severe infections of COVID-19 and chances people will wind up in the hospital.
Wednesday marks one year since the COVID-19 vaccine arrived in DeKalb County. It went first to healthcare workers on the pandemic's front lines working at Kishwaukee and Valley West, and then to longterm care residents around the area. Kulisz said he and his colleagues had hoped the vaccine would have been more widely accepted.
[ 'Light at the end of the tunnel': COVID-19 vaccine arrives in DeKalb, Sandwich ]
"It is a little disheartening," Kulisz said. "We were hoping with the vaccine that it would be less of a burden, that [COVID-19] would be less of a burden on the health system. But obviously as volume of [COVID-19] goes up that, creates a lot of extra work for the emergency department."
He said he, like many, had hoped the vaccine would completely eradicate the COVID-19 virus, however, it's proven to more than effectively prevent severe cases. Not total prevention, but enough to keep people alive and out of hospitals.
"It's extremely important for people to get the vaccine as well as boosters to make sure immunity against [COVID-19] is up," Kulisz said.
With Christmas over and New Year's festivities on the horizon, Kulisz urged people to use common sense and take precautions if they do choose to gather.
"The important thing people have to understand, even if they are vaccinated and test negative and still go ahead and socialize, is to just use common sense," Kulisz said. "Continue appropriate masking, wash your hands, and vaccines decrease the severity of the disease."