DeKALB – DeKalb's newest restaurant had a ribbon-cutting event Wednesday, and its grand opening will be Saturday.
Keg & Kernel by Tangled Roots Brewing Company is located at 106 E. Lincoln Highway in DeKalb, in the space formerly occupied by Tavern on Lincoln. It's the fourth location for the regional brewery. Other restaurants include The Lone Buffalo in Ottawa, Lock & Mule in Lockport and Hangar Two in Glenview.
Tangled Roots was co-founded in Ottawa by Peter Limberger, his wife, Inga Carus, Scott Struchen and Keith Pearse. Struchen said that every restaurant touches on the unique history of its location.
"In Lockport, it's the locks and dams, in DeKalb it's corn and barbed wire," Struchen said. "We want to celebrate the area and what it means to be local. DeKalb needs to be celebrated, and we're excited to be a part of it."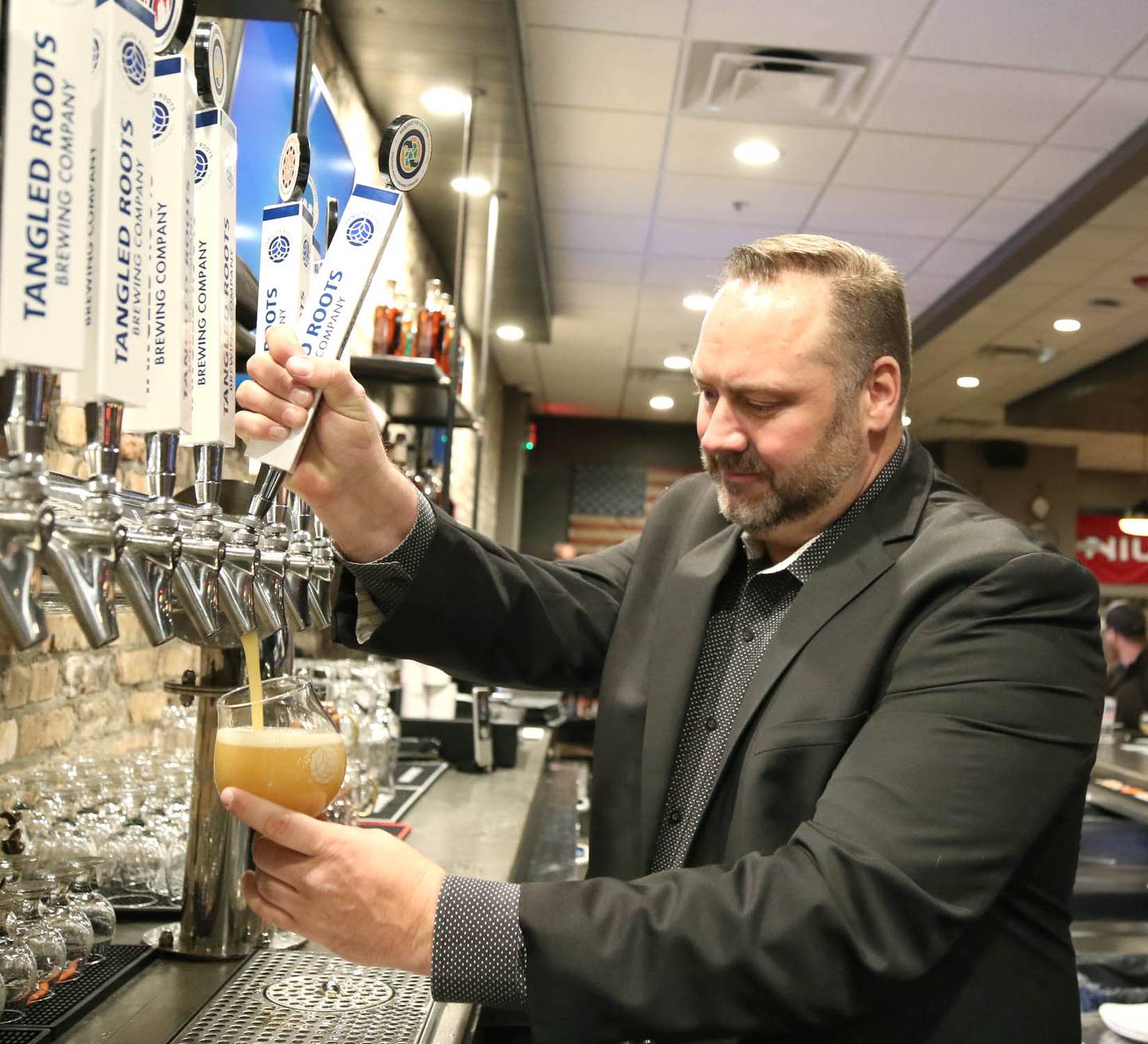 The restaurant is closed Mondays and open from 3 to 10 p.m. Tuesdays and Wednesdays, 11 a.m. to 10 p.m. Thursdays, 11 a.m. to 11 p.m. Fridays and Saturdays and 11 a.m. to 9 p.m. Sundays.
When the restaurant opens Saturday, it will offer a full menu, including a craft beer and cocktail menu. In the spring, the location will open a brewery in the building's adjoining space. The brewery area will offer seating for an additional 40 people, as well as another bar and brewing on site. Additional patio seating is planned to also be added in the spring.
Limberger describes Tangled Roots as "farm to foam," since the restaurant's farm in Ottawa grows not only corn and soybeans, but also barley and hops for beer.
Struchen describes the food as fare one might find at an upscale brew pub, offering burgers, salmon and Detroit-style pizza, as well as unique and signature items, such as pimento pub dip and corn custard.
"We don't want people to eat and leave in a rush. We want people to spend an evening in the restaurant mingling, eating and drinking," Limberger said. "The quality of food and beer is important to us. Everything is really good quality and fresh, with very reasonable prices."
Limberger said he hopes the restaurant offers a relaxing atmosphere that's inviting and reminiscent of the 1950s and 1960s, which he called "the good old times."
"We wanted to recreate the spirit of Mayberry a little bit," Limberger said, referring to "The Andy Griffith Show." "We want people to unplug and unwind, relax over food and drink and good times with family and friends."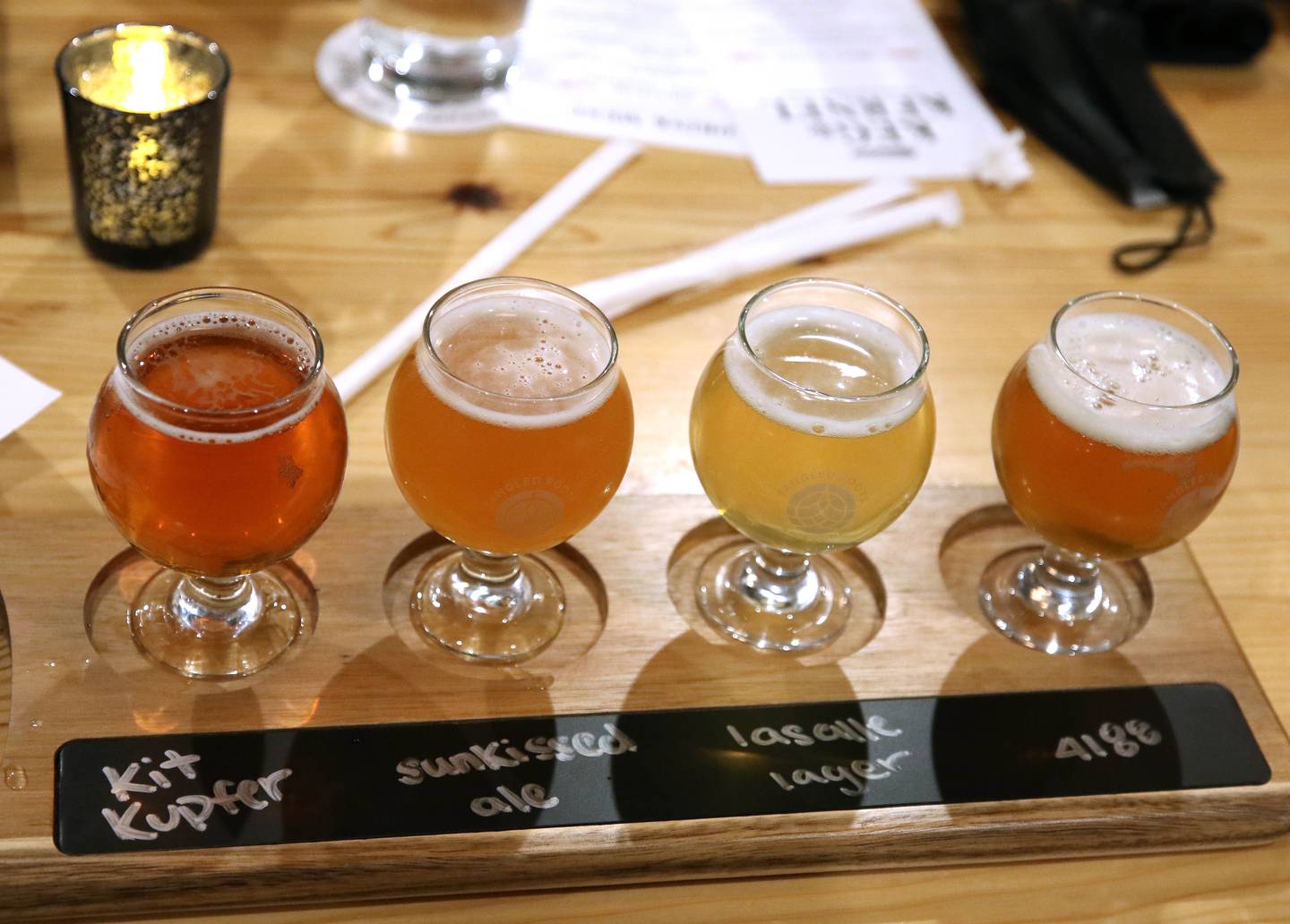 Matt Duffy, the executive director of the DeKalb Chamber of Commerce, attended the ribbon-cutting event Wednesday evening.
"We're really happy to have this location filled again. It's a great addition to downtown DeKalb," Duffy said. "There's momentum of new businesses coming to town."
Duffy said that Keg & Kernel gives the community "another option for dining and drinking."
"There are now many different locations where people can eat, drink and shop," he said. "And this is just the first phase. There's more happening and coming with the new brewery in the spring."
Dan Olson, DeKalb's city planner, described the ribbon-cutting event as "the start of even more activity happening in DeKalb."
"It's another option in town for food and drink with a great location," he said. "We're very, very happy to have them here."
Brad Hoey, the special projects manager with the DeKalb County Convention and Visitors Bureau, said he was looking forward to the ribbon-cutting and grand opening of Keg & Kernel since he heard the business was coming to DeKalb.
"Tangled Roots is well-known throughout the state, and it's an exciting opportunity for them to be here in DeKalb," Hoey said. "It's a wonderful fit for our community. There's a lot coming to the DeKalb area, including Facebook, Syngenta and Ferrara. DeKalb has become a destination for new businesses. It's great for downtown DeKalb and for the county as well."