As a DeKalb school bus driver, Adam MacNeille is in close quarters with 70 students at least twice a day.
With buses filled to their capacity of 70 students and districts across the nation facing a significant shortage of drivers, "there is no such thing as social distancing," he said.
MacNeille, a standby school bus driver for First Student for DeKalb School District 428, said "every bus driver nation-wide is feeling the effects of being short-staffed."
"There's a national shortage right now. We're not the only ones feeling it locally," he said. "There's at least 50 drivers and 73 total routes for the DeKalb School District. We're probably 30 or 32 drivers short of being fully staffed."
MacNeille said that bus drivers pick up extra routes on the same bus if there is capacity.
"Instead of just one, we pick up two or even three routes if you can fit them on your bus," he said. "We have definitely been packed to the max. When we're at full capacity, sometimes we need another bus to pick up the excess students. Once a day, [there's] at least someone with an excess amount [of students] that needs another bus to pick up the overflow."
Kathy Sheahan, transportation director for Sycamore School District 427, said that school bus capacity is 70 passengers plus the bus driver to total 71.
"But middle school and high school students are bigger, and some buses are extremely packed when there are only 40 students on board," Sheahan said.
To help with contact tracing if a positive case of COVID-19 is identified, students in both DeKalb and Sycamore have assigned seating on buses and siblings sit together. Masks must be worn by everyone on the bus. MacNeille said for DeKalb, bus routes that aren't full don't have assigned seating because students can social distance.
"Last year, there were more rules and regulations and no more than 50 students could be on a bus," Sheahan. "Social distancing is especially hard to follow on a school bus."
"We encourage kids to keep their mask on when they're on the bus," MacNeille said. "Wearing masks hasn't really been that much of a problem."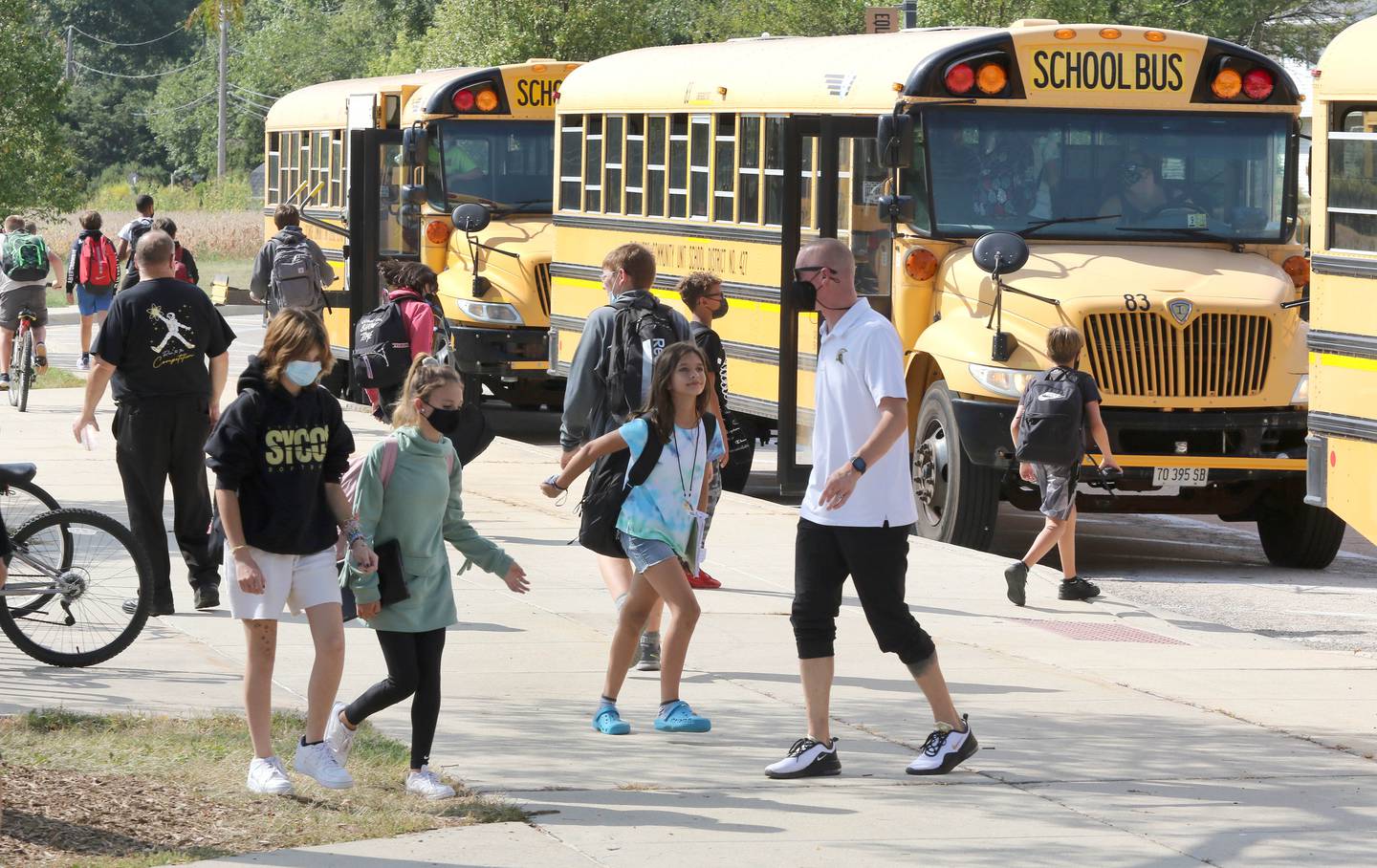 Sheahan said that the Sycamore School District has 12 to 15 bus routes.
"On most days, we have a sub driving, myself and a mechanic so that all the routes are covered," she said. "Drivers are extremely needed. I'd be nice to have some overflow, a few extra subs. Another five drivers would be great."
The need for bus drivers is so high, that Sycamore Superintendent Steve Wilder has grabbed the wheel himself in recent weeks. Wilder said he's been certified to drive a school bus for the past 12 years and fills in as needed.
"I got my bus driver endorsement 12 years ago because the transportation director at my previous school district asked me to get it because there was shortage back then," Wilder said. "I got it then and renew it every year to be an extra person if we ever get into a bind, just one more person to help."
Wilder said that school bus drivers' importance often gets overlooked.
"When everything is working well and students are getting to school and home safely, it's not a big deal," he said. "But now that there's a shortage, it really impacts our transportation plan. If students can't get to school, they can't learn. That's when we find out how valuable school bus transportation really is."
The driver shortfall isn't new, but a labor shortage across many sectors and the pandemic's lingering effects have made it worse, since about half the workforce was over 65 and more vulnerable to the virus, said Joanna McFarland, co-founder and CEO of school ride-service company HopSkipDrive, which tracks school bus issues.
Her company conducted a survey in March that found nearly 80% of districts that responded were having trouble finding enough bus drivers.
"It's really at a breaking point," McFarland said.
Economic forces are also at play in the bus driver shortage. Driving a school bus requires a commercial driver's license that can take weeks to obtain. And people who have them can often find higher-paying work that doesn't require splitting the day for pickup and drop-off. Demand for commercial drivers is only increasing with the pandemic-related surge in online shopping, McFarland said.
Becoming a school bus driver also includes a few steps with the Office of the Illinois Secretary of State to receive a school bus permit, which is required for any individual planning to transport school children grade 12 or below for a public, private or religious school. CDL holders who will drive a yellow school bus to transport pre-primary, primary or secondary school students from home to school, from school to home or to and from school-sponsored events must also obtain a school bus endorsement and passenger endorsement.
School bus permits require a written permit and endorsement tests, a behind-the-wheel exam, a physical examination and a training course administered by the Illinois State Board of Education.
First Student's starting pay is $18 an hour. Potential hires are not paid when going through training, but when hired, they collect a $1,000 sign-on bonus and $500 training bonus.
Sycamore School District provides paid training for hires.
Wilder said that there are both positive and negatives to being a school bus driver.
"It's not a 9-to-5 kind of job where you're working all day," he said. "It's a split shift, where you work for a few hours at the beginning of the day, have time off in the middle of the day and then work a couple of hours at the end of the day. The hours can be challenging and have to be a good fit, but you also have weekends and summers off."
Sheahan said that a school bus driving job would be ideal for parents or retirees.
"It really is a great job because you have the joy of being around kids," she said. "Really, anybody can apply and it's not too difficult. It's a job that's really needed and you can really make a big difference."
MacNeille said that despite the staffing shortages, he loves his job. When school was taught remotely, MacNeille – and most other school bus drivers – were collecting unemployment.
"Being a school bus driver can be challenging at times, but it is a very rewarding job and I love it," he said. "You know that you're getting kids to school safely and you have the kids' best interest at heart."
The Associated Press's Amy Beth Hanson and Lindsay Whitehurst contributed to this story.