Laurie Emmer, who served in the U.S. Army during a 2003 tour in Afghanistan, said what's happening in the country in the previous weeks is like "history repeating itself."
Emmer, who also serves on the DeKalb County Board and was last year appointed as the first woman to ever command the Illinois Veterans of Foreign Affairs, said her father inspired her to join the U.S. Army. Growing up, she recalled stories he'd recount about his military time during the Vietnam War – including the fall of Saigon in 1975, when the South Vietnamese-occupied city returned to North Vietnamese control.
Emmer said her father's stories came to mind this week as she attempted to process what was occurring in Kabul, Afghanistan.
"He told me stories about that first day, where he's seeing all of the people going to the aircraft and the people then falling off," Emmer said. "I'm thinking of what my dad told me and I'm thinking, 'Oh my God, this is what my dad's talking about with the Fall of Saigon.' And it's hard to process everything."
Earlier this week, U.S. President Joe Biden confirmed his administration will continue pulling troops from Afghanistan, a timeline which already had a set Aug. 31 deadline. The exit was made more urgent when the Taliban – an extremist Islamic movement that ruled Afghanistan until it was ousted by a U.S.-led coalition after the Sept. 11, 2001, terrorist attacks, according to the Associated Press – regained control of the Afghan government more quickly than originally expected, in about a week's time.
U.S. troops have been in Afghanistan for four presidential administrations, in an attempt over the past two decades to help develop a democratic government in the country.
Since the Taliban's swift return to power, many, like Emmer, have drawn parallels to Afghanistan's plight and what occurred in Saigon 46 years ago. And veterans across the country who deployed to Afghanistan in the past 20 years are voicing frustrations, struggling to reconcile current events with what they said is life spent and sacrificed.
U.S. officials estimate that as many as 10,000 Americans remain in Afghanistan, and tens of thousands of Afghans who fought alongside or aided the U.S. in the nearly two-decade occupation are struggling to get out.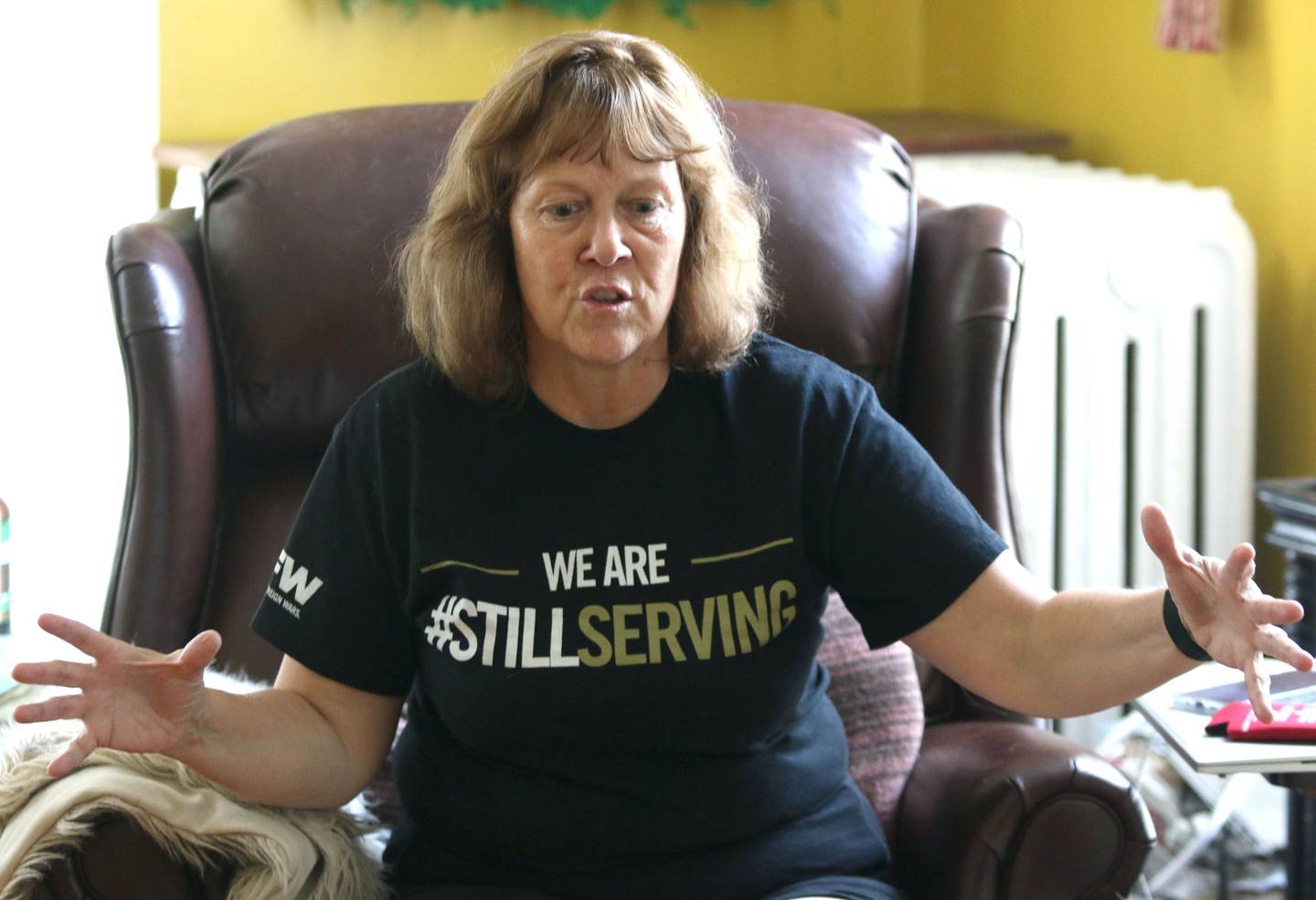 Understanding events in Afghanistan
Ches Thurber, a political science professor at Northern Illinois University, said U.S. presidents have been looking to get troops out of Afghanistan for about a decade. This year, he said Biden "finally decided to pull the plug."
Thurber said it has been the Taliban's goal since the 1990s to create an Islamic state in Afghanistan and "rule by their interpretation of Islamic law."
"The Taliban had been gradually getting small bits of ground bit by bit over recent years, in which the U.S. footprint in Afghanistan had been relatively small," Thurber said. "I think it was assumed that, once the U.S. forces left, eventually there was a good chance the Taliban could take control."
Thurber said it looked like U.S. and Afghan soldiers concluded it was not worth fighting in Afghanistan anymore and the Taliban was expected to regain control in another year and a half anyway.
"I think what very few people expected was for the Taliban to take control of the entire country as quickly and rapidly as they did," Thurber said.
Local veterans weigh in
On top of her own personal feelings reacting to the events in Afghanistan, Emmer, a registered Republican, said it hurt to read social media comments this week from people whom she considered friends comparing Republicans to the Taliban.
"I'm like, 'Why would you do that? We don't stone women.' I had a friend who watched a woman get stoned to death over there," Emmer said. "We don't marry off 12-year-old girls. Normally, I swipe past that stuff, but I was just fixed on it."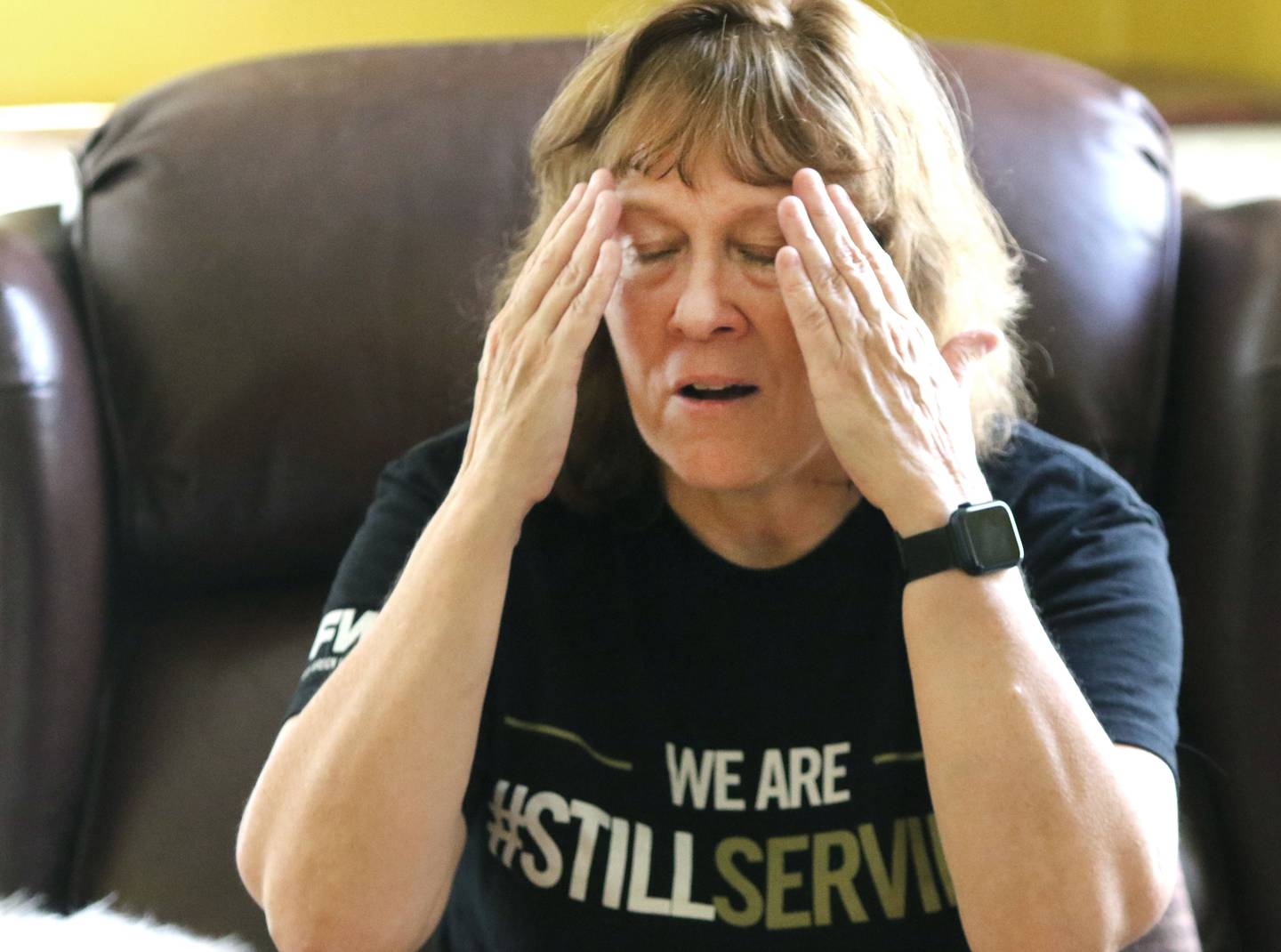 Emmer said she wants to remind area veterans that the Sycamore Veterans of Foreign Wars Post 5768, of which she's also a member, is also there for them.
Hank Barnes, a DeKalb native, served in the Illinois National Guard and was in Afghanistan for nine months from 2019 to 2020 to help provide military base patrol there.
He said he was "disappointed" and "frustrated" to see the U.S. pull out of the conflict after nearly 20 years of military work went into it.
"We went there to serve our country," Barnes said. "We're serving our country, we're fighting to protect my buddies and then, all of a sudden, you just all disappear. And the country that we were trying to protect has now reverted back."
Barnes said it has helped to talk with fellow veterans, along with his family and friends, to work through his feelings following the events, something he urged others to do if they need it, too.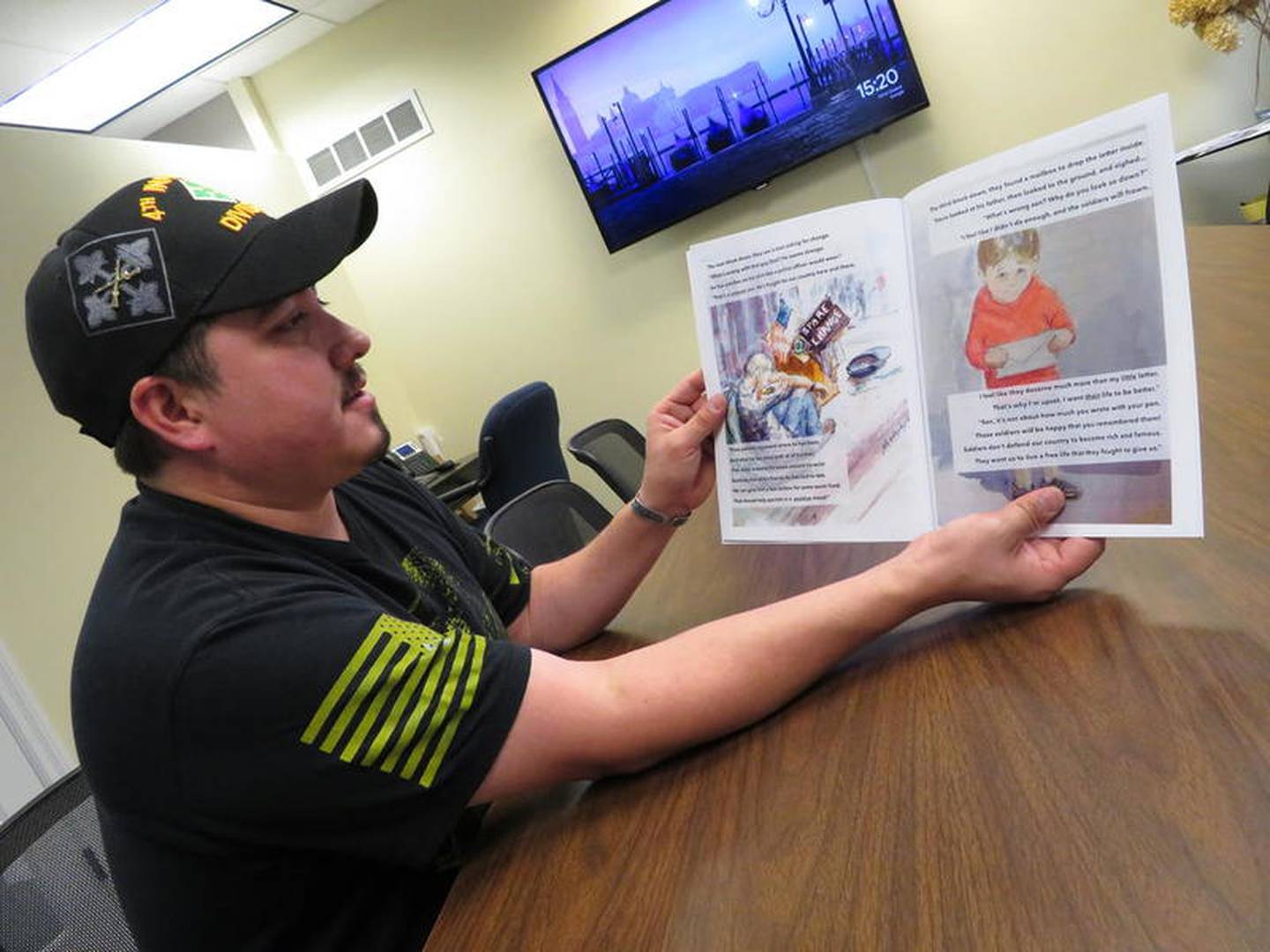 Local real estate agent and Sycamore resident Travis Velazquez, an Army and Air Force Reserves veteran, said he was not deployed to Afghanistan but had fellow soldiers "who were like brothers to me" die in combat there. He said he feels "very terrible for the people that have served over there, as well as the people like me who have lost friends and family over there." The collective mental health, he said, is "most likely in a compromised situation."
"I think that we fought a long war and I feel like this is our modern day Vietnam, and that's something that, as Americans, I don't think we ever want to feel like," Velazquez said. "We want to feel that, when we touch down in a country and we're there for a purpose, we're going to leave there with an impact and, as of recently, it just feels like the United States as a country is being laughed at."
Velazquez said he wants to reassure his other veterans who may be struggling with their emotions that they are not alone. He urged those who are struggling with suicidal thoughts especially to reach out, which he called "the first step in getting help."
"There's nothing weak about having thoughts that way," Velazquez said. "It's just, they have seen things and done things in their four years in the military service that most people in the world will never have to comprehend."
Civilian perspective
Linh Nguyen, who is running for DeKalb County Clerk's office, wrote in a Monday social media post that she was born and raised in Saigon, Vietnam, "right after the Vietnam War," and likened that experience with what other Afghans may be feeling, too.
She said her family "fought alongside American troops" in the war and "many of my uncles and cousins died during the war" and some went missing.
"The memories and stories of the fall of Saigon on April 30th, 1975, came back vividly," Nguyen said. "I remembered my mom's stories about the fear, the overwhelming, terrifying emotion of losing our country, our democracy and possibly our lives in one day."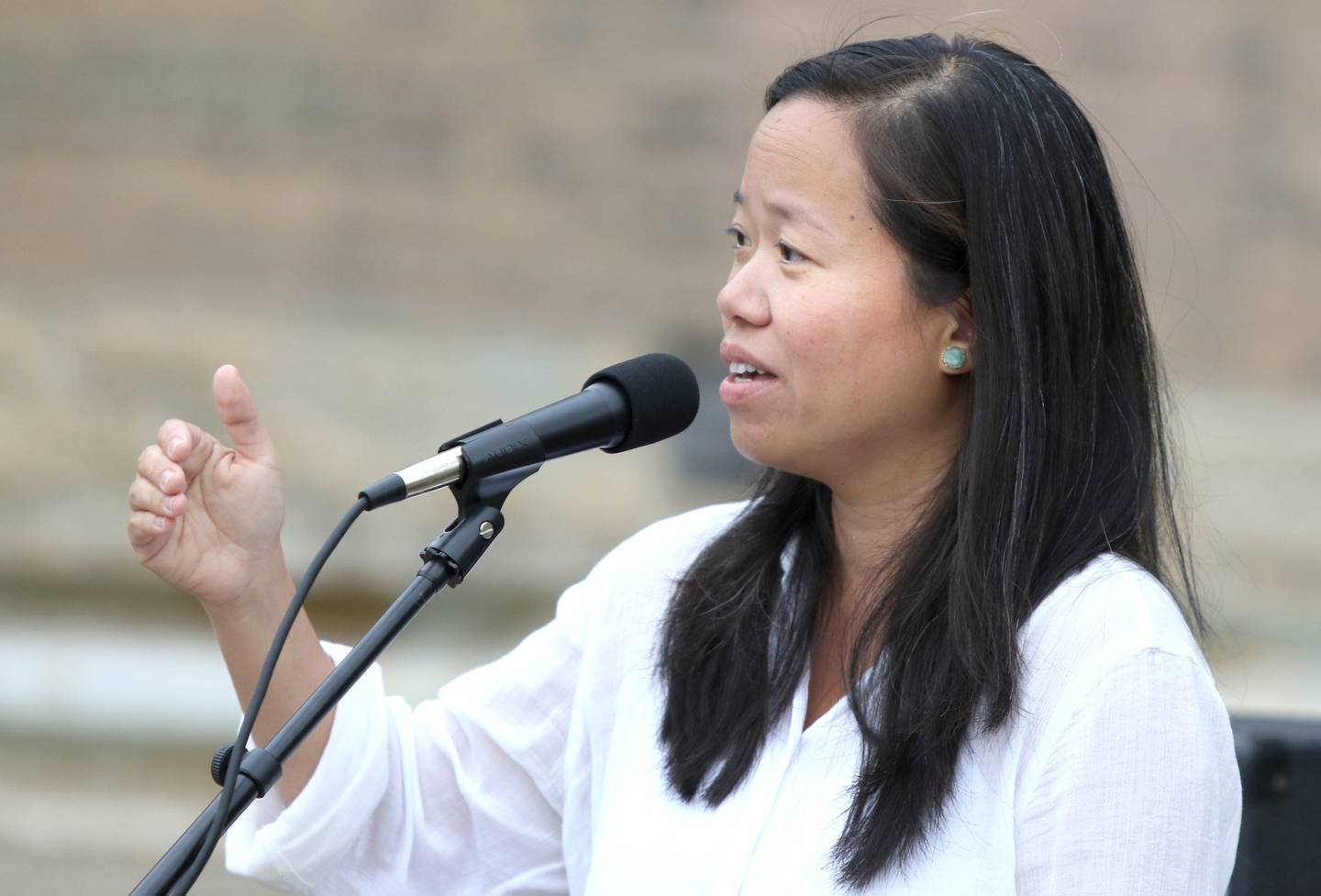 Nguyen said her relatives came to the U.S. in the 1990s as part of the Humanitarian Operation and "some of my family, including me, got here later through the family reunification program."
"I cannot imagine the fear and panic hundreds of thousands of Afghans are feeling right now," Nguyen said, calling the situation a "humanitarian crisis."
"These are the allies who risked their lives to aid Americans in this war."
"The number one issue here is the humanitarian concern, doing everything we can, meeting our moral obligation to the Afghans who had our backs over the past 20 years – it's now our turn to have their backs," Thurber said.
Thurber agreed the U.S. should let refugee immigrants from Afghanistan into the country.
"The number one issue here is the humanitarian concern, doing everything we can, meeting our moral obligation to the Afghans who had our backs over the past 20 years. It's now our turn to have their backs," Thurber said. "And I think it goes beyond even those that directly helped us, but to classes of people in Afghanistan, those from religious minorities, women, those who have tried to promote education and democracy – they are all at risk...[W]e need to do everything that we can...to save as many lives as possible."
The Associated Press contributed to this report.