DeKALB – The City of DeKalb is a step closer to annexing a portion of unincorporated county land for a new 61-unit rental complex which developers say will cater to professionals looking for a "Ritz-Carlton feel."
The DeKalb Planning and Zoning Commission voted, 3-1, on Tuesday to approve a proposal that would annex a 1.8-acre site at the northwest corner of Barber Greene and County Farm Roads so DeKalb-based Pappas Development could build a four-story building with 61 single bedroom units. Commissioners Steve Becker, Bill McMahon and Jerry Wright voted in favor while Trixy O'Flaherty was the lone opposing vote. Commissioners Shannon Stoker, Maria Pena-Graham and Max Maxwell were absent from the Tuesday meeting.
The DeKalb City Council is expected to vote on the proposal during its regular meeting Monday at 6 p.m.
"I want the residents, when they turn the key to walk into the building – from the lobby to the elevator, to the amenities, to the hallways, to their apartment, to the furniture – [to have a] Ritz-Carlton feel," Foti Pappas, vice president of Pappas Development, said. "You know, a five star hotel feel."
The proposed residential complex, which will be called "Arista Residences," would sit at 1383 Barber Greene Road near the corner of Sycamore Road, close to shopping centers which house Buffalo Wild Wings, Panera and ALDI among others.
It's one of several similar residential rental complexes Pappas Development has under its swiftly-growing portfolio. The developer said he believes his company has identified a niche in DeKalb's housing market: move-in ready, modern and furnished units that he says he rents primarily to working people who aren't seeking homeownership.
The developer's most recent project, Isaac Executive Suites, 2675 Sycamore Road, was approved by the city council in June 2020 and lies outside of any TIF district boundaries with 59 one-bedroom units with shorter leases, about 9 months, for traveling professionals. The suites opened for rent in July 2021.
Pappas said the rent roll for Isaac Executive Suites was completely filled within the first 10 days he received the certificate of residency for the building.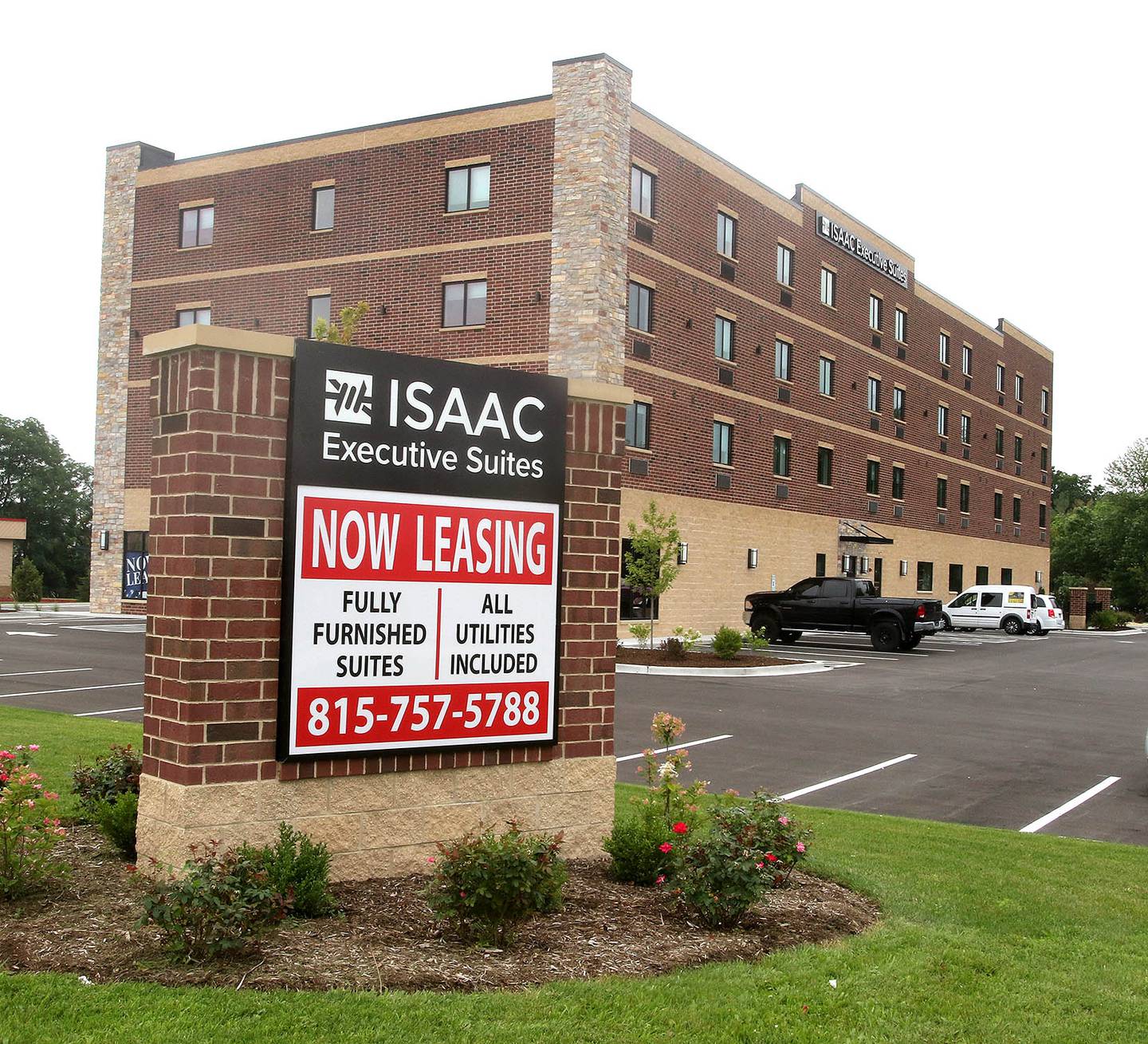 Who's on the rent roll?
Commissioners on Tuesday said Arista Residences, down the street from Issac and especially close to shopping and restaurants, could entice those who work in surrounding facilities to want to live closer.
"The fact of the matter is you're only two blocks away from a major hospital," Becker said. " ... [You have] a lot of professionals who are working very long shifts, who, when they get done with their day, just want to get home."
Unlike some of Pappas' recent projects such as Cornerstone DeKalb and Plaza DeKalb downtown, the latest proposal won't feature any commercial space, documents show. Pappas said he believes there is more of a need for residential property than commercial space in that area, citing surrounding empty storefronts.
Pappas said the project is expected to cost about $6 million total. Pending city approval, he said he would like to see construction finished in a timely manner.
"The demand is extremely strong," Pappas said. "We need to break ground as soon as possible."
Pappas said traveling doctors and nurses at Northwestern Medicine, along with major employers such as Ferrara Candy Company, Facebook and Amazon attract young professionals to the area. He said that economic development has helped fuel demand for his proposed residential living concept.
"For a professional that wants to move in and be part of a community, [they can] with extreme ease," Pappas said. "Because it's all turnkey."
According to city documents, the 61 one-bedroom units will be about 700-square-feet with an estimated monthly rent of $1,350. Amenities will include a hotel-style lobby, hospitality room, business center, maid service, full gym and electric vehicle charging stations.
According to the U.S. Department of Housing and Urban Development, the current fair market rent value for a one bedroom apartment in DeKalb County is $811 per month.
Development plans
The parcel of land Pappas is hoping to annex into the city was previously used for Buhr's Landscaping and Lawn Care, which closed about two years ago, documents state.
Denise Weinmann, the Buhrs' real estate agent, said she has been involved with this property since 2006. She said Pappas Development came to the sellers to put the property under contract in October 2021.
"During that time, we've had it under contract numerous times – a couple of hotels, a national restaurant, a few retail applications as well ... but for one reason or another, we were not able to get those deals put together," Weinmann said Tuesday. "One of the hurdles has been the annexation of the property."
Weinmann said a hurdle to annexation was the sanitary district. Pappas plans show the 16-foot sewer would be relocated to the annexed property.
According to development plans, 0.68 acres of the site sits in unincorporated DeKalb County, so the developers hope to annex the space and then rezone it for residential use.
Commissioner Trixy O'Flaherty, who as the lone 'no' vote for the preliminary project plans, voiced concern about the walkability of the area, adjacent to a gas station and bog box retail stores.
"I can understand the difficulty of the parcel because of a variety of complicating factors," O'Flaherty said. "But I just don't feel comfortable with residential in that particular spot."
Pappas said he disagreed with O'Flaherty.
"Literally, within staying in a parking lot, you can eat breakfast, go to Panera for lunch, grab dog supplies, do your shopping at TJ Maxx, walk to Aldi, grab ice cream at Steak N Shake and you've yet to leave a parking lot," Pappas said. "I'd argue it's more walkable than downtown."
There would be 92 parking spaces in the lot of the 61-unit complex, and a sidewalk along Barber Green Road. According to DeKalb city code, each one-bedroom rental unit must have 1.5 parking spaces.
DeKalb City Planner Dan Olson said the site in question has been vacant for two years and up for sale for 18 years. He said he believes the project will add more residents to the area, which would increase property taxes and grow city revenue.
"This would be a positive impact for our community," Olson said.
If approved, Arista Residences would be the sixth of its kind to be built by Pappas Development within the past three years.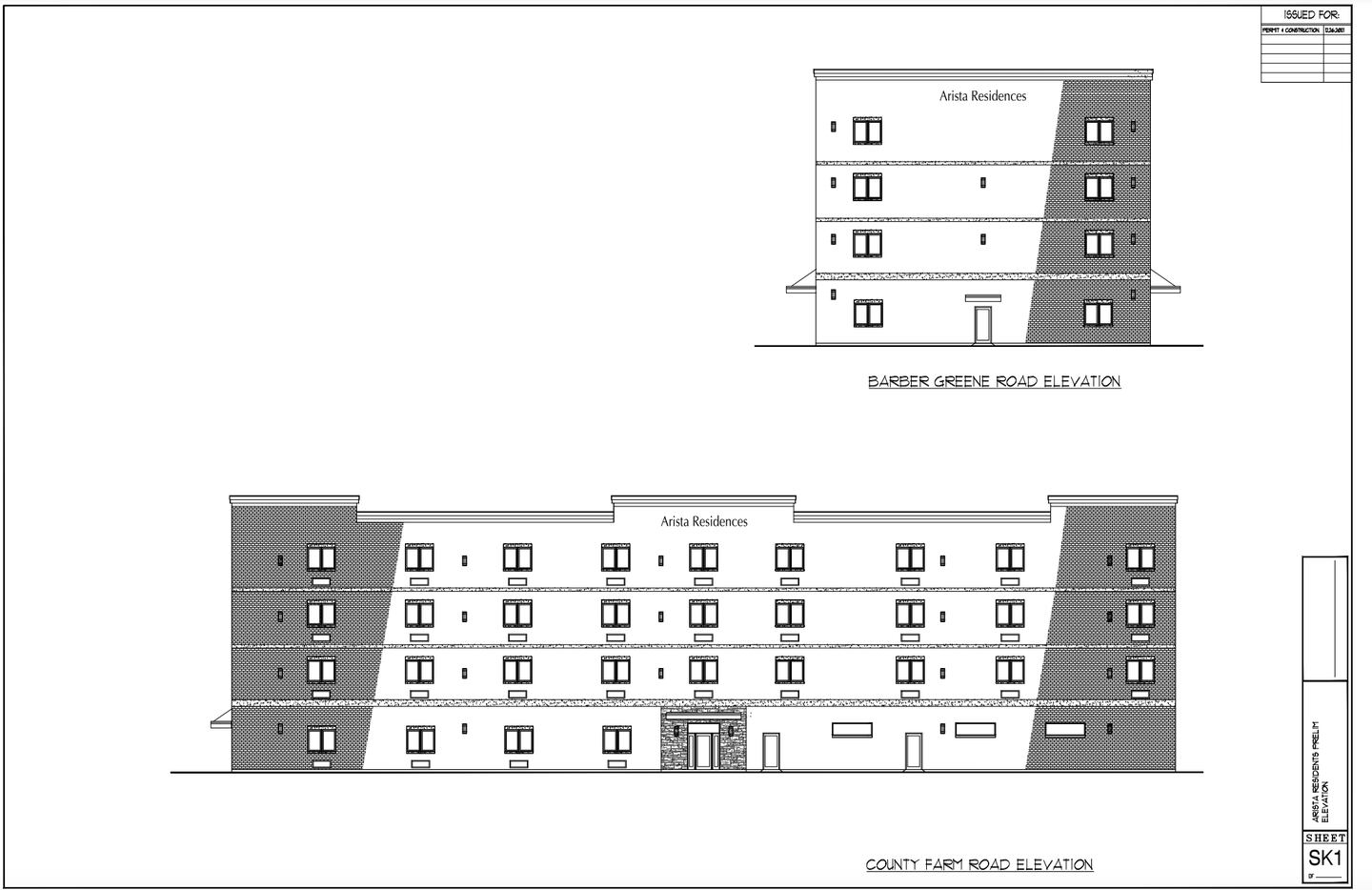 A peek at Pappas' portfolio
Many of the residential complexes under the Pappas portfolio offer what the developers call executive or luxury units.
Two are still under construction, including the $13.8 million Agora Tower built on the land once formerly used for the Mooney Car Dealership and the oldest barbed wire factory in DeKalb at the corner of North Fourth and Locust streets. The four-story, 94-unit tower was awarded $3 million in tax increment finance funds from the city in June 2019, and will feature retail and office space on the first floor, according to development plans.
With some construction delays, Pappas said he anticipates the Agora Tower build to be done around September.
"COVID-19 wreaked some good havoc on us," Pappas said, referring to building material shortages over the past summer.
In October 2020, the City of DeKalb sold the former DeKalb Municipal Building to Pappas for $600,000, to build Johann Executive Suites, a $7.5 million development aided by $750,000 of city TIF funds which will have 57 units on Fourth Street. The old city hall was demolished in the summer of 2021. As part of the sale agreement with the city, Pappas will need to complete the build in 2022.
Cornerstone DeKalb, at First and Lincoln Highway, has 51 luxury apartments on the top three floors of the building, and the ground floor houses commercial space including Keg and Kernel by Tangled Roots Brewing Company and Barb City Bagels. Across the downtown street is Plaza DeKalb, a four-story, mixed-use apartment complex at 203, 223, and 229 E. Lincoln Highway. The building's ground level also has Jamrah, a middle eastern eatery and will soon feature popular sweets chain Insomnia Cookies. Both projects were developed with the aid of city-approved TIF funding.
Arista Residences does not fall in a TIF district.