SYCAMORE – Public hearings for two DeKalb County industrial solar energy projects, which developers said could bring significant revenue to the area, might take place sometime in August, project officials said.
Kevin Adelman, project manager for Texas-headquartered Leeward Energy, said the proposed 1,800-acre Red Maple solar project site location is south of Gurler Road and north of Perry Road in Afton and Pierce townships. He said the proposed 3,700-acre Owens Creek project site is west of Glidden Road, south of Base Line Road and north of Illinois Route 64 in Mayfield and South Grove townships.
Adelman said the projects together are expected to produce about $126 million over a 30-year span. For example, he said both projects would generate between 1,600% and 1,700% more property tax revenue than what the properties currently are generating.
"If you looked at this area today, I believe it's around [$320,000 to $350,000] in property tax revenue that's generated," Adelman said. "And in [these] projects' first year, it'll generate [more than $6.3 million] of property tax revenue."
Adelman said that's with "passive and low-impact use of open land."
"They have a very minimal impact on county services," Adelman said. "We're not adding students to the schools or stressing the fire department or police department, but we're adding significant economic benefits."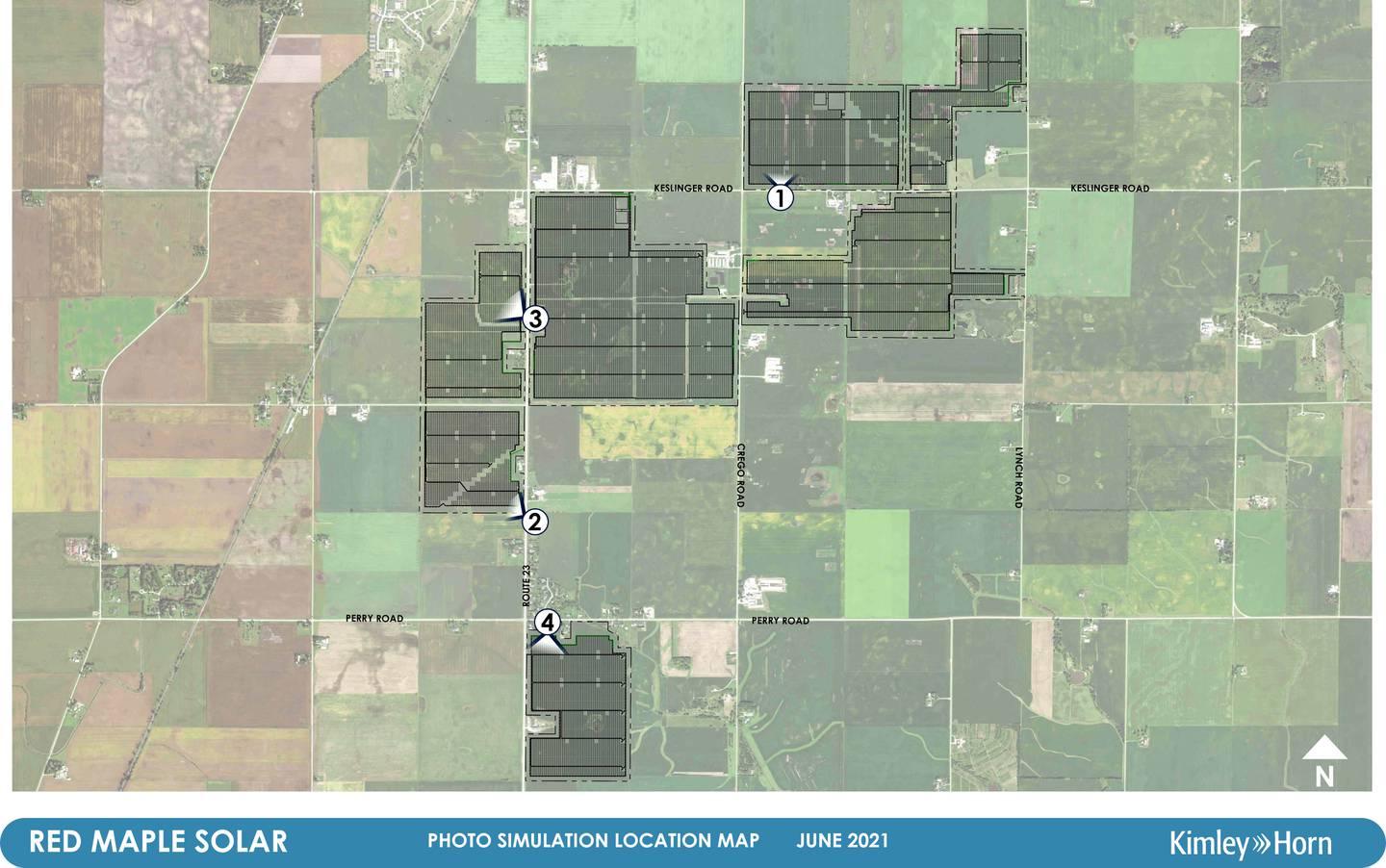 If approved by county officials, Adelman said construction for the projects is expected to start in 2022 or 2023 and last about two years. He said the Red Maple project is expected to create about 800 Illinois construction jobs and about 1,300 construction jobs for the Owens Creek project, with many of those jobs being sourced out of DeKalb County. During operations, the projects would create about 10 to 15 local jobs.
Leeward Energy officials also said Thursday they have been reaching out to neighbors the past few months about the projects. They said the projects follow requirements outlined in the county's solar energy ordinance and they will take into account concerns like decommissioning and addressing potential water drainage impacts.
"You know, part of our core values are that we're very committed to responsible development and community engagement," Laura Abram, legislative and public affairs director for Leeward Energy, said. "We engage early and often, and we are long-term owners and operators, and it's very important to us to be a good neighbor and good members of the community."
Initial neighbor reaction
Recently, residents and members of Concerned Citizens for DeKalb County, a group that was originally created to address concerns about the county's wind energy ordinance approved in 2018, urged county planning and zoning officials to consider revisiting county code regarding solar energy projects during a June 23 DeKalb County planning and zoning committee meeting. The urgings came after rumblings of industrial solar energy projects coming to the county reached neighboring residents who were concerned about how they might be affected by those types of projects.
The citizens claimed county board members didn't suspect that, after the 2018 solar ordinance was approved, the board would be talking about massive industrial solar farms meant to power entire grids for thousands of homes, as opposed to smaller panels and arrays that residents said would be more fit for community solar power for hundreds of homes.
"I know if they did, I'm sure the ordinance would look entirely different than it does now," Brad Belanger, who heads Concerned Citizens for DeKalb County, said during the June 23 meeting.
Belanger was not immediately available for additional comment on Thursday.
Following the reported EF-3 tornado that ripped through DuPage County on June 20, residents voiced other concerns about possible environmental impacts from damaged solar panels of that size. They also wanted to see further setbacks, decommissioning and total volume of land occupied by solar energy projects be further addressed.
Amazon also recently announced plans to build solar farms in Bureau and DeKalb counties. However, available public records don't indicate any company using the name Amazon has yet filed permit applications with DeKalb County government.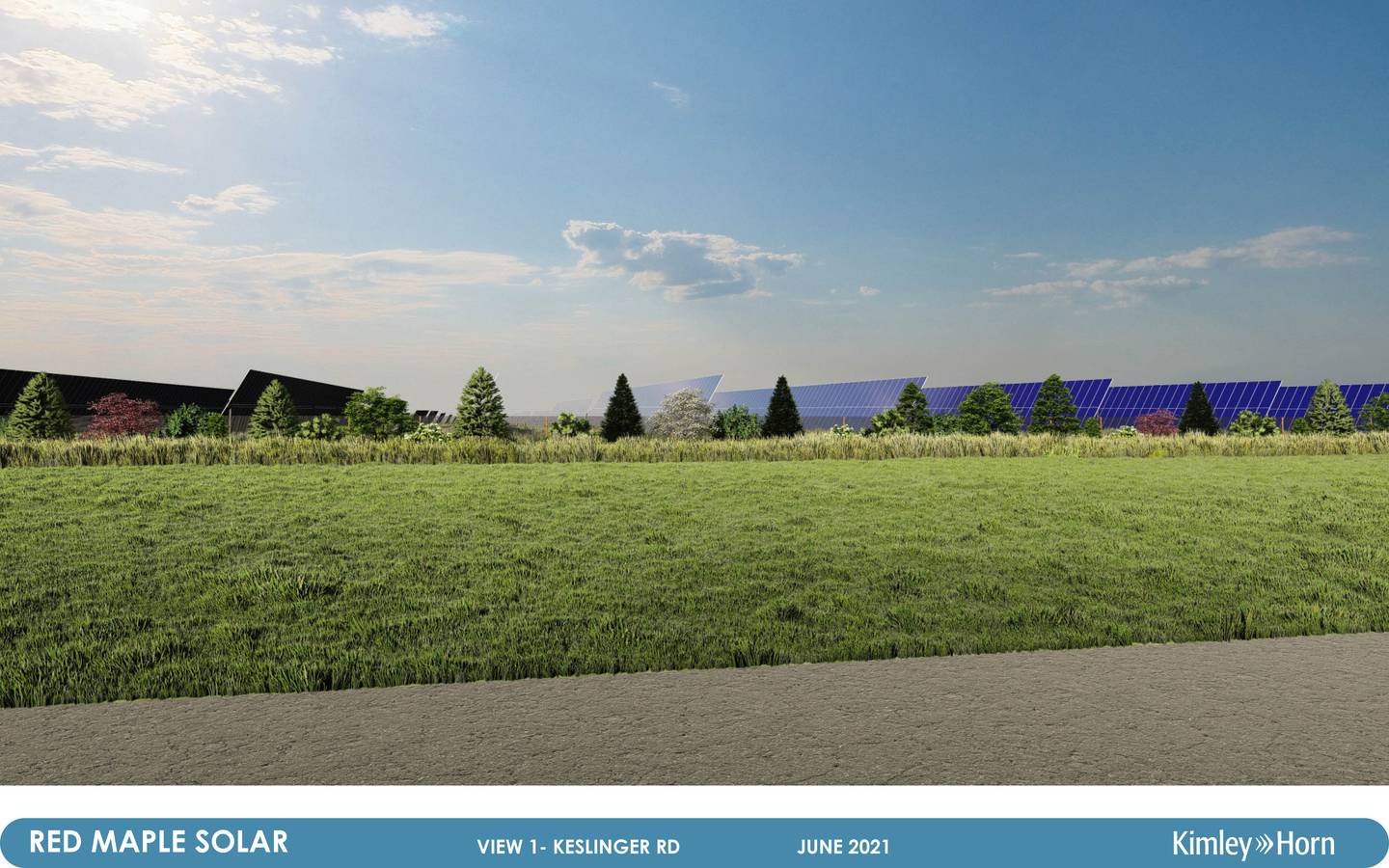 DeKalb County special use application status
In total, there have been industrial solar energy project special-use applications submitted for three projects, including the two from Leeward Energy, according to application documents obtained by the Daily Chronicle through an Illinois Freedom of Information Act request.
Samsung also submitted a special use application June 18 for a proposed 643-acre project in Milan Township. The proposed site location is within an area generally bounded between McGirr Road to the north, Haumesser Road to the east, Hermann Road to the south and Wilrett Road to the west, according to the documents.
Derek Hiland, community development coordinator for DeKalb County, confirmed in a Thursday email there were no additional project applications submitted for special- use permit consideration.
Hiland said during the June 23 committee meeting the application doesn't make the project a done deal, since solar energy projects are all special uses and therefore subject to public hearings.
"But remember what the special-use purpose is for," Hiland said in June. "Its purpose is to look at each project individually, uniquely' to see how it blends with the fabric of the area it's being contemplated for."
Steve Faivre, chairman for the county's planning and zoning commission, agreed.
"I think the hearing on this one will tell us a lot," Faivre said in the June 23 meeting.
Leeward Energy officials said Thursday they were told the tentative county public hearing date for the special-use permits are scheduled for sometime in August. Hiland confirmed via email Thursday there have been no official public hearing dates set for the projects on the county's end.
• This story has been updated Tuesday, July 20, 2021, to include corrections and clarifications regarding comments from Kevin Adelman, project manager for Leeward Energy, about tax revenue the proposed projects are expected to generate in their first year. The story also has been corrected to reflect Leeward Energy is a Texas-headquartered company. The Daily Chronicle regrets the errors.