DeKALB – A lunchroom incident surrounding Huntley Middle School's student dress code spurred pushback from students and parents this week, with some kids saying girls were singled out for what they were wearing.
The turmoil – which has been the subject of debate on social media — sparked parent concern and was followed by a student-led demonstration about body autonomy during school Thursday. Students and parents say it was during the eighth grade lunch hour Wednesday when a school employee allegedly told a group of middle school girls that if they wear revealing clothes, it's their fault if they're mistreated.
School officials, however, say there's more to the story than what's been shared on social media, and the lunchroom conversation was about what dress code is appropriate in what setting.
In a message Huntley Middle School Principal Amonaquenette Parker sent to school families on Thursday, she said the incident was a misunderstanding that occurred in part because of an apparent internet holiday referred to as 'National Slap a Butt Day.' It's unclear whether such a holiday exists.
"Yesterday, I addressed appropriate school attire through a behavior blitz announcement to all students," Parker said in the correspondence obtained by the Daily Chronicle. "During lunch periods, a staff member engaged students in a further conversation about appropriate attire. This conversation [coincidentally] took place on what Google searches advertised as National Slap a Butt Day which led to a misunderstanding."
Parker said several students voiced concern that the messaging they'd received "reflected the notion that someone on the receiving end of a slap is responsible for the action of the offender. That is not the message we want to convey."
Students, however, said the conversation turned to the staff member, singling out people based on gender and what they were wearing.
"[The staff member] pointed out a T-shirt, ripped jeans, some shorts, basic things," eighth grader Alexandra Kuriger said about the lunchroom incident. "Then she pointed out more revealing clothes and asked boys for their reaction. She said we wear revealing clothes for attention and we don't respect our bodies if we do."
When asked whether any disciplinary action had been taken in regard to the staff person's alleged actions in the incident, DeKalb Superintendent Minerva Garcia-Sanchez said, "No comment."
In her correspondence, the principal said the rationale in the district-wide dress code is "part of growing and development includes learning boundaries. The purpose of such measures is to teach young people how to dress according to the setting that they are in."
According to the District 428′s dress code policy, students are "to use discretion in their dress and are not permitted to wear apparel that caused a substantial disruption in the school environment." The dress code does not address the amount of skin showing specifically, but instructs that length of clothing must not show undergarments visibly.
In June of 2020, the DeKalb school board approved edits to DeKalb High School's dress code policy, getting rid of words such as "immodest" and "distracting" and keeping phrases such as "appropriate cover." The move by officials last year came after students had voiced concern that the language unfairly targeted female students.
Students take a stand
Huntley Middle School staff including Parker did not respond to multiple requests for comment, though Garcia-Sanchez addressed the issue Friday, saying the school district is "still in the process of investigating and doing our due diligence and due process to hear all sides and every perspective."
According to students, the staff member spoke to eighth graders during their lunch hour Wednesday regarding the dress code reminders that Parker made earlier in the day, and then the conversation turned.
"At first, [the staff member] said, 'You heard the announcement this morning, I'm just going to go over it again.'" said Kuriger. "She was talking about how if we wear revealing clothes, it's your fault if your butt is going to get slapped, and it's not the boy's fault because you're distracting him."
Kuriger said the employee then singled out specific girls, and "pointed out what they were wearing, asking the boys what they think about [the girls'] clothes." The student said boys clapped and yelled in the cafeteria, while girls were embarrassed and silently put their heads down.
Kuriger's eighth grade classmate Avery Lynd said internet holiday or not, "that still doesn't make it right to touch women or anyone where they don't want to be touched for 'fun.' That's just inappropriate and wrong."
After lunch, Kuriger said that "everyone in school was talking about what had happened."
In response, students on Thursday staged a demonstration, wearing tank tops and shorts and writing messages on their bare skin such as "Stop sexualizing," and "Don't touch." Students also made and displayed signs in the girls' bathroom, Lynd said.
Some of the signs read: "Instead of shaming people for their bodies at school, teach people that others are not sexual objects." "I go to a school where the length of my shorts is more important than my education." And, "I am a thirteen year old girl. If you are sexualizing me, you are the problem."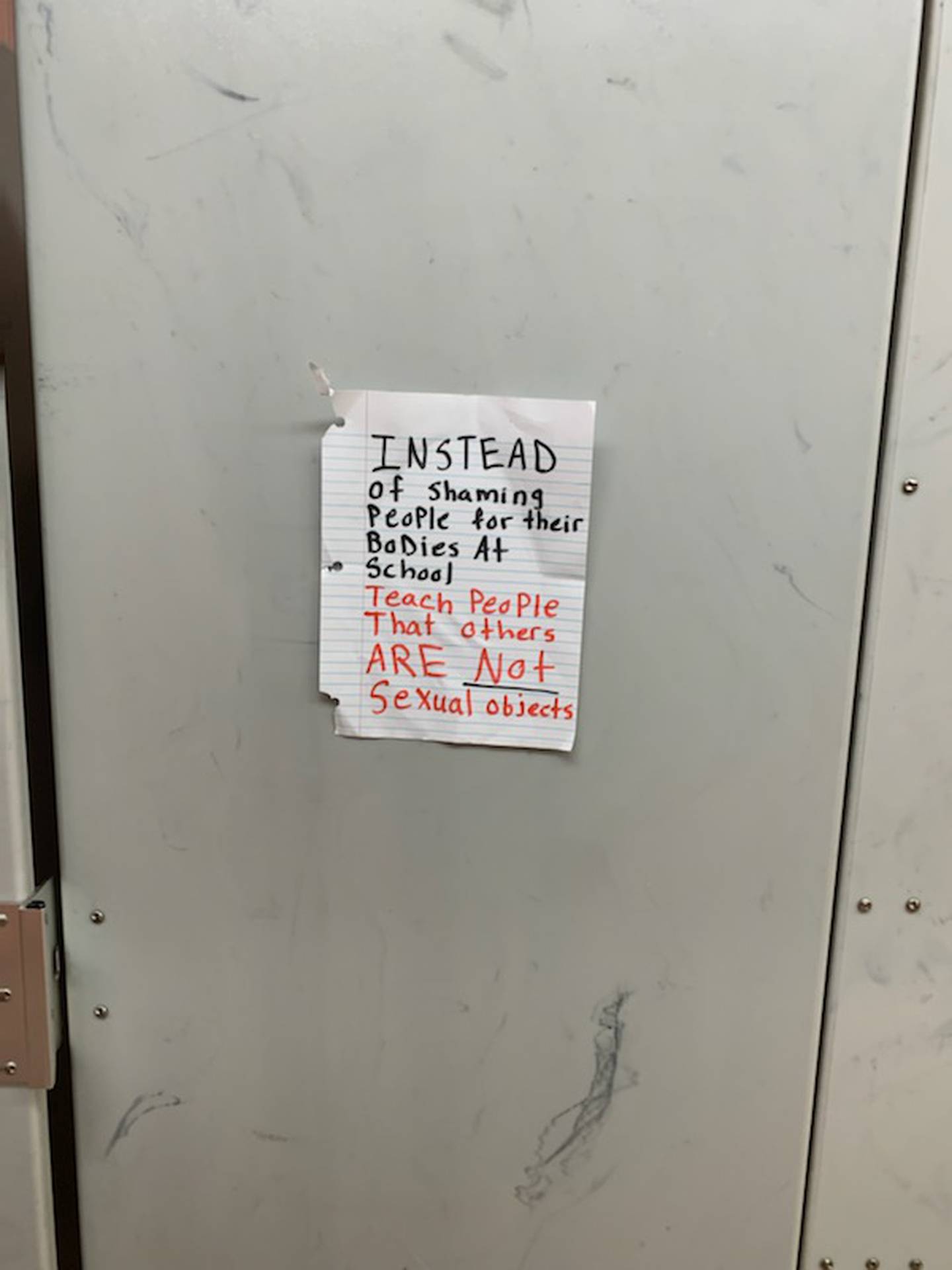 Kuriger texted her mother, Michelle Collins, after the incident happened in the lunchroom on Wednesday.
"My chest felt like it was caving in," Collins said. "This is not OK. We can't have someone in position of authority pulling our children up and shaming them for their bodies. You can't do that. It's such antiquated beliefs and it has no place in society, especially in school."
Collins posted on a local parent Facebook group about the incident, which led to several other families weighing in.
"Nobody was upset about the dress code. We're upset that someone in a position in authority of our children demeaned them and normalized sexual assault," Collins said. "We punish kids for this kind of bullying. We certainly shouldn't tolerate it from an adult."
Collins said she plans to speak more about it at Tuesday's school board meeting and thinks the staff member should be fired.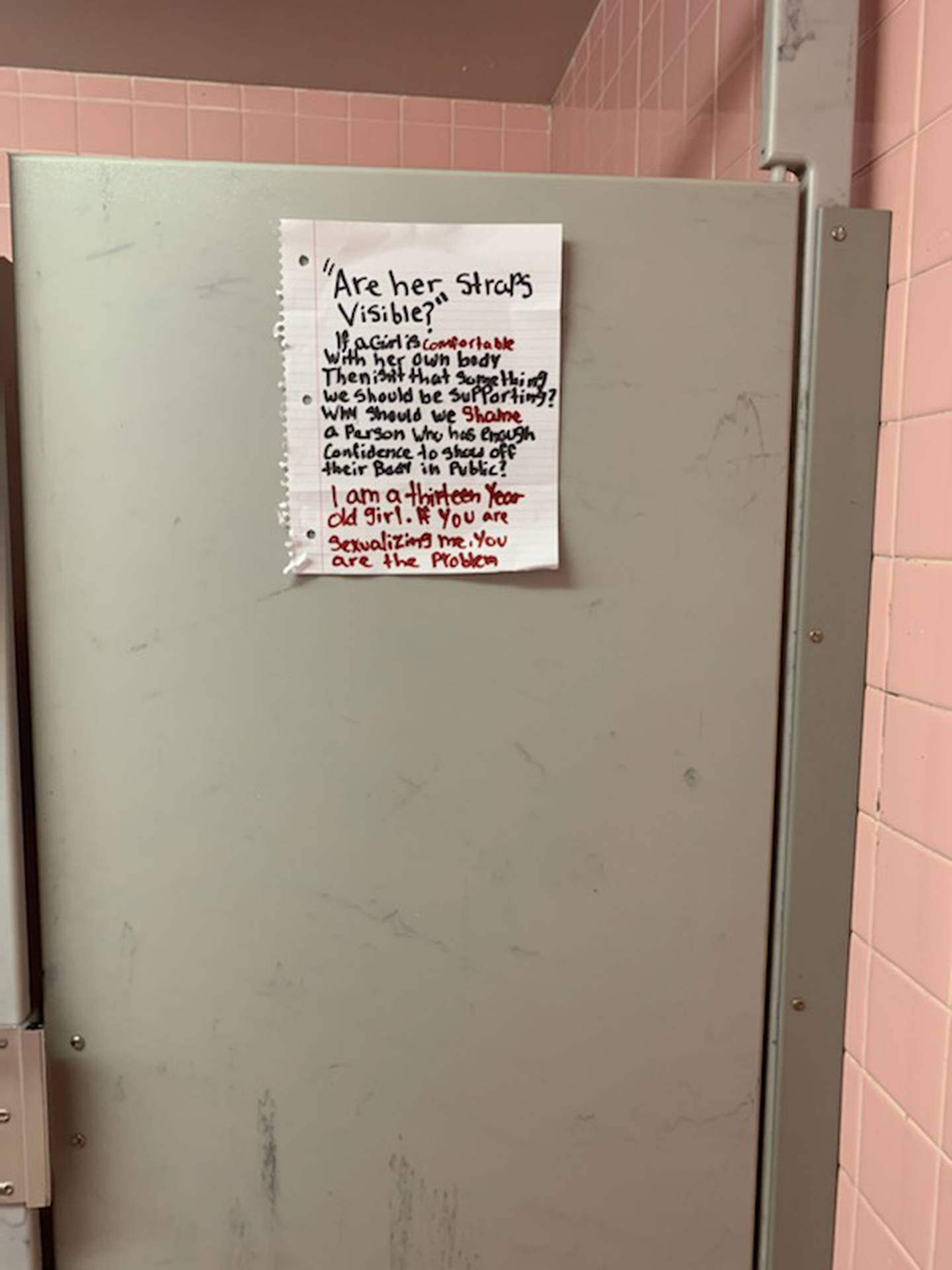 Superintendent response
"There's more to the story than what's on Facebook, and we want to make sure we stick to the facts and evidence," Garcia-Sanchez said Friday, adding district officials are still piecing together the incident and that "clarity needs to happen, we all have to be better at communication, and we as a school district will strive for that."
"There is no easy answer about what happened," Garcia-Sanchez said. "We're going to do whatever is needed to do what is in the best interest of our students, our staff and the district."
Garcia-Sanchez said that students "should always have a voice and be listened to."
"I do want students to self-advocate and advocate for others," she said.
Garcia-Sanchez said that the school district will also revisit Huntley Middle School's dress code.
"The dress code was developed by a committee of staff members, and we will be taking another look at it," she said. "We'll make sure to include student and parent voices."