DeKALB - No injuries were reported after a fire following a "chemical flare up" on Wednesday in a laboratory in Faraday Hall on Northern Illinois University's campus, DeKalb Dep. Fire Chief Bart Gilmore said.
"It flared up, they hit it with the extinguisher, it flared up again, they hit it with the extinguisher again and then they left the building," Gilmore said, adding he wasn't sure if the laboratory in Faraday Hall had both students and staff in it at the time.
Gilmore said city fire officials and NIU lab safety officials continue to investigate, and roads have reopened as of 6 p.m. Wednesday. He confirmed the Illinois State Fire Marshall was not called in.
Gilmore said it is unclear exactly what chemical caused the fire or whether it was a leak or a spill.
"They're still investigating that," Gilmore said.
A portion of Normal Road from Lincoln Highway to Lucinda Avenue closed briefly due to the fire, according to a City of DeKalb alert sent around 5:15 p.m. Wednesday. Northern Illinois University police officials also were on scene and assisted in the emergency response.
The alert stated road closures were at Normal Road and Lincoln Highway, and Normal Road and Lucinda Avenue for a fire. Residents and drivers were asked to avoid the area.
A second city alert sent out confirmed the road was back open as of about 6 p.m. Wednesday.
Crews from the DeKalb Fire Department responded to reports of a fire Wednesday. Ladder trucks from the department left the area around 5:40 p.m. and no flames were visible from the road at that time.
Gilmore explained the reason why multiple fire engines and ambulances were reported to the scene was because it was initially reported that someone was still inside the lab.
"It turned out there was nobody in the lab," Gilmore said, adding the units went to Faraday Hall anyway as an added precaution.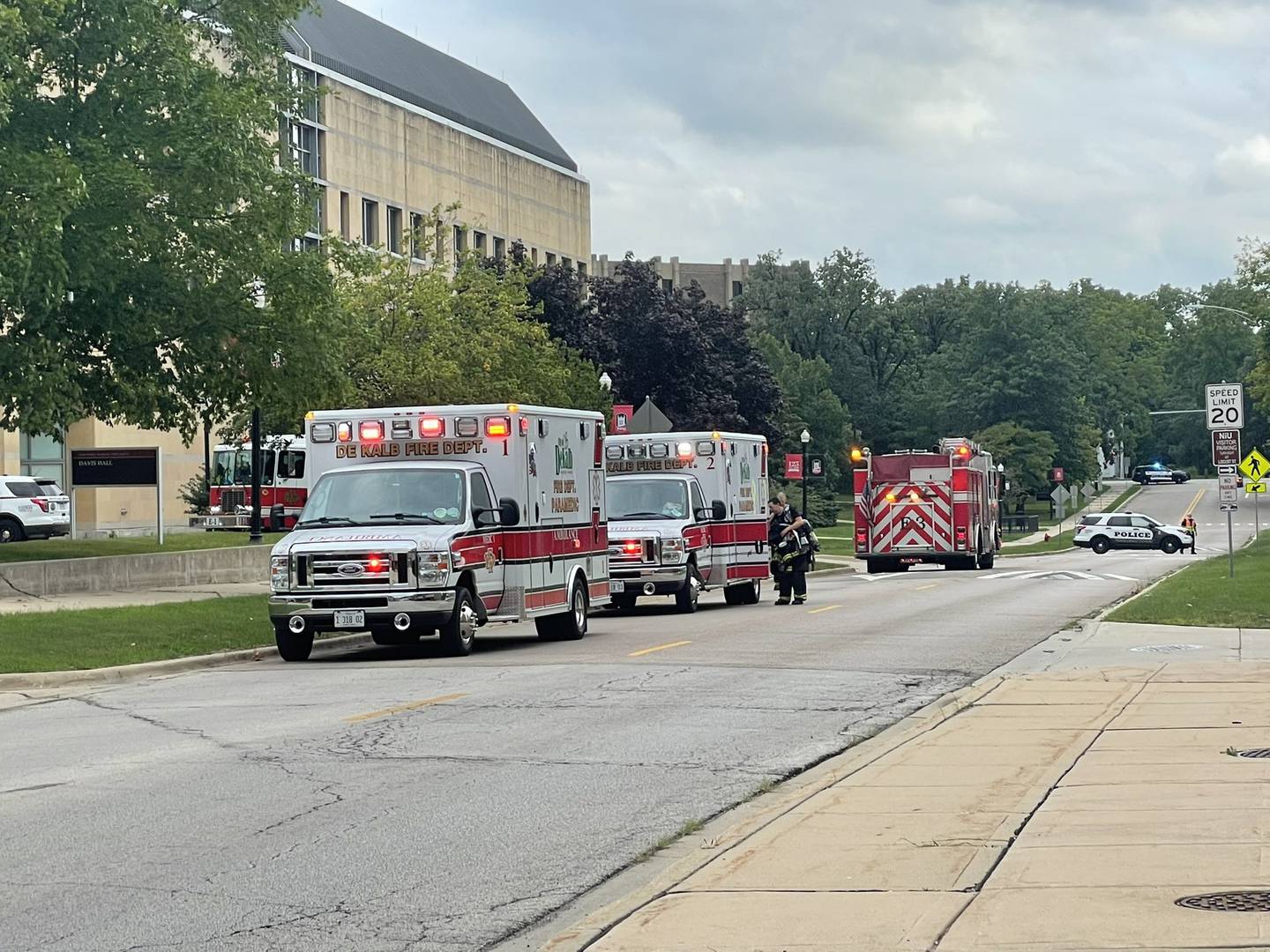 This story has been updated as of 7 p.m. with additional comment from DeKalb Deputy Fire Chief Bart Gilmore.