DeKALB – Krystyna Kamka, 55, told Northern Illinois University's Board of Trustees on Thursday that her $15.26 per hour wage "is not enough to survive" and said she recently had to get a secondary part-time job at Jewel-Osco to help make ends meet.
Money is so tight these days that Kamka, an office worker in the Center for Latino and Latin American Studies, recollected how last year she received help from a food bank while employed by NIU.
"I had drove to another food bank after work, waiting an hour in my cold car because I had to stretch the fuel in my tank at the end of the month," Kamksa said. "It was a miserable evening, cold and rainy. I huddled in my car and finally the line was moving. As I moved closer, I realized that it was an NIU dean standing in the cold and rain taking names of people. I was mortified and ashamed that I would be recognized. This is not the first time since joining NIU I had to resort to taking advantage of a food bank. It's shameful NIU pays its employees so little that they must resort to public assistance."
Kamka joined dozens of her NIU colleagues represented by two American Federation of State, County and Municipal Employees unions, who packed the university's Board of Trustees meeting Thursday to demand better pay. Many who spoke criticized what they alleged were unfair wage practices long suffered by their union members, especially longtime employees whose wages have stagnated at an average of $15 per hour while new hires are offered more.
Many union members wore shirts that said "We make NIU happen" and held signs displaying their hourly wages.
[ Photos: NIU employees speak out about wages at Board of Trustees meeting ]
More than 650 employees are represented by the two AFSCME unions that protested their wages before and during the meeting. About 500 workers are represented by Local 1890 and 160 with Local 963, according to Anders Lindall with AFSCME. The unions represent office workers, building services employee, maintenance and food services workers at NIU.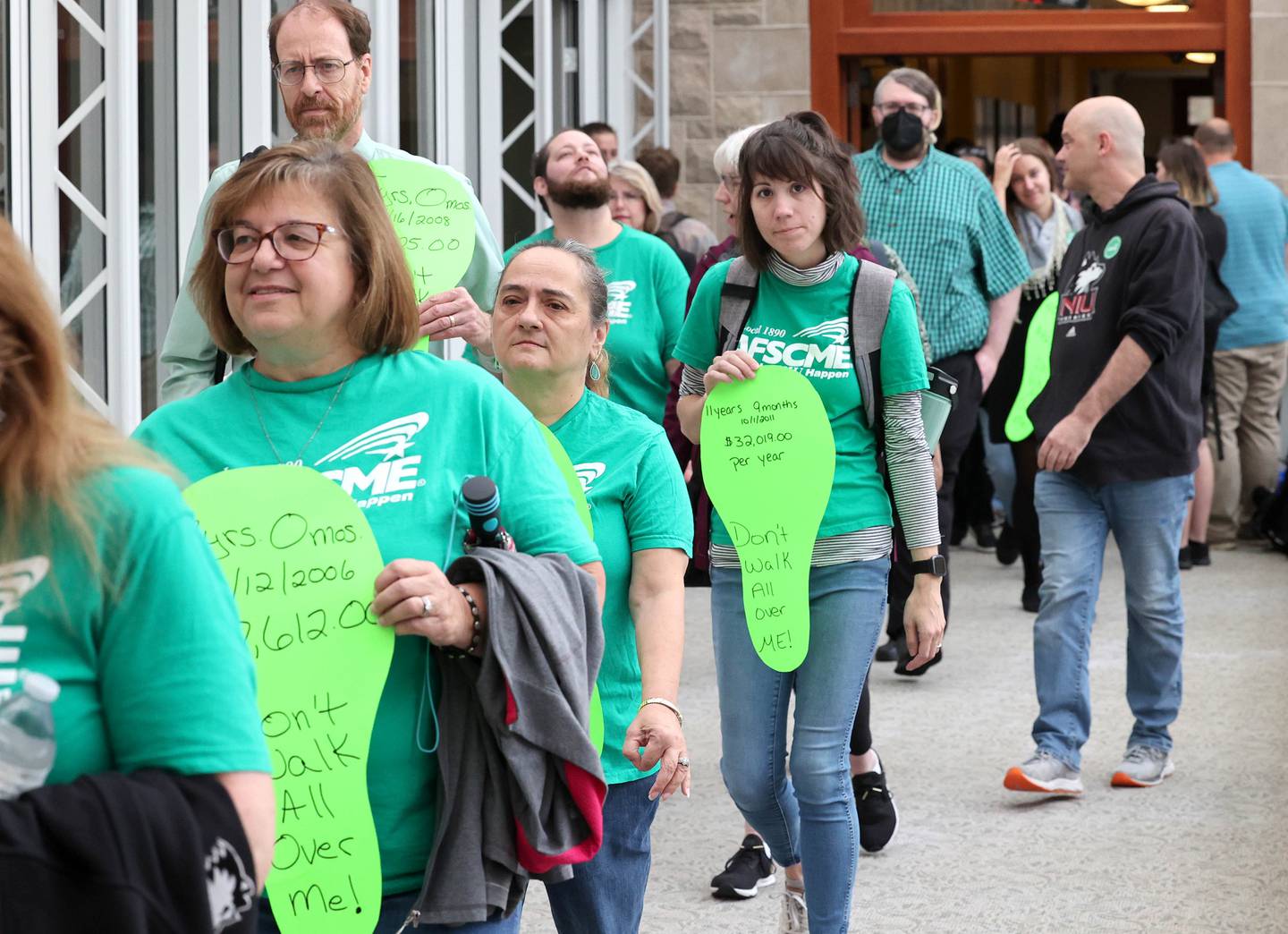 Patrick Sheridan, the president of AFSCME Local 963, said low wages were the impetus behind the picket.
"It's very tough for people to be at almost poverty wages while an administration keeps giving themselves raises year after year," Sheridan said.
According to university records, NIU President Lisa Freeman's base salary is $475,000. Huskies head football coach Thomas Hammock's salary is $552,045. Laurie Elish-Piper, executive vice president and provost, makes $309,000 yearly.
"It's very tough for people to be at almost poverty wages while an administration keeps giving themselves raises year after year."

—  AFSCME Local 963 President Patrick Sheridan
According to an AFSCME news release, negotiations for a new contract between AFSCME Local 1890 began in March 2023, more than eight months after the previous contract expired at the end of June 2022.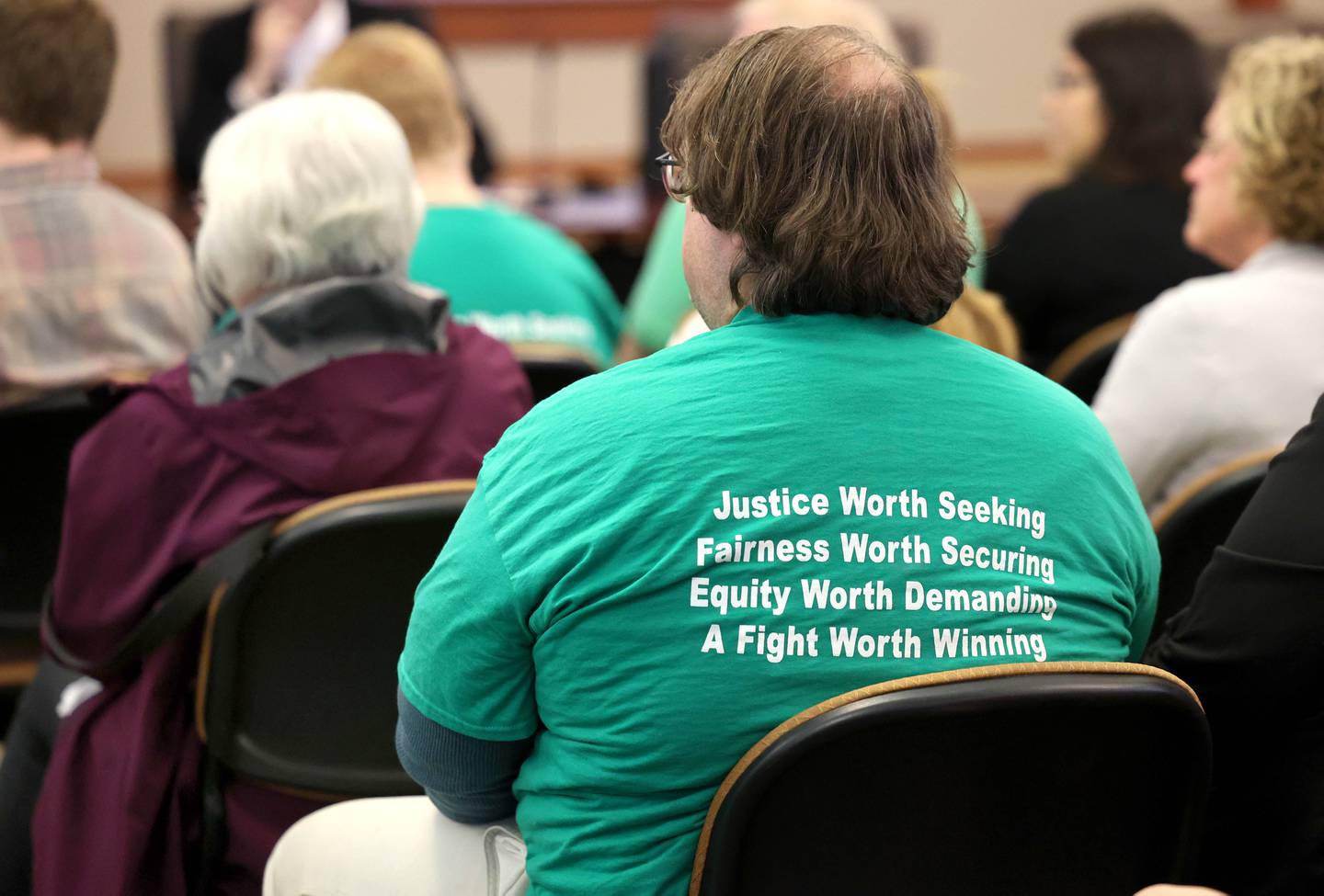 Rave Meyer, president of AFSCME Local 1890, said Thursday's demonstration was held because union members are "tired of being treated as second class employees."
"Most of our workers are making low to minimum wage, even members who have been here 15 years are making $15 an hour," Meyer said. "We have one member who's been here since – well, they'll hit their 50th anniversary on Nov. 1 – and they only make $25 an hour."
More than a couple dozen union members left signs showing their yearly earnings and how many years they've worked at the university with Board of Trustee members, predominantly Freeman. As they exited the demonstration, union members made a show of placing the signs directly in front of Freeman. Neither Freeman nor other trustees issued statements or made comment on the union demands during the public meeting.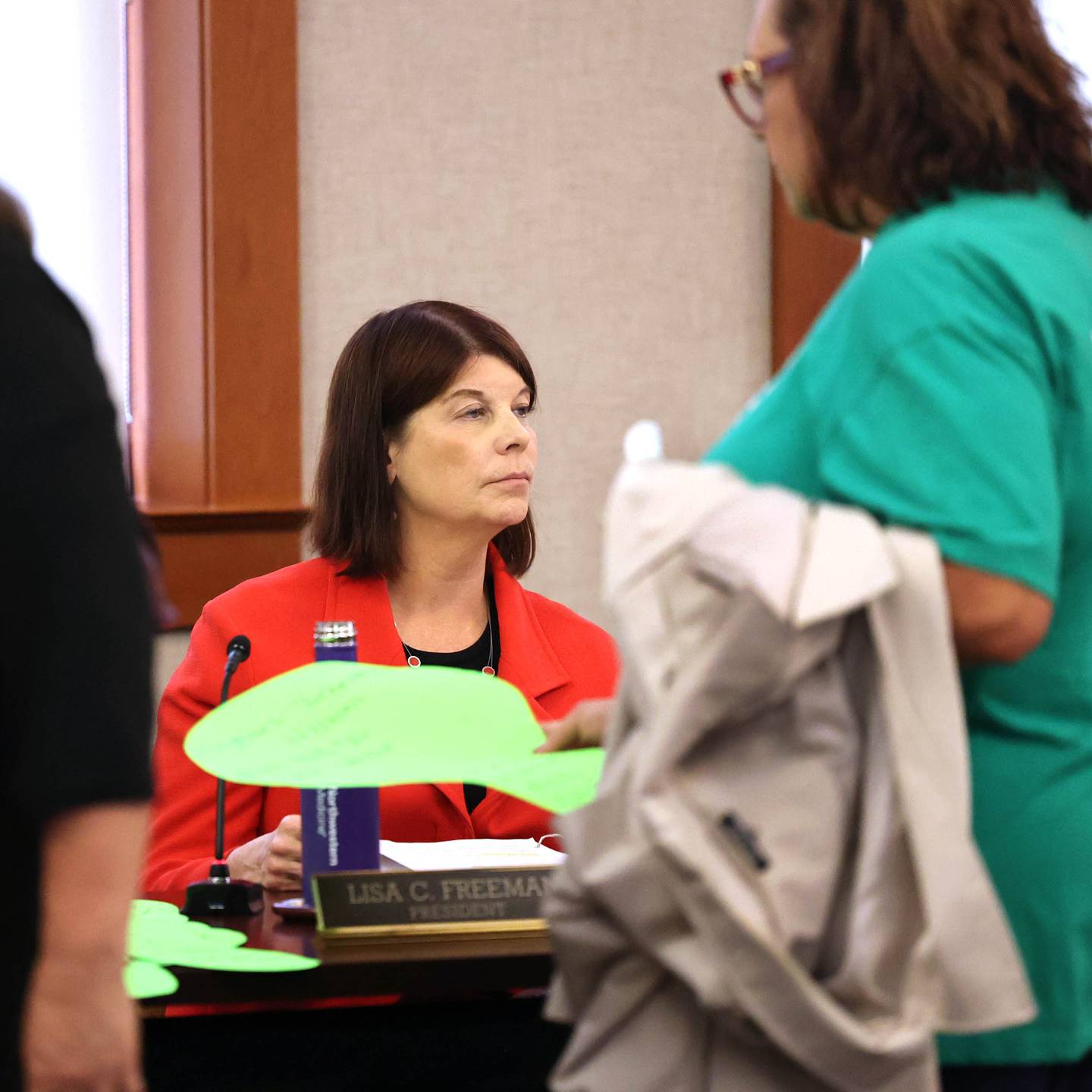 NIU spokesperson Joe King said board members would not make individual statements regarding the unions' concerns, but provided the Daily Chronicle with a statement from the university in response to the union workers' demands.
The university last held negotiations with AFSCME 1890 members Monday, according to the statement. Another meeting is scheduled for the first week of October.
"On the key economic issues raised by AFSCME members, the last offer NIU submitted contained wage increases, salary increments, compensation for years of service, and money to address inversion. NIU remains committed to bargaining in good faith and working with AFSCME to develop a contract reflective of that unit's membership and goals," the NIU statement reads.
In an interview before the meeting, Sheridan said negotiations between AFSCME Local 963 and NIU are ongoing, but "it seems like NIU is a bit out of touch with the reality of the job market around here."
"There's no way you're going to get people for minimum wage these days now, and you can't plan to be a minimum wage university for years to come," Sheridan said.
Coincidentally, the Board of Trustees meeting was held in Altgeld Hall – a building named after former Illinois Gov. John Peter Altgeld, who strengthened workplace safety and child labor laws, and protested U.S. President Grover Cleveland's use of federal troops in Illinois during the 1894 Pullman Strike.
"Local 1890 members feel they've been lied to, and they have lost faith they will be treated with respect," Meyer said. "Certainly they've had no economic justice over the years. John Peter Altgeld would take on this fight if he were alive today."