DeKALB – A DeKalb County judge Monday reduced bond to $350,000 for a Huntley Middle School student teacher, 23, accused of sexually abusing a 14-year-old student after his defense attorney argued he was a church-going gospel singer with no criminal history.
Quinyatta L. Hutchinson, 23, of the 900 block of Crane Drive, DeKalb, a Northern Illinois University senior set to graduate in a few weeks, also led the university's gospel choir, said his defense attorney, Aurora-based lawyer Geneva Penson.
Hutchinson is charged with grooming and aggravated criminal sexual abuse, a class 2 felony. If convicted, he could face up to seven years in prison. He's accused of having illegal sexual relations with a minor student while employed at DeKalb School District 428′s Huntley Middle School in DeKalb.
Circuit Court Judge Marcy Buick said she ordered the bond amount lowered in light of more information about Hutchinson brought forward.
"That type of information was not available to the court [when the warrant was set]," Buick said. "I will note as well that the state has a strong case with regard to these allegations. ... The allegations involved Quinyatta essentially perhaps using his position to gain trust of a minor."
Prosecutors, meanwhile, argued that Hutchinson's bond should have remained at $500,000.
Assistant State's Attorney Monique Langhrer argued that Hutchinson is a danger to minors in the community due to what police have alleged was a relationship between the student teacher and a 14-year-old student that was discovered earlier this month.
"Those are very serious charges," Langhrer said. "This is a case in which the defendant is alleged to have essentially abused his position of trust in the community. ... The state's position is that the defendant took advantage of his position, that he is a risk to minors in the community, and we believe that the bond was appropriately set."
The student teacher is accused of grooming the teen for months, according to DeKalb County court records. The student told police that the two allegedly exchanged multiple digital messages with each other, including messages with sexual content, court records state. The student also alleged to police that Hutchinson asked them to perform a sexual act on him.
"Those are very serious charges. This is a case in which the defendant is alleged to have essentially abused his position of trust in the community."

—  Assistant State's Attorney Monique Langhrer
Penson argued that Hutchinson's lack of criminal history and engagement with his local church in Chicago meant he wasn't a flight risk and would remain with his family if released from jail to face the charges. She asked Buick to set a bond amount more appropriate to what Hutchinson's family could afford.
"Mr. Hutchinson, though he is only 23, is an elder or minister in the Church of God in Christ in addition to being a gospel singer. At NIU, he was the director of the gospel choir. ... I'd also like to point out that there's a large community of people here to show support for him, including his bishop, his pastor, his grandmother, various aunts and other family members."
In an email Monday, NIU spokesperson Joe King confirmed Hutchinson was a member of the NIU Black Choir. King said Hutchinson's enrollment at NIU has not changed as of Monday.
King confirmed a week ago that Hutchinson was still a student and that DeKalb police had notified university officials of the arrest.
"Based on information contained in the arrest record, the university has taken appropriate actions pending the outcome of the student conduct process," King said last week.
DeKalb District 428 spokesperson Rita Elliott said Monday that no further details were available.
A Huntley Middle School employee walked in on Hutchinson and the student April 14 and found them alone in a classroom behind a cabinet, according to court records. The behavior was reported to DeKalb police, and Hutchinson immediately was removed, District 428 officials said.
During a police interview later that day, the student told police that Hutchinson allegedly sexually abused them during the lunch period Thursday. In the police interview, the student also told authorities the two often met during school hours and engaged in sexual acts multiple times between March 1 and April 14, court records allege.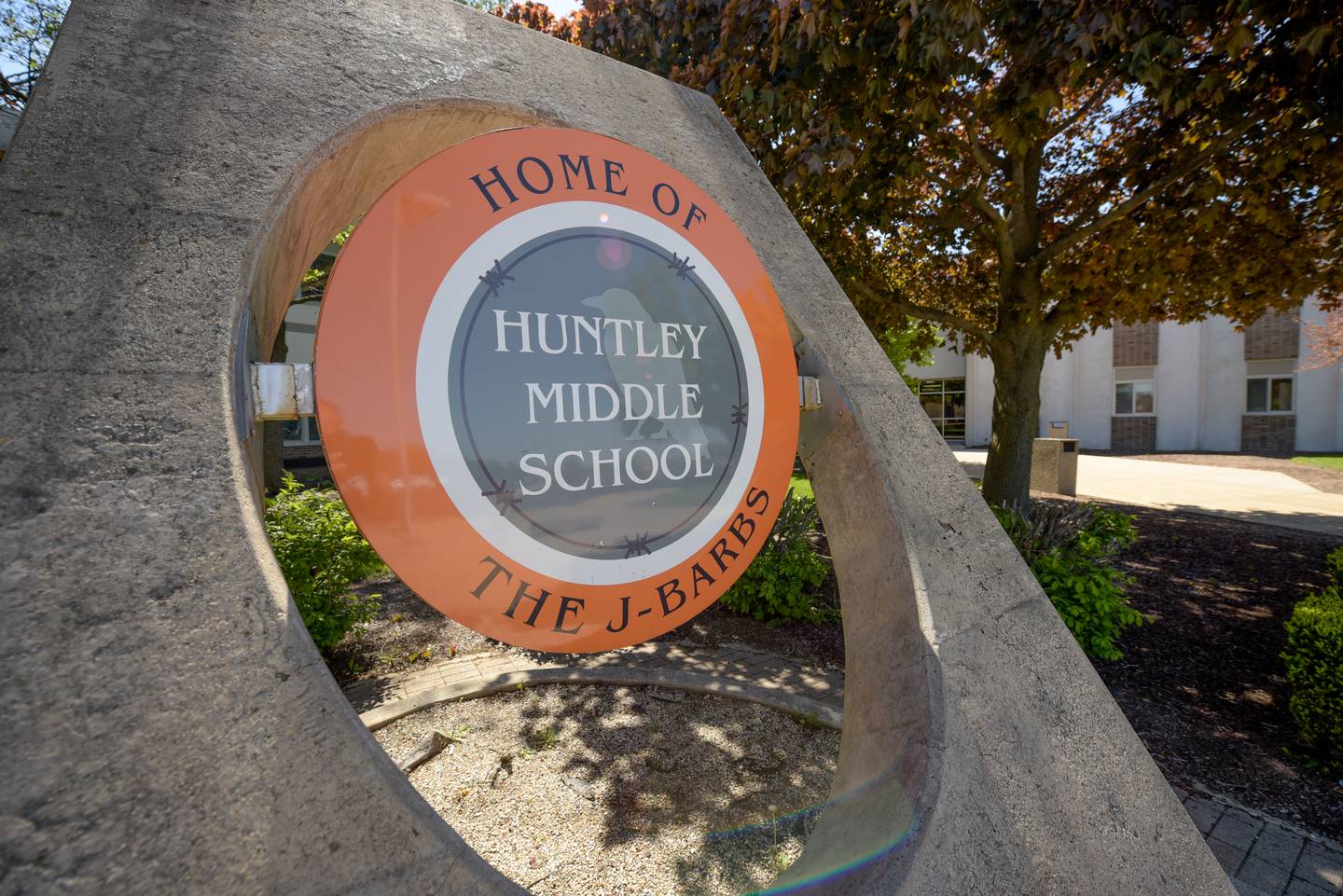 Hutchinson has been in custody at the DeKalb County Jail since his arrest on April 18. He would need to post 10% of his bond amount, or $35,000 to be released from jail. If released, he's ordered to remain on an electronic home monitoring decide, and to not contact the victim or contact or reside with anyone under age 18.
District 428 officials said last week they were made aware of the incident the night it was discovered. A second statement issued to all district families April 19 pointed parents and guardians to resources for what to do if their child discloses abuse, how to report child sexual abuse and steps to ensuring a safe community for children.
Hutchinson is next ordered to appear for a status hearing at 2:30 p.m. May 23.