During one of Lorenz Metz's first practices as an offensive lineman at Cincinnati, former Bearcats offensive line coach Ron Crook remembers Metz playing tackle and lining up too close to the guard beside him.
After the play, Crook told Metz to leave some space.
"You need about a 2-foot split on every play," said Crook, who now coaches the O-line at Virginia Tech.
Crook remembered Metz looking at him and saying, "What is foot?"
That's when Crook knew there might be a learning curve for his 6-foot-9 German offensive lineman. As a chemical technician over in Germany, Metz is well versed in the metric system, so measuring in yards and feet took a little adjustment.
Flash forward a few years and Metz is now doing just fine in America. After a stellar college career at Cincinnati that included an All-AAC performance in 2021, Metz signed as an undrafted rookie free agent with the Bears.
The 6-9, 316-pound German, who didn't play football until he was 17, might be the biggest curiosity on the Bears roster this spring. He's certainly a mountain of a man who has the size and length that NFL teams love on the offensive line.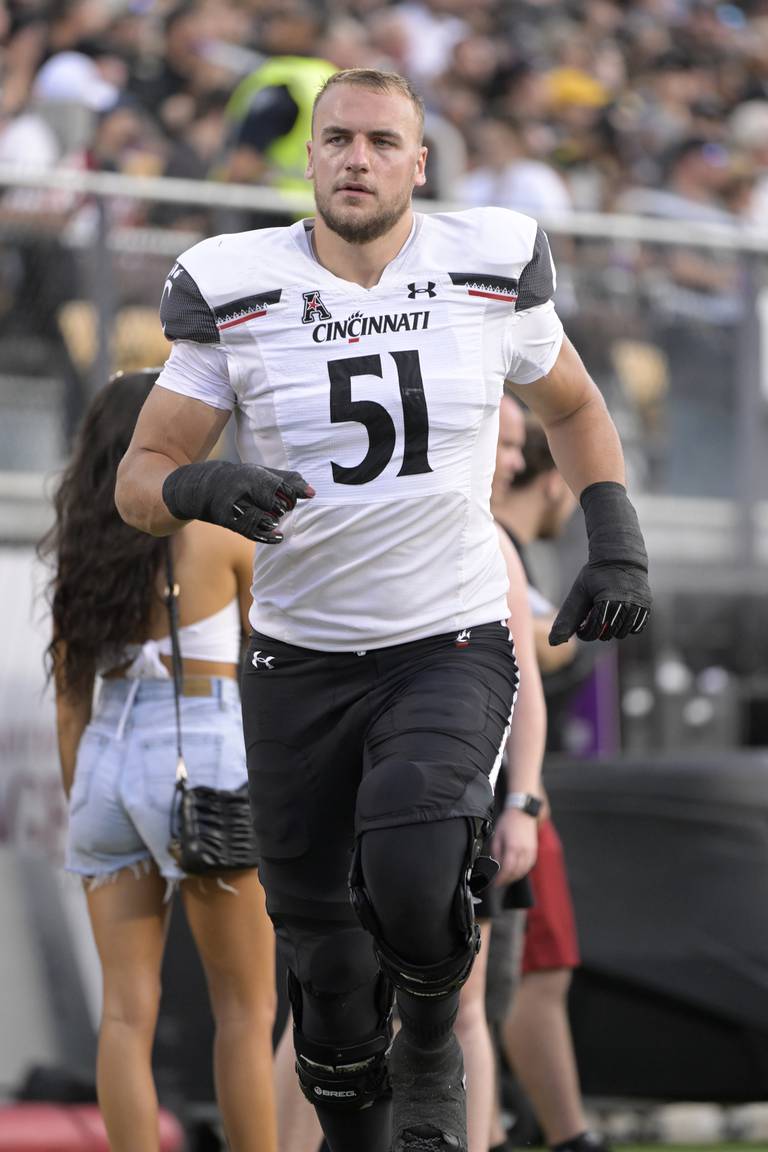 Metz grew up in Neuötting in Bavaria, Germany. It's a city of about 84,000 people not far from the border with Austria. He played a wide variety of sports growing up: soccer, karate, swimming, even ping pong.
Just before he turned 18, a friend suggested he try American football. Metz began his football career playing for the Kirchdorf Wildcats in the German Football League. Simultaneously, he worked as a chemical technician in a factory producing aircraft deicers, brakes and fluids.
"It was fun," Metz told Shaw Local at Bears rookie minicamp this month. "But this is more fun."
A coach named Brandon Collier spotted Metz at a game in Germany. Collier runs PPI Recruits, which stands for Premier Players International. The international scouting agency has helped football players from more than a dozen countries land American football scholarships.
It wasn't hard to sell American coaches on Metz's size and athleticism. Crook remembers watching the tape and seeing promise, but he wanted to meet this German kid. Metz flew to American and visited Cincinnati, which all but sealed the deal. He chose the Bearcats over reported offers from Georgia Tech, UMass, UConn and Michigan.
Metz was initially a defensive lineman. He redshirted during the 2018 season, then made a switch to the offensive line the following year.
"At first, I thought offensive line was kind of boring."

—  Lorenz Metz, Bears offensive lineman
"At first, I thought offensive line was kind of boring," Metz said. "I was like, I want sacks, all that stuff, but offensive line is more fun than defensive line to me. Enforcing your will on somebody is fun."
There was a language barrier at first, but it didn't take Metz long to fit into the locker room at Cincinnati.
"When you get in a football locker room, all you really need to do to fit in is show that you're going to work hard and show that it's important to you," Crook said.
Metz did exactly that. He started 13 games during 2019 at both tackle positions. He was a backup tackle in 2020, during the season impacted by COVID-19, but was thrust into the Peach Bowl against Georgia when Bearcats tackle James Hudson was ejected for targeting. Metz struggled during the second half of that game, a Georgia win, 24-21.
That loss knocked Metz's confidence down. He spent time with a sports psychologist during the offseason and made the switch from tackle to guard.
In 2021, he started eight games at right guard and made All-AAC first-team honors. The Bearcats began the season 13-0 and earned a berth in the College Football Playoff.
"It was incredible," Metz said. "As a [Group of Five] team making the college football playoff, it was a once-in-a-lifetime. Nobody else ever did it before."
Metz started to receive some draft buzz, but he was also dealing with lingering injuries. He elected to return to Cincinnati for one more season.
Injuries kept him off the field until midway through the 2022 season. He started the final five games at right guard. All that missed time likely hurt his draft stock and he wound up signing with the Bears as an undrafted rookie.
Crook left Cincinnati following the 2021 season, but has kept a close eye on Metz.
"There's guys that come along and do a great job with the opportunity that's presented to them and if he does that, if he focuses on what he's good at and listens to the coaching and takes advantage of things when it comes his way, I think he's got a good shot [in the NFL]," Crook said.
For Metz, it will be an uphill battle if he's going to make the Bears roster. With recent additions to the offensive line – notably free agent guard Nate Davis and No. 10 overall draft pick Darnell Wright – the Bears appear to have a deeper offensive line than they did a year ago.
But there's a lot to like about Metz's size, and he's still somewhat new to the game. He's exactly the type of high-upside player who an NFL team might keep around on the practice squad.
"What I try to do is just have no regrets," Metz said. "Leave it all out there and if it happens, it happens. If it doesn't, I know I did my best and I know I gave it my all."