Even Republicans acknowledge the Illinois GOP has fought a slow, unresolved policy fight with itself for decades.
For 50 years, the moderate wing of Illinois Republicanism (former Govs. Jim Thompson, Jim Edgar, and marginally Bruce Rauner) had its way, but Tuesday's primary election in which state Sen. Darren Bailey locked up the GOP nomination for governor, might have signaled a tectonic shift. Perhaps no one seemed more surprised by that rumbling under their feet than the old-line moderate leadership.
Some view the shift as a decadelong drift that began with the Tea Party. Others point to former President Donald Trump and his continued prominence both nationally and in some circles of the Illinois Republican Party.
Bailey, whose every public pronouncement signals he is a Trump/MAGA Republican, won the governor's primary so handily that it seemed as though he had no serious opposition. Billionaire GOP influencer Ken Griffin spent $50 million on a candidate – Aurora Mayor Richard Irwin – who finished third.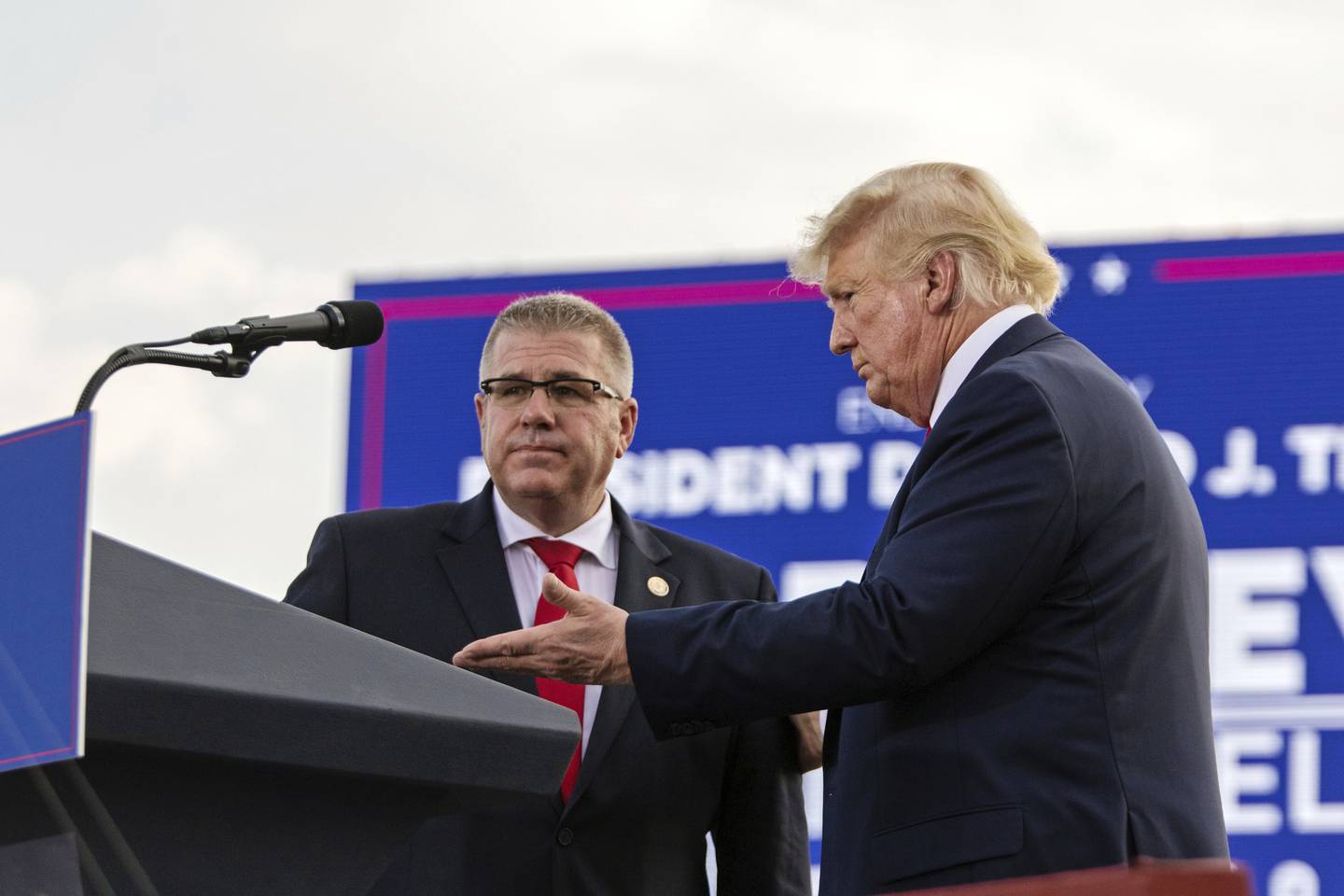 Former U.S. Rep. Joe Walsh said Tuesday's results show the Republican Party is shrinking in terms of its appeal, both in Illinois and nationally. He also questioned how Bailey's nomination would fare against Democratic Gov. JB Pritzker this fall.
"This is still Trump's party," he said. "To win a Republican primary, you have to get down on your knees and bow and worship Trump and Trumpism."
U.S. Rep. Mary Miller of Illinois, who spoke at a rally over the weekend with Trump and U.S. Rep. Lauren Boebert, R-Colorado, beat fellow Republican incumbent U.S. Rep. Rodney Davis. Catalina Lauf, who had a speaking role at the 2020 Republican National Convention, secured the GOP nomination for Illinois' 11th Congressional District. And Thomas DeVore, who fought Pritzker's school mask mandate in court, won the GOP nomination for attorney general.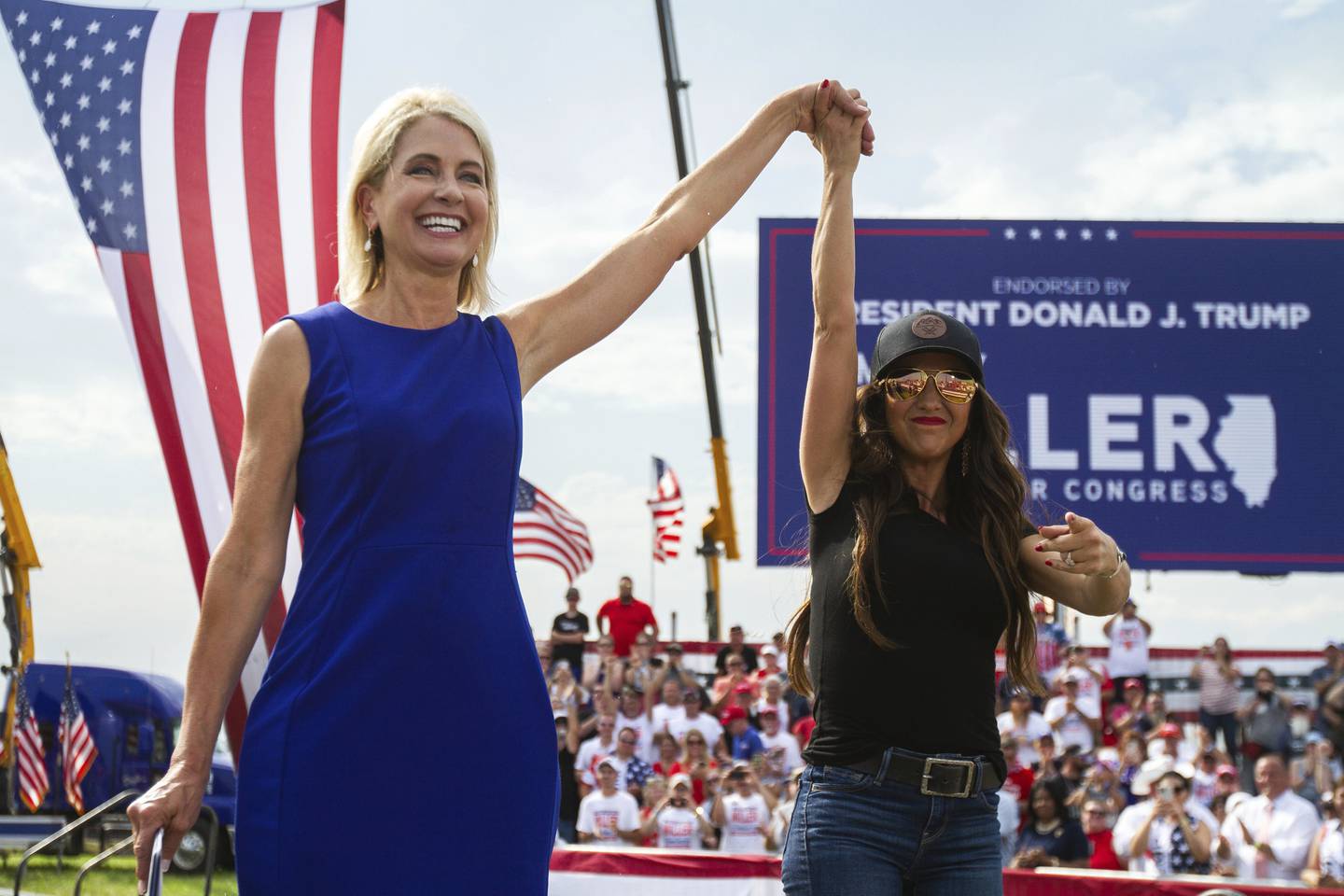 Speaking on the Illinois gubernatorial primary results, Walsh said Irvin was a bad candidate who "didn't deserve to win." Bailey, on that note, assumed the mantle of Trumpism, which carried him forward, he said. Still, Walsh said he doesn't think the odds favor Bailey in November's general election.
"[Bailey] has no prayer against Pritzker," he said. "He won't play in the suburbs or Chicago. … There's a reason Pritzker put money behind Bailey."
Alhough Walsh expects November to go well for Republicans at the national level, he sees the party becoming a "rural, regional party" in the years to come.
"I don't think the party can be saved," he said. "It's a party walking away from the suburbs and urban America."
Kristina Zahorik, the McHenry County Democratic Party chairwoman, said the GOP has become "too extreme," and is now more exclusive than inclusive.
Stepping away from what Tuesday's results may mean for Democrats in November, Zahorik said the direction Republicans are taking is bad for lawmaking.
"For our country and democracy, it's very concerning," she said. "I don't think it serves any of us well."
Republican Party officials in McHenry and Lake counties disagree with that sentiment.
Mark Shaw, chairman of the Lake County Republican Central Committee, said the most important thing to him was party unity. Overall, he wasn't concerned with the party's direction; its best chance to win is coalescing behind one candidate, he said.
"Illinois is very different culturally depending on what area you live in," he said. "Sometimes it's like six or seven different states."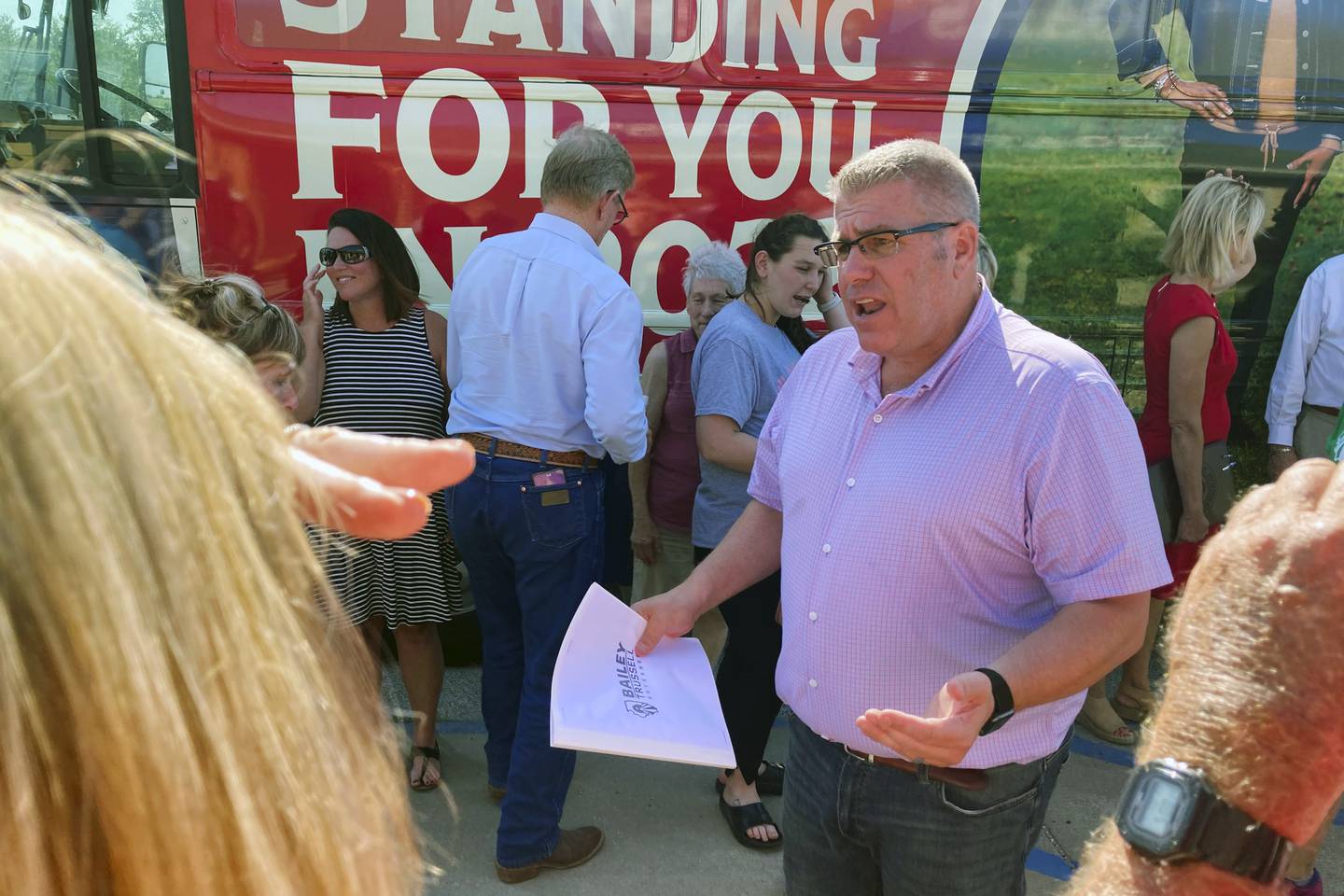 Bailey won in most counties, including Lake County, where he garnered about 43% of the vote, unofficial election results show.
Shaw said he liked all six Republican gubernatorial candidates in the primary and pledged to get behind whoever won the nomination. Considering Bailey's margin of victory, Shaw said he's optimistic about GOP chances in the fall.
"The party has to be united," he said. "I've said this for six months. Our party will have to come together instantly the day after the primary. Because if we don't, there's not enough time to turn it around before November."
McHenry County Republican Party Chairman Tyler Wilke said he backed the unity concept but thinks Bailey's win was positive for the party. In past races, such as with Rauner, it felt like there was no difference in the parties, Wilke said.
"[Constituents] are looking for a breath of fresh air," he said. "There's going to be stark differences between Pritzker and a candidate like Bailey. That gives the party a chance to energize the base, and the independent voter has the opportunity to choose what direction they want." Wilke said he thinks Bailey has a reasonable shot at unseating Pritzker.
"Bailey's got a real opportunity to make changes that help people in Illinois," Wilke said.
Steve Balich, a Republican on the Will County Board, said Tuesday's GOP primary reflected an anti-establishment trend that has been developing for years.
"The party direction changed six, seven years ago," Balich said. "What's happening is you have people in the party, like myself, and we care about what's good for American citizens."
Balich is a former Tea Party leader in Will County and was a Republican ward committeeman in the 1980s. He is prone to take on controversial conservative causes. Also Homer Township supervisor, Balich last year led a successful effort to have the township declared a sanctuary for life in an anti-abortion stance.
"We're a party of people saying we're fed up with big government," he said. "We want government to leave us alone. Do you want to call that America First? OK."
Republicans who formed the Tea Party a decade ago have been motivated by Trump, he said.
State Rep. Mark Batinick, R-Plainfield, said there was nothing particularly new about the way the Republican primary turned out.
He pointed to Rauner's nomination in a 2014 primary contest against former state Sen. Kirk Dillard.
"Dillard was the establishment guy, and Rauner was the firebrand, far-right kind of guy," Batinick said.
Noting Bill Brady's run for governor in 2010, Batinick said, "Of the top-tier candidates, the most conservative has won the nomination."
But Batinick said extremists in both the Republican and Democratic parties have been winning primaries due to gerrymandered electoral maps that favor one party over another. The defeat of U.S. Rep. Rodney Davis, R-Taylorville, on Tuesday was due more to Illinois' new electoral map than Trump's support for his opponent, Miller, Batinick said.
"The Democrats have moved farther to the left, and gerrymandering has created more hard Republican districts, which moves us to the right," Batinick said. "Rodney Davis always won in a swing district. No one even challenged him."
But there was something different about Tuesday, said Christopher Mooney, a W. Russell Arrington Professor of State Politics at the University of Illinois at Chicago.
"This primary demonstrated that the Trump wing of the Republican Party has taken over the party in Illinois," Mooney said.
The situation in Illinois has been aggravated by Republicans' inability to win statewide elections – with the exception of Rauner's one term – for the past two decades while losing the state legislature to Democrats, he said.
"The other thing that's going on in Illinois is a frustration that has been building for years with the Republican Party not being able to win," he said.
When organized parties cannot win elections, people in the party "get frustrated," Mooney said. "They lash out at their leaders."
Mooney predicted the campaign for governor will be more ideological than is typical as candidates move to the center after primary victories to win election.
"Pritzker is just all in on the Progressive agenda," Mooney said.
Pritzker "could take his foot off the gas" because he is in a strong position to win, Mooney said. "But I don't think he's going to do so because I think he's going to run for president."
Seeing farther right candidates win in congressional or state legislative primaries Tuesday is a byproduct of the way districts were redrawn, said Kent Redfield, professor emeritus of political science at the University of Illinois at Springfield.
He said the 13th Congressional District is an example of a district drawn to take in as many urban areas, traditionally Democratic, collecting Champaign-Urbana, Springfield and metro east St. Louis, leaving behind other districts primarily rural and Republican, such as the 15th.
"In these districts it is easier for the Republican candidate to move farther right, because there is no Democratic candidate, or any viable one," Redfield said.
Redfield said the mindset changes in more balanced districts, or statewide elections. He said there was a reason Pritzker spent money against Irvin, preferring to face the more right-leaning Bailey.
Redfield said Bailey's win is the Republican Party moving in an ideological direction, instead of thinking pragmatically about who can win. He said it's not a new dynamic nationwide, but it is in Illinois.