PRINCETON — This week, Princeton couple Dane and Kelsey Stier made the purchase of a lifetime.
After weeks of anticipation, they finally got to close on the former historic Knox Hotel building on the north end of Princeton's Main Street.
With a well-thought-out plan in hand, the two intend to breathe life back into the 15,000-square-foot space and transform the second and third floors back into Princeton's Historic Knox Hotel and Ballroom once again.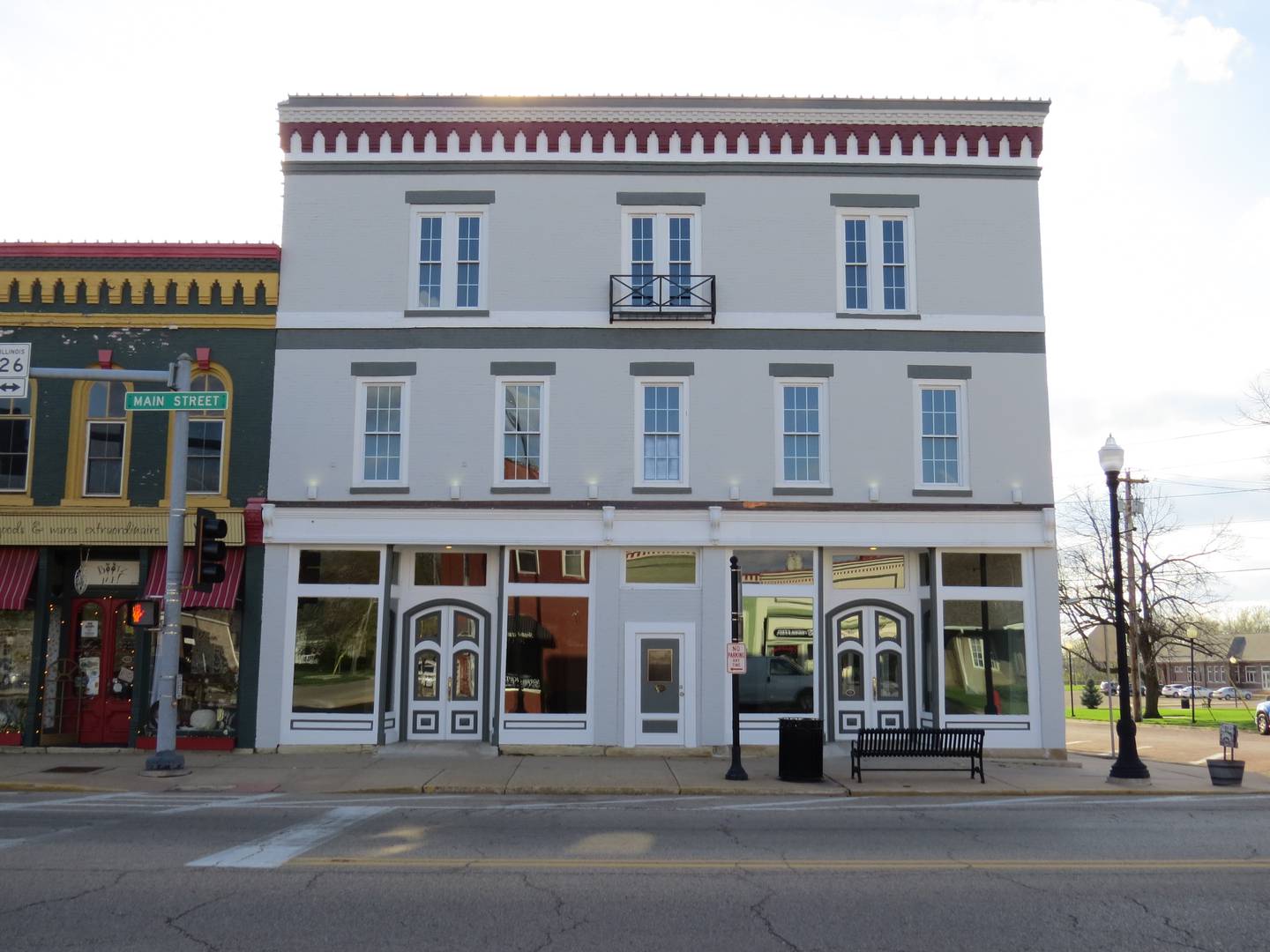 What it was, what it's about to become
The building dates back to 1858 when it was built for a hotel in downtown Princeton. The Knox originally opened with space for between 20 and 30 hotel rooms, and a small dance hall. Many of the hotel rooms were much smaller than today's current standards and relied on communal bathroom and shower areas. It operated until the 1960s when it was closed due to being outdated. For more than 50 years, it hasn't been used as a hotel. The first floor has been utilized as retail space, which the Stiers plan to continue to rent out to future retailers. Their vision is to bring back the Knox Hotel to offer guests a vintage experience with modern comfort.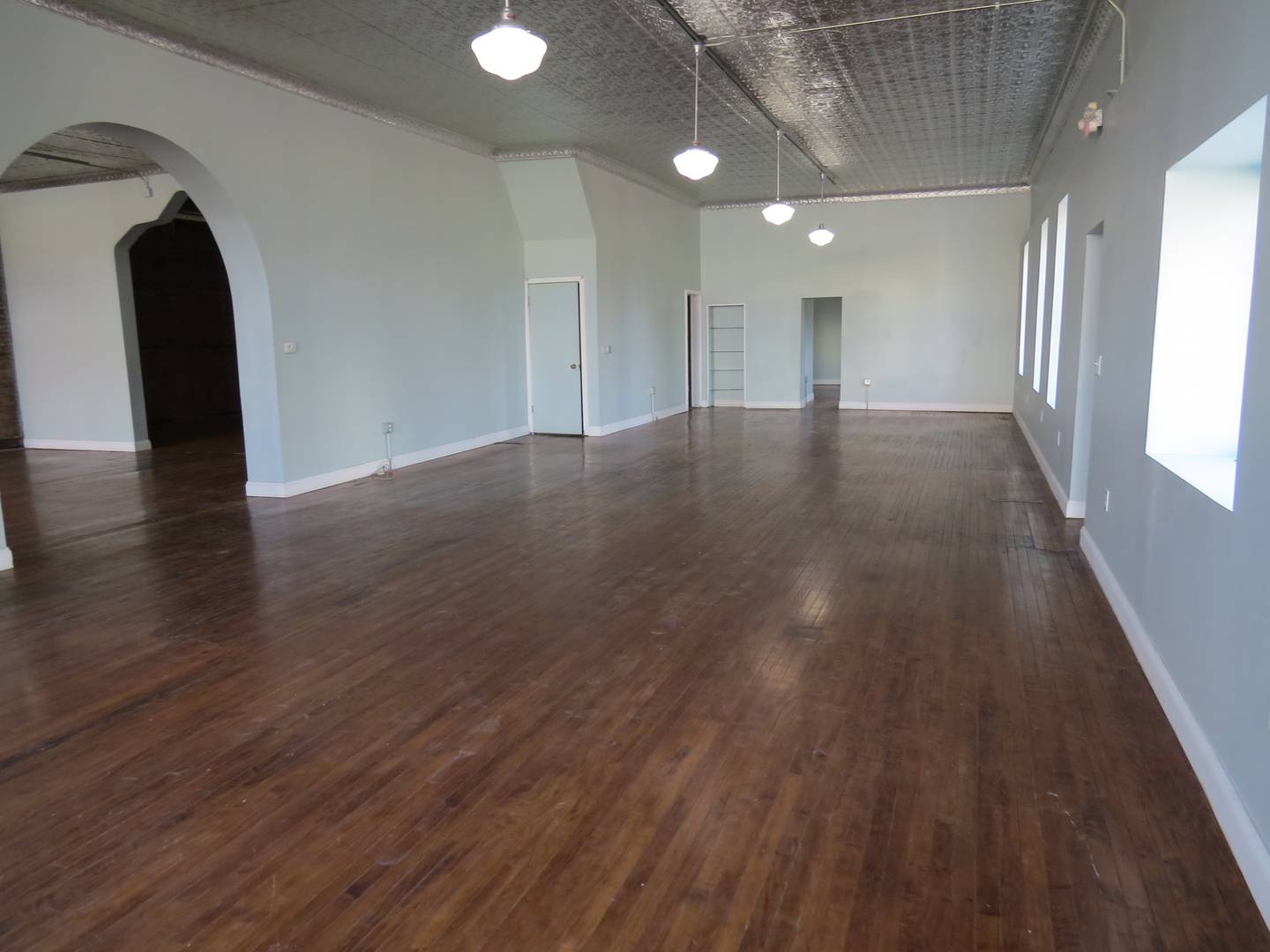 In the Stiers' plans, the second floor will include three guest rooms and a mid-size elegant ballroom that will be rented out for small gatherings of about 100 people. The plan is to market it for corporate events, showers, fundraisers, small weddings, community gatherings, etc.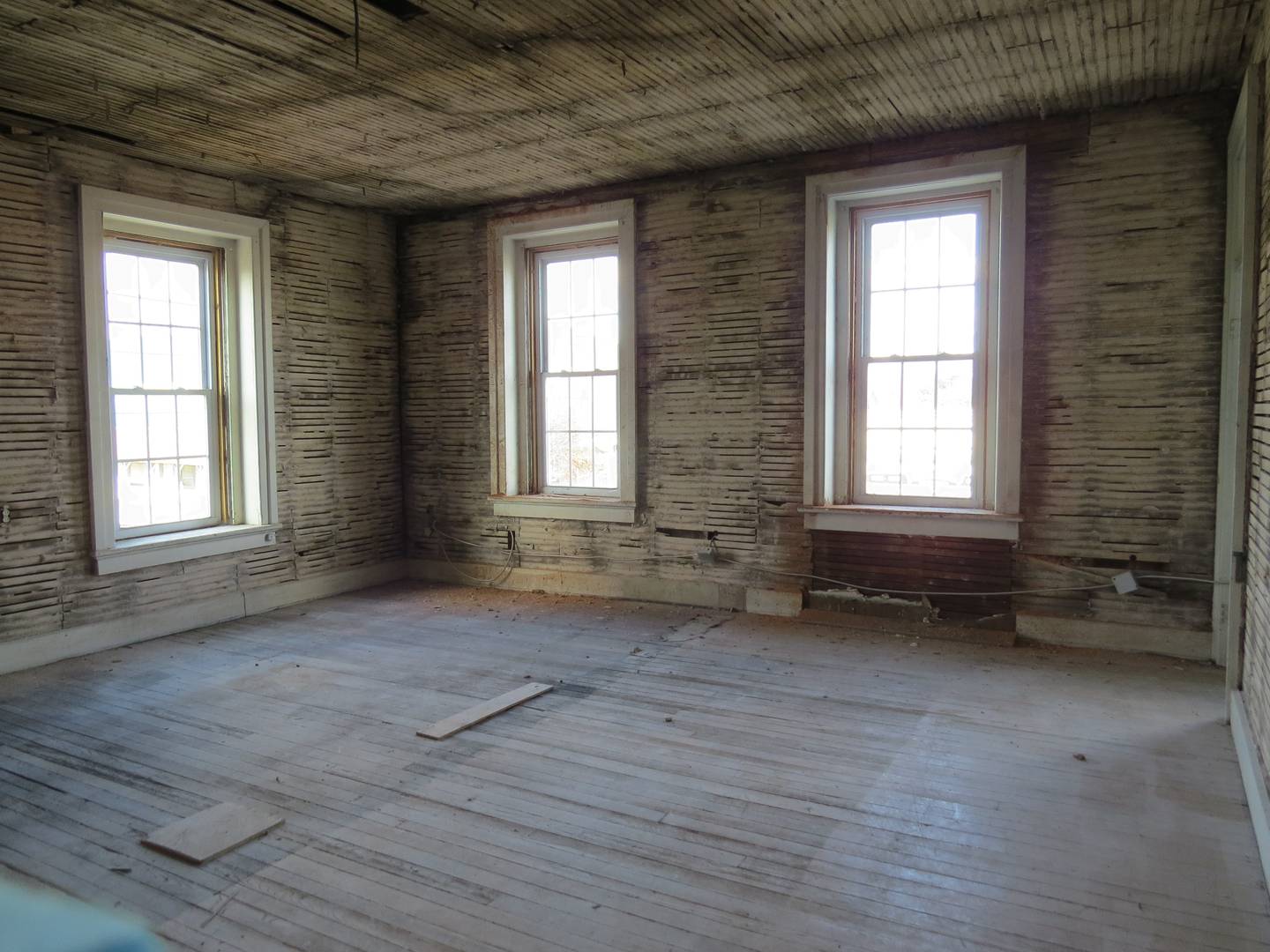 The third floor will house approximately 12 additional rooms.
The Stiers are currently working with investors to bring their project to life. They have their plan broken down into nine phases they hope to meet within the next two to three years. First on the list was raising $100,000 from investors, which they have already surpassed. Getting that first step accomplished so quickly only solidified their dreams and pushed them to move forward with their plans.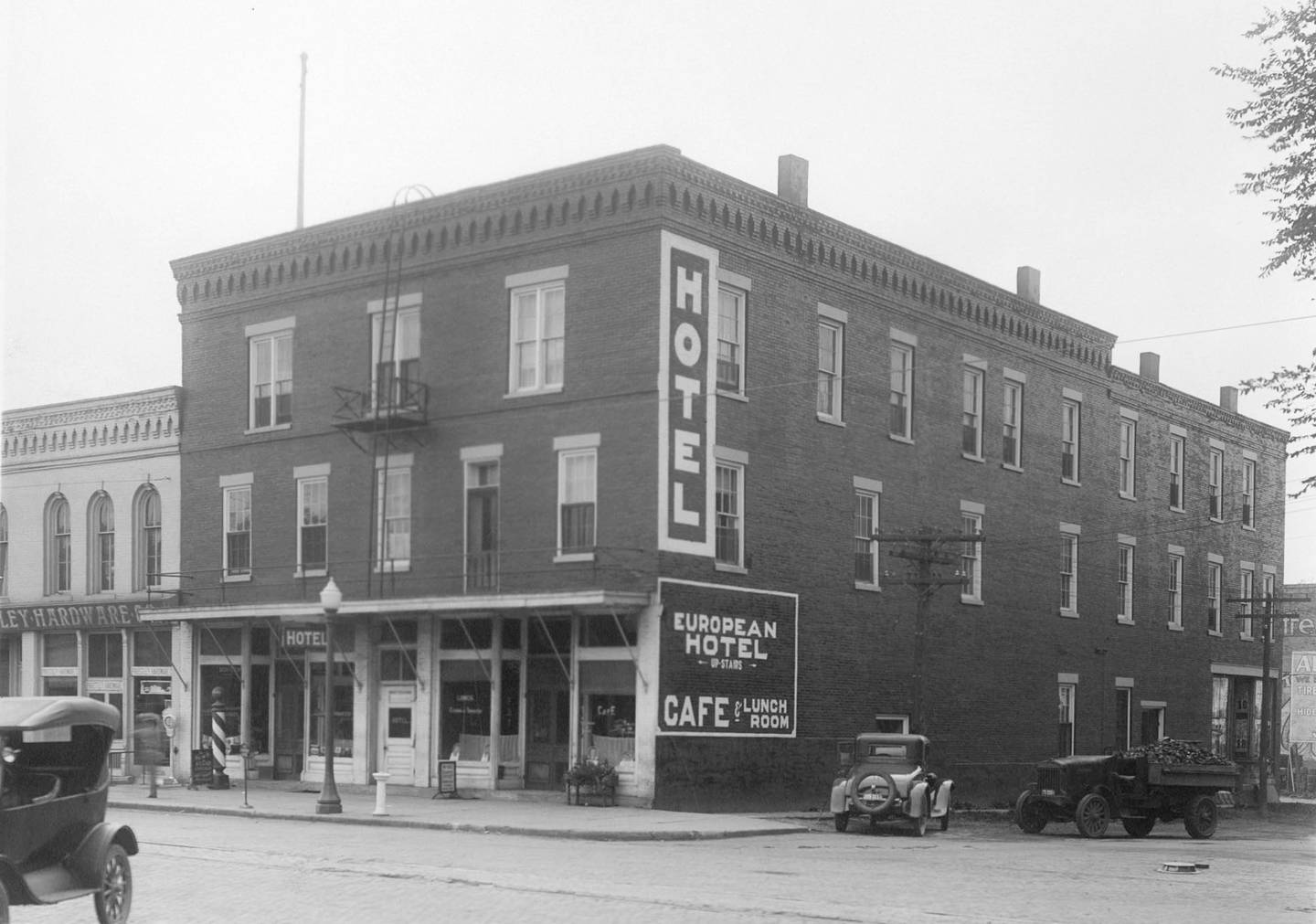 How the idea came about
Their idea started simple. They quickly recognized that Princeton lacked options for overnight stays. The realization came when Kelsey, who is a Michigan native, would invite her family to stay in Princeton only to find that hotel options were very limited.
When doors started to close in their lives, they looked more closely at the idea of possibly fulfilling that need in Princeton. After a lot of parley, planning and praying, the doors for the new opportunity began to open up and that's when they knew they had to pursue this new dream of bringing back Princeton's historic Knox Hotel.
"We see the need for it. We're excited. Dane and I both have a love for history. We're old souls I would say," Kelsey said.
Their vision it to provide a high quality option for tourists, travelers, visiting family and friends and residents of Bureau County themselves.
It will also be marketed to families and couple looking for a weekend getaway from Chicago or Galesburg as its location is only a hop off the Amtrak and walk across Rotary Park.
While the Stiers have raised enough money to begin renovating the second floor of their building, they realize there's a lot of work to be done. They estimate that their project will require more than $500,000, which they are currently seeking out from investors, as well as $30,000 in donations from people excited to see the project through.
"We believe there are many other people who would be interested in seeing the Knox Hotel brought back to life for the betterment of Princeton," Dane said.
This week they launched a website and social media accounts to help spread the word on what they're doing in hopes it draws people to want to invest. According to the website, they've raised $1,000 of their $30,000 donation goal and $134,500 of their $500,000 investments goal.
The Stiers plan to rent out the first floor of the Knox to retailers while they begin renovating the second floor over the next year. Once the rooms and ballroom are up and going, they then plan to renovate the third floor.
They are actively looking for 2-3 retail renters for the first floor space.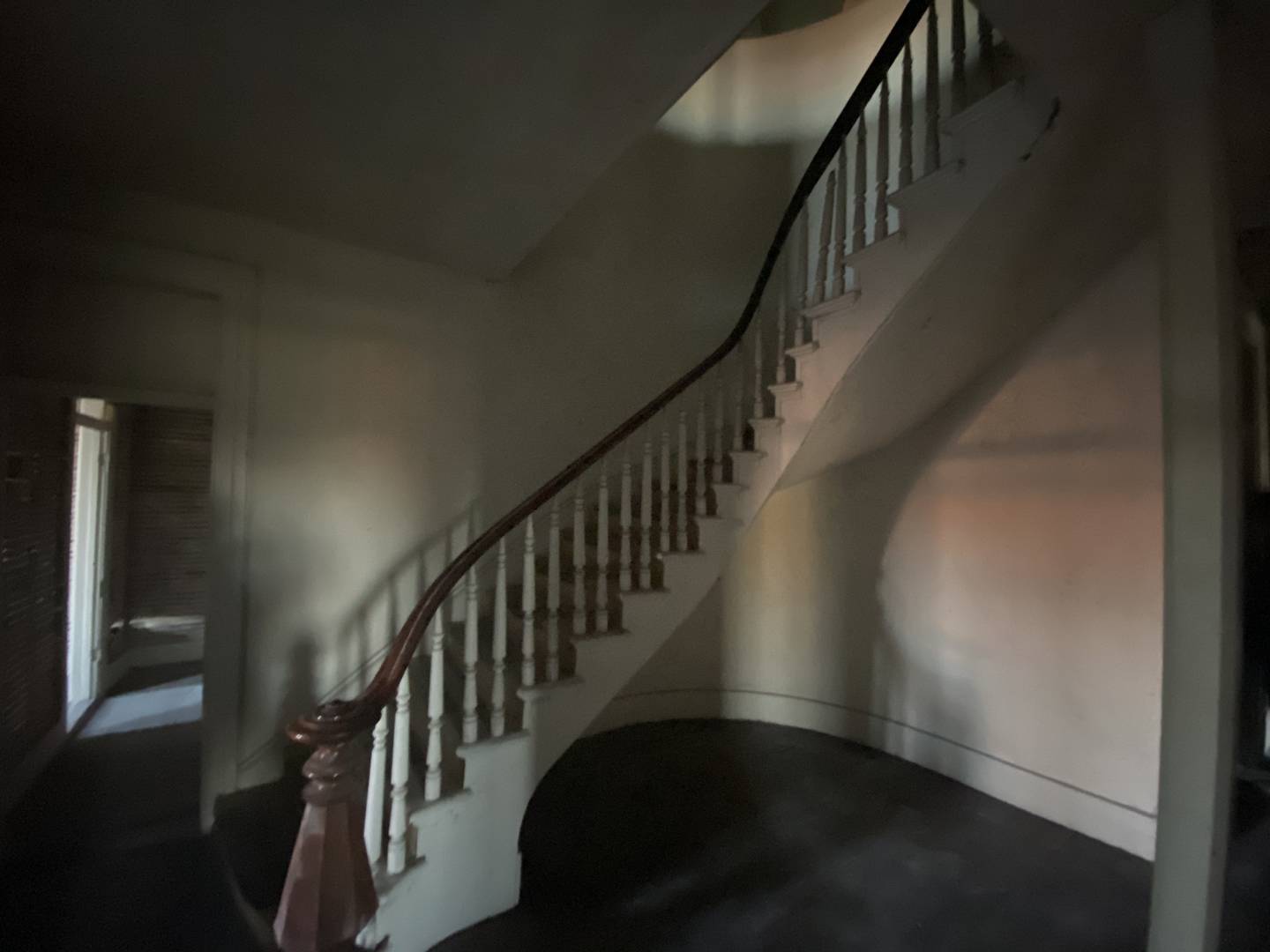 So, who are the Stiers?
Dane is a native of Princeton and 2010 graduate of Princeton High School. Kelsey is a native of Southfield, Mich. The two met through the Teach for American program in Chicago and were married in 2018. They returned to Dane's hometown soon after and in 2019, they welcomed their son, Phineas, to their family.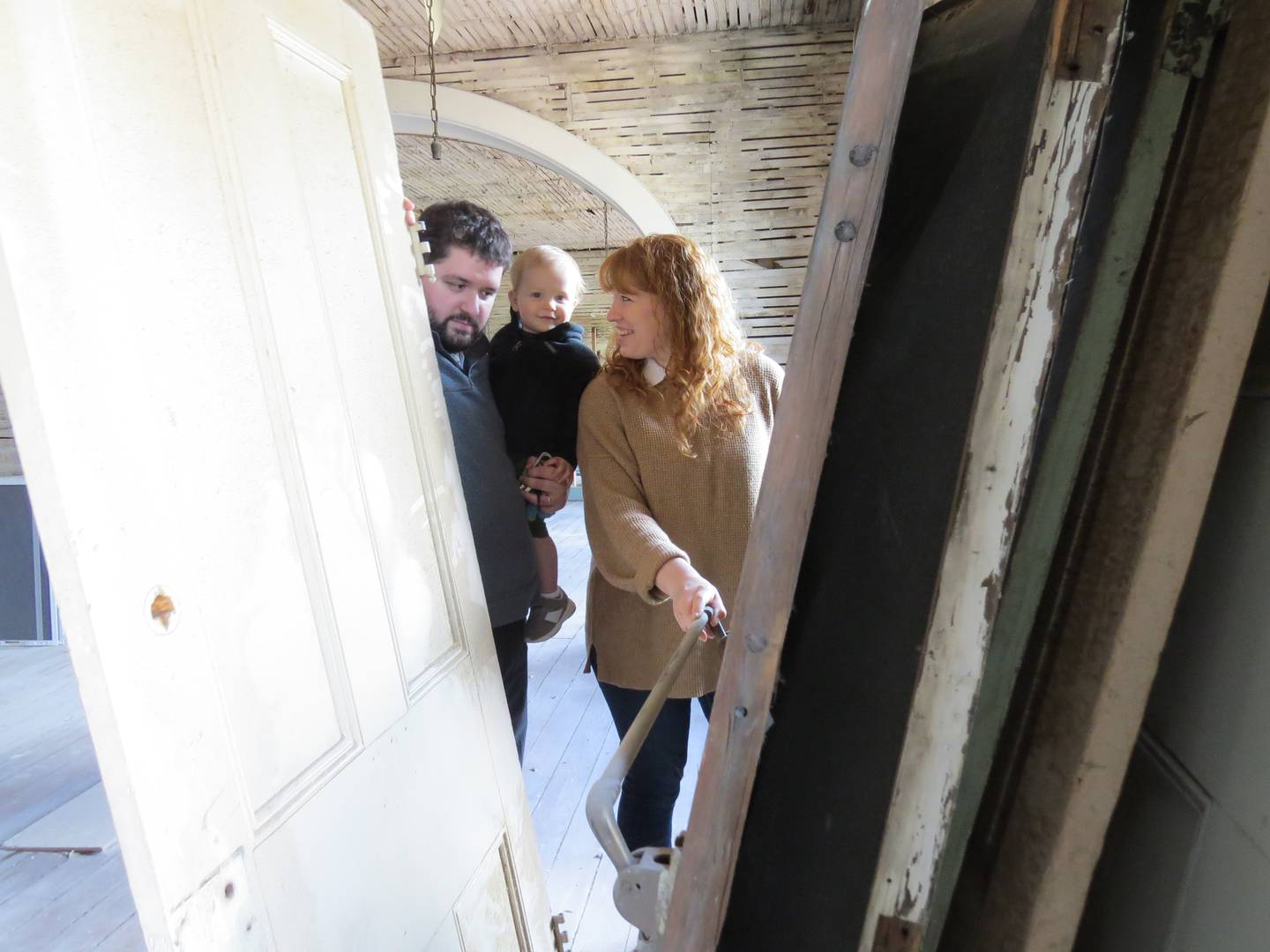 Kelsey is currently a high school teacher at an alternative school in Chillicothe and Dane works as the digital marketing specialist at Perry Memorial Hospital.
The two consider themselves old souls who share a love of history. They both appreciate antiques, one of Dane's hobbies includes restoring antiques. In their downtime, the two also enjoy watching classic black and white movies and listening to vinyl records. They hope to incorporate this into an experience at the Knox in downtown Princeton.
Readers can follow the progress of the hotel on their website, www.theknoxproject.com, or on social media sites, Facebook and Instagram.
The Knox Hotel is located at 956 N. Main St.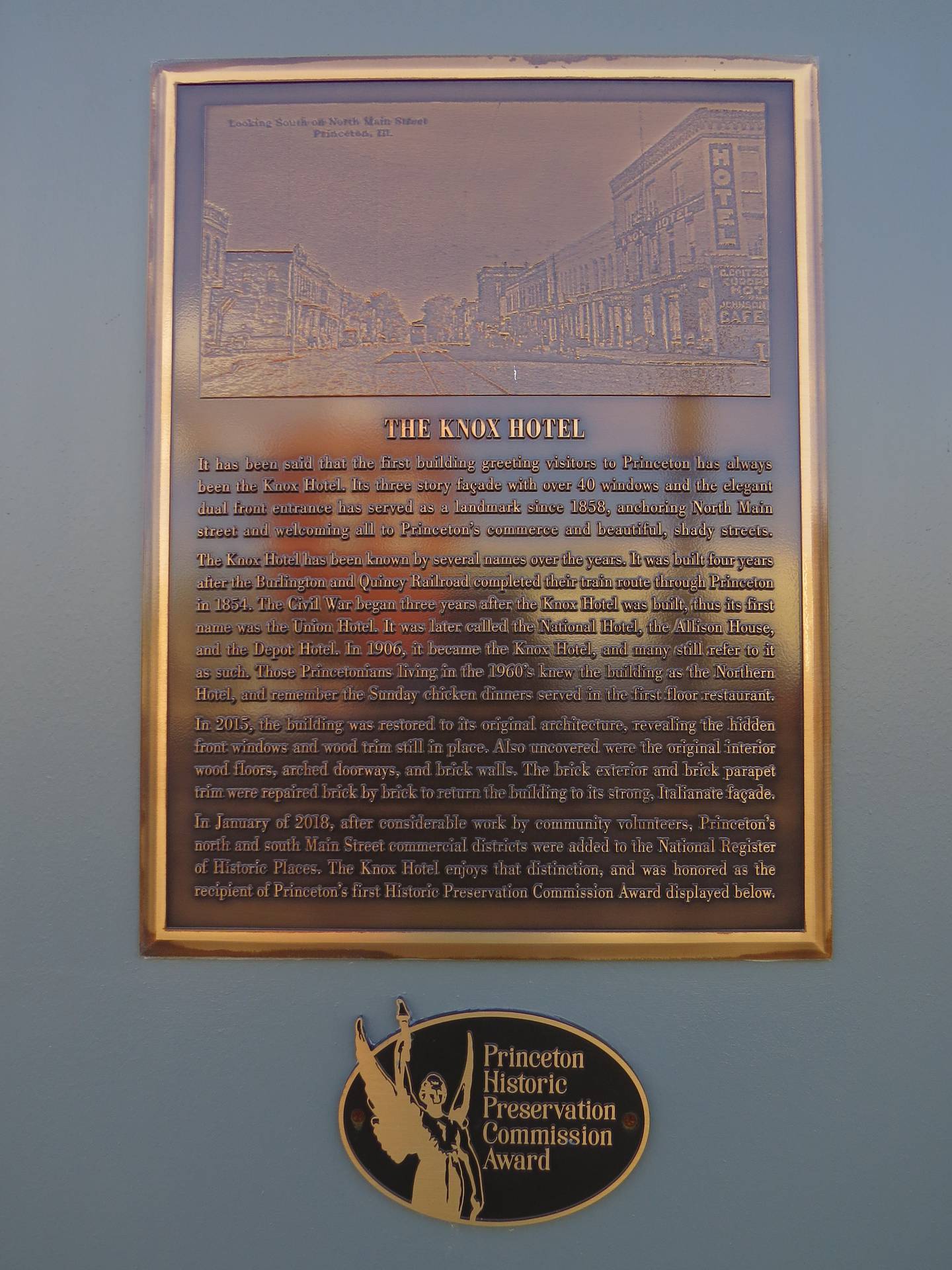 In 2018, the Knox Hotel earned distinction as the first recipient of Princeton's Historic Preservation Commission Award. A plaque on the middle of the front of the hotel includes the following:

It has been said that the first building greeting visitors to Princeton has always been the Knox Hotel. Its three story facade with over 40 windows and the elegant dual front entrance has served as a landmark since 1858, anchoring North Main Street and welcoming all to Princeton's commerce and beautiful, shady streets.

The Knox Hotel has been known by several names over the years. It was built four years after the Burlington and Quincy Railroad completed their train route through Princeton in 1854. The Civil War began three years after the Knox Hotel was built, thus its first name was the Union Hotel. In 1906, it became the Knox Hotel, and many still refer to it as such. Those Princetonians living in the 1960s knew the building as the Northern Hotel, and remember the Sunday chicken dinners served in the first floor restaurant.

In 2015, the building was restored to its original architecture, revealing the hidden front windows and wood trim still in place. Also uncovered were the interior wood floors, arched doorways and brick walls. The brick exterior and brick parapet trim were repaired brick by brick to return to its strong, Italianate facade.