MANLlUS – The biggest obstacle in front of Bureau Valley senior Elijah House when he lined up to start a cross country race wasn't any runner next to him.
It was himself.
House had to overcome a lot of self doubt before he could develop into the runner he would become.
"l left a lot of races feeling l could have done a lot better. Racing up with guys a little bit faster, l feel like l could have been up with them. But l had a lot of self doubt," he said.
There were races at the Princeton and Erie-Prophetstown invites and regional he walked away from knowing he could have done better.
"At regionals, l felt myself wanting to walk, just because of the hills. Should have done better. l mean, every race you walk away [feeling] you could have done better," he said. "At state, l envisioned myself doing a lot better being up with the other guys."
He said realizing that he had self doubt helped bring a new light to it.
"l had one of my coaches tell me about it or suggest it. l realized he was right," he said. "l heard that if you're scared of the price of success, just wait til you get the bill for regret. I got the bill for regret a couple times and l didn't like it. That kind of hurt."
At state, a more confident House plodded through a muddy and wet course in Peoria to place 60th in 16:43.51, an improvement of 96 places from a year before.
For all of his accomplishments this year, House is the 2022 NewsTribune Boys Cross Country Runner of the Year.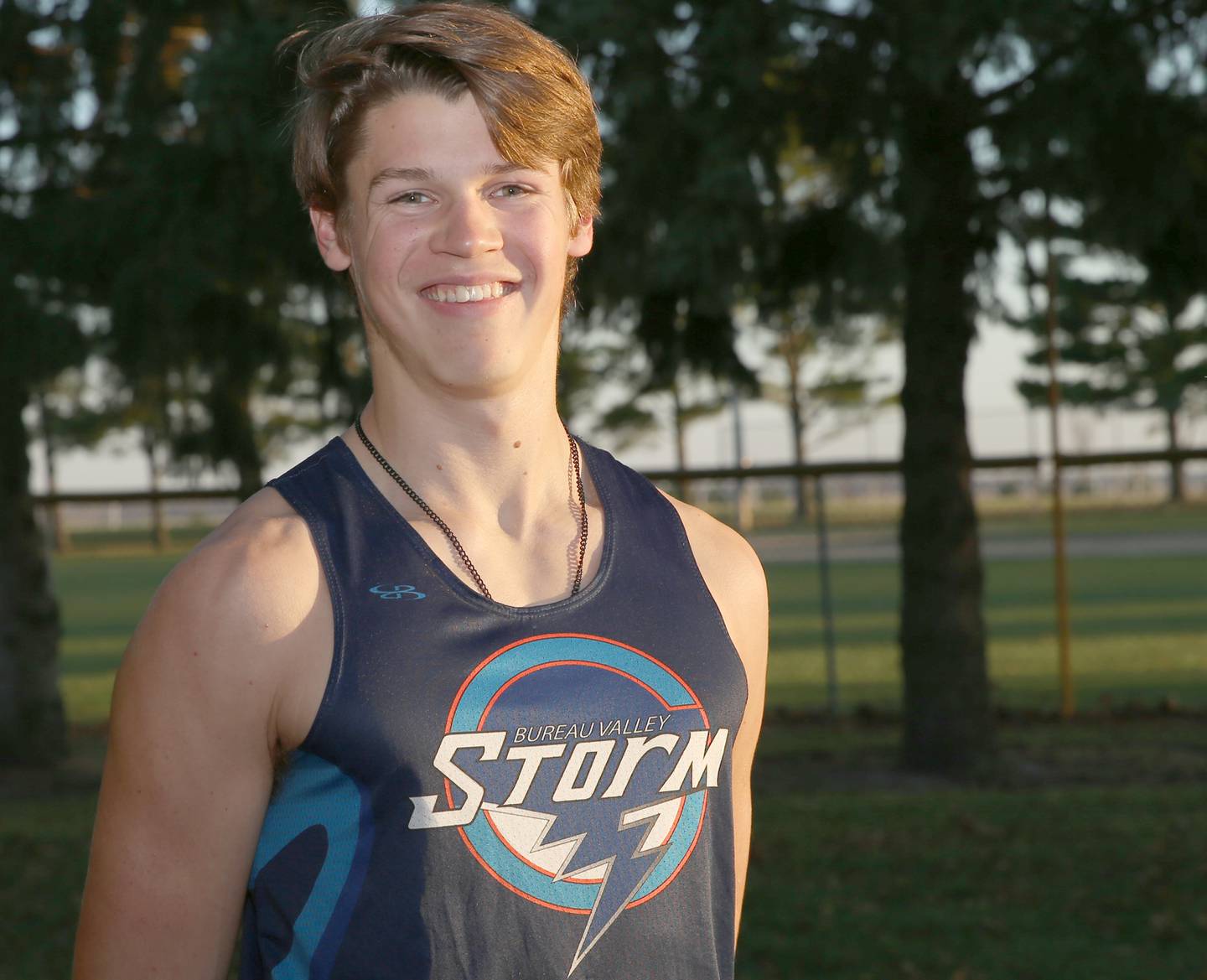 House made sure he didn't have any regrets for his senior year. He trained six days a week all summer long, topping out at about 45 miles per week.
He placed fourth in Princeton's Gary Coates Invitational early on and at the Three Rivers Conference Meet. One of his favorite moments is getting to run with and against Riverdale's Tommy Murray and Landis Musser, the top two runners in conference who claimed all-state honors.
"I enjoy it when I was up with them. I idolized them and put them up so high and put them up like pro athletes in my mind. And I enjoyed hanging around them after the races," he said.
House understands that running is not a favorite thing to do for a lot of kids and cross country and track are not the glamour sports. He was not especially enamored by them as a freshman, but came to appreciate and love their family atmosphere that his older teammates indoctrinated.
"Cross country and track are not a desired sport. Some people don't look at it as a sport," he said. "That's what keeps people coming back. They enjoy the competition and the people they run with and that's why people do it."
House set his return trip to state by placing fifth at the Seneca Regional (18:01.10) and 10th at the Oregon Sectional (17:16.60). At state, he improved from 156th last year to 60th.
Running at state last year gave House more confidence coming in.
"I definitely handled it better than last year. Last year, I was freaking out a lot lot more and this year I had a lot more confidence just because I had been there," he said.
BV coach Bob Benck said he will always be wondering "what if" the course had been dry and the wind wasn't gusting at about 40 mph.
"He had done a 16:07.7 on the state course at the Patriot Invitational on Oct. 15. His time at the Oregon Sectional was 38 seconds faster than the year before on the same course. If you put these two pieces of data together, 15:30 might have been possible at state with good conditions," he said. "It would have been wonderful to cap off his high school career with a fresh personal record. But, he was still nearly 100 places closer to the front than the year before, and we managed to improve on the previous year's time a bit.
"He ran a good, smart race in what were probably the worst conditions imaginable. He didn't flinch at the cold, the rain and the mud. He is a tough kid."
House thrives in the challenges those conditions bring.
"I usually like it when it's a mud run. The inner child in me likes to play in the mud. Just distracts me from the pain of the race and I just get through it," he said.
House, who would like to run collegiately, is going to move his new-found confidence forward as he prepares for track.
"It's definitely going to help in the offseason and when track starts up. I'm looking forward to it because I plan on not holding back anything," he said.