MANLIUS - The Princeton Tigresses sure looked like a team making up for lost time.
Shut out by the COVID pandemic last year, the Tigresses came out a team on a mission Tuesday night, opening postseason play with an easy 25-6, 25-7 win over Farmington in regional semifinal play at the Storm Cellar.
"Believe it or not, we were a tick or two off in some areas. I'm not going to name certain areas. I have seen us play better," PHS coach Andy Puck said. "We just took care of business and that's kind of what this week is, take care of business."
That business is to end the Tigresses' 10-year regional drought, the last title coming in 2011. Top-seed Princeton (28-6-2) will meet No. 4 Knoxville (19-16), a 25-16, 25-21 winner over the host Storm in the second match, in Thursday's championship at 6 p.m.
"It's been a long time for Andy Puck (teams) to be regional champions. We've still got a lot of work to do before Thursday. We'll scout a little bit in here (second match) and we'll be ready Thursday night," Puck said.
"It's a good group of kids. They know what's on the line Thursday, and we'll be ready to go."
Senior McKenzie Hecht led PHS with 13 kills with the Gartin girls, Maya (8) and Olivia (5), combining for 13 more. Abby Peterson had 17 digs while Taylor Wetsel added eight points and seven digs and Katie Bates had 25 assists.
Princeton def. Farmington 25-6, 25-7
The Tigresses put both games away with long runs from the service line.
Up 13-6, Isa Ibarra served for nine straight points, using a tip and a block by Maya Gartin and two hits by Olivia Gartin, to serve the Tigresses to a 23-6 lead.
It was Libby Boyles' turn to make a run in the second game. The PHS senior ace took over with the scored tied at 3-3 and served up an ace, and finished off a 17-point string to make it 20-3 PHS lead.
"In the timeout, (Libby) she said, 'I hate this song,' and it was Neil Diamond's 'Hands.' Then she ripped off six more to make it 17 (straight)," Puck said. "We've been working a lot on serve and serve receive. We executed things we've been working on in practice. As a coach, that's all you can ask of your teams."
A final kill by Madison Richards ended the set and match, 25-6.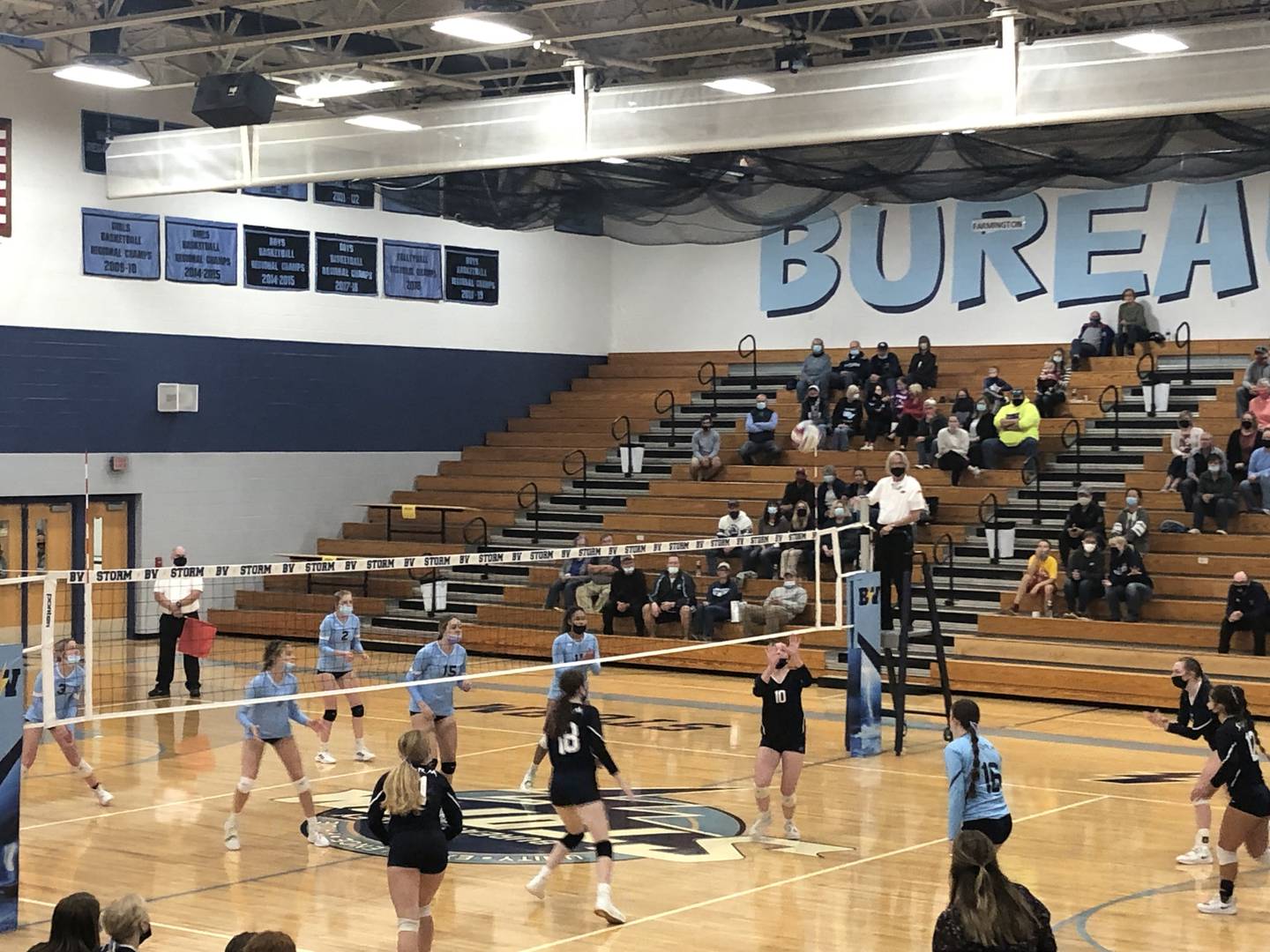 Knoxville def. Bureau Valley 25-16, 25-21
The Storm couldn't dodge the Blue Bullets, who used a 6-0 run to open up an 18-9 lead in the first game. Junior Nicole Kerber kept the Storm close with a pair of hits to make it 22-16. The Bullets scored the final three points for the 25-16 win.
Knoxville ran out to a 20-11 lead in Game 2, but the Storm would not go down easy. Senior Ashley Nordstrom hit twice for sideouts to keep the Storm in the game at 24-18 and the Storm scored three more, including an ace by senior Kyra Stoller, to pull within 24-21.
Knoxville junior Makaiha Moore blooped in the final point to send the Blue Bullets on to Thursday's finals.
"They came out and played great. They found where our weaknesses were and kudos to them. Good luck to them and Princeton Thursday night," BV coach Caitlyn DeMay. "Our girls didn't give in. They gave them a good fight. They were the better team tonight."
Nordstrom finished the night with a team-high 9 kills and 15 digs. Other top contributors for BV (13-19-1) were Tyra Sayler (12 digs), Emma Stabler (4 kills, 4 digs), Kate Salisbury (16 assists, 2 kills, 5 digs), Lexie Marquez (8 digs), Stoller (2 kills, 8 digs) and Kerber (4 kills, 4 digs).