Softball has always been about making memories and friendships for Katie Bates ever since she first picked up a softball about age 6.
When the pandemic wiped out the 2020 high school season, Bates was lost without it.
She made up for lost time on the diamond this year, pitching right back in for her dad's Princeton High School softball team. The junior pitcher was one of two unanimous all-conference selections in the Three Rivers East. She posted a 10-6 record with a 2.45 ERA and 141 strikeouts in 105.2 innings. She was also a threat at the plate, batting .379 with 22 RBIS and 10 runs scored.
For her accomplishments, Bates is the 2021 BCR Softball Player of the Year.
"It was kind of hard to come back after being off so long. But It felt good to be back on the diamond," Bates said.
"We were ready to get our name back out there and make some more memories and hopefully next year make some more history."
Making friendships
The best part of softball for Bates, who has played travel since she was 9, is the relationships she's built along the way.
"Honestly, just the friendships I've made over the years, because I've been playing, I don't know 11, 12 years. Feels like a long time," she said. "Even with starting with City Ball, I've made a lot of friendships in the sport, I feel like I wouldn't have met those people if I didn't play softball."
The defending regional champion Tigresses ran into a buzzsaw at regionals this year in Riverdale and ace pitcher Ashley Hemm, who struck out 14 batters in a 6-1 victory.
"We weren't trying to put too much pressure on it and psyche ourselves out. We got put in a tough regional and we kind of missed out on that one," Bates said.
Bates said that Riverdale, which reached the Elite Eight, was phenomenal.
"My dad did a lot of scouting on them and looking at their stats. We knew they were going to be good. We didn't think they were going to be that good," she said.
Bates said she learned a lot from watching Hemm pitch.
"I learned when you have a rise ball, that's really all you need. Killer rise ball wins games," she said.
Bates, who started out as 10U travel catcher, has an assortment of pitches in her arsenal and really never knows from game to game, which one may work best.
"Every night I have a different pitch that's working, but when my rise ball is working, we throw it a ton," she said. "I have a ton of pitches, I feel like I use them all pretty frequently, so I like to mix them up. But when I have one pitch that's working, that's my go-to.
"After the first inning, we pretty much have a feel what's working and we always talk about it."
Joe Bates attributes his daughter's long-time pitching coach, Tom Finch, for her success,
"He has been instrumental in her development of both the mechanics of different pitches, and the mental approach to the game, helping her be a player that wants to be in the middle of things when the pressure is on," he said,
Bates gets to go home each night with her coach, who she also calls dad. When asked how her coach is, she jokes, "He's all right."
The Bateses don't spend much time rehashing any bad moments on the field.
"It never gets that bad. My dad's a very quiet guy, so he kind of keeps to himself when he's thinking about everything," she said.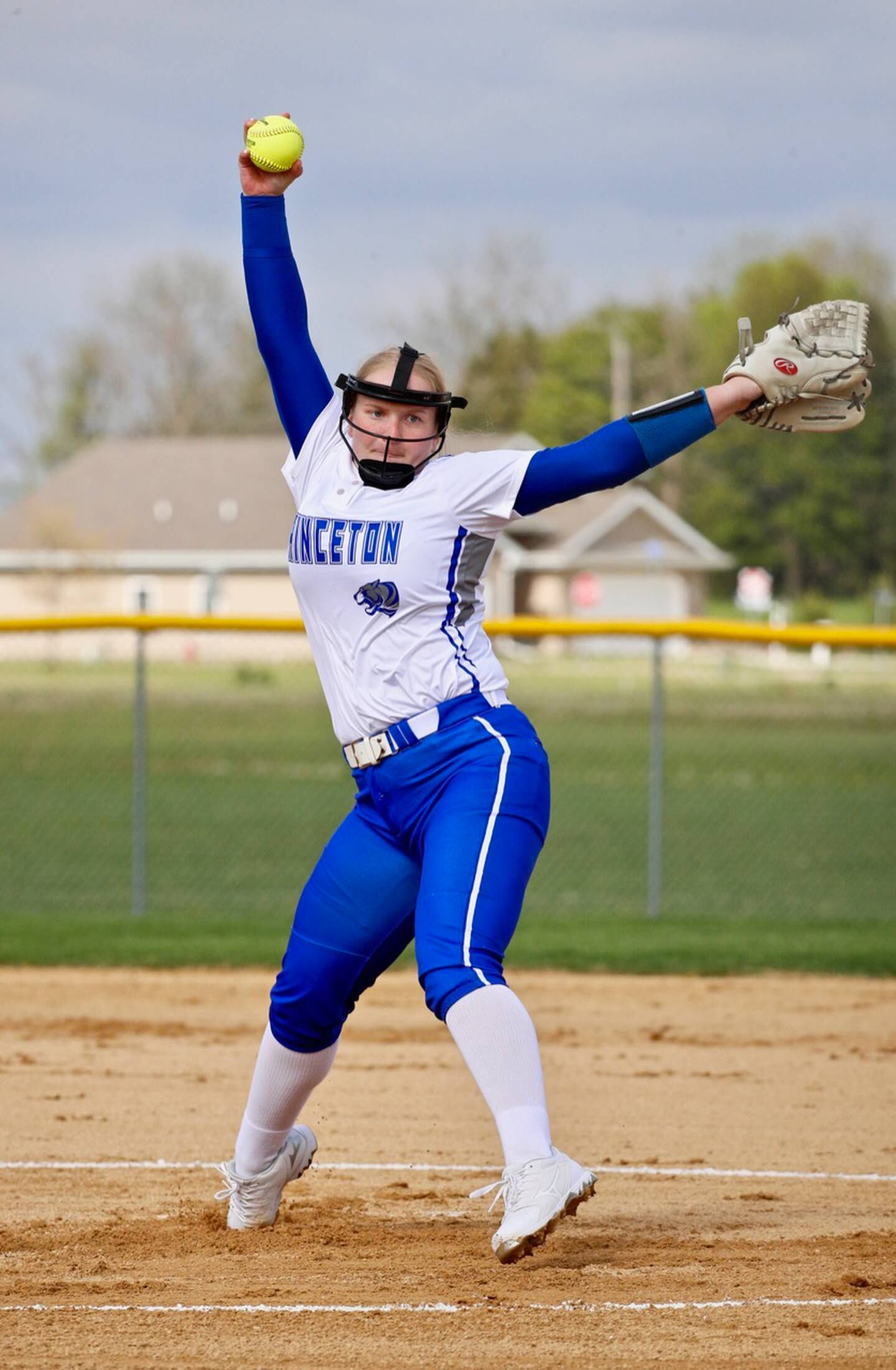 'I love striking out girls'
Like delivering her fastball, Bates is quick to answer if she'd prefer to get a big hit or a big strikeout.
"Getting a big strikeout. I love striking girls out. (That's) my No. 1 goal," she said with a laugh.
Joe Bates noted Katie's durability, which allowed her to throw all but one game and part of two others, is a secret to her success, along with good gloves in the field.
"Her durability, especially considering her shoulder injury that would have prevented her from pitching the 2020 high school season that was ultimately shut down by COVID, is a tribute to a lot of physical therapy, and dedication to strength and conditioning work," he said.
"No pitcher does it alone. The Tiger defense was solid all over the field. Katie continues to be a very strong leader for us, on and off the field."
Bates and her junior classmates came to PHS with some big expectations as freshmen and delivered the school's first regional championship. COVID-19 wiped out a chance for a repeat in 2020 and Riverdale thwarted them this year.
They all would like to go out with a bang next year.
"We just want to make a good impression on the PHS softball program and hopefully get some hardware," Bates said.
What's her favorite sport, softball or volleyball, which she's also played on varsity since her freshman year?
"That's a very hard question. Honestly, I think it changes with what sport I'm in at the moment. But if I had to choose, I would probably go with volleyball," she said.
Bates, who is playing for the Starved Rock Bandits this summer, would like to continue playing sports in college. She's just not sure which sport.
"I haven't figured it out. I think I want to play a sport. I haven't really decided if it's volleyball or softball," she said.