You may think you know the story, but you've never seen it like this, said the Paramount Theatre in Aurora, which is about to present a reimagined production of "Cinderella" by Rodgers and Hammerstein.
Paramount's "Cinderella" promises to come with all of the spectacle and splendor audiences have come to expect, a news release stated. Pumpkins will transform into horse-drawn carriages right before your eyes. Jaws will drop as tattered rags magically become a beautiful gown. By the end of the show, young and old alike will wish fairy godmothers and glass slippers weren't just for fairy tales.
Completing the experience, Paramount's Grand Gallery will be fit for a royal ball, with a giant two-story Christmas tree and all the trimmings, making it an ideal backdrop for annual family photos.
Previews are underway, and it opens Nov. 19 and runs through Jan. 9. Tickets cost $36 to $79. The show is suggested for ages 5 and older. For tickets and information, visit ParamountAurora.com, call 630-896-6666, or stop by the Paramount box office from 10 a.m. to 6 p.m. Monday through Saturday.
Show times are Wednesdays at 1:30 and 7 p.m.; Thursdays at 7 p.m.; Fridays at 8 p.m.; Saturdays at 3 and 8 p.m.; and Sundays at 1 and 5:30 p.m. Added performances are at 7 p.m. Tuesday, Nov. 23; 3 p.m. Friday, Nov. 26; 1:30 p.m. Thursday, Dec. 30; and 1:30 p.m. Thursday, Jan. 6. Show time on Friday, Dec. 31, New Year's Eve, is 3 p.m. There are no shows on Thanksgiving or Dec. 23 to 25, and no evening show on New Year's Eve.
Access services
Paramount offers assistive listening devices free of charge at all performances. Check in at the coat room before the show to borrow a listening device. For patrons who are deaf or hard of hearing, "Cinderella" will be presented at 8 p.m. Friday, Jan. 7, with two certified sign interpreters translating all dialogue and lyrics into American Sign Language. Patrons can purchase single tickets with special seating for this performance for $30 with the code ASLPARAMOUNT. If you require wheelchair or special seating or other assistance, contact the box office at 630-896-6666 or boxoffice@paramountarts.com in advance.
Pay What You Can Performance
The 3 p.m. show Saturday, Nov. 13, is a Pay What You Can event. Starting at 10 a.m., visit the Paramount box office in person to request your tickets. Customers will be asked how much they'd like to pay, and will pay what they can. Limit four tickets per person. Offer not valid toward previous purchases. Online or phone sales not permitted. Paramount's Pay What You Can events are part of the theater's new program, REACH - Resources Expanding the Arts and Connecting Humanity.
COVID-19 protocols
Patrons must adhere to all COVID-19 safety protocols as determined by Paramount Theatre at the time of the event. This could include but is not limited to mask wearing, and providing proof of COVID-19 vaccination. Paramount Theatre is adhering to all COVID-19 safety guidelines as mandated by the state of Illinois. Patrons will be contacted prior to their event with current policies. Children 2 and younger will not be admitted. For current protocols, visit paramountaurora.com/covid-19-commitment-to-safety-protocol.
Behind the scenes of Paramount's "Cinderella"
Making her Chicago debut as Paramount Theatre's Cinderella is Mikayla Renfrow, a new graduate of the University of Cincinnati, College-Conservatory of Music, most recently seen as Alice in "Seven Brides for Seven Brothers" at The MUNY.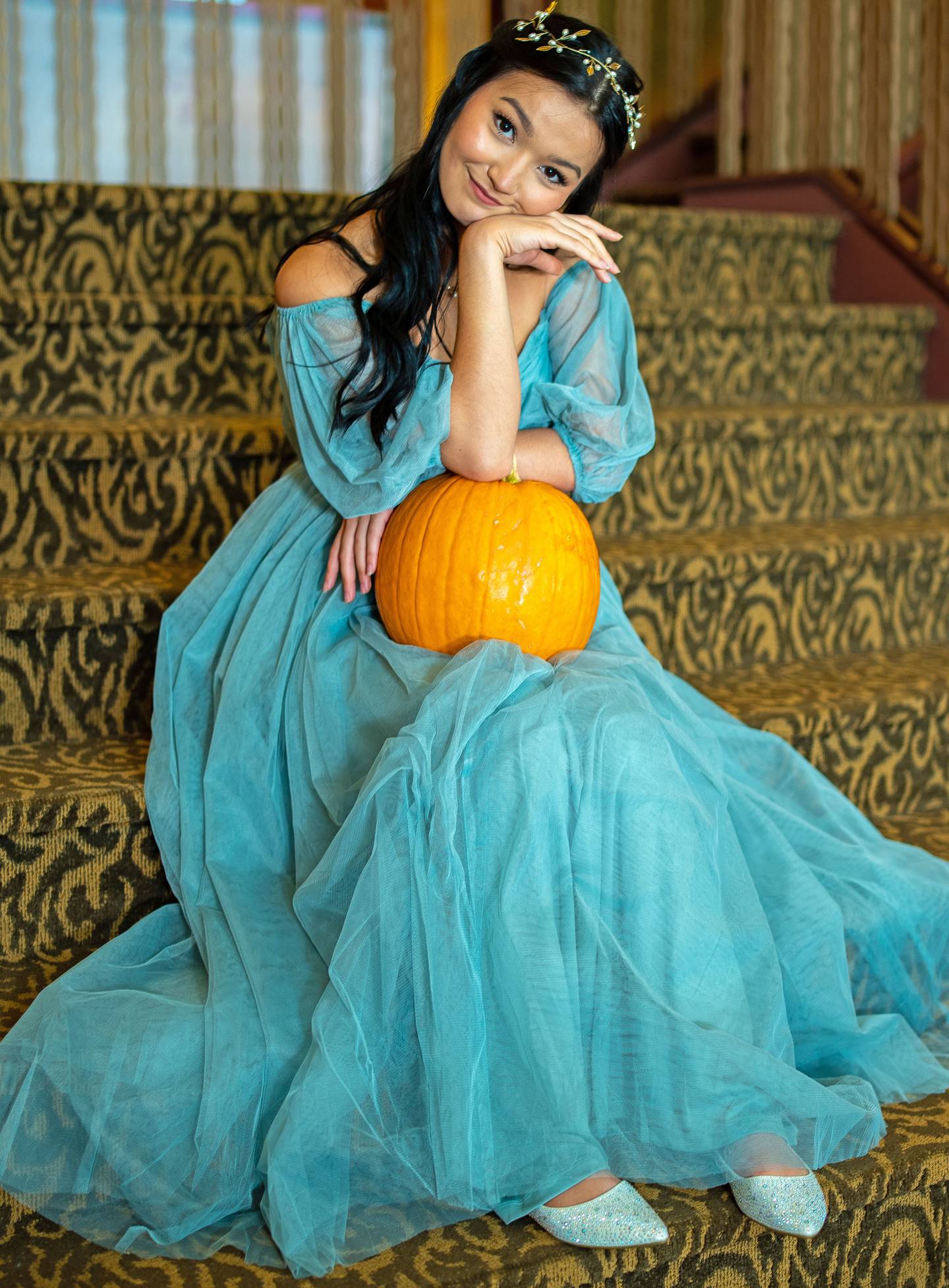 The principal cast also features Markcus Blair as Christopher; Jerica Exumas as Fairy Godmother; Sarah Bockel as Stepmother; Jacquelyne Jones as Grace; Tiffany T. Taylor as Joy; Rashada Dawan as Queen Constantina; Lorenzo Rush Jr. as Lionel, and Michael Kingston as King Maximillian.
Ensemble members Brian Bandura, Adia Bell, Matthew Bettencourt, Anna Brockman, Max J. Cervantes, Evan C. Dolan, Tim Foszcz, Kelli Harrington, Christopher John Kelley, Ron King, Ashley Lanyon, Jenna Napolitano, Jason Richards, Camille Robinson, Katherine Viviano, Shelbi Voss and Natalie Welch complete the 26-person cast.
Chicago theater veteran Brenda Didier (director and choreographer) has received 31 Chicago Joseph Jefferson Award nominations, receiving seven Jeff Awards in direction and seven Jeff Awards in choreography, most recently for Paramount's 2019 production of "The Producers." She is the recipient of the 2018 Guy Adkins Award for the advancement of Musical Theatre in Chicago, two After Dark Awards, two Choreography Awards from the Society of Theatre Artists and Friends, the National Youth Theatre Award, Broadway World Chicago's fan favorite 2010, 2011, 2012, 2013 and 2014 Choreography Award, and 2016 Director Award. Didier is also artistic director and owner of the Lincolnshire Academy of Dance.
Based on the French fairy tale by Charles Perrault, Paramount's "Cinderella" is actually the third version of the original Rodgers and Hammerstein musical, which premiered on TV in 1957. Adapted from Oscar Hammerstein II's book, the script was modernized to appeal to contemporary audiences by updating its themes, particularly rewriting its main character into a stronger heroine. Today, it's commonly referred to as the "Enchanted version" of "Cinderella," a salute to the still popular 1997 TV musical, with Brandy becoming the first Black actress to portray Cinderella on screen.
What's next in the Broadway Series?
The Paramount's 10th anniversary Broadway Series continues with "Groundhog Day," based on the classic Bill Murray film comedy. It will be the second Midwest regional premiere produced by Paramount Theatre in the span of one year. Paramount Theatre Artistic Director Jim Corti will direct. Previews start Jan. 26.
It will be followed by "Rock of Ages," directed by Paramount Theatre artistic producer and New Works Director Amber Mak. Previews start April 13.
Tickets
New three-play subscriptions including "Cinderella," "Groundhog Day" and "Rock of Ages" are on sale now, ranging from $54 to $118.50.
To subscribe or purchase single tickets, visit ParamountAurora.com, call 630-896-6666, or stop by the Paramount Theatre, 23 E. Galena Blvd. in downtown Aurora.
About the Paramount
After launching its own Broadway Series in 2011, Paramount Theatre grew to be the second largest subscription house in the U.S. Paramount also presents an array of internationally known comedians, music stars, dance events and family shows annually.
Paramount Theatre is one of four live performance venues programmed and managed by the Aurora Civic Center Authority. ACCA also oversees downtown Aurora's newly renovated 165-seat Copley Theatre, RiverEdge Park, the city's 6,000-seat outdoor summer concert venue, the new Paramount School of the Arts, and the Stolp Island Theatre, an immersive space opening in summer 2023.