CHICAGO – It's that same old feeling all over again.
The Bears lost, again. They are 0-4 and they've lost 14 consecutive games. To make matters worse, they squandered what had been the best passing game of quarterback Justin Fields' career. They blew a 21-point lead on Sunday against the Denver Broncos, losing 31-28.
Here are the five big takeaways from Sunday's epic collapse at Soldier Field.
1. Rock bottom keeps going lower
What more is there to say?
Every time this organization reaches new lows, it finds a way to go even lower. The only thing that could've been more demoralizing than being the Chiefs' punching bag last week was blowing a sizable lead against a previously winless football team in front of the home fans.
Matt Eberflus is now 3-18 as an NFL head coach. Fields is 5-24 as a starting quarterback. The Bears haven't won a game at Soldier Field in a calendar year. At what point do people start losing jobs? It feels as if it's awfully close. The easiest scapegoat the past few weeks was offensive coordinator Luke Getsy, but the offense played its best game Sunday against Denver. The defensive coordinator already quit.
In the end, everything falls on the head coach and the general manager. How soon is too soon to make changes? That is what new Bears president and CEO Kevin Warren has to decide. It seems unlikely the Bears would make a change with another game just four days away.
But the fan base is restless.
2. Justin Fields played fantastic ... for 3 quarters
Yes, the Bears played what might be the worst defense in football (or is it their own?). Still, Fields had a fantastic day for the first three quarters. His 335 passing yards were a career high and marked the first time he totaled more than 300 in an NFL game. His four passing touchdowns were a career high. His 132.7 passer rating was a career high.
But when the game was on the line in the fourth quarter, Fields turned the ball over twice – one fumble and one interception.
"Luke [Getsy] was dialing it up," Fields said. "Guys were protecting up front. Receivers were getting open. So, we were definitely in a rhythm. At the end of the day we lost the game, so it really doesn't matter."
They made a concerted effort to throw receiver DJ Moore the football in the first half. He finished the afternoon with eight catches for 131 yards and a touchdown. Tight end Cole Kmet had his best day of the season with seven catches for 85 yards and two scores.
"I was just happy that it's growing and I got to see the real us," Moore said.
"You saw rhythm, you saw timing," Eberflus added. "You saw that the receivers were in phase with everybody. It was just really good flow to it and you could feel that during the course of the day."
3. Bears defense ultimately collapsed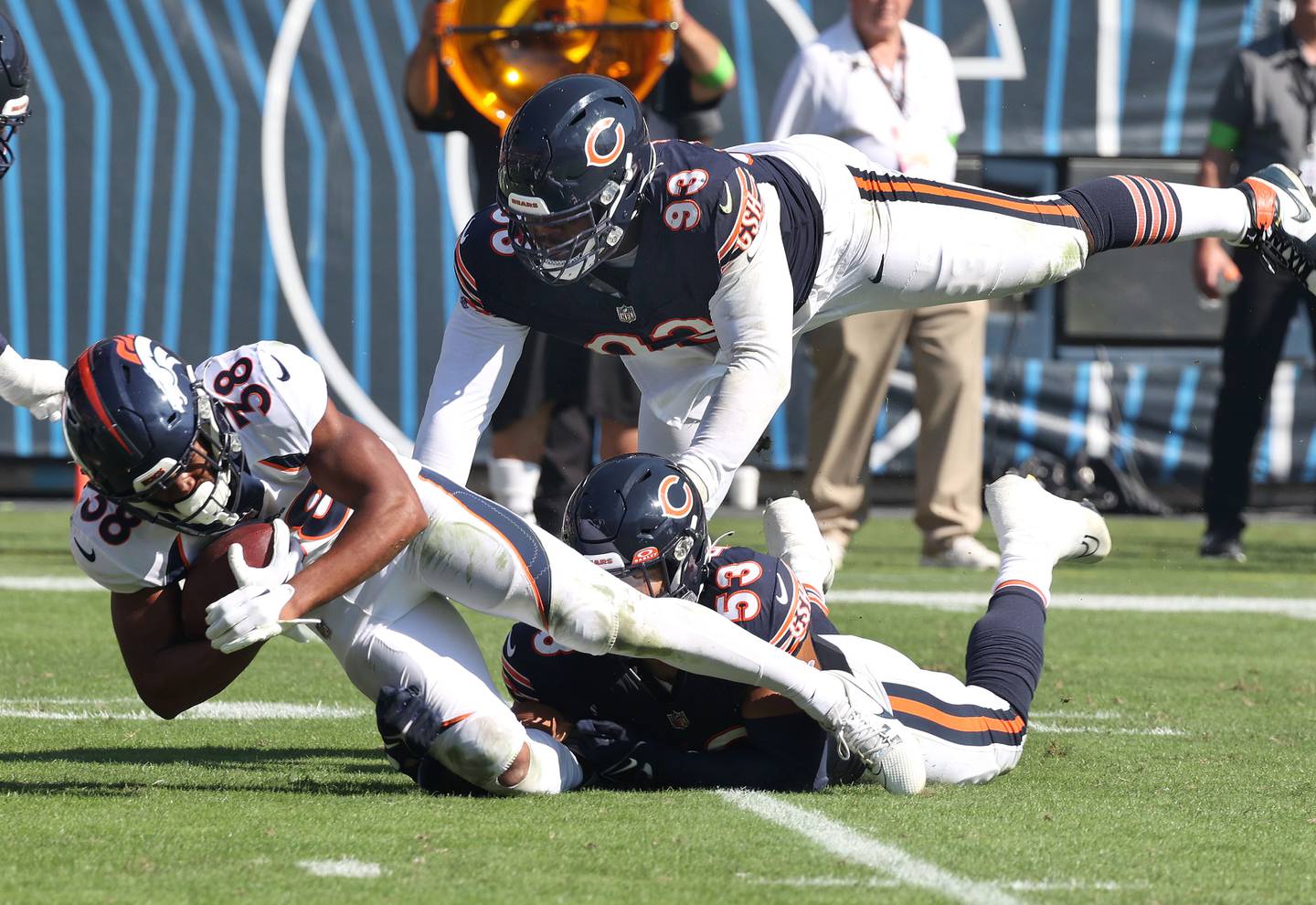 When the Bears gave up a touchdown on their first defensive possession, fans must've wondered if they were in for a long day. Then the Bears defense forced four consecutive punts. It was the best stretch of defense this team has played all season.
Then things fell apart in the second half.
The Bears were playing with a depleted secondary. Safety Jaquan Brisker and cornerback Tyrique Stevenson were the only regular starters at defensive back. A young group played well for much of the game, until it was exposed late.
When the Bears desperately needed a stop late in the game, Broncos receiver Marvin Mims found a gaping hole in the defense. That set up the game-winning field goal.
"Any time the flow of the game was what it was, it hurts," linebacker Tremaine Edmunds said. "We can't make excuses for ourselves. It happened. This is what we're faced with."
4. What do we make of Chase Claypool's absence?
Receiver Chase Claypool did not show up at Soldier Field on Sunday. For more details on why, check out this story here. The gist of it is: Claypool criticized the coaches on Friday, they benched him on Sunday.
So where does this go from here?
It has become pretty clear, less than a year later, that general manager Ryan Poles made a colossal mistake when he traded the Bears' 2023 second-round draft pick to Pittsburgh in exchange for Claypool. That pick wound up being the No. 32 overall pick. The Bears almost certainly could've found a day one starter with a pick like that.
Instead, they are having to deal with a veteran receiver who at times looks like he doesn't want to play football, who openly criticized his coaches, and who they weren't comfortable or willing to put on the field Sunday. This, remember, is during a contract year that Claypool himself called the biggest year of his life.
The Bears could try to trade Claypool for a late-round draft pick. Maybe there's a buyer out there. But who is going to buy in on a guy who has flamed out with, not one, but two different teams when he was given multiple opportunities to succeed?
Yes, there's physical tools that are enticing, but why would a team give up anything for him? There's a scenario here where the Bears are stuck with Claypool or where they potentially get fed up and cut him when no buyer emerges.
5. Can this Bears team beat anyone?
After four weeks, there remain only two winless football teams: the Bears and the Carolina Panthers. The Bears, who acquired Carolina's 2024 first-round draft pick in the blockbuster trade in March, currently are on pace to hold the No. 1 and No. 2 overall picks in next spring's draft.
That is not how this was supposed to go.
A good game from the offense was desperately needed, but Sunday might be a mirage. If one of the best offenses in football can score 70 points on the Broncos and the Bears can only muster 28, what does that really say about the Bears?
The Bears need to see more games like that from Fields. They need to take that offensive rhythm and carry it over into next week. They need to find a way to generate turnovers on defense (two garbage time interceptions vs. the Chiefs remain their only takeaways).
There are winnable games on the schedule, on paper. The Commanders, Vikings and Raiders are next up. But it's hard to see this Bears team beating anyone right now. If the Bears don't pick up a win during this stretch, things are going to go to a very dark place.
Some might say it's already there.