TAMPA, Fla. – A late pick-six interception sunk the Bears' hopes at a comeback Sunday. The Buccaneers held on for a 27-17 win at Raymond James Stadium.
Justin Fields, Matt Eberflus and the Bears dropped to 0-2. It marked their 12th consecutive loss, dating back to last season.
"I can look back to when I was a kid I would never see myself in this position, though," Fields said Sunday. "I can be grateful for it and give my all each and every day. Each and every day, I have the opportunity to do what I do and be the quarterback of this team, but of course it's frustrating not winning."
The pick-six was the final nail in the coffin, but a lot happened Sunday in Tampa. Here's five takeaways from Sunday's game.
1. 0-2 and sinking fast
History does not reflect kindly on NFL teams that started the season 0-2. Since the AFL-NFL merger, only 14% of teams that started 0-2 went on to have a winning record, according to Stathead.com. Only 9.6% made the playoffs. The Bears' 2023 season is in trouble.
The worst part? They have to play the Kansas City Chiefs next week at Arrowhead Stadium. It sure looks like 0-3 is a distinct possibility. Since the playoffs expanded in 1979, only six teams have ever made the playoffs after starting 0-3.
One caveat: the NFL only recently expanded its playoffs to 14 teams and added a 17th regular-season game. Those should help 0-2 and 0-3 teams reach the postseason slightly more often moving forward.
The vibes around the Bears right now are not good. The overall performance was cleaner Sunday than it was a week ago against Green Bay, but it still wasn't good enough for a win.
"I see improvement," Eberflus said. "I do. I see improvement. This was definitely better. I see guys fighting. I see us executing at a better clip. And it's a long season. To me, we just have to keep doing that."
2. Justin Fields under increasing pressure to perform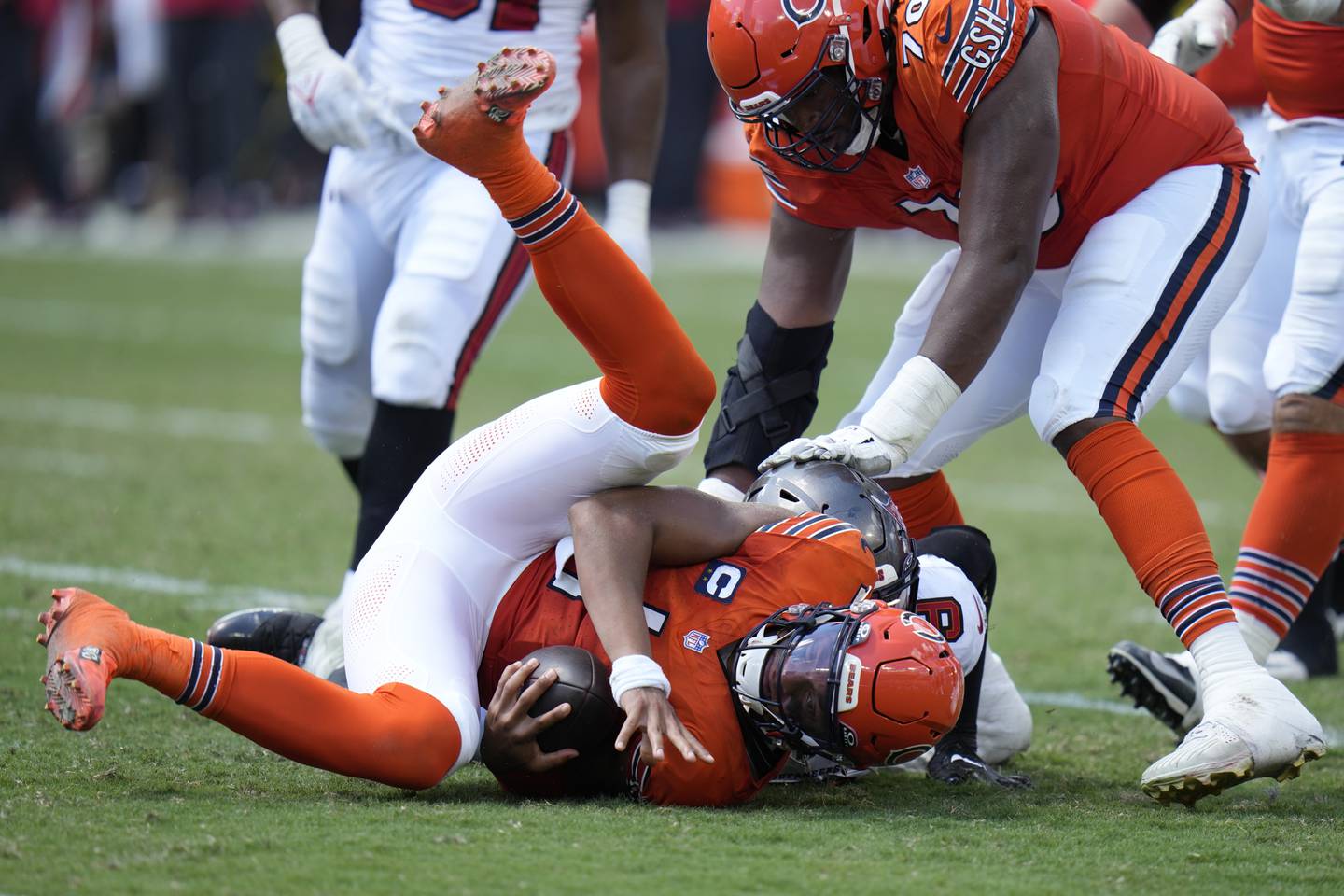 A late second-quarter drive might have been the biggest indictment of Fields' play so far this season. He had mountains of time in the pocket, the protection was as good as a QB could ask for. Yet, he took two sacks (including a fumble that the Bears recovered) and completed just three passes for 30 yards. Somehow, even after a third-down sack, the Bears managed to put points on the board thanks to a 52-yard field goal from kicker Cairo Santos.
On that drive, the issue was Fields holding onto the football too long.
"The O-line did a good job protecting those last few plays," Fields said of that drive. "Yeah, just got to execute."
The offensive line was far from perfect, but left tackle Braxton Jones said he saw a lot to build off of in pass protection.
"There's likes in protection," Jones said. "We can do it. I think it just takes that extra focus and detail to do it all four quarters. And it's hard to do. Obviously, there's going to be adversity all game long."
Overall, Fields was more aggressive than a week ago. He threw 10 passes more than 10 yards beyond the line of scrimmage. He completed three of them for 75 yards and a touchdown, and one was an interception.
3. Defense continues to lack punch
Eberflus touts his defensive scheme as one that can create turnovers. He preaches turnovers in practice and gives out "ballhawk" T-shirts to players who create turnovers.
Well, the stack of T-shirts must be getting dusty in his office. Through two games the Bears have yet to produce a takeaway.
On Sunday, the Bears once again lacked any punch defensively. They touched Bucs quarterback Baker Mayfield just once and did not have a sack in the game. The defense allowed 437 yards of total offense, including 317 passing yards.
The Bears were also playing without defensive coordinator Alan Williams, who missed the game due to a personal reason. Eberflus still has not said when Williams might return. To make matters worse, the team lost captain Eddie Jackson to a foot injury.
"We're positive right now," Eberflus said when asked about Jackson. "But we'll see where it goes."
Fellow safety Jaquan Brisker missed a large stretch of the game due to dehydration.
4. Run game remains virtually nonexistent
A Bears offense that led the NFL in total rushing yards last year mustered only 67 rushing yards Sunday. Now, Tampa Bay does have an impressive defensive front, but the Bears also struggled to move the ball on the ground last week against Green Bay. Running back Khalil Herbert led the Bears with 35 rushing yards on seven carries. He also caught one pass for 23 yards. Roschon Johnson had 32 rushing yards on four carries.
"That probably comes down to the details," said Jones, the left tackle. "We can't start pointing fingers. It's just got to be within ourselves."
Rookie right tackle Darnell Wright said the offensive line spent a good portion of this week working on its silent count.
"Making sure we're all on the same page, get off the ball at the same time," Wright said. "Then also just communicating up front, making sure whatever needs to be communicated across the line, making sure we're on the same page."
Jones and Wright each had a false start in Sunday's game, so that remains a work in progress.
The biggest surprise, though, is that Fields hasn't been running the ball. He finished Sunday's game with three rushing yards. That marked a career low for a game in which Fields started. The QB who rushed for more than 1,100 yards last season has only 62 rushing yards through two games.
5. DJ Moore is Bears' best weapon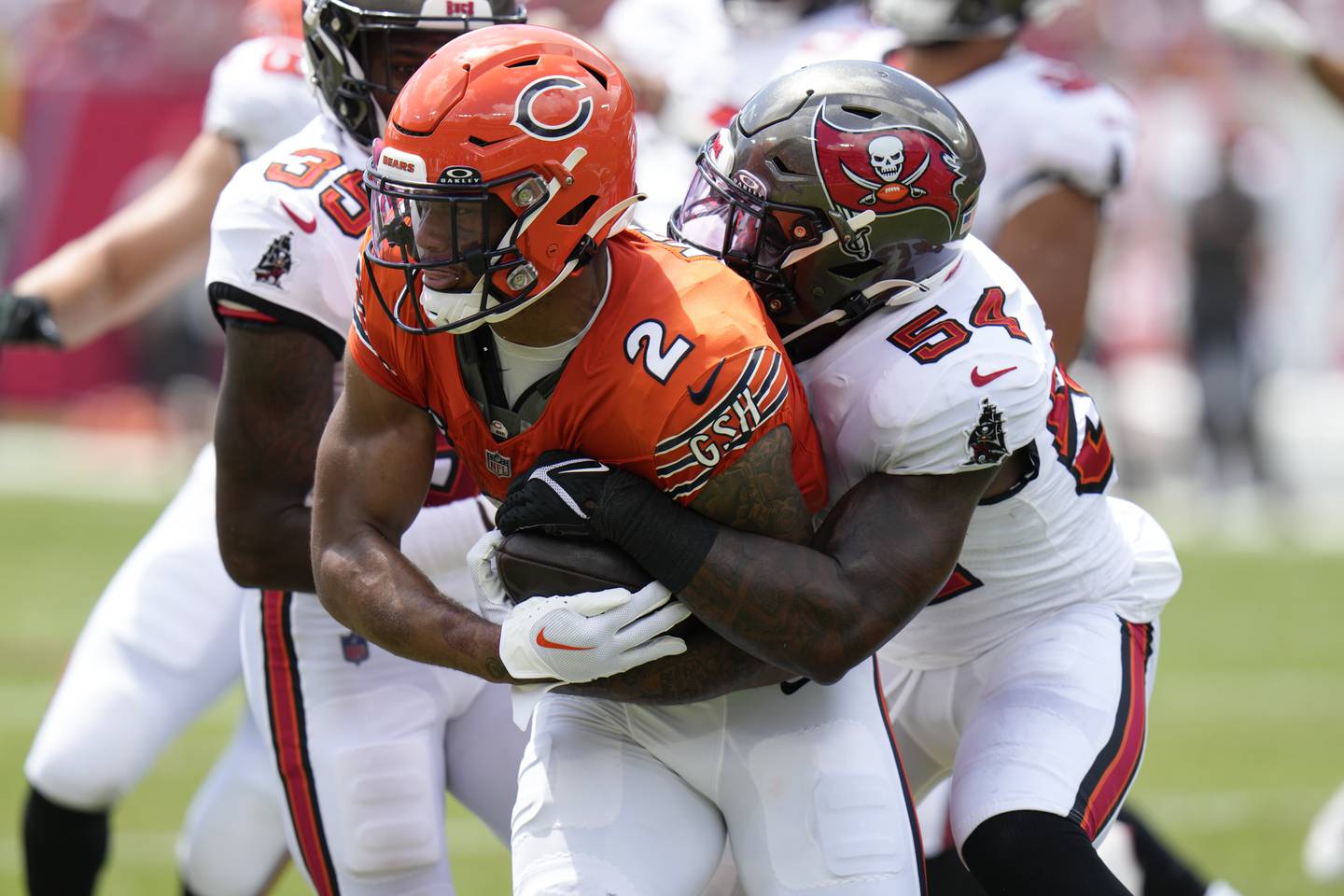 From the first offensive play, the Bears made an effort to involve top receiver DJ Moore. He caught a 33-yard reception on the Bears' first play. Fields targeted him seven times in the game and he caught six passes for 104 yards.
It's probably not coincidental that Moore caught two passes on each of the Bears' two touchdown-scoring drives. He caught two passes for 64 yards on the opening drive, which ended with a Fields rushing touchdown, and he caught two passes for 34 yards on the fourth-quarter drive that ended in a Chase Claypool touchdown.
Fields knew he needed to target Moore this week.
"My main thought this game was get him the ball," Fields said. "He's probably one of the best playmakers we have on offense."
Moore said he saw a Fields who improved over the last week.
"He got better," Moore said. "I know he wants to be more explosive with it and more dialed in with it. So he's probably going to keep working on it and as long as he's got faith in all of us, we're going to keep riding with him."
The only time the passing game worked Sunday was when Moore was involved.