Vernon Hills football coach Bill Bellecomo still remembers the afternoon when some of his football players sent him a video of Andre Szmyt kicking 50-yard field goals.
He remembers the text he sent back, too: "Get him to play."
Szmyt, a longtime soccer player, joined the Vernon Hills football team for one season as a senior in 2016. That decision eventually led him to a spot on the Syracuse football team, where he blossomed into the nation's top college kicker, and now an opportunity to play for the Chicago Bears.
The Bears signed Szmyt as an undrafted rookie free agent in the hours after the draft concluded. For Szmyt, it's only a 10-minute drive from his parents' house to Halas Hall in Lake Forest.
"If I wasn't going to get drafted, this is where I wanted to go," Szmyt recently told Shaw Local. "This is the team I want to play for. I'm so grateful it worked out."
Szmyt grew up playing striker on the soccer pitch. He never seriously considered kicking a football until his junior year, when he started practicing on his own. The summer before his senior year, he went out for the football team. Bellecomo doesn't take any credit.
"We didn't mess with him," Bellecomo said. "We just let him do his thing, and it really worked out."
Szmyt sought help from Kohl's Kicking, a Wisconsin-based private training center where many of the nation's top kickers have trained. He was highly self-motivated to not only kick well for his team at Vernon Hills, but to turn it into a college opportunity.
It was apparent pretty quickly that Szmyt could kick at a high level. He made a game-winning field goal against rival Deerfield and set a school record with a successful 48-yard field goal. He started emailing college coaches midway through the 2016 season.
Bellecomo talked Szmyt up with college coaches any chance he could, and it was honest.
"I'm telling you," Bellecomo would say to college coaches. "His leg and what he can do, he's the best I've seen in a long time in this area."
Szmyt affected games with more than just his field goals. Vernon Hills had a good defense that season. With Szmyt knocking kickoffs through the end zone, his touchbacks easily pinned the opponent at the 20-yard line, setting things up nicely for the defense. He also punted during that season.
Vernon Hills went 10-4 and reached the IHSA Class 5A state championship game, where the Cougars lost to Peoria 62-48 in what was a memorable, high-scoring title game. Peoria led 40-35 at halftime, and it was a one-possession game in the fourth quarter.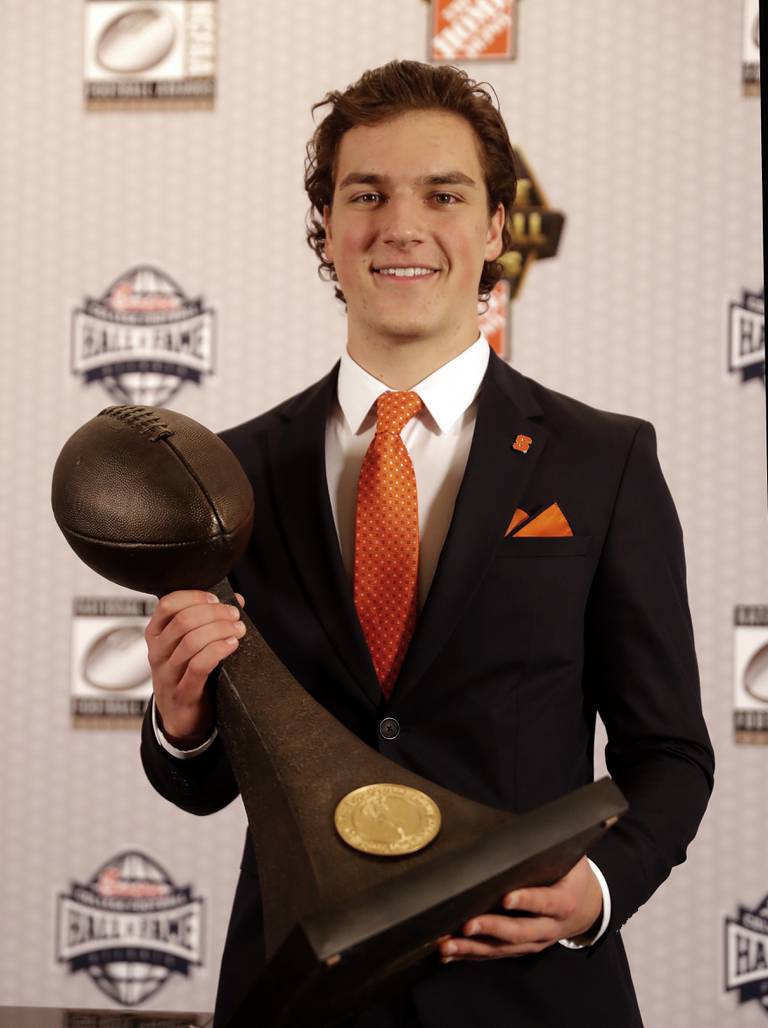 Szmyt had conversations with several schools but decided to walk on at Syracuse. He redshirted in 2017, then competed and won the starting kicking job the following season as a redshirt freshman.
What happened next blew away all expectations. Szmyt made 30 of his 34 field goal attempts during the 2018 season, one shy of the FBS record of 31 makes. He averaged 11.6 points per game for his team, leading the nation. His season earned him the Lou Groza Award as the nation's top kicker.
"The awards are just a product of the work you put in and the time," Szmyt said. "So I kind of only realized what I did in college a couple weeks ago, after the fact. When you're in the moment, you're kind of just submerged in it and doing everything you can to make field goals, help the team win."
Szmyt took advantage of his extra COVID-19 season and kicked for five years at Syracuse. He made 85 of his 105 field goal tries (81%), twice knocking in career-longs of 54 yards. He was bound to land with an NFL team, and there was no better fit than in Chicago.
The Bears already have an established kicker in Cairo Santos. In three seasons with the Bears, Santos has made 77 of 85 field goal tries (91%). His long was a 55-yard make in 2020. Santos set a franchise record with 40 consecutive made field goals over the 2020 and 2021 seasons.
Santos has been incredibly consistent for the Bears, although he uncharacteristically missed five extra point attempts last season. It will be an uphill battle if Szmyt is going to unseat Santos, but a little healthy competition never is a bad thing.
Szmyt's power could make things interesting. He said he has made field goals from 63 or 64 yards on the practice field.
"I think trust is super important," Szmyt said. "Trust in the process, trust in the work you put in, trust in your teammates, trust in my skill. Not making it more than what it is."
Since the pandemic season in 2020, stashing an extra kicker on the practice squad has become more common. Several teams did so last year even though the NFL eliminated COVID-19 protocols. The Bears did not, but they also found themselves scrambling to find a kicker on short notice in Week 4 when Santos had to miss a game.
So even if Szmyt doesn't make the 53-man roster out of training camp, there may be a spot for him at Halas Hall.
"He has all the right intangibles and all the physical characteristics that he needs to succeed," Bellecomo said. "It's just, now, he needs someone to really hone those skills. I think he can take the next step at the next level."