LAKE FOREST – The Bears added six additional players on the third and final day of the 2023 NFL Draft on Saturday.
Overall, general manager Ryan Poles added 10 players throughout the draft's seven rounds. That began with Tennessee offensive tackle Darnell Wright at No. 10 overall during Thursday's first round.
"The one thing that was clear was we wanted to continue to add the guys that match the culture that we've set," Poles said.
The Bears entered Saturday with five picks, including the first pick of the day at No. 103 overall. Before the day began, the Bears traded No. 103 to the New Orleans Saints in exchange for No. 115 and No. 165.
Here's what to know about all six new additions to the roster.
[ How the Chicago Bears narrowed in on Darnell Wright as their top draft pick ]
Texas RB Roschon Johnson
In the fourth round, with the 115th overall pick, the Bears selected Texas running back Roschon Johnson. The 6-foot, 219-pound Texas native rarely started for the Longhorns, but that's because he was stuck behind eighth overall pick Bijan Robinson.
With fewer than 100 carries in both 2021 and 2022, Johnson totaled more than 500 rushing yards and five touchdowns each season. He was an honorable mention All-Big 12 performer last season, despite starting only one game.
"I was shocked that he was still on the board," Poles said.
Bears scout John Syty spent a lot of time scouting Johnson. The first time Syty went to meet with him in Austin, Texas, Syty remembered seeing Robinson's name plastered all over billboards and in the headlines. But when Syty entered the Longhorns' football facility, everyone was talking about Johnson. He's the classic "hardest worker in the room," and Syty raved about him as a high-character person.
"This human being is wired differently," Syty said. "The more time you spend around him, the more you realize you're probably the one who has things you need to work on, not him."
At the NFL Scouting Combine, Robinson called Johnson "the best teammate I've ever had."
"He brings out so much in a player and the team, just how he goes about being a leader," Robinson said. "Not just his teammates, but everybody in the community."
In the era of NIL, and with him being stuck behind Robinson, Johnson could've transferred elsewhere for more playing time and more financial opportunities. His decision to stay at Texas was never about NIL money.
"I didn't let the perspective of me being a backup have an effect on me," Johnson said.
Johnson is a former high school quarterback who understands the game, and who Syty believes might be one of the best special teams players in the draft.
Cincinnati WR Tyler Scott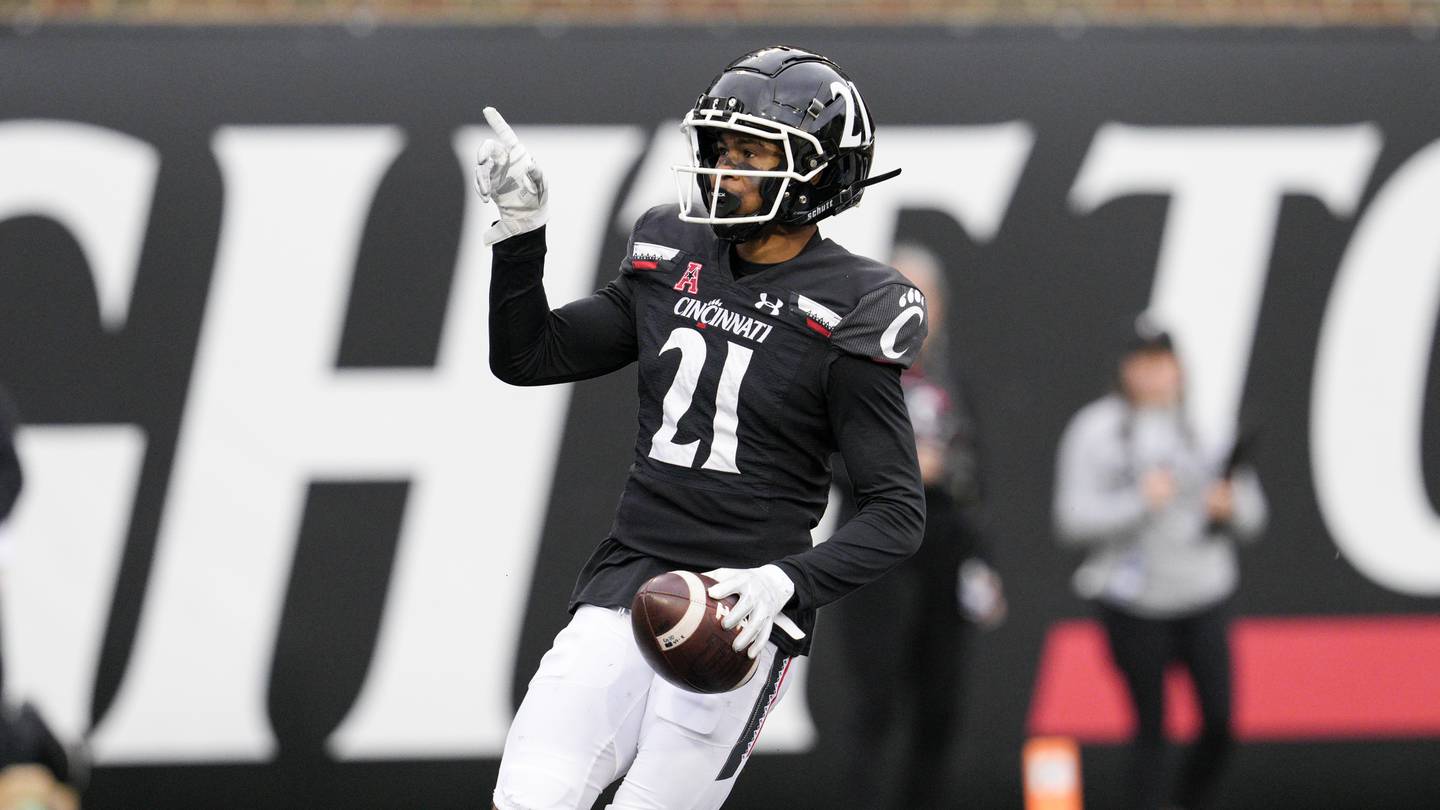 With another fourth-round pick (No. 133 overall), the Bears selected Cincinnati wide receiver Tyler Scott.
Scott (5-9, 177) is an undersized receiver who had a breakout season last year for the Bearcats, totaling 54 catches for 899 yards and nine touchdowns. He was a second-team All-AAC performer.
Though he's not physically big, Scott has good speed and athleticism. He ran a 4.44-second 40-yard dash at the combine and totaled 39.5 inches in the vertical jump. That speed allows him to stretch the defense vertically. He also brings special teams experience as a gunner.
Bears midwest area scout Ryan Cavanaugh said Scott's big-play ability is his most exciting trait.
"He can really take the top off," Cavanaugh said. "Justin [Fields] is going to like throwing to him deep. He does that well. I think he surprises us with route running and quickness and just everything about him. He's a tough kid."
Oregon LB Noah Sewell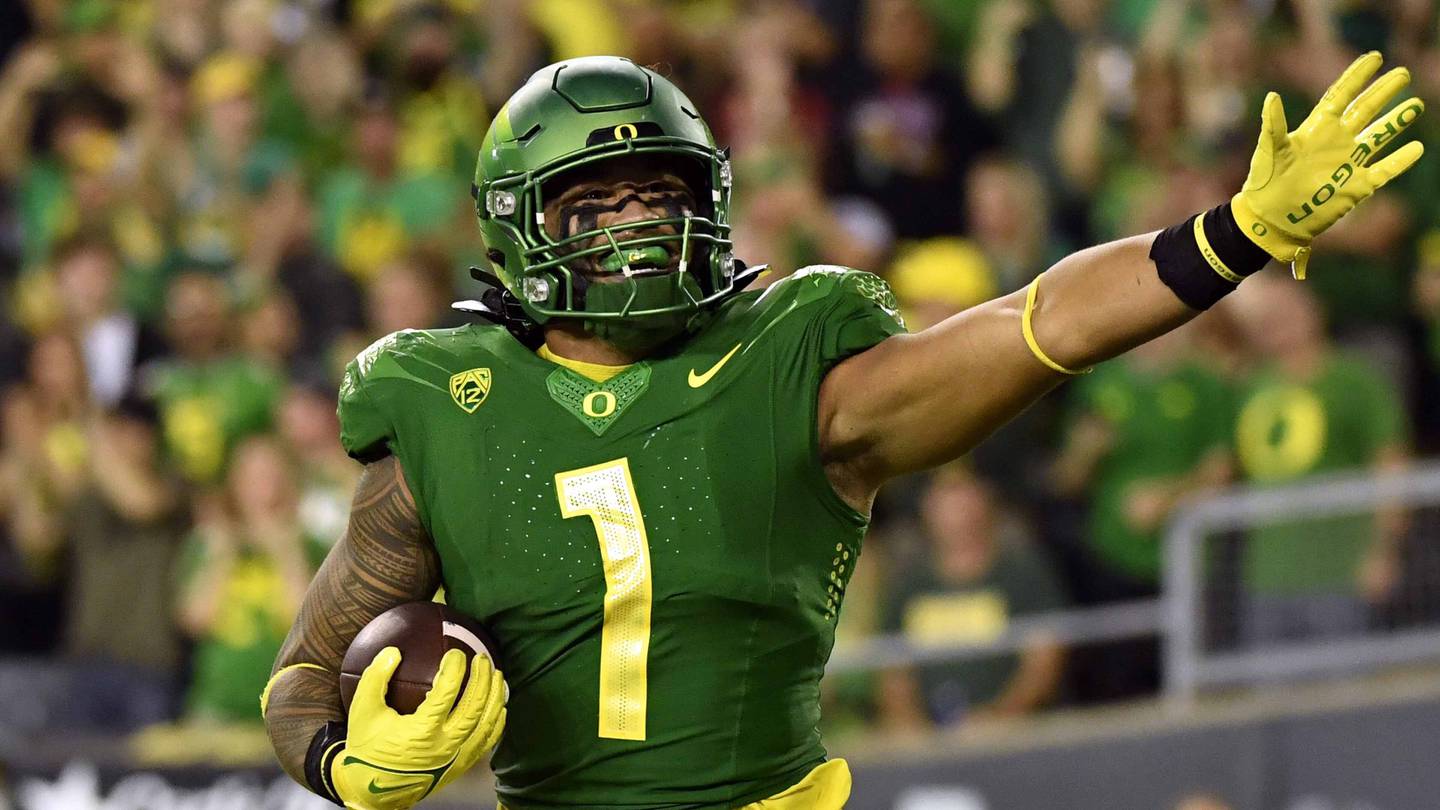 With the 148th overall pick, the Bears selected linebacker Noah Sewell out of Oregon. Sewell (6-0, 246) is the brother of Detroit Lions offensive lineman Penei Sewell.
Noah Sewell started 31 games over three season for the Ducks. Last season, he totaled 56 tackles, 5.5 tackles for loss and 1.5 sacks and was named a second-team All-Pac-12 performer.
"He's an instinctual player, he's smart, he gets ball," Bears west coast scout Reese Hicks said. "He's been around it a long time. His dad is a coach. He has that background and it came naturally for him."
Sewell grew up in a football family originally from American Samoa. The Sewells moved to Utah in 2012. Noah's father is a high school football coach.
The Sewell brothers are excited for their emerging sibling rivalry in the NFC North.
"It's going to be one heck of a matchup," Noah Sewell said. "We both compete. We're always competitive, and I'm going to make sure I win a couple of reps."
Minnesota CB Terell Smith
The Bears selected Minnesota cornerback Terell Smith with the 165th overall pick, midway through the fifth round.
Smith (6-0, 204) is originally from Georgia. He started 29 games over five seasons at Minnesota. He recorded four interceptions and 20 passes defended over his college career. Last season, as a full-time starter, he also added 4.5 tackles for loss and two sacks.
Smith has tremendous speed, running a 4.41 in the 40 at the combine. He was a two-time track state champion sprinter in high school in Georgia.
"The long speed of track and football is different, but track definitely helped me with my initial bursts," Smith said Saturday.
At Minnesota, he was a starter as a true freshman, then didn't start again for another two years. In his fourth and fifth years, he emerged as a key starter in the Gophers' secondary.
Bears co-director of player personnel Trey Koziol said the resilience Smith showed to fight through some adversity was impressive. Smith was a player who added to his game every year in college.
"I thought the senior year, he showed a ton of improvement," Koziol said. "He just kept getting better and better. … He tested out really well at the combine. All the little check boxes that we look for, he hit all of them."
Kennesaw State DT Travis Bell
With the first pick in the seventh round, the Bears selected Kennesaw State defensive tackle Travis Bell. Bell (6-0, 310) and the Owls played on the Division I FCS level.
Bell, who grew up in Alabama, had 34 total tackles last season, 5.5 tackles for loss and 1.5 sacks in 11 games. He didn't receive an invite to the NFL Scouting Combine in February. Bell is the first player ever drafted out of Kennesaw State.
He is the third defensive tackle the Bears selected in the draft. Bell said started turning his attention toward which teams might offer him a spot as an undrafted free agent when he received a call from Poles.
"When I got that call, I was just excited man," Bell said. "I couldn't hold it back."
Bell held down a full-time job during the football season last year, something that impressed Poles.
"This is probably one of my favorite human beings," Poles said. "He is a special person. I didn't want him to leave after his [in-person] visit and he didn't want to leave, either."
Stanford S Kendall Williamson
With the 258th pick in the draft, and the team's final of 2023, the Bears selected Stanford safety Kendall Williamson. Williamson (6-0, 202) grew up in Georgia. Williamson has a mechanical engineering degree from Stanford.
He appeared in 49 games over five seasons for Stanford. In 2022, he totaled 50 tackles, 2.5 tackles for loss, one interceptions, one forced fumble and four passes defended.
"One thing that excites me the most about the opportunity is just the history of the Chicago Bears defense," Williamson said. "Just being a safety and playing on a defense that has such a great history of defensive players is just an amazing opportunity."