The phones began ringing at 11 a.m. Monday.
NFL free agency is here. While teams and free agent players cannot officially agree to anything until 3 p.m. Wednesday, they could begin holding preliminary talks beginning at 11 a.m. Monday. Many handshake agreements will be made before free agency technically begins Wednesday.
With $75 million in available salary cap space, Bears general manager Ryan Poles has more money to spend than any other NFL team. Coming off a 3-14 season, the Bears also have plenty of needs, too.
Bears fans can catch up on everything they need to know ahead of free agency below, and stay here all week long for live updates on NFL free agency.
Bears add RB D'Onta Foreman
The Bears made another addition at running back Thursday, signing former Panthers' running back D'Onta Foreman to a one-year, #3 million contract, according to ESPN's Adam Schefter.
After the Panthers traded Christian McCaffrey at the trade deadline last year, Foreman emerged as the lead back in Carolina. He rushed for 914 yards and five touchdowns on 203 carries last season. The former third-round draft pick of the Texans has played five NFL seasons for Houston, Tennessee and Carolina.
Foreman figures to split snaps with Bears running back Khalil Herbert. The Bears could still opt to draft a running back, too, next month.
Bears sign McHenry native Robert Tonyan
The Bears are signing local tight end Robert Tonyan, according to a report from ESPN's Adam Schefter. The McHenry native has spent the past five seasons with the Green Bay Packers.
Tonyan caught 53 passes for 470 yards and two touchdowns last season with the Packers. In five years, he totaled 1,437 yards and 17 touchdowns, with a career-high 11 touchdowns during the 2020 season. Tonyan tore his ACL midway through the 2021 season, but has otherwise been a key contributor for the Packers' offense over the past three seasons.
Adding Tonyan will give the Bears more local flavor at a tight end position that already includes Lake Barrington native Cole Kmet. Tonyan was a multi-sport athlete at McHenry, winning the 2012 Northwest Herald Boys Basketball Player of the Year award and playing quarterback for the Warriors football team.
He played college ball at Indiana State before briefly signing with the Detroit Lions as an undrafted rookie in 2017. Tonyan signed with the Packers practice squad later that season.
[ Packers TE Robert Tonyan, family 'always thought that he would get a chance' in NFL ]
Bears release backup QB Trevor Siemian
The Bears released backup quarterback Trevor Siemian on Thursday. The move came less than 24 hours after the team agreed to a contract with free agent quarterback P.J. Walker. Siemian had one more year remaining on his contract with the Bears.
The move appears to signal that the Bears are reshaping their quarterback room behind starter Justin Fields. Siemian started only one game in his lone season with the Bears. In cutting Siemian, the Bears saved nearly $2 million against the salary cap.
Walker had some success as a backup in Carolina last year, winning two of five starts when the team needed him.
Bears sign DT Andrew Billings
The Bears have signed defensive tackle Andrew Billings to a one-year contract, the team announced Thursday. Billings has played in the NFL since 2017, with a brief break when he opted out of the 2020 season during the pandemic.
Billings started 14 games for the Las Vegas Raiders last season. He totaled 39 combined tackles, three tackles for loss and one sack. The 6-foot-1, 311-pound defensive tackle has appeared in 67 career games.
Billings could be a contributor on the interior of the defensive line, where the Bears need help.
Bears sign QB P.J. Walker, per report
Justin Fields has a new backup.
The Bears have agreed to a contract with former Carolina Panthers quarterback P.J. Walker, according to a report form ESPN's Adam Schefter. Walker has been in the NFL since 2017 and has mostly been a career backup.
In addition to Fields, the Bears still have quarterback Trevor Siemian under contract. Walker adds another option to the quarterback room, which released veteran third-stringer Nathan Peterman.
Walker went undrafted out of Temple in 2017. He spent three seasons on the Colts' practice squad before starring in the 2020 version of the XFL for the Houston Roughnecks. His XFL experience earned him another NFL shot with Carolina.
Walker served as a backup quarterback for the Panthers during each of the last three seasons. He started five games in 2022. For his career, he has started seven games, posting a 4-3 record as a starter. In 15 career appearances, he has thrown for five touchdowns and 11 interceptions.
Walker was a part of one of the most memorable plays of the season. In a late October game against Atlanta, Walker threw a Hail Mary on the final play of regulation that dropped into the hands of receiver D.J. Moore. The Panthers, though, lost the game in overtime.
QB Aaron Rodgers intends to play for New York Jets
Longtime Green Bay Packers quarterback Aaron Rodgers said Wednesday on "The Pat McAfee Show" that he intends to play for the New York Jets in 2023.
The NFC North may finally be rid of the four-time MVP quarterback.
The NFL Network reported that the Packers and Jets are still trying to work out the details of a trade involving Rodgers, who remains under contract in Green Bay. Rodgers said Wednesday that the Packers have indicated they are ready to move on. Rodgers said he would still like to keep playing.
The Jets this week signed former Packers wide receiver Allen Lazard to a four-year, $44 million contract. Rodgers has reportedly asked the Jets to pursue other pass catchers he has played with in the past, including receiver Randall Cobb and tight end Marcedes Lewis.
Former Bears OT Riley Reiff to sign with Patriots, per report
After one season in Chicago, veteran offensive tackle Riley Reiff is signing with the New England Patriots, per a report from ESPN's Dianna Russini.
Reiff signed with the Bears just days before training camp started in July. He came to Chicago with 10 years of NFL experience, stepping in to help an offensive line that had very little experience. Reiff initially served as a backup behind second-year pro Larry Borom at the right tackle position.
When Borom suffered a concussion during a Week 7 game against New England, Reiff stepped in as the starting right tackle the following week and never relinquished the job. Reiff appeared in 16 games, starting 10 during his lone season in Chicago.
Letting Reiff walk is yet another sign that the Bears could be looking for an upgrade at right tackle. Earlier this week, they were reported to have a high interest in free agent right tackle Mike McGlinchey. McGlinchey agreed to a massive contract with Denver on Monday, per reports. Kaleb McGary, another top right tackle, agreed to an extension with the Atlanta Falcons on Tuesday. Jawaan Taylor, who previously played in Jacksonville, is reportedly signing with the Kansas City Chiefs.
There are plenty more right tackles available in free agency, but there might not be a slam dunk signing with those three already off the market.
Bears sign RB Travis Homer, per reports
Not long after former Bears running back David Montgomery agreed to a deal with the Detroit Lions, the Bears agreed to a contract with former Seattle Seahawks running back Travis Homer. The deal is for two years and worth $4.5 million, according to ESPN's Adam Schefter.
Homer, 24, was a sixth-round draft pick in 2019. He played four seasons in Seattle, totaling 453 rushing yards and one touchdown over 49 appearances. He was also a significant contributor on special teams.
David Montgomery expected to sign with Detroit Lions, per report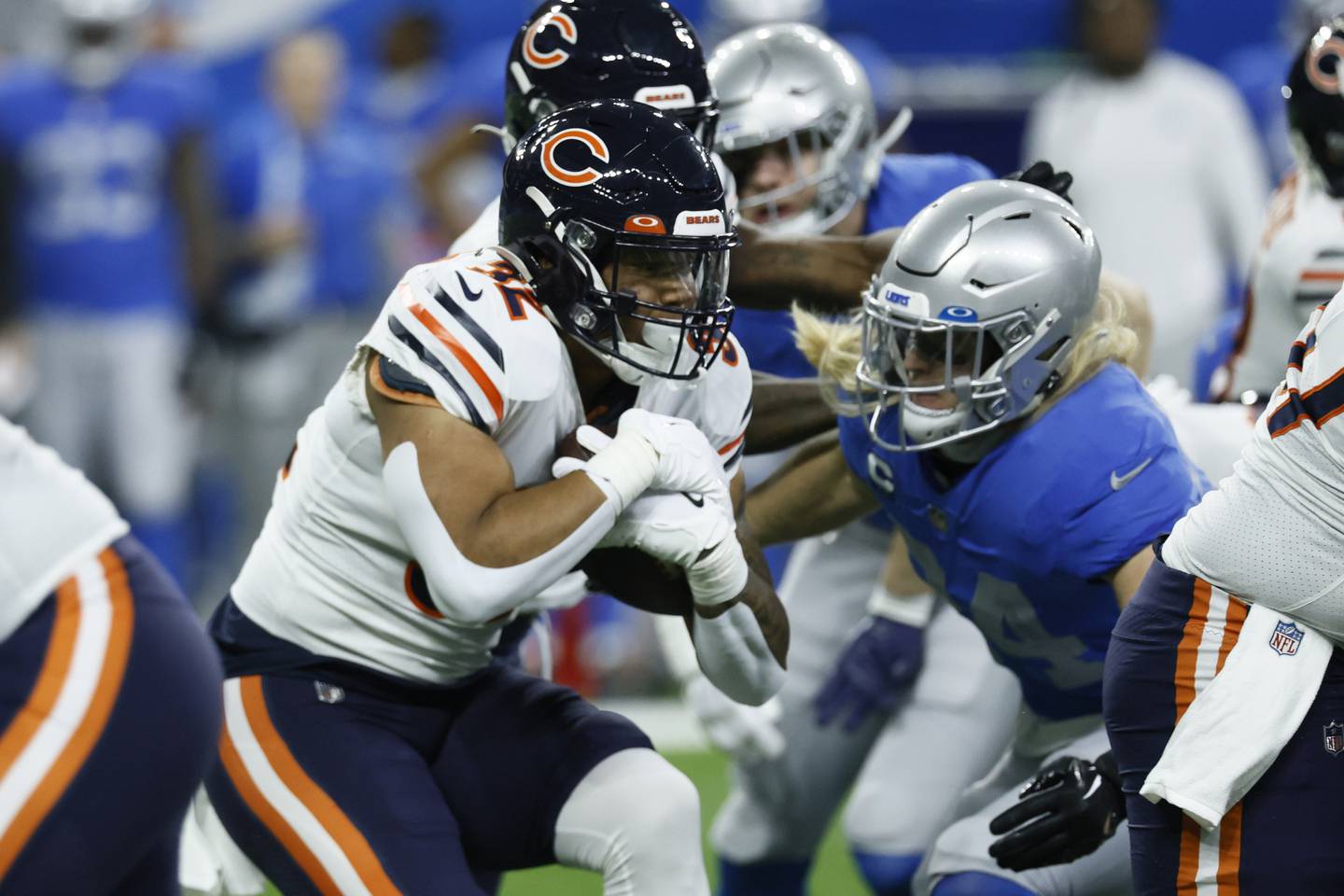 Former Bears running back David Montgomery is expected to sign a three-year, $18 million contract with the Detroit Lions, according to a report from the NFL Network. After four seasons in Chicago, Montgomery's time with the Bears is over.
Instead, he will be playing for a rival NFC North division opponent. He is expected to replace outgoing Lions running back Jamaal Williams, who is a free agent.
Montgomery became the Bears' top running back immediately after being drafted in the third round in 2019. He rushed for 801 yards and five touchdowns last season and helped the Bears set a franchise record for single-season rushing yards in 2022. During his four seasons with the Bears, he rushed for 3,609 yards and 26 touchdowns.
He was one of the top running backs available on the free agent market this year.
"Thank You For taking a chance on a kid who had nothing, I will love you forever !!!! THANK YOU CHICAGO," Montgomery wrote on his Instagram page.
The Bears appear to be happy with Khalil Herbert leading the way at running back. They could also seek additional help in the draft.
Here's the latest on Packers QB Aaron Rodgers
Will the Bears and the rest of the NFC North division be, at long last, rid of quarterback Aaron Rodgers?
That's what the NFL world is waiting eagerly to find out – not least of all the Green Bay Packers and the New York Jets. Rodgers appears to be holding both teams hostage more than 24 hours after the free agent negotiating period opened up.
The Jets and Packers haven't finalized a trade for the four-time MVP quarterback, who is still under contract with Green Bay, but they appear to be heading in that direction. So what's complicating a deal? Well, Rodgers appears to want the Jets to bring along some of his friends.
Per ESPN's Dianna Russini, Rodgers is pushing for the Jets to acquire some of his former teammates, including receiver Randall Cobb, receiver Allen Lazard and tight end Marcedes Lewis. Receiver Odell Beckham Jr., who has not played with Rodgers, is also apparently on that wish list.
Bears extend LS Patrick Scales, FB Khari Blasingame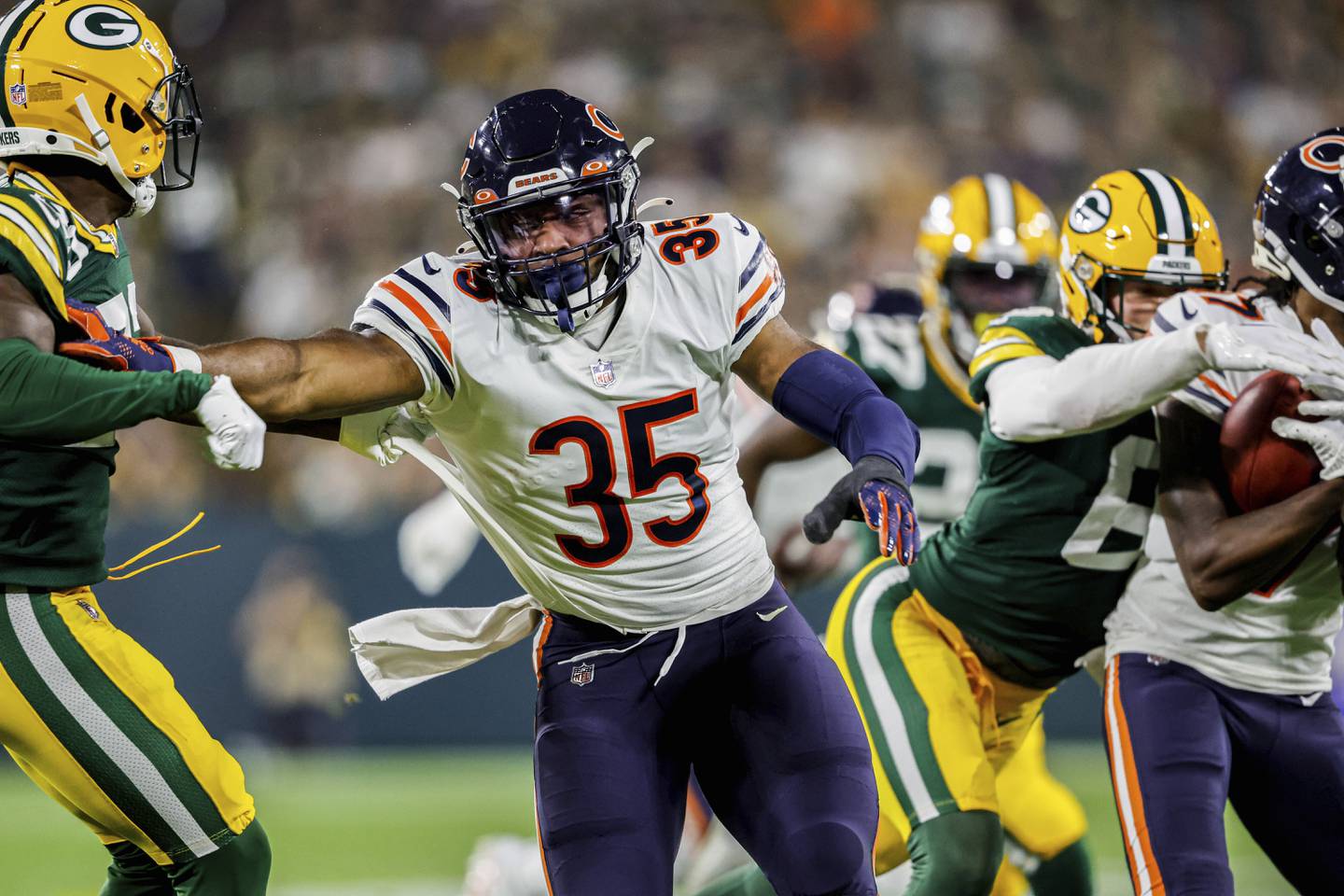 The Bears announced Tuesday that they have signed long snapper Patrick Scales and fullback Khari Blasingame to contract extensions. Both were set to become unrestricted free agents. Additionally, the team has tendered exclusive rights free agent Dieter Eiselen. Eiselen will be back on a one-year contract.
Scales, the longest-tenured Bears player, will return on a one-year contract for his eighth year with the team. The 35-year-old has appeared in 103 games over seven seasons.
Blasingame, who the team signed last year as a free agent, agreed to a two-year extension through 2024. He appeared in 16 games last season. In addition to serving as fullback on offense, Blasingame was a key contributor on special teams.
Eiselen signed with the Bears as an undrafted rookie in 2020 out of Yale. He is originally from South Africa. He served as a backup lineman last year, appearing in 11 games.
Bears agree to deal with DE DeMarcus Walker
The Bears have agreed to a deal with free agent defensive end DeMarcus Walker. The contract is for three seasons, according to the NFL Network's Mike Garafolo.
Walker, 28, is a six-year NFL veteran who is coming off the best season of his career. He recorded seven sacks and 10 tackles for loss for the Tennessee Titans last season. The former second-round draft pick played for the Denver Broncos from 2017 through 2020, then played one season in Houston in 2021 before signing with Tennessee last year.
He has 19.5 career sacks in 66 career appearances. He started during 13 of those games.
The Bears are looking to overhaul their defensive line this offseason. They totaled a league-worst 20 sacks last season.
Bears sign Pro Bowl linebacker Tremaine Edmunds, per reports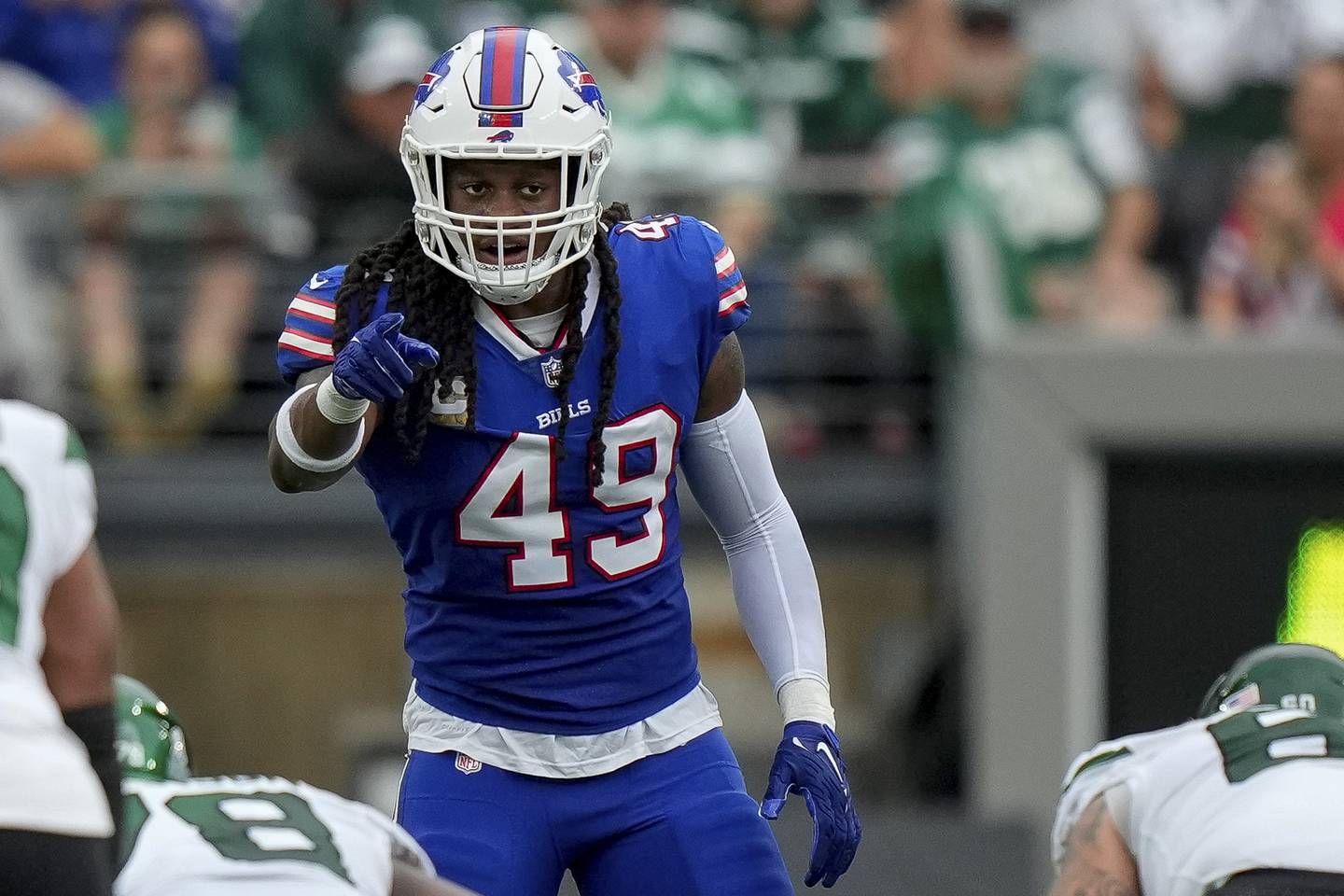 Ryan Poles wasn't finished with the linebacker position yet.
The Bears are signing two-time Pro Bowl linebacker Tremaine Edmunds to a four-year, $72 million contract, with $50 million in guaranteed money, according to a report from the NFL Network's Ian Rapoport.
Just hours after the Bears agreed to terms with former Eagles linebacker T.J. Edwards, they agreed to another big deal with an off-ball linebacker. Fixing their defense has clearly been a priority for the Bears.
Edmunds is only 24 years old, and will be 25 when the season begins in September. The Buffalo Bills made him the 16th overall draft pick in 2018. He played five seasons in Buffalo, starting 74 games. Last season, he totaled 102 combined tackles, six tackles for loss, one sack, seven passes defended and one interception.
Edmunds and Edwards now appear to be looking like staples of the Bears' defense moving forward. Edmunds fits the mold of what head coach Matt Eberflus is looking for in a linebacker – he's 6-foot-5 with 34.5-inch long arms. Roquan Smith, at 6-1 with 32-inch arms, probably never fit that mold.
The Bears will pay Edmunds and Edwards a combined $24.5 million over the next three years. Spending that much on two quality linebackers might seem like a deal compared to paying $20 million – as Smith was seeking – for one linebacker.
Report: Bears sign former Titans guard Nate Davis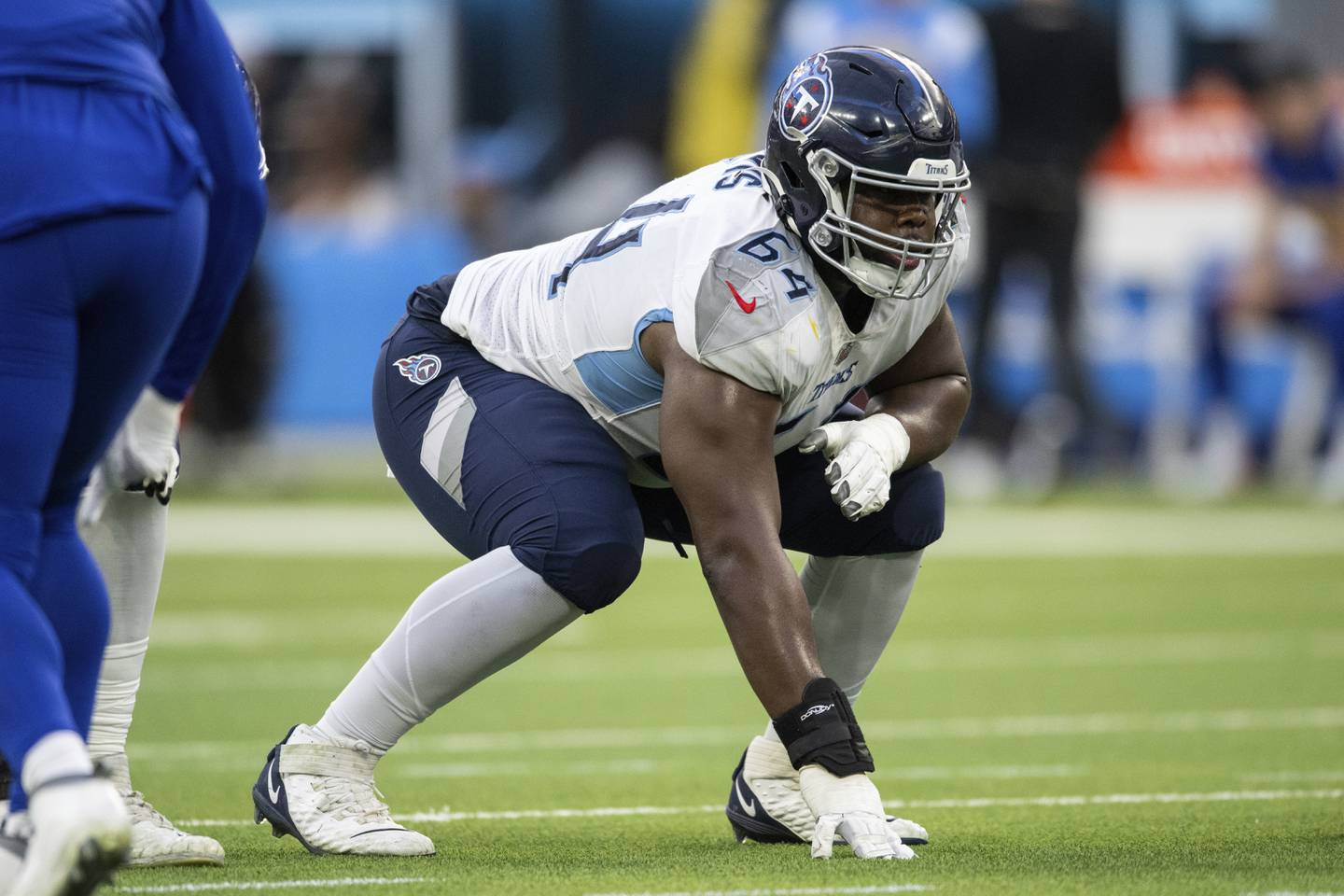 The Bears are signing former Tennessee Titans offensive guard Nate Davis to a three-year contract, according to the NFL Network's Ian Rapoport.
The 26-year-old former third-round draft pick has started 54 games over the past four seasons for the Titans. He primarily played right guard in Tennessee.
It's unclear how the Bears will reshuffle their offensive line with Davis in the mix. The offensive line found some consistency with veteran Cody Whitehair at left guard and second-year pro Teven Jenkins at right guard during the 2022 season.
Signing Davis could mean Jenkins is being relegated back to a reserve role. Or it could indicate the Bears might be ready to move on from the 30-year-old Whitehair, who is due to be paid $14 million this season.
Update: Broncos appear to edge Bears for RT Mike McGlinchey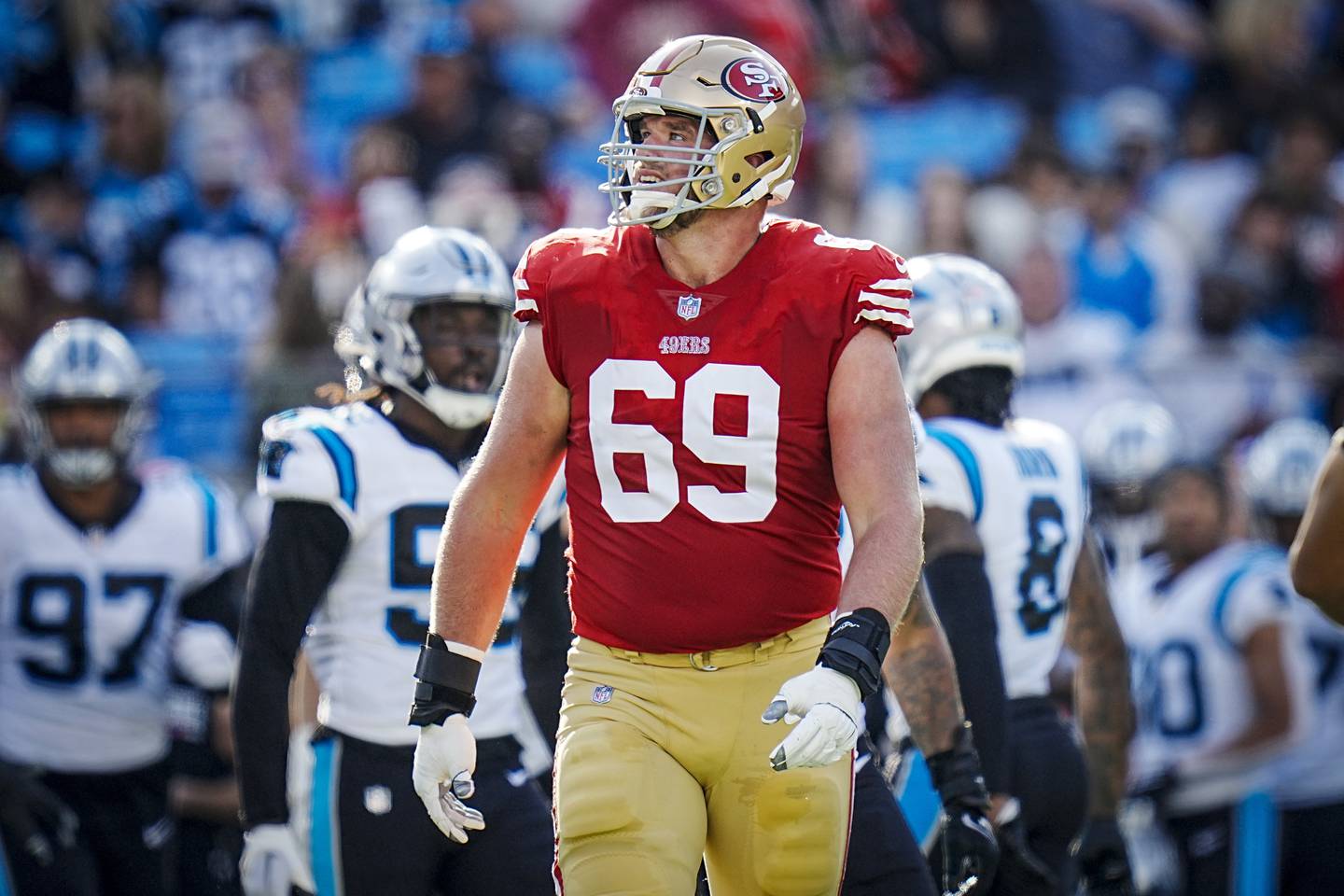 The Bears appeared to be hopeful that a deal with former San Francisco 49ers right tackle Mike McGlinchey could materialize Monday. The two sides were "talking and hoping to get a deal done," according to ESPN's Dianna Russini on Monday morning.
Within an hour, however, that changed. Russini later reported that the Broncos were also having discussions with the 28-year-old McGlinchey. At 12:20 p.m., Russini reported that McGlinchey to the Broncos was a done deal.
McGlinchey is widely considered one of the top right tackles on the free agent market. He was the ninth overall draft pick coming out of Notre Dame in 2018. He spent the first five years of his NFL career in San Francisco, starting 69 games, largely at right tackle.
McGlinchey might be the best run-blocking tackle on the free agent market. He played in a similar offensive scheme in San Francisco to what Bears offensive coordinator Luke Getsy is trying to emulate in Chicago. The Bears also have a need at right tackle. Last season, second-year tackle Larry Borom and 11-year veteran Riley Reiff split time starting at right tackle.
The NFL Network's Ian Rapoport later reported that McGlinchey and the Broncos agreed to a five-year contract worth $87.5 million.
Report: Bears signing LB T.J. Edwards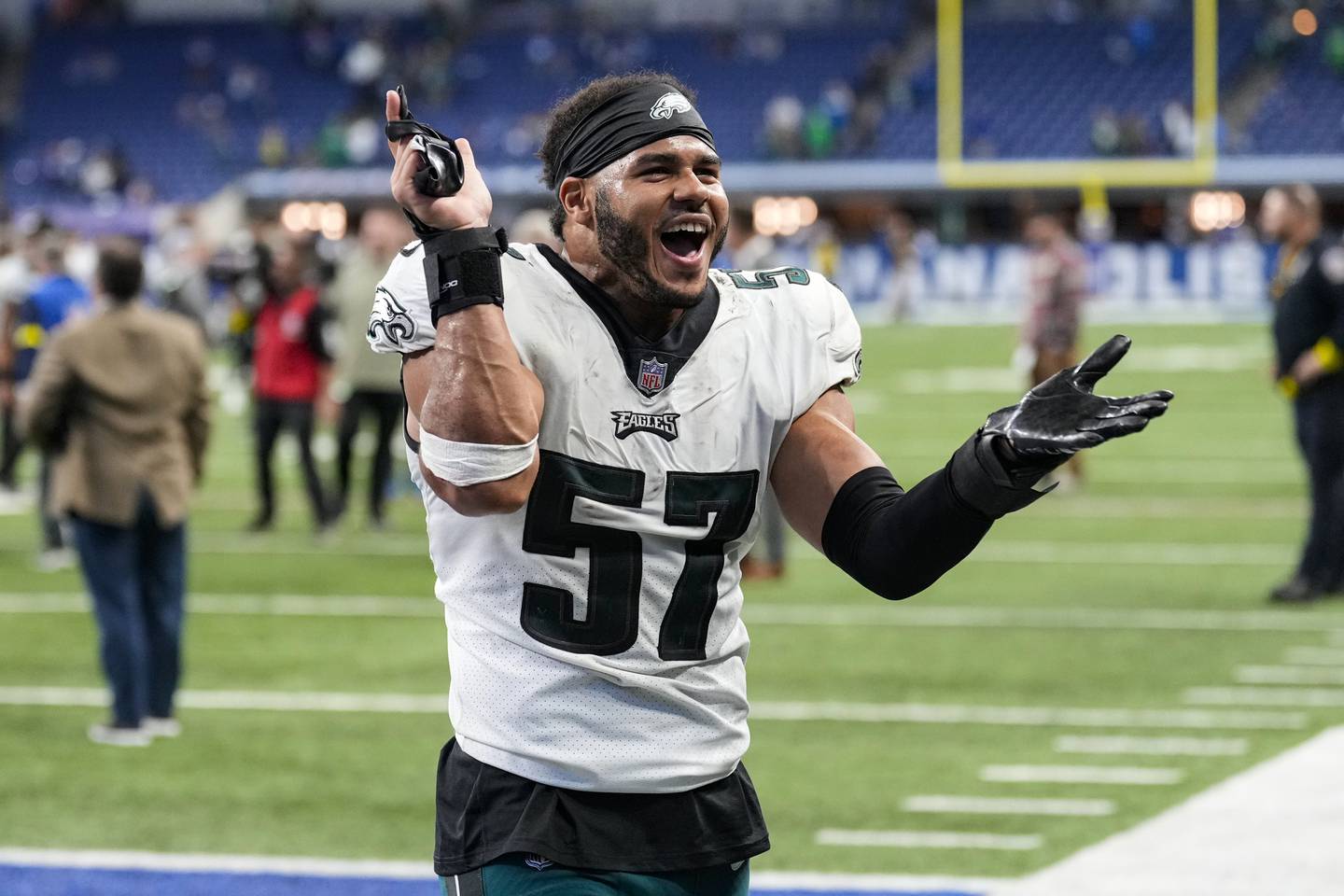 The Bears are expected to sign former Philadelphia Eagles linebacker T.J. Edwards to a three-year contract, according to a report from the NFL Network's Ian Rapoport.
Edwards grew up in Lake Villa and will be returning to his hometown team after four seasons with the Eagles. A former undrafted rookie out of Wisconsin, Edwards emerged as one of the premier linebackers in the NFL over the past few seasons. He totaled 159 combined tackles, two sacks, seven passes defended and one fumble recovery for the Eagles last season. His 159 tackles were tied for seventh-most among NFL defenders last season.
The deal is worth $19.5 million over three seasons, according to Rapoport, with $12 million guaranteed.
How does last week's trade impact free agency?
Poles executed a blockbuster trade that sent the No. 1 overall draft pick to the Carolina Panthers in exchange for the No. 9 overall pick, the No. 61 overall pick, a first-round pick next year, a second-round pick in 2025 and wide receiver D.J. Moore.
Including Moore in the deal was an added bonus on top of the haul of draft picks. What it primarily means for free agency is that the Bears no longer need a top-end receiver. That is a good thing because this year's free agent receiver class is generally considered weak.
The trade doesn't necessarily impact what the Bears might want to do at other positions. It does mean they have about $20 million less to spend in 2023 than they did a few days ago, but they still have more available cap space than any other team by about $13 million.
Who are the Bears' impending free agents?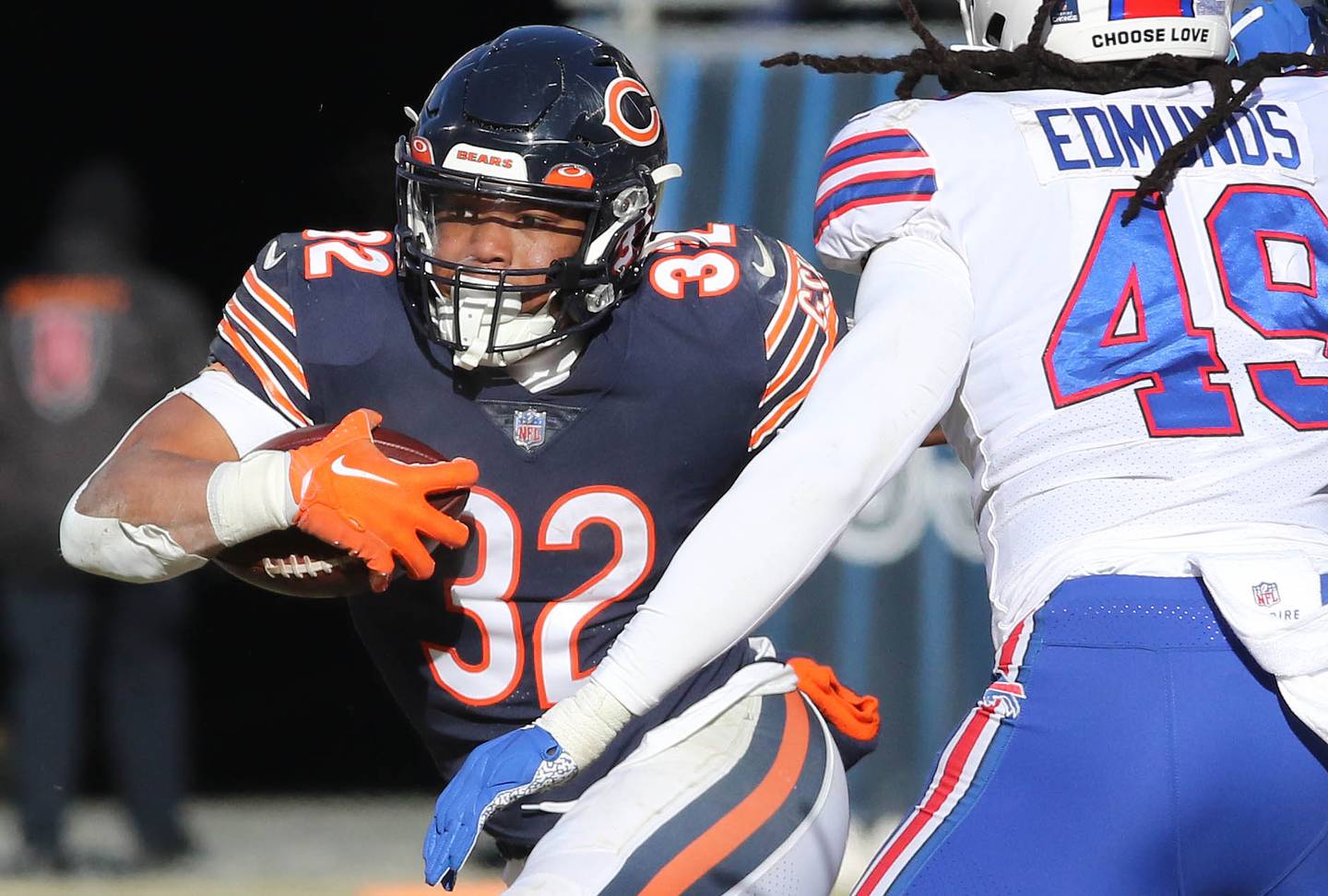 Running back David Montgomery is the most notable player on the Bears' roster who is testing the free agent market. With several high-profile running backs receiving the franchise tag last week, Montgomery figures to be one of – if not the – top running back on the free agent market.
That could mean he sees a big pay day.
Other Bears players hitting free agency include linebacker Nicholas Morrow, defensive tackle Angelo Blackson, safety DeAndre Houston-Carson, tackle Riley Reiff, receiver Byron Pringle and receiver N'Keal Harry, among others.
[ What might a David Montgomery extension look like for the Chicago Bears? ]
Which teams have the most money to spend?
Even after trading for Moore and his $20 million salary cap hit, the Bears still have the most cap space among all 32 NFL teams.
Per OverThe Cap.com, the Bears have up to $75 million to spend in 2023 (these figures are as of Monday morning). The Falcons have the second-most with $62 million in free cap space.
The Houston Texans, Las Vegas Raiders, Cincinnati Bengals, Arizona Cardinals, New England Patriots and Denver Broncos all have more than $30 million in cap space available for the 2023 season.
What are the Bears looking for in free agency?
The Bears have many positions of need. They will likely be looking for help on both the offensive and defensive lines. They could also seek additional talent at wide receiver and at linebacker.
With only 20 sacks last season, the Bears finished dead last among 32 teams and could be looking to make a serious investment at defensive end and defensive tackle. They are likely in pretty good shape at safety and cornerback, but could look to add talent at linebacker.
Offensively, there are several quality tackles available in free agency who could bolster the protection for Bears quarterback Justin Fields. The focus on offense will likely remain in the trenches. With Moore, Darnell Mooney and Chase Claypool, the Bears are likely feeling good about the wide receiver position. They could still seek to add some cheap pass-catchers for additional depth.
[ Chicago Bears free agency preview: Here are 10 options for Matt Eberflus' defense ]
[ Chicago Bears free agency preview: Here's 10 options for Luke Getsy's offense ]
What is Ryan Poles' strategy?
In his first offseason in charge of the team last year, Poles was highly conservative in free agency. The Bears signed only a couple of players to multi-year deals. Poles knew the 2022 season would be a reset year. There was no point in spending big if the goal was to tear things down.
Even with $75 million in cap space now, Poles has cautioned that he will continue to be selective in free agency. Signing bad multi-year contracts is the easiest way for GMs to tie their own hands in the future.
That being said, the Bears are going to spend money. It might not be the type of spending spree that the Jaguars went on last year, when they committed nearly $260 million over the next few years to seven players, but the Bears have money to spend and will spend a good chunk of it.
Look for Poles to address a couple key areas with big contracts, then supplement with cheaper bargains in other areas.