Braxton Jones stared off into the distance.
His teammates left the bench and were shaking hands with their opponent at Ford Field in Detroit. The Bears just lost to the Lions 41-10 in the most lopsided game of the season. Their rookie left tackle remained on the sideline, sitting atop a Gatorade bucket.
Jones had a bad game and said so afterward. He allowed two sacks. The Lions hit quarterback Justin Fields nine times, recording seven sacks. It was a low point in a 3-14 season. Jones couldn't bring himself to get up off that Gatorade bucket.
"[I was] just kind of reflecting on the game," Jones said after the Jan. 1 loss in Detroit. "I didn't do so well."
Teammate Teven Jenkins, the starting right guard, noticed Jones. He went over to the rookie and knelt down in front of him. Jenkins shared a few words with the rookie, words that he would prefer he kept between them.
Asked about that moment several days later, Jenkins said only this: "I care about him, and I know he cares about me. I know he leaves it on the field every day."
The two of them stood and made the long walk back to the locker room.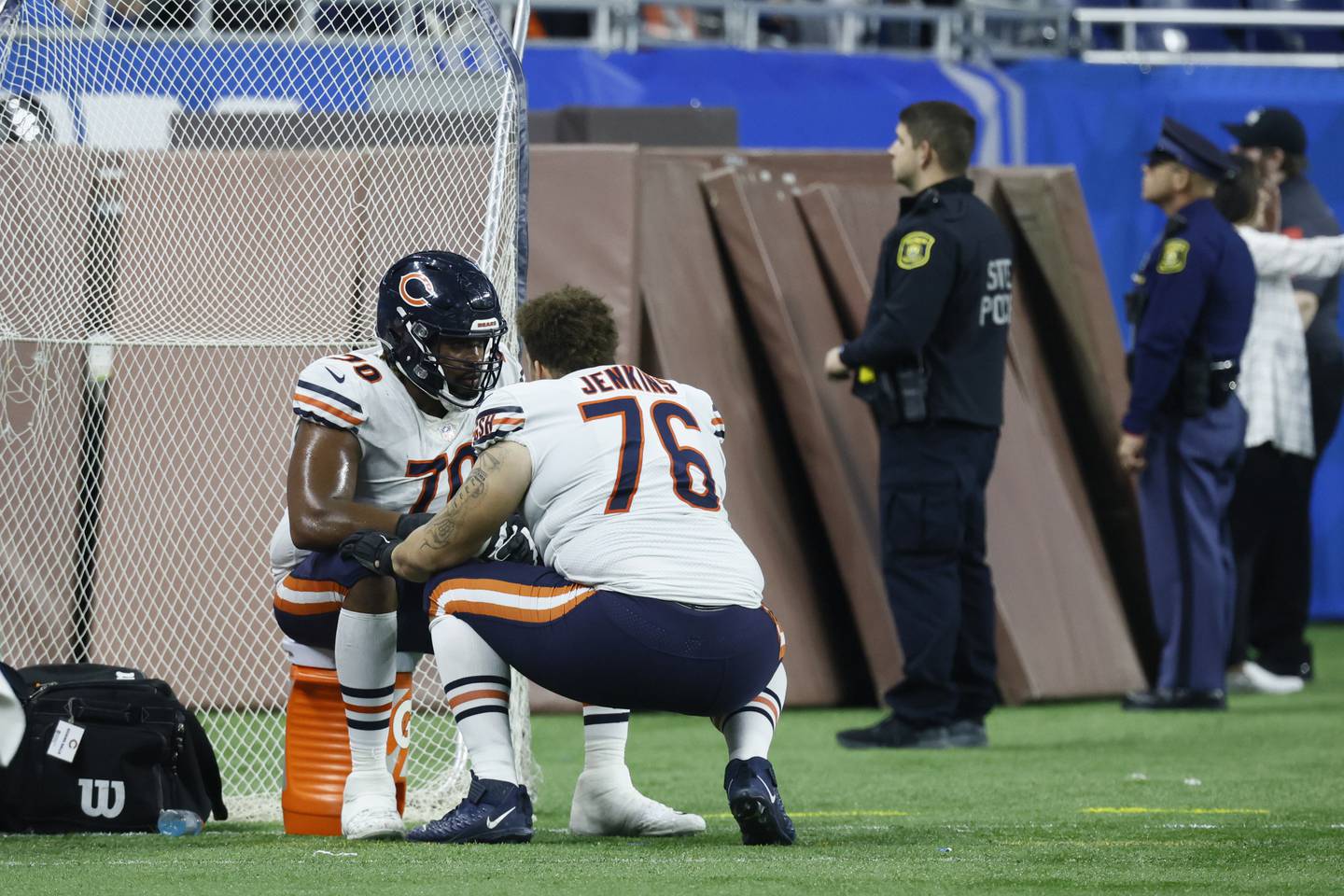 'He's learned from experiences, good and bad'
When Bears general manager Ryan Poles took over a year ago, he put an emphasis on quick, fast, physical offensive linemen. The Bears' returning linemen set about losing weight.
"It starts with the foundation of the offensive line and establishing that run game, which then leads to explosive plays," Poles said at his introductory news conference last year at Halas Hall.
He later added, "We're going to acquire young, fast and physical football players."
He took over a team with no solidified starter at either tackle spot. There was some thought that Poles might use one of his two 2022 second-round picks on an offensive tackle. He ultimately drafted two defensive backs with those picks, but he addressed the tackle spot with his first pick on Day 3 of the draft.
The Bears selected Jones in the fifth round with the 168th overall pick. The average football fan in Chicago had never heard of the 6-foot-5, 310-pound tackle from Southern Utah, an FCS school that hadn't had a winning record since 2017. Nobody expected Jones to step in and start at left tackle in the NFL, but that's exactly what he did when Week 1 arrived.
Jones started all 17 games. He was the only player on offense to play 100% of offensive snaps this season. He gained valuable firsthand experience playing tackle in the NFL. He showed promise but also made his share of mistakes.
The question heading into 2023 is: Did Jones do enough to solidify himself as the team's starting left tackle moving forward? Poles has a mountain of salary cap space available. He has nine draft picks in his back pocket, including the No. 1 overall pick. If he wants to replace Jones – or anyone – he can.
"I can, obviously, play the biggest role into making that decision, but at the end of the day, it's not my decision," Jones said days after the season ended. "But I'm going to do everything I can to get that locked down for sure."
'They believed in me'
Former Southern Utah offensive line coach Aaron Fernandez would pick a couple of NFL linemen with similar builds to Jones. Jones would go home and study the tape.
One who stood out was longtime Cowboys tackle Tyron Smith, who has played in Dallas since 2011.
"That was the guy he would be a nerd about and watch film on and learn how he used his hands," said Fernandez, who now coaches at Northern Colorado. "Certain players do that, and certain players don't."
At Southern Utah, Sundays were a rest day. Jones might have some day-after treatment following a Saturday game, but it usually was quick. Then he went home and watched football all day.
It wasn't just entertainment. It was a tutorial.
"Some guys will watch just to watch and not necessarily for certain techniques, but I was watching certain tackles," Jones said. "I was always watching the left tackle and how he was doing."
Jones studied Smith's technique in particular. It was all in the details. Fernandez would give Jones three or four games to watch on film, and Jones would tag plays and make cutups of things he saw that he could incorporate into his own game.
"That way he would start to understand the toolbox that I would be teaching and things that we would be working on in order to get that objective done," Fernandez said.
Jones, who grew up in Murray, Utah, outside Salt Lake City, wound up at Southern Utah because he had no other options. He was a tall, lanky lineman at Murray High School who weighed about 260 pounds his senior year. Fernandez remembered recruiting him and seeing the raw skills.
Jones always had the smarts. He understood the game in ways that not every high school player did. He had preferred walk-on offers at bigger schools, but Southern Utah was the only Division I school to offer scholarship money.
"They believed in me, so I just gave them my all," Jones said.
He redshirted as a freshman in 2017, then wound up starting at left tackle two seasons later as a redshirt sophomore in 2019. He was a first-team AP All-American as a senior in 2021.
'He's not going to back down'
The tryout was well documented last spring. The Bears called Jones' agent days before the draft. Bears assistant offensive line coach Austin King flew to Utah to conduct a workout with Jones. The session lasted less than an hour.
Days later, the Bears drafted him.
"They just needed to see me actually move and be able to move in space, my athleticism, maybe they weren't totally sold on it yet," Jones said on draft day.
The Bears never stopped testing Jones. They plugged him in at left tackle midway through OTAs. The move raised some eyebrows. Two months later, the team brought in veteran tackle Riley Reiff days before training camp started. It would've made sense to start the 11-year veteran on the quarterback's blind side.
Instead, Jones continued to lock down the left tackle position while the Bears slotted Reiff at right tackle.
Bears defensive line coach Travis Smith said he wasn't necessarily game planning for ways to challenge the rookie, but that happens naturally throughout OTAs and training camp with young players.
"What I notice with him as a rookie is it doesn't matter who he was going against, when Robert Quinn was here every day or if it's Dom [Robinson] and it's rookie on rookie, he has that demeanor, that disposition about him about how he's going to go and he's going to attack and challenge," Smith said. "He's not going to back down from things."
There's only 32 starting left tackles in the NFL. Not many rookies from FCS schools can handle that job. Jones did not miss a single one of the 1,034 offensive plays in 2022. Nobody on the roster played more snaps than him.
Jones said it became a point of pride. Every player battles bumps and bruises. Jones wanted the veterans and rookies alike to see this unheralded rookie fighting through adversity.
"When they see that, a rookie's doing that, everybody wants to do that," Jones said.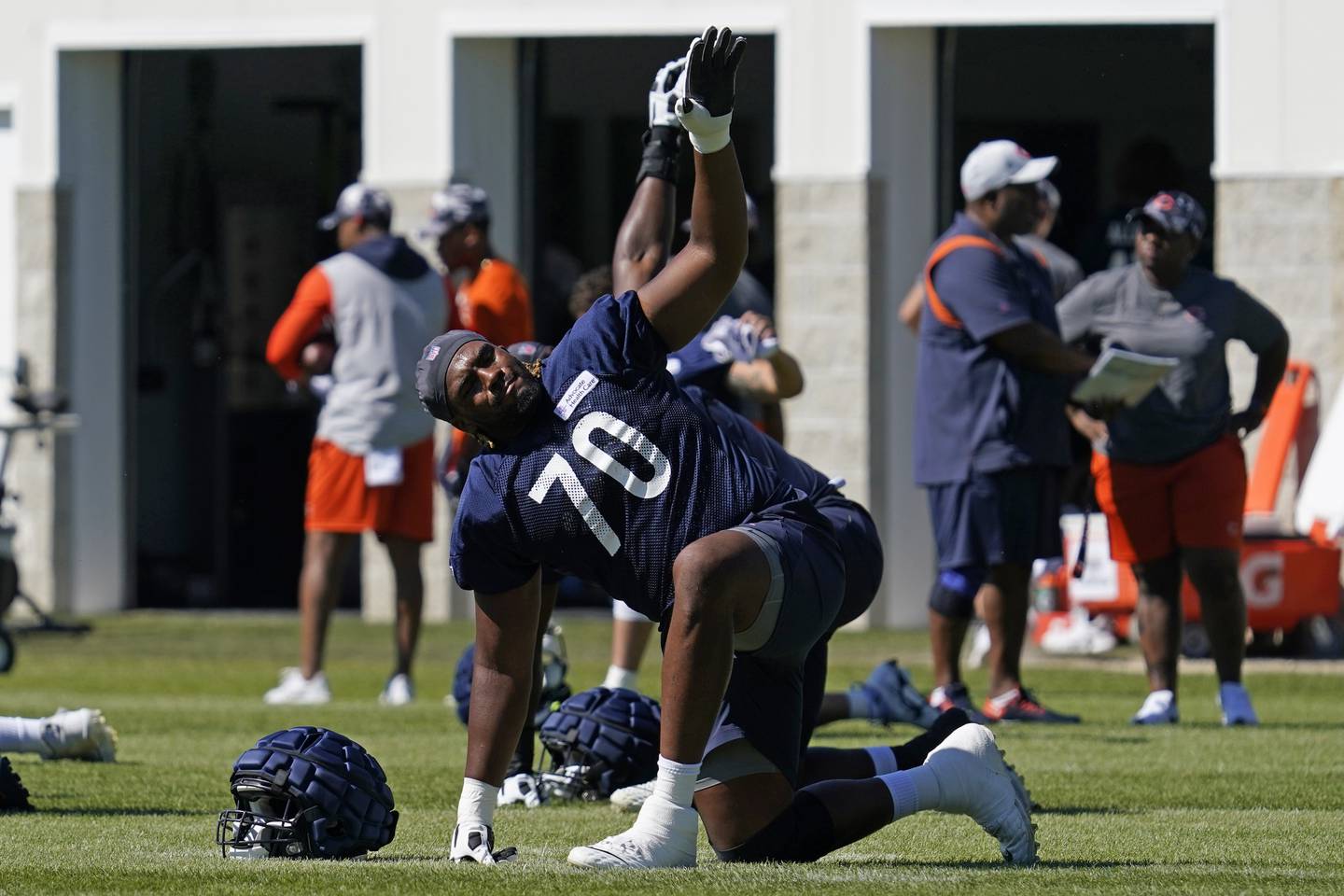 'He's wired right'
The Bears have a million directions they could go with the No. 1 overall draft pick, not to mention their eight additional picks and league-most cap space. They need help on both the offensive and defensive lines. They need a starting linebacker. More help at receiver, too. A running back.
Their second pick is at 53rd overall, the one they acquired from Baltimore for linebacker Roquan Smith. If they were to trade the first overall pick, they could likely net an additional second-round pick.
They will have options if they want to upgrade the tackle positions. The question then becomes how much do they value the potential that Jones showed. He will be part of their plans moving forward, in some capacity. He has three years remaining on his rookie contract.
The fact that he never missed a snap made an impression on Poles.
"That's an accomplishment right there," Poles said. "That tells me he's wired right. He's got mental toughness, roll [with] the ups and downs. So I'm hoping that he continues to work on his body, his technique and that's someone that we can play with and be successful with for a while."
Jones called it "an up-and-down season." He allowed seven sacks and was penalized 12 times. But he also did a lot of good things. Multiple times throughout the season he was among the top-rated rookies in the league, according to Pro Football Focus' weekly grades.
PFF ultimately graded him as the 12th-ranked tackle in the league and named him to its All-Rookie team.
That afternoon in Detroit may have been a low moment for him. Still, the 23-year-old believes he is better off for having gone through it.
"Those lessons I've learned, it's been really beneficial for me to take into the offseason and become a better player mentally, physically," Jones said.