CARNUNDRUM
I have too many cars, I thunk I should sell a few, What's a guy to do.
Today, I am writing about my own car, a 1970 Mustang Grande Hardtop. When I bought it in 2014, I wasn't even looking for a classic car.
This garage-find car is originally from California, built in San Jose. The previous owner bought it while he was on a business trip to California. He had a vinyl top put on it and he drove it back to Illinois.
A trailer repair business I dealt with had me overseeing the maintenance of our semi-trailers. I had to go check on a particular trailer at the owner's shop and, while I was there, I got talking about "old" cars. The owner of the shop said he had an old Mustang in the garage out back that he had intended to rebuild, but had lost interest in it. I told him I'd like to look at it.
I got the keys and went to check it out, expecting a rotted-out junker. All I found was a shiny, black car, so I kept looking for a second car, but nothing else was there. We discussed the car a bit more and I decided I wanted to see if I could get it running. The owner agreed, so I came back with a battery and some gas. I put in the battery, cranked it until I got oil pressure, then gave it a little gas. It fired right up!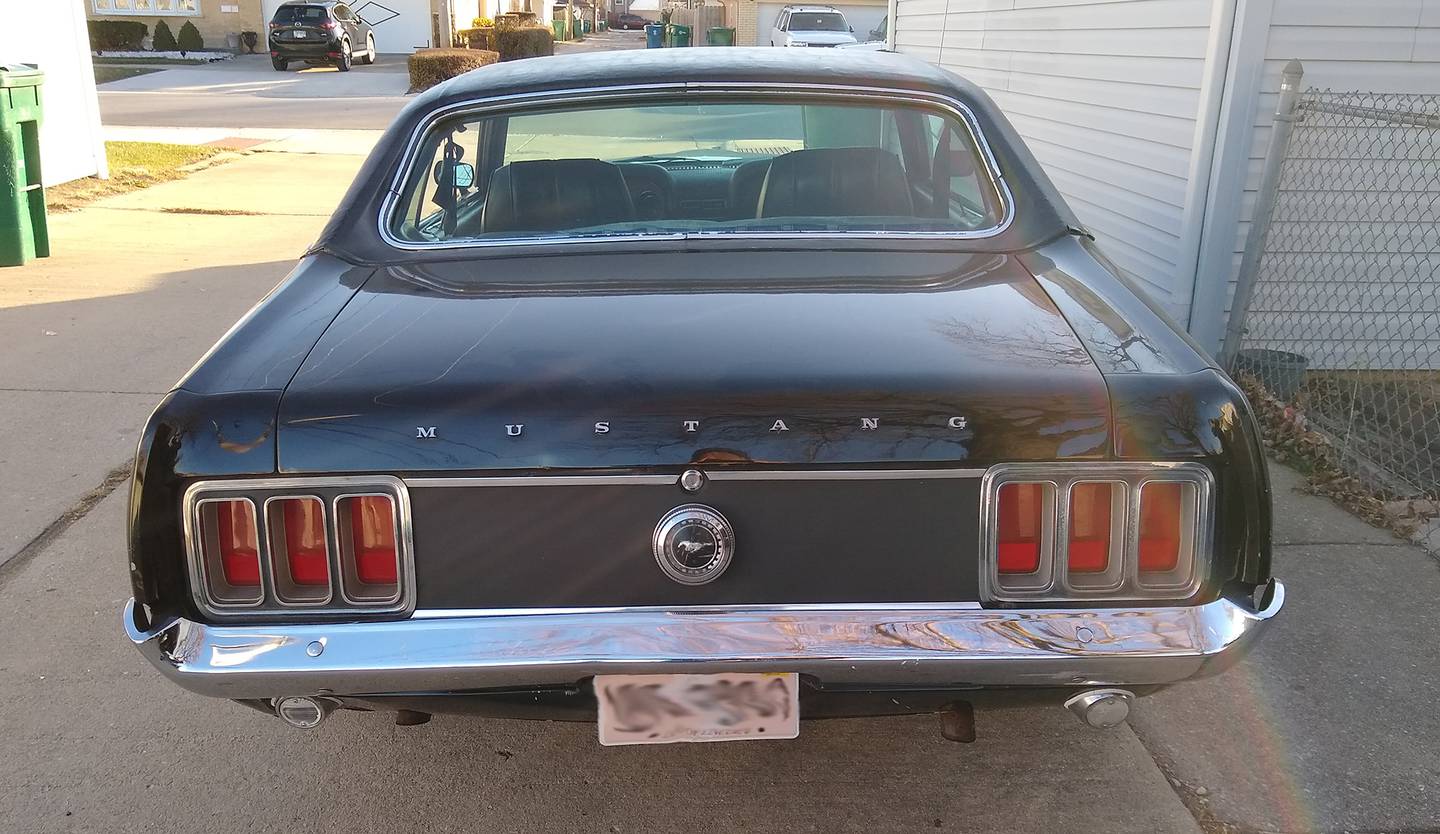 I put the rest of the gas in the tank and backed it out of the garage. The trans slipped a bit, but it moved! We discussed the price, and I drove it home the next day. The completely unplanned owner of a 1970 Ford Mustang.
The original color of the car was gold. I'm not sure if the interior was black, originally. It has a 351 Windsor engine with factory air conditioning, power disc brakes, power steering, and factory intermittent windshield wipers. The differential is still the stock open-end unit. I believe it has a 3.00/1 ratio. As per the VIN tag numbers: 0R04H=year:1970, Built in San Jose, California, 2-door Hardtop Grande, 351W 2bbl carb.
I have made a couple of upgrades to the carburetion and the ignition systems. I installed a low-rise dual-plane intake with an Edelbrock four-barrel carburetor. I had to fabricate a bracket for the linkage.
Before I got it, someone had done an upgrade to the ignition system. The standard ignition (points and condenser) was removed, and an aftermarket electronic unit was installed in the distributor. I had issues with the car not starting, or misfiring, so I went with a GM-style HEI unit, designed for the Ford. It works great. I did have to have the transmission rebuilt. The car is probably 95% original.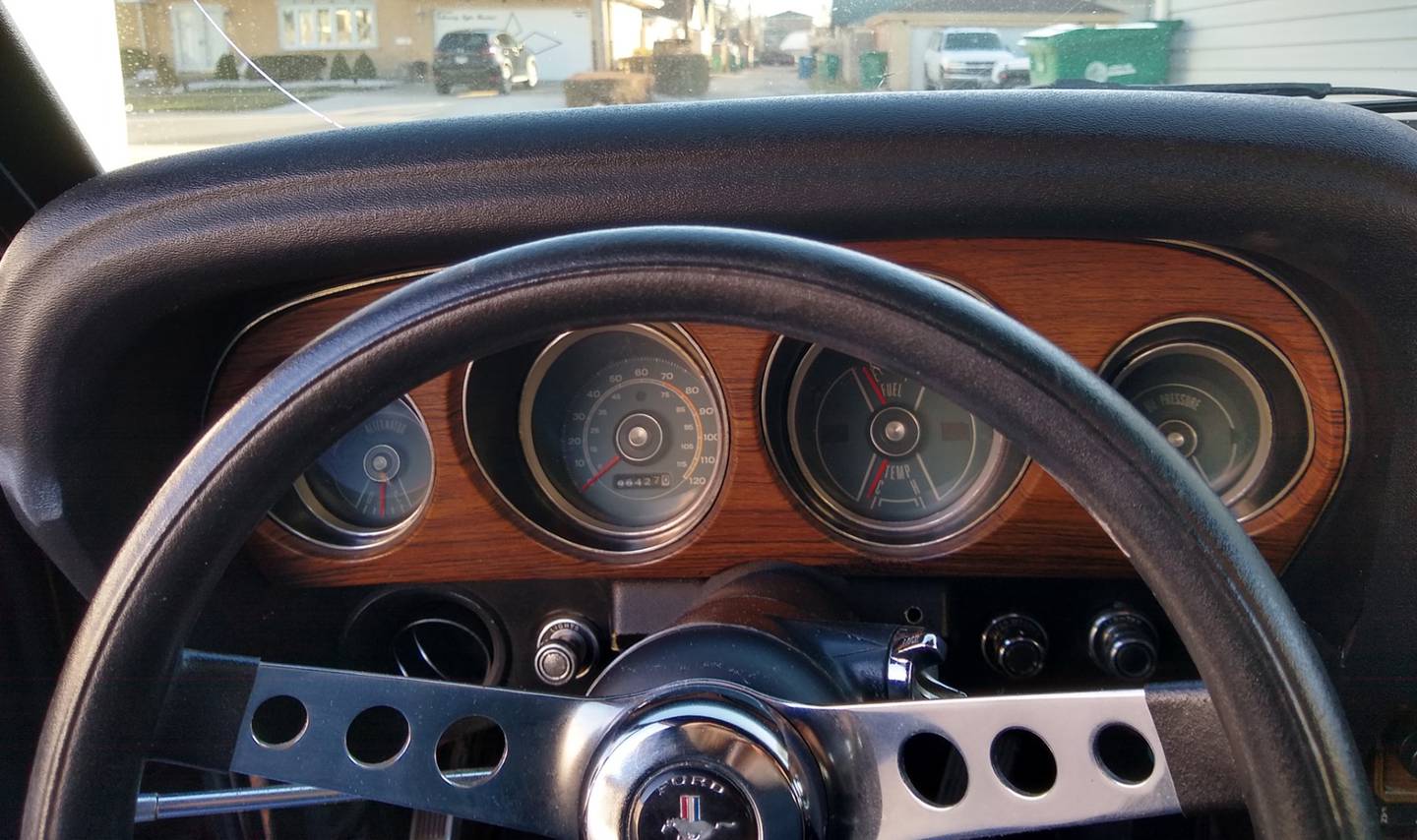 I have all the original parts that I took off for upgrades. I was hoping to make it through at least one more car show season. I like to enter it in the local shows, especially the benefit shows, like the local college where the proceeds go for student scholarships. I have had the car in many shows over a period of four years, before the pandemic. I'm hoping to get into a few more in the coming year.
There are many things that I want to do with my Mustang, like replacing the differential with a Posi traction unit, repairing the A/C, some minor body repairs, and having it repainted, probably black again.
I have been accumulating some parts over the last couple of years, so when the time is right I won't be searching for too many parts. I'm not looking forward to taking it apart, but it will be a better car when I'm finished.