During the 1930s, the depression was raging. Not everyone could afford a car, let alone a new one, and there was a lot of competition among the automotive manufacturers Chevrolet, Ford, and Chrysler.
Chevy and Ford offered much lower sticker prices than Chrysler, which were priced at $725. A new Ford would set you back $510 to $660, and Chevy's were about $485. Due in part to this pricing difference, Chrysler had some hard times selling their Business Coupes.
In 1934, Chrysler only produced 1,650 Business Coupes, and in 1935 they made the decision to stop making them. Luckily, Mike Wakeham of Mokena has one. He bought his coupe from an elderly gentleman in Morton Grove, Ill., about 30 years ago. Mike says the thing he liked most about the classic Chrysler was its "uniqueness."
According to Mike, the previous owner had the car for many years and when he took possession of it he drove it as a stock classic. While it was two-tone green when he got it, from the factory the original car was painted blue and the fenders were black. It had an L-head 6-cylinder engine with a 3-speed manual transmission.
Then, about 10 years ago, Mike decided it was time to make a few changes. The car was totally disassembled. He fabricated a new frame out of a 1932 Ford chassis. When the frame was completed, he had it powder coated by Performance Coatings, Inc., in a color that he described as the 'brandy wine family.'
The rear end was swapped out with a Ford 9-inch 4:11 to 1 setup, and a four-link suspension. The original Business Coupe had an independent front suspension from the factory, which was later upgraded with parts from Pete and Jake's. The 11-inch four-wheel hydraulic drum brakes are original.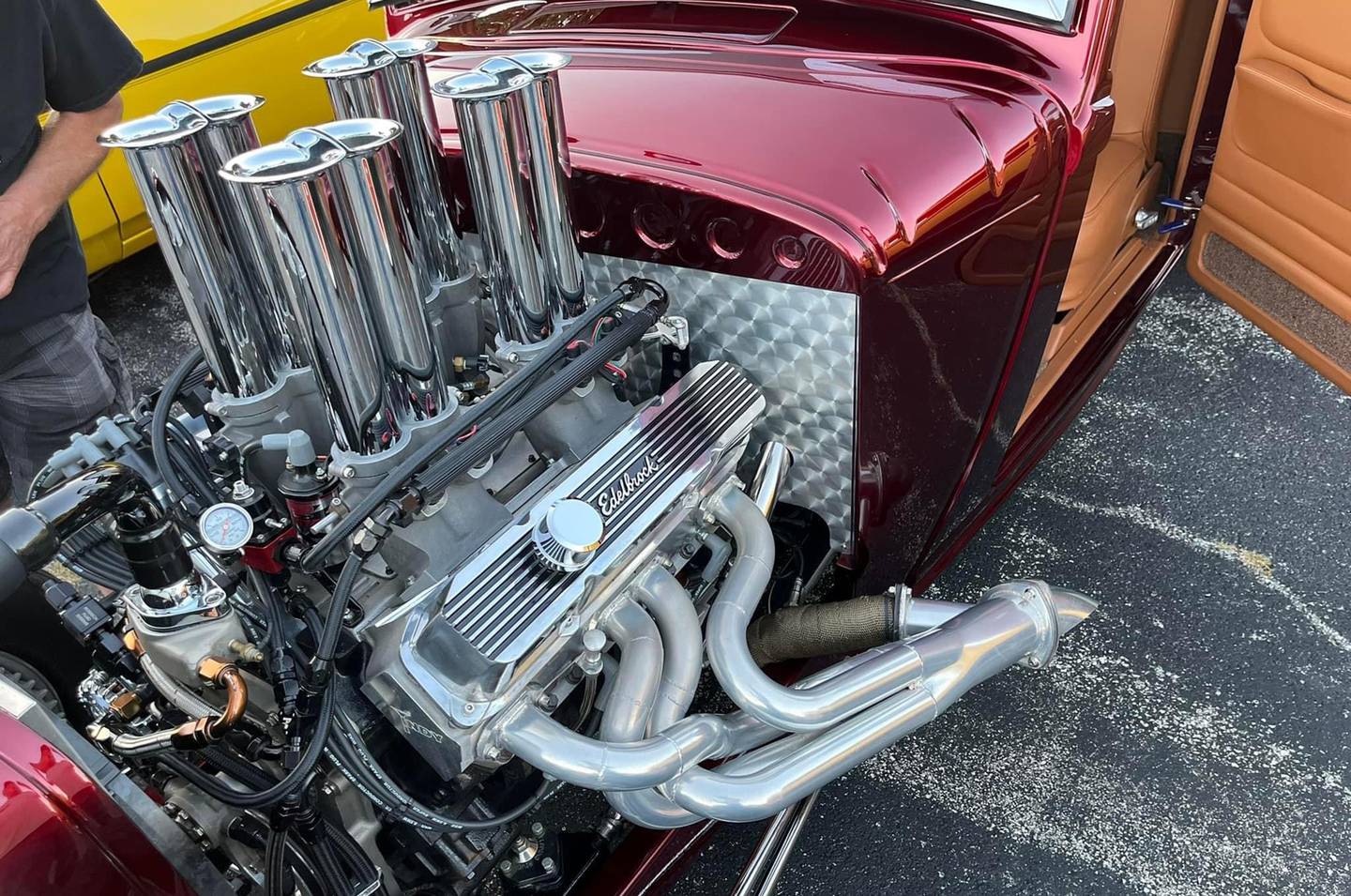 There is a 440-cubic-inch engine that puts out 525 horsepower and 600 lb/ft of torque. A Hilborn electronic fuel injection system sits up top. To make the drive train complete, there is a Tremec 5-speed transmission with overdrive in the middle. The car rides on Torque Thrust wheels and Mickey Thompson Sportsman SR radial tires.
While some fabrication had to be done, the body is still all steel. Because Mike wanted a trunk instead of the rumble seat, he had to make the opening 5/8 of an inch smaller so the trunk lid would fit correctly.
The original fenders and running boards were removed, along with the hood panels. The body was then painted to match the frame. A paint rep from Spies Hecker came out to match the color of the frame, which they called Blood Diamond. Then the body was painted by Bump n Grind in Homer Glen, Ill. and the interior was done in full leather by Ogden Top and Trim in Berwyn, Ill.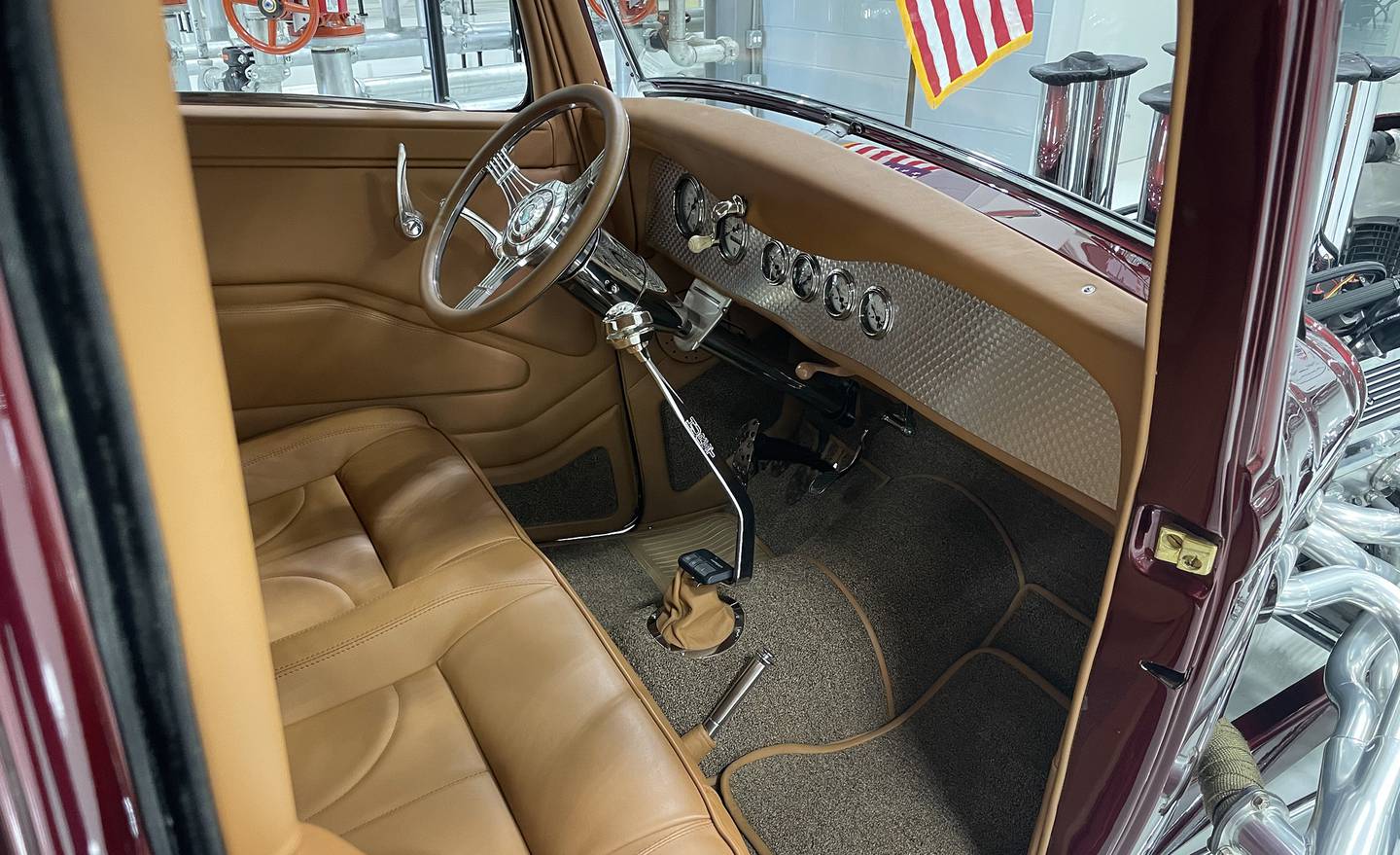 Mike likes to show his one-of-a-kind Chrysler at local shows and was even given a VIP spot at the 2023 "World of Wheels" show. Mike says he loves the rarity of the Blood Diamond hue and the fact that there are not many cars with the Hilborn fuel system, the unique sound, and that people are drawn to it.
If you have a car you would like to see featured in Classic Wheels, contact Rudy Host, Jr. at Classic.Wheels.Rudy@gmail.com