MINOOKA – There was no spring, but summer arrived just in time for the Class 3A girl's sectional track & field meet on Wednesday. When the meet was completed 13 individual area athletes and five relay teams qualified for next weekend's IHSA State Finals Meet held at Eastern Illinois University in Charleston.
The top two finishers in each event qualified, along with anyone meeting the qualified standard in the event.
Lincoln-Way East, the defending 3A state champions, led the area contingent, qualifying in nine events.
As expected, the Griffins were led by senior Mariam Azeez who qualified in three events, as she won the long jump (19′5- 1/4″), taking only one jump, anchored the winning 4x100 relay (48.08) and placed second in the 100 (12.01).
Joining Azeez on the 4x100 relay were Kendall Crossley, Paige Watson and Sophia Barnard. Watson and Crossley were joined by Olivia Donaldson and Jailee Clemmons to win the 4x200 relay (1:44.79). Jaiden Knoop won the pole vault, going 11′-6 1/2″.
Also qualifying for the Griffins were Barnard in the 100 hurdle (14.62) and 300 hurdle (45.15) races, the 4x800 relay (9:40.69) and the 4x400 relay (4:07.20).
"We were pleased with the performance of the kids today," East coach Brian Evans said. "A lot of tough kids punched their ticket to the state meet next week, and this is all about survive and advance. Anything can happen next weekend, but you have to be there for that to happen."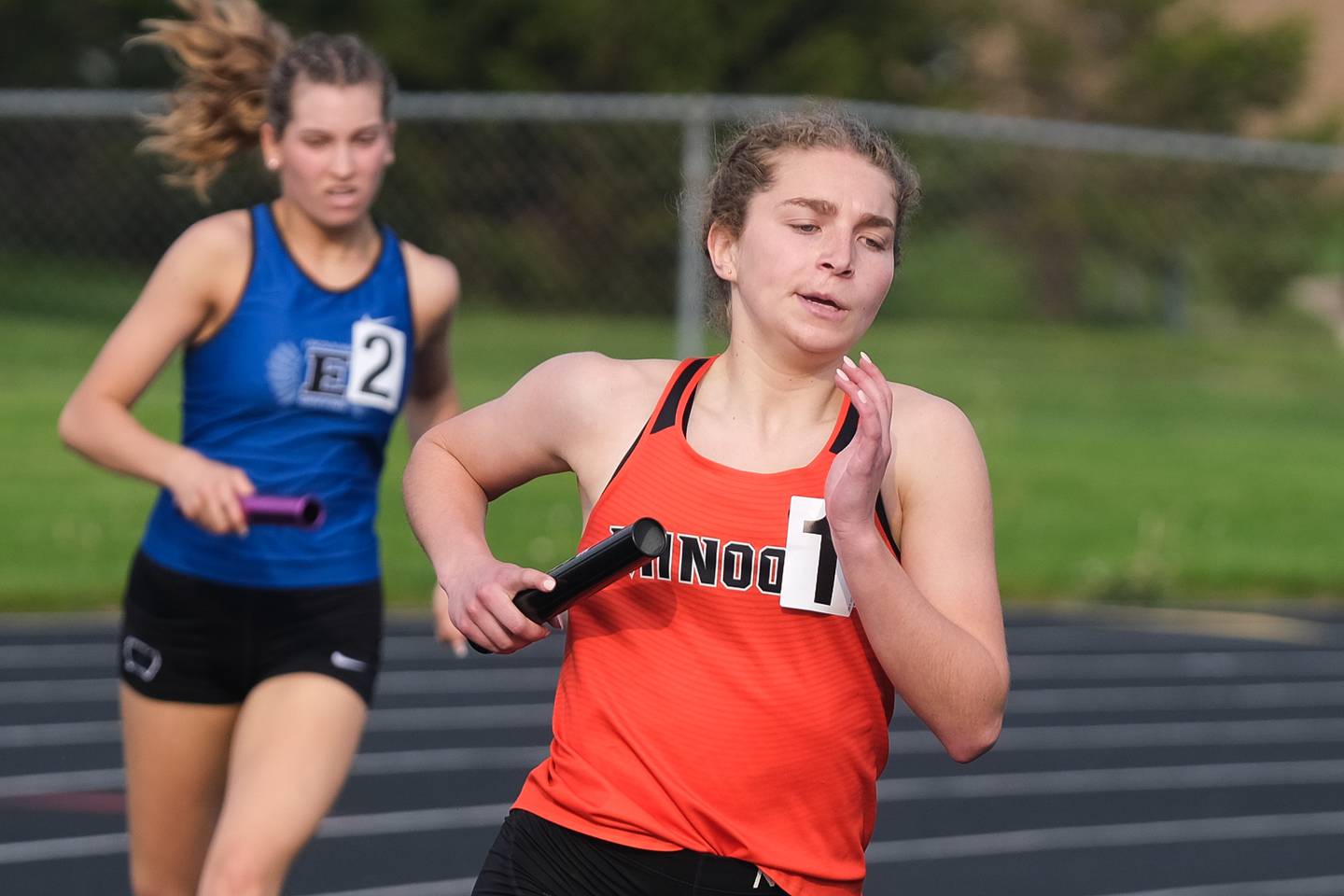 Minooka qualified in seven events as junior Ella McCollom (11:46.71) and Jocelyn Host (11:50.96) led the way with a one-two finish in the 3,200 meters.
McCollom gained a little redemption after just missing qualifying last year.
"It was a little bit of redemption because of just missing qualifying a year ago," McCollom said. "But I also feel so much better prepared this season, even though we haven't had the best of weather, at least we had a couple of days to get used to the heat again."
The Indians 4x800 relay also took first, as the team of Cassie Fuhrman, Gabby Kics, Audrey Boles and Kathryn Cichon ran 9:38.34.
Cichon came back to win the 800 in 2:20.01 and Boles won the 1,600 meters (5:21.55) and will be joined by freshman Maya Ledesma who placed second (5:21.91).
"It feels nice to qualify in an individual event, but the 4x800 was more exciting because we get more of us to state," Cichon said. "I guess running all those 400′s during the season paid off."
Also qualifying for Minooka were Kendal Franklin in the high jump (5′-2″) and Ella Cook in the pole vault (9′-7″).
"Today was a very good day for us," Minooka coach Kevin Gummerson said. "We had impressive performances across the board, and we competed so well in every event."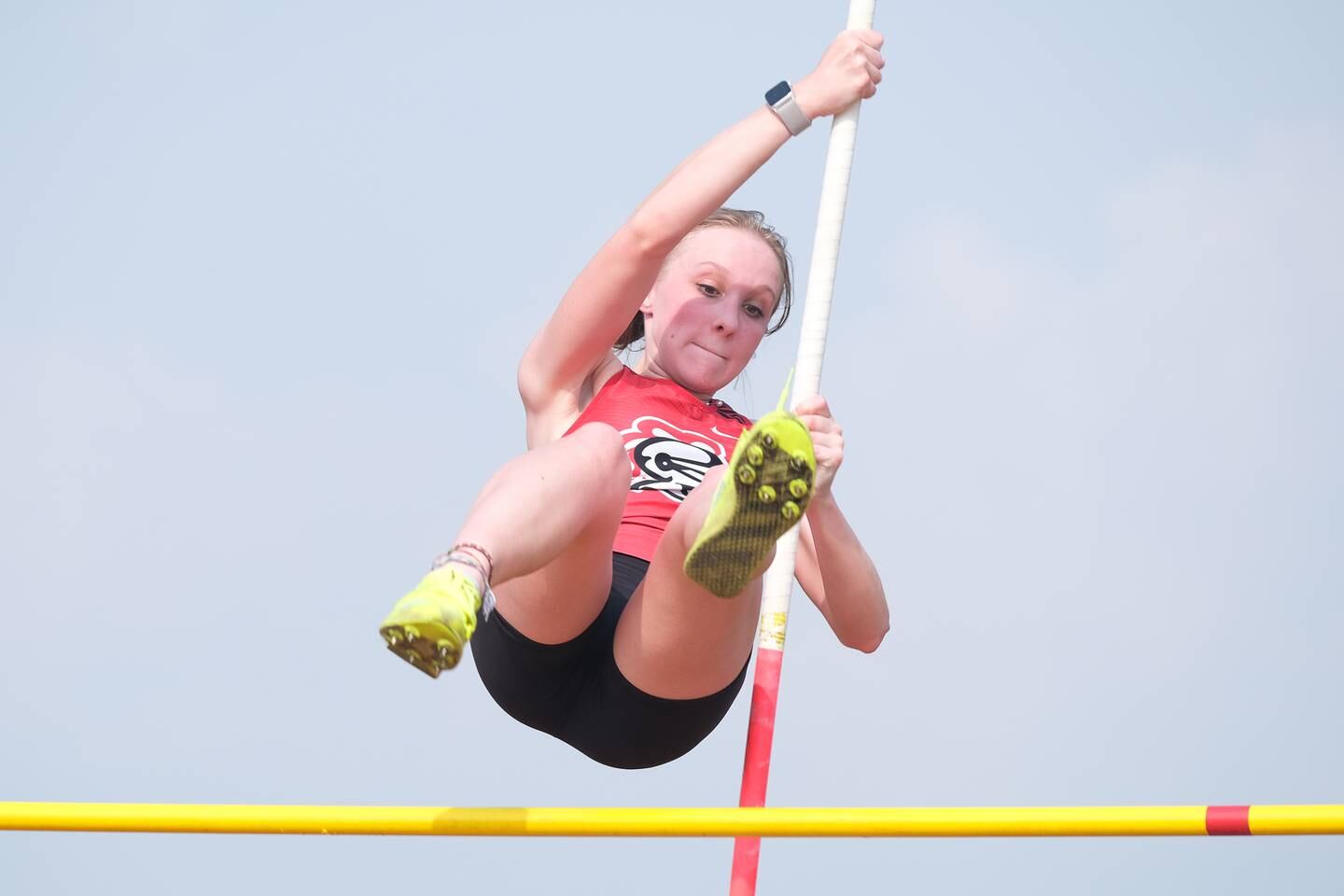 Lincoln-Way Central's Marla Hayes won the discus with a throw of 138′-5″ and will return to state for the second year in a row.
"I'm excited," Hayes said. "To throw a personal best today was great, and I'm really looking forward to next weekend. I learned so much from being there last year, and I'm just going to do my best and have fun."
In the team race, Homewood-Flossmoor won the sectional title scoring 111 points, with East taking second with 95. The host Indians were third (95 points), followed by Lincoln-Way West in sixth and Lincoln-Way Central in seventh in the 16 team meet.