DIXON – Addy Weidman is nonverbal, and she has extremely limited mobility. She can't use her arms or legs.
With the help of amazing technology and a team of specialists, the 14-year-old eighth-grader at Reagan Middle School is doing things adapted to her significant disabilities.
They're right on top of things. They always let me know if there are changes that I haven't noticed."

—  Kelli Weidman, mother and bus driver for Addy Weidman
Addy has cerebellar hypoplasia, a neurological condition in which part of the brain is smaller or under-developed.
"You can't assume that Addy has nothing to say because she clearly does," said Amy Boss, her speech/language pathologist, who said Addy likes country music, "engaging toys" and Elmo videos.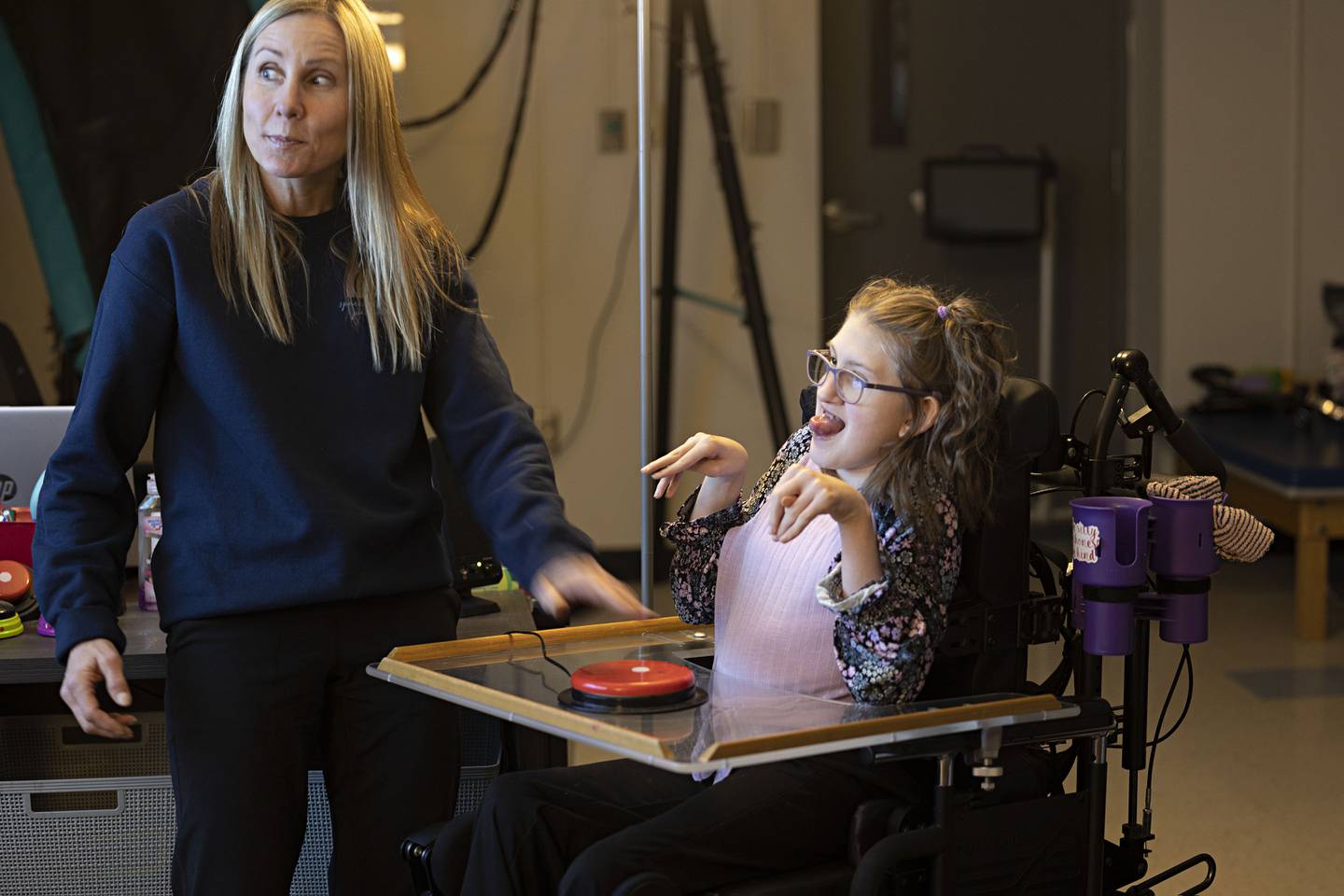 Addy's mother, Kelli Weidman, appreciates the team's efforts. An adjunct member of Addy's team, she's also Addy's school bus driver.
[ Dixon Elks have held fundraiser to help cover costs for Addy's team ]
"I have no complaints. I have nothing but good things to say about Addy's team," Kelli Weidman said. "They're right on top of things. They always let me know if there are changes that I haven't noticed."
This will be an emotional spring for Kelli. Addy will graduate with her eighth-grade class at Reagan and move on to Dixon High School. Kelli's other daughter, Mikayhla Gunderson, will graduate from Winnebago High School.
Addy's team includes Boss; life-skills teacher Laura Wagenknecht; one-on-one paraprofessional Sherryl Surrena; occupational therapist Andrea Willey; physical therapist Stephanie Kaskavage; and vision itinerant Karly Cleny.
The team also includes Corena Steinmeyer and Shari Eddinger, respectively, the director and assistant director of Lee County Special Education.
The team collaborates to support Addy in her life-skills classroom.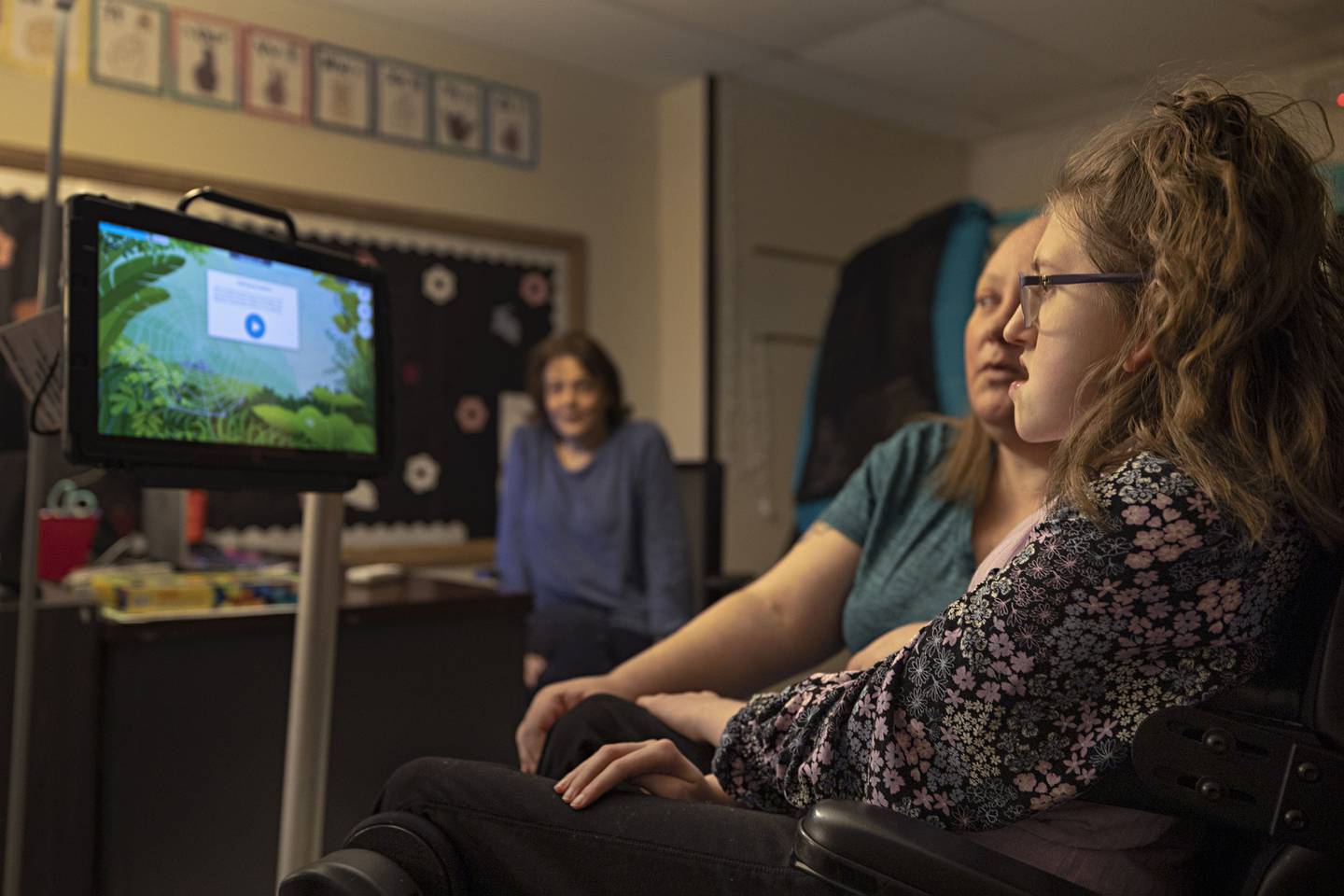 "We meet to problem-solve potential challenges and barriers to Addy's education and implement supports," Boss said. "Each team member has a common goal: to ensure Addy has access to education, given a very different way, in every aspect of her day."
Addy has been provided with groundbreaking technology that allows her to look at a picture on a screen and produce voice-output of words such as "hi," "stop" and "more."
She also has switches that control SmartBoard videos, audiobooks and online games. She can control classroom appliances, including a blender, fan and lights.
A custom wheelchair, adaptive seating, low lighting, high-contrast video supports and an individualized curriculum also are employed.
She's in regular classrooms for activities such as music during the day.
This is Wagenknecht's third year with Addy in the area of life skills.
"She's been a delight to work with," she said.
"Despite her challenges, Addy is always ready to explore and experience the world around her. I'm eager to watch her grow and learn with her new [eye-tracking] device. It's fun to see her engaged in learning and giving us purposeful responses."
Wagenknecht said Addy's eyes are the main tool she uses to interact with the world.
"She's very expressive. With this new device, she'll be able to learn and communicate in a way that we can get a better idea about what's going on in that mind of hers," Wagenknecht said.
Wagenknecht said Addy has been fortunate to have a dedicated team working with her and a supportive parent.
"I'm sure she's going to do incredible things. I look forward to getting to know Addy on a whole new level," Wagenknecht said.
Surrena, the paraprofessional, will accompany Addy when she goes to high school.
She works with Addy on the goals and programs the team has put in place for her.
"I report back to the team if something may need to be changed to help Addy better achieve the goals they have set for her," she said. "I really enjoy working with Addy and watching her grow and learn so many new things. She has taught me so many things through the years I have worked with her."
Wiley said Addy's occupational therapy services include improving her ability to feed herself.
"With the support of her amazing paraprofessional, she has made great gains on that goal this school year," Wiley said.
Occupational therapy services also are targeting Addy's ability to access and activate switches so she can participate in learning, play and communication.
"She's an amazing young lady. I'm so happy I get to be part of her awesome team," Wiley said.
A life-skills classroom, Boss said, is for students who have complex needs that require extensive communication and/or physical and mobility supports so they can meaningfully participate in an academic setting.
"Regardless of physical or cognitive challenges, students have a right to contribute to their day-to-day decision-making," she said.
Among the specific goals for students in a life-skills classroom are communication, choice-making, safety, self-care, leisure and recreation, and vocational skills.