Don Cook wears many hats as a member of the White Pines Officials Association.
Assignment chairman. Referee. Mentor.
On Sunday, the Forreston resident performed a duty he could only imagine on the worst of days – the bearer of awful, tragic news.
Cook received a call from a basketball official he knew in Rockford. It was about Dennis Steinhoff, a member of the White Pines Officials Association and a long-time basketball and softball official who worked games throughout northern Illinois. On Saturday, the 73-year-old Steinhoff was one of three people killed by a gunman at Don Carter Lanes in Rockford.
Cook found out the identity of one of the victims – Steinhoff – Sunday morning, from a fellow basketball official.
"He said, 'Did you hear about that shooting?' Cook said. "I said, 'Yeah, I watched the news [Saturday] night.' He said, 'Well, Denny Steinhoff was one of them.' I said, 'Oh no, I sure hope not.' He said, 'Yeah, he was.' Denny's daughter had called him and told him.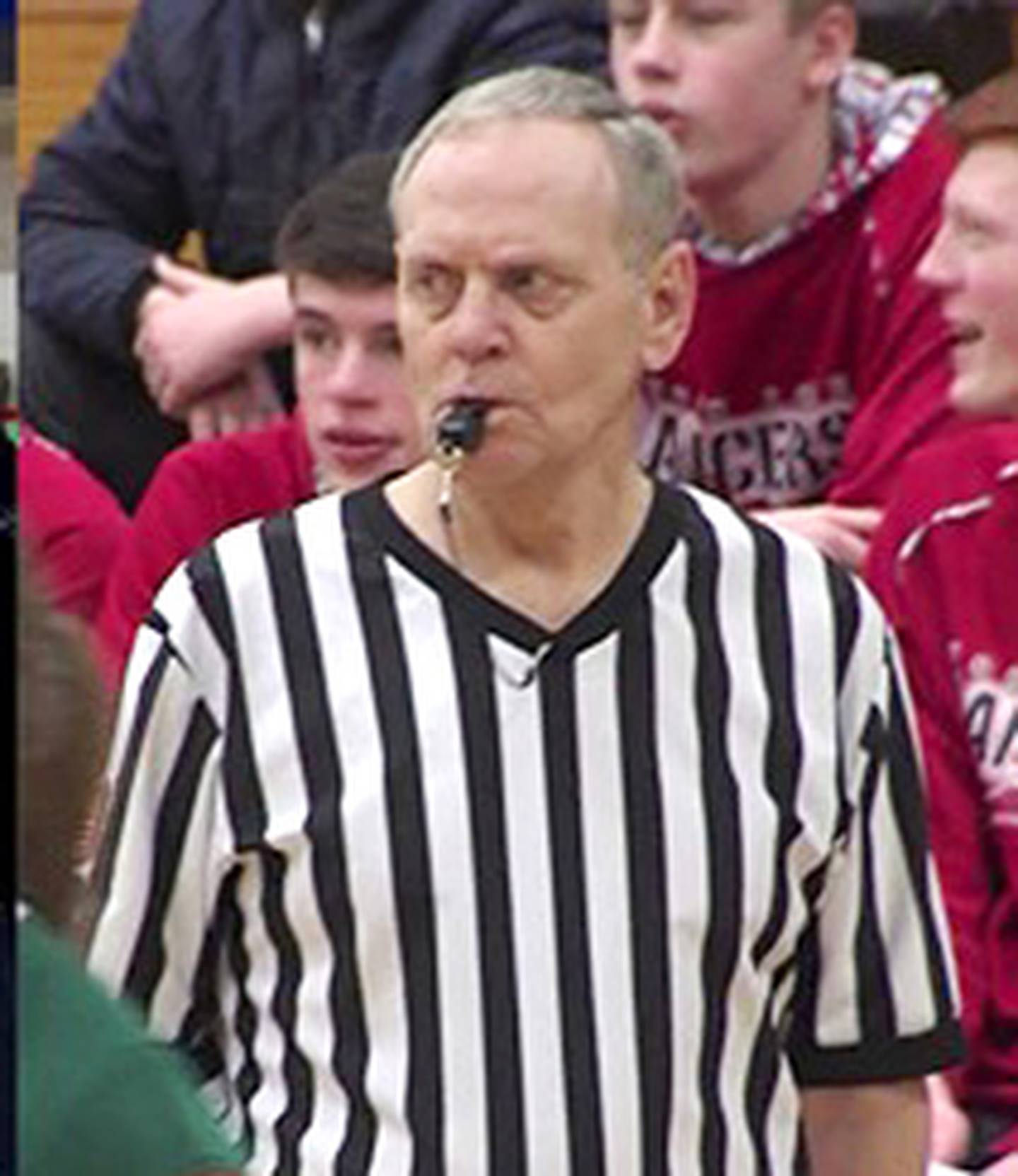 "I got the word out to our other officials, the ones that had worked more games with him. This is just such a terrible loss. He was a Vietnam veteran. He got that Agent Orange and had cancer, and battled through that. He was just a heck of a fine person who had been through so much. To have something like this happen, it's a terrible shock."
Amboy girls basketball coach Mike McCracken had gotten to know Steinhoff over the years at the Oregon Thanksgiving Tournament, which the Clippers have participated in for a number of years. It turned out McCracken, Cook and Steinhoff had something that bonded them together – cancer.
McCracken and Cook have sons, Jaron and John, respectively, who are battling cancer, and Steinhoff lent his support.
"[Steinhoff] had cancer and talked about it, and when he found out Jaron had it, then we talked back and forth quite a bit during that first year of Jaron's cancer," McCracken said. "You would never know he had cancer because he was so happy all of the time. Dennis sent Jaron a menu, some kind of a diet that he could eat better with, and Jaron used that for a while."
Steinhoff, a worker at the Chrysler plant in Belvidere by day, was a respected hoops official for nearly 40 years. He received a 25-year service award from the Illinois High School Association.
"The biggest thing I remember is he was very professional," Polo boys basketball coach Matt Messer said. "He did his job as well as he could, but I also remember he was very easy to talk to. If you had a question about a call, he would come right over, talk to you and tell you what he saw, or maybe what his partner saw.
"Also, before and after games, he was very personable and easy to talk to. Some guys are so focused on what they've got to do, it's hard to talk to them before the game. If you ran into him before the game, he had no problem talking with you. To me, he just seemed like a really good person. This is just such a tragedy, and when you know somebody, it hits home a little more."
McCracken noted coaches and officials can sometimes have adversarial relationships, but that was never the case with Steinhoff.
"First of all, he was a nice enough guy that you wouldn't want to yell at him," McCracken said. "He was one of those refs that you would say, 'You don't think that my shooter got fouled?' He'd say, 'Mike, you're probably right. I just didn't see it well enough.' He said that a lot of times, and that has a tendency to diffuse you. Refs can be bullheaded just like coaches are, and he wasn't afraid to admit when he was wrong."
Cook guessed he worked with Steinhoff about 12 to 15 games over the years, and assigned him to hundreds more.
"He was a very good person and very level-headed as an official," Cook said. "He never changed. I never saw him get too upset when a coach got on him. He didn't lose his cool. He always stayed the same and was an excellent official."
Former Oregon boys basketball coach Quinn Virgil noted he looked forward to two games in particular each season. One was against Byron, the Hawks' biggest rival, and the other was against Rockford Lutheran, as Virgil attended that school. It was in a game against the Crusaders that Virgil remembers Steinhoff for his steady hand.
"As a coach, you can get kind of excited," Virgil said. "At Lutheran one time, I was probably the most out of line I've ever been as a head basketball coach. I thought we got the shaft on a couple of calls and I was letting him have it pretty good. Most officials would have come unglued on me, but he had the patience to just explain to me what he saw and kind of just shut me up.
"At times like that, that's what a veteran official does. He doesn't get in a crazy yelling match with a coach. [Steinhoff] was as polite as could be, and he always did a great job."
Oregon Athletic Director Mike Lawton also knew Steinhoff a bit, and noted he was one of the good guys in the refereeing community.
"He worked a lot of our basketball tournaments here in Oregon and was well-respected," Lawton said. "He was one of those long-time guys that everyone was familiar with and when you saw he was working the game, you knew you would likely have a smooth night – which athletic directors and coaches appreciate."
Man Charged with Murders
Active duty Special Forces Sgt. 1st Class Duke Webb, 37, of Shalimar, Florida, has been charged with three counts of murder and three counts of first-degree attempted murder for injuring three others in the shooting at Don Carter Lanes, in Rockford.
Webb was on leave in Rockford to visit family and according to Army service information, had four deployments to Afghanistan, the most recent once ending in July.
His lawyer, Elizabeth Bucko, said on Monday during a hearing in a Winnebago County courtroom that Webb appeared to have issues with memory loss.
Webb is a U.S. Army Special Forces assistant operations and intelligence sergeant was assigned to 3rd Battalion, 7th Special Forces Group (Airborne), located at Camp Bull Simons, Eglin Air Force Base, Florida. He joined the Army in 2008 and served on four tours in Afghanistan.
Three people were killed and three others were injured in the shooting, which broke out shortly before 7 p.m. Saturday at the complex with a bowling alley, bar and off-track betting site.
Most of the complex was closed because of COVID-19 safety protocols, but a second-floor bar and carryout service was open.
(The Associated Press contributed to this article)