CRYSTAL LAKE – Sarah Long was fascinated by history while growing up and figured once she had her teaching degree from the University of Illinois, she would teach social studies and coach track and field.
Those were two things she knew best.
But after teaching two years at Yorkville, her teaching career took an unexpected turn. During her one year teaching at Lyons Township in LaGrange, she was asked to teach Advanced Placement psychology.
"I fell in love with it," Long said. "There's a lot you can learn about other humans by paying attention to the nuances and what motivates people, what their body language is like. And communications styles."
Long completed her Master's degree in psychology and has taught in that subject for six years in District 155. Her teaching background also is beneficial after school when she is coaching Prairie Ridge's girls track and field team.
"It has really helped me in a lot of facets of life to understand psychology a little bit better," Long said. "It's helped me personally and as a coach and as a teacher too. It's so applicable to any facet of life, no matter what your age or demographic is. It's valuable and applicable to everybody. I think that's why I find it so fascinating because there's something in it for everyone."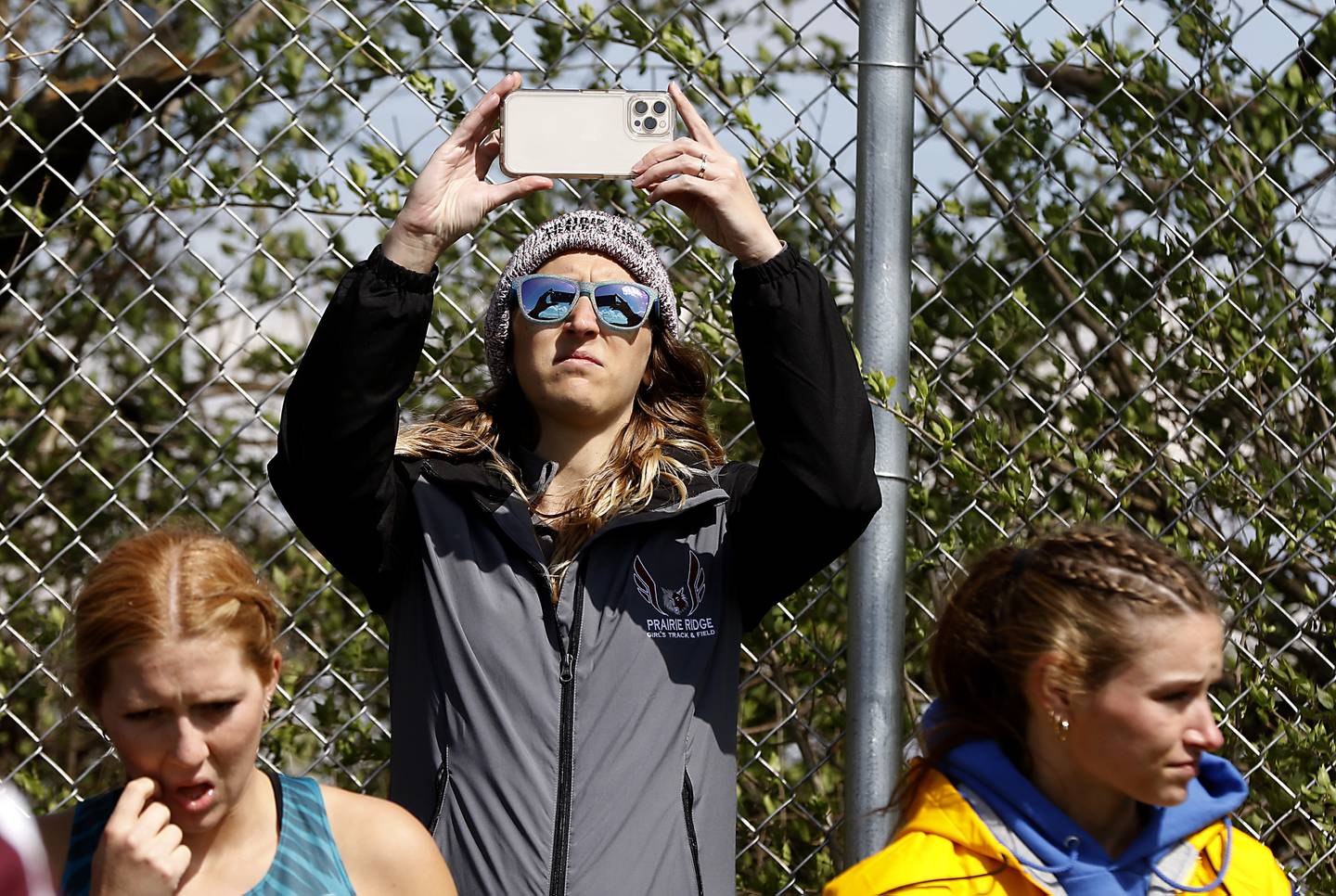 Long's Prairie Ridge team took second in the Fox Valley Conference Girls Track and Field Meet last season and Rylee Lydon, now a senior, was the Class 3A state high jump champion and finished third in long jump.
Before every track season, Long has a meeting with her team and creates a Google form on which the athletes can do weekly wellness check-ins. They are asked to update each week with how they are feeling.
"There's a grid of different emotions and colors about about how they are feeing," Long said. "Then, they tell me why they chose that color and emotion. They can meet with us individually. We work with that throughout the season.
"It's a space for them to express how they're feeling. That can be really powerful too. Getting it onto paper or onto a screen can be really helpful."
The Wolves consider it a valuable tool.
"As an athlete it really helps me to know that my coaches are not only there in a coaching way, but in a personable way,"

—  Katie Jewell, Prairie Ridge sophomore
"As an athlete it really helps me to know that my coaches are not only there in a coaching way, but in a personable way," sophomore sprinter-jumper Katie Jewell said. "It's meant a lot to have someone there that I know I can go to with my life struggles. It can get tough being a student-athlete with school and athletics and mental health. She's there as an open book to express how we're feeling. It's been really nice."
Senior sprinter-jumper Molly Willis expressed similar sentiments.
"Coach Long is always good at reassuring us and emphasizing that track is not only about our physical well-being, but our mental well-being," Willis said. "She's always great about talking how the two are intertwined. As athletes we have a good support system with being positive. I don't think that culture could have been cultivated without Long as an example. She's always very positive and helpful that way."
Lydon realizes that high school student-athletes sometimes need a place to express themselves, and the Google form provides that.
"She lets us know is our team is in an environment where we can reach out for help if we need it or if we want to get something off our chest or off our mind," Lydon said. "She lets us know we have an environment where we won't be judged if we need to speak up about something.
"She's there for us if we're struggling with something, get things in line and talk to someone. She lets us know that we won't be judged and it's very important to talk to somebody if you do need help."
Long was a runner at Barrington High School and still competes in running races, although she may take time off this summer. She and her husband Garrett are expecting their first child in June.
Long did not compete in track and field at Illinois, but instead got a jump on her coaching career, working as an assistant coach at Urbana University High at age 19.
Long started her teaching career at Yorkville for two years, then at Lyons for one, at which point she was hired in D-155.
"I never thought I would be a psych person," Long said. "I graduated with my Bachelors degree in history and was always fascinated by world history and thought that's where I would stay. But when I did the year at Lyons, they told me I was going to teach AP Psych.
"In comparative to before I started teaching psychology, the way that I coach is very different now than it was when I was 19. I do think it's been really helpful for me. Humans, regardless of their age or capability, they are sometimes frustrating to deal with. If you look at it from a psychological perspective, it's easier to help people manage through those frustrating chapters."
The Wolves appreciate how focused their coach can be with the psychological side of their sport.
"Running is a very mental sport for athletes," Jewell said. "She's taught us all to believe in ourselves and not get discouraged with our progress. Even though it gets hard she really teaches us to have a good, positive, enthusiastic outlook on it."
Willis said the girls try to keep up with the weekly check-ins as Long encouraged them to do.
"It's a great tool for reminding athletes to stay in tune with their mental health as well during the season," she said. "It can get really hectic and people can forget about an important aspect of being an athlete."