Sara Markelonis remembers the uneasy feeling of not knowing where life will take you after high school and beyond.
But Markelonis, a 2012 Cary-Grove graduate and four-year player for softball coach Tammy Olson, had a pretty good idea of the type of person she wanted to be.
"I will never forget it," Markelonis said. "I was in high school and I was talking to my brother about how I didn't know what I wanted to do with my life. I remember telling him if I can be like Tammy and coach a sport I love, I would do it for the rest of my life."
Markelonis, who went to Clarke University in Dubuque, Iowa, after high school before transferring and playing softball at Harper College and later at Wisconsin-Parkside, said Olson's passion for the game really stood out.
So much so that Markelonis, who now is a special education teacher at Crystal Lake South, has followed closely in her former coach's footsteps. Markelonis currently is in her first season as the varsity softball coach at South. She coached lower levels at C-G on Olson's staff from 2018 to 2022.
"I really gained a new respect and passion for the game because of her," Markelonis said. "Growing up, I had travel coaches, both men and women, who taught you to love the game. But seeing how passionate she was made us players that much more passionate.
"We wanted to impress Tammy, we wanted to win, and we wanted to make our coach happy. When she pushed us, we'd go all out. We wanted her be proud of the team she was coaching."
Former C-G athletic director Jim Altendorf said the bond between Olson and her players has always been special. He describes her coaching style as tough, but fair.
"Her experiences and passion for softball is where the connection is with the players," said Altendorf, a 1985 C-G grad. "The kids that are passionate about softball, they feel that from her. She loves the game and she knows the game.
"She defines resilience. She's able to hang in there and keep coaching throughout the years. More than anything, she's a great role model for kids."
FAMILIAR FACES
Olson, who graduated from C-G in 1982 and went on to become Northern Illinois University's Sportswoman of the Year in 1986, recently captured her 500th career win in her 30th season as varsity coach. Olson's first year was in 1994, while she also coached lower levels before that.
This will be the final season for Olson, who is retiring at the end of the school year.
"The first contract I signed under [former Trojans football coach and athletic director] Bruce Kay, it said I had to coach for 15 years," Olson said. "I was always laughed at that. 15 years? He goes, 'Don't worry about that. We'll take it one day at a time.' "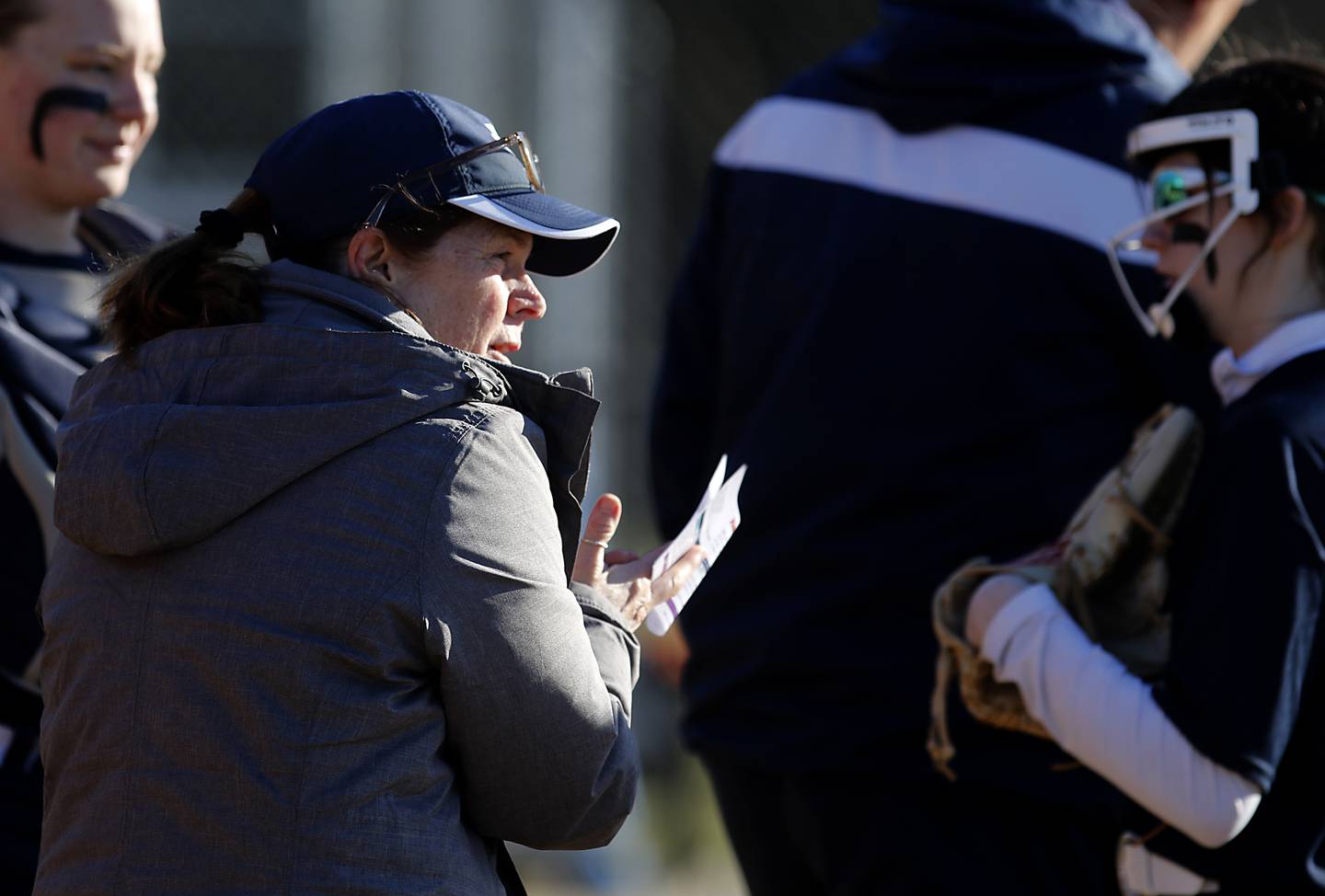 Olson has since led C-G to nine 20-win seasons, four regional and one sectional titles. Her 2010 team went 32-6, won a Class 4A sectional title and was a win away from state, losing to Elk Grove Village 2-0 in the supersectional round.
Last year's Trojans won their first regional championship in 11 years.
Players and family of players from the past three decades have reached out to Olson by phone and social media to congratulate her on winning 500. Olson was surprised and delighted when a dad of one of her former players from her first team recently showed up to the field.
"Years go by and you might not hear from somebody, and then they show up and tell you the impact you made on their life. It warms your heart."

—  Tammy Olson, Cary-Grove softball coach
"It's humbling that they come back," Olson said. "Years go by and you might not hear from somebody, and then they show up and tell you the impact you made on their life. It warms your heart."
More than wins, Olson said she is most proud of the relationships she has made.
"It's not just the kids, it's the families," Olson said. "When you play a sport, it's more about the families. They're bringing kids to practices, coming to the games and taking them home. Every sport is a family decision, it's not just a kid decision."
Olson's husband, Mark, has been by her side for more than 25 years as an assistant coach. The two met teaching at Carl Sandburg Middle School in Mundelein. He now is a physical education teacher at C-G and the boys soccer coach.
"We might not always agree [on the field], but we work through it," Mark said. "The two of us feed off each other. It was an easy transition."
Mark said Tammy's passion hasn't wavered.
"Her passion for the sport, and her passion to teach is still the same," Mark said. "And she passes that on to her students and her players. ... There's been things that have come up, and she continues ahead. She stays with it. Nothing stops her. She just loves the game."
LOVE OF THE GAME
Tammy Olson, who was a three-sport athlete in high school (volleyball, basketball and softball), said her love for sports started early. The best part about going to school for her was what happened after the final bell sounded.
"Back in high school I had Joe Saban as my varsity coach and teacher," Olson said. "He was my science teacher and my coach, and I just loved sports. That's kind of the reason I went to school. Because of what was going on after school.
"After I got out [of high school], he was the [District 155] superintendent, and I would go back and talk to him all the time. I wanted to teach because I knew that's how I could become a coach the easiest and be the most secure."
Olson, a physical education teacher at C-G, said the best part of her day is when a student has a breakthrough.
"When the light bulb goes on, it's amazing," she said. "When you see that success and you see their personality change a little ... that's really cool. That's what turns you on to coaching and teaching. It's that success for each individual kid."
A "light bulb" moment for the Trojans softball team has been the growth of sophomore Grace Kaiser, who was moved up to varsity late last year. She has since become one of the Trojans' most versatile players.
Kaiser's primary position is at third base, but she has had to fill in at shortstop when the team's normal player at that position moves to pitcher. More recently, she has started games at catcher because of an injury to a player.
"She came in, she's timid and all the other kids are loud," Olson said. "I said, 'Grace, you've got to own it.' All of a sudden in practice one day, she just gets it. She's charging a bunt and throwing the ball 7 mph harder than she's thrown all season. We're just moving her around, and she's rising and rising.
"That's what you live for as a coach. She's seizing the opportunity. The smile on her face is amazing."
IN THE FAMILY
Erin Olson, the oldest of two daughters for Tammy and Mark, has been the women's volleyball director of operations at the University of Central Florida for the past year. She played volleyball at Bradley after graduating from C-G in 2016, but later transferred to UCF, where her younger sister, Amber, already was playing.
Erin played softball the longest out of any sport growing up, but volleyball became her No. 1 passion by the time she reached high school. Erin was scared to tell her mom she wanted to choose volleyball over softball, but that feeling didn't last long.
"She supported me in everything I wanted to do," Erin said. "If one day I wanted to take golf lessons, she'd be like, 'OK, let's find a place for you to do that. It will end up helping your softball swing anyway.' Anything I wanted to try or get into, our parents were our biggest cheerleaders."
Erin and Amber Olson are now coaching at the same volleyball club in Florida. Amber, the American Athletic Conference Setter of the Year this past season in her final year at UCF, has plans to play volleyball professionally in Greece.
Erin said what stands out about her mom as a coach is that she cares about each one of her players on and off the field.
"She cares about you as an individual," Erin said. "She doesn't only care that you're one of her softball players. She wants to know what's going on outside of sports or school. She wants to get to know more about you and relate to them more on a personal level."
Her mom's love for sports is a big reason why Erin continues to be involved in sports.
"I want to have an impact on young athlete's lives the way she has," Erin said. "You get to see them grow up and do all these awesome things, and that's what I want too. I want to be part of their journey, help them get to where they're going and achieve any dreams they may have."
Tammy is proud to see both of her daughters follow their dreams.
"My career is because of sports," Tammy said. "It's now Erin's career because of sports, and who knows where that will take her. Will she make millions of dollars? No. But it doesn't really matter. It's about your passion, the way you show up to work every day. If you love what you're doing, it's not work anyway."
OLD NOTES
Something Tammy Olson has done for her players over the years is to write personal messages and notes throughout the season. Some are just sayings, others are for praise and encouragement.
Markelonis held onto all of hers from high school.
"They always meant so much to me because it showed that she really cared and she noticed the hard work I was putting in," Markelonis said. "Every time I saw one of those on my locker, I knew it was something that was worth keeping and holding onto."
Olson was stunned to hear Markelonis still had the notes.
"To know I made that kind of impact on any person feels good," said Olson, who decided to retire in November. "It's been an incredible ride, and I'm incredibly thankful for the opportunities I was given through the district. It feels short, but it's been long.
"It feels like yesterday I can look at that roster and say, 'Oh my gosh, you were just here.' "