It's possible that Cary-Grove coach Tammy Olson's 500th win could have come about a week earlier after two of the Trojans' games were started and stopped because of unpredictable spring weather.
So when C-G got in a full game Monday and defeated Dundee-Crown 3-2, Olson was both thrilled and relieved.
"The girls were super excited and so was I," said Olson, who took over the program in 1993-94 after coaching lower levels. "We had talked about [500] a little before, but two of our games got suspended and we were like, 'OK, I guess we're on stall right now.' "
The Trojans (5-12) scored twice in the first inning against D-C and led 3-1 going into the top of the seventh. D-C scored on an error with two outs to make it 3-2, but freshman Addison Green induced a ground ball to shortstop Becca Weaver for the final out.
Cary-Grove athletic director Ryan Ludwig made a speech after the game, and the Trojans celebrated Olson's milestone victory with balloons and cookies. After a win over Crystal Lake South on Wednesday, Olson is 501-401 in 30 seasons at C-G.
Olson, who is retiring at the end of the season, has since heard from many former players congratulating her on win No. 500.
Amy Clemment, the Trojans' current JV coach, played for Olson and graduated from C-G in 2014. Crystal Lake South first-year varsity coach Sara Markelonis, a 2012 Trojans' grad, played for Olson and later served as a JV coach for her, as well.
Olson's husband, Mark, is C-G's assistant coach.
"It's a nice milestone, and it shows I've been in the game for awhile," Tammy Olson said with a chuckle. "The outpouring of people texting me – older players, community members and friends – has been incredible. Thirty years of coaching. It's been a lot."
Olson entered the season four wins from 500. Until recently, the Trojans had struggled to hold onto leads. She is hopeful the team is ready to turn things around.
"It was a huge win for us," Olson said. "It was kind of a breakthrough with how our season has gone so far. We'd get a big lead and then we'd lose it. It becomes very stressful. What will we do late in games? It became this big question mark."
Olson joins Huntley baseball coach Andy Jakubowski as part of the 500 win club this season. Prairie Ridge's Glen Pecoraro is one win away at 499 going into Friday. Olson was elected to the Illinois Softball Coaches Association's Hall of Fame in 2019. Jakubowski and Pecoraro earned the honor the same year as part of the Illinois High School Baseball Coaches Association.
The outpouring of people calling or texting me – older players, community members and friends – has been incredible. Thirty years of coaching. It's been lot.

—  Tammy Olson, Cary-Grove coach
C-G has nine 20-win seasons, four regional and one sectional titles under Olson. Her 2010 team was 32-6, won a Class 4A sectional title and finished one win away from state, losing to Elk Grove Village 2-0 in the supersectional round.
Last spring, the Trojans captured their first regional championship in 11 years.
"It's not something going into the season you're looking at as, 'Oh my gosh, we got to get 500.' " Olson said. "It's about getting better every day, every game, and the work the girls put in. It's also something that will be a part of this team forever."
Huntley leads FVC, Marengo on top in KRC: Despite Huntley's loss to Hampshire last week, the Raiders (13-6, 10-1 FVC) remain the Fox Valley Conference leader by two games over McHenry (12-5, 8-3).
After falling to Hampshire, Huntley held on for a 2-1 win over Crystal Lake Central on Monday and beat McHenry 7-2 on Wednesday and Prairie Ridge 13-3 on Thursday. The Raiders swept their two games against the Warriors, giving them an upper hand in the conference race.
Huntley has won the past two FVC titles and is 46-1 in the conference play over the past three years.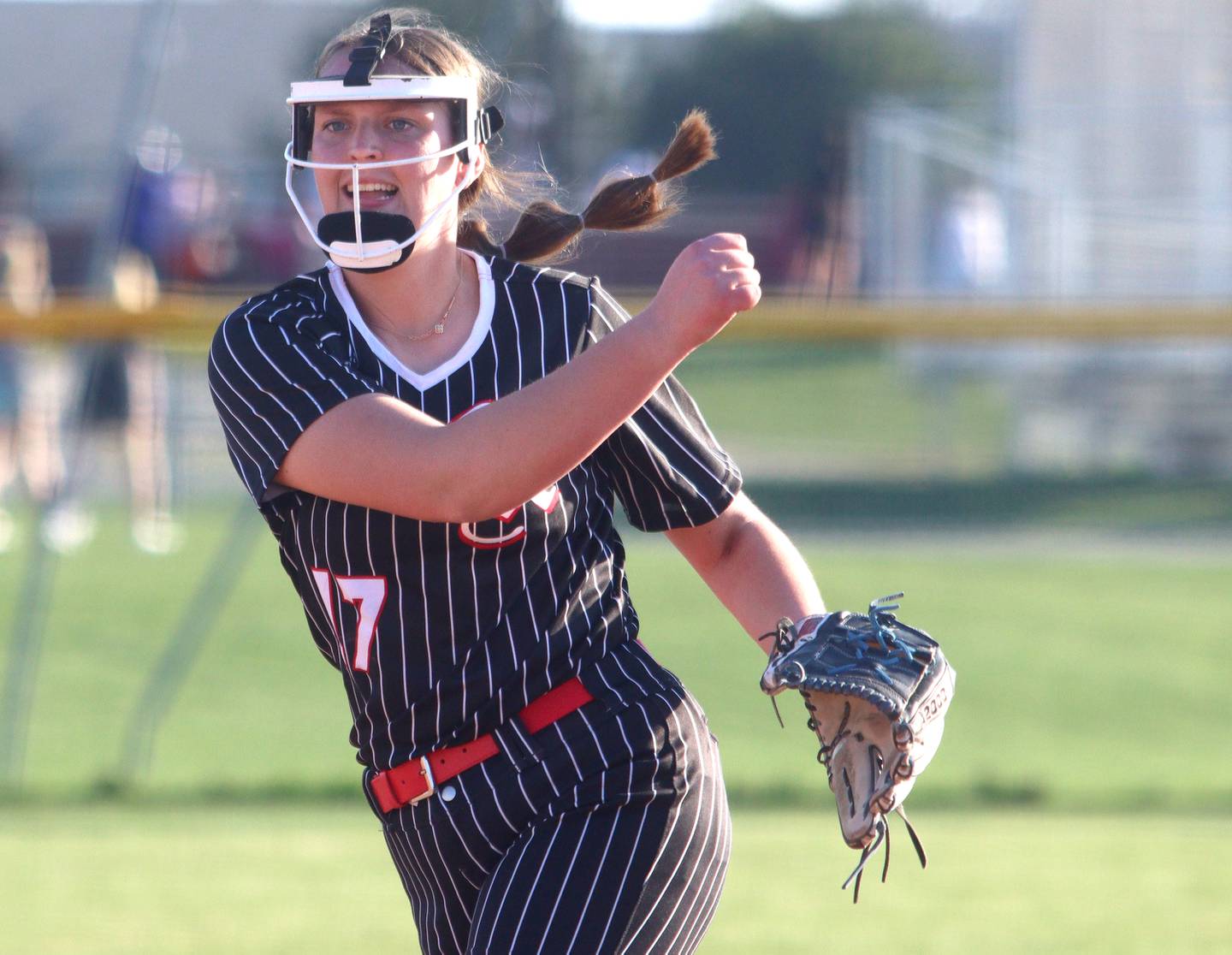 In the Kishwaukee River Conference, Marengo (16-2) remains perfect at 6-0 after beating Richmond-Burton (12-5, 4-2) on Thursday. The Indians are looking to win their first conference championship since 2018. R-B has won the past three KRC titles.
Whips gaining confidence: Hampshire picked up its fourth straight win Wednesday with a 10-4 win over D-C. Just a week ago, the Whip-Purs were on a season-worst, five-game losing streak and three games under .500.
Things have certainly turned around for Hampshire after last week's 13-8 win against Huntley, which snapped the Red Raiders' FVC winning streak at 50 games.
Even the Whips were a bit surprised by their upset win.
"There were multiple times we were looking at each other like, 'This is a dream. No way this is happening,' " junior third baseman Kayla Valdez said of ending the Raiders' streak that began in 2019. "It was unexpected."
Sophomore Elaina Lindmark started against the Raiders, going all seven innings, and was staked to an early 7-1 lead. She said the early run support helped calm her nerves early.
"I went into that game honestly just looking to work on my mechanics, looking to improve," Lindmark said. "So that was great. It was unbelievable actually."
Hampshire's dugout has become much more lively in recent games as a result.
"Since that game, we're a lot more loud in the dugout," Lindmark said. "We're going to keep the same energy no matter what happens."
"There's nothing to lose," Valdez added. "We're just out here having fun."
Slugging Giants: Alden-Hebron has had quite the offensive week, exploding for 51 runs in back-to-back wins against Christian Liberty. The Giants (4-7, 3-3 Northeastern Athletic Conference) won 27-17 on Tuesday and 24-7 on Thursday.
Hannah Reiter was 6 for 7 in the two games with nine runs scored and eight RBIs. Jessica Webber hit a grand slam Thursday and drove in nine runs between the two games, and leadoff hitter Olivia Klein scored nine runs.
Alden-Hebron also was dangerous on the bases with 18 steals.