Playing college softball as a freshman first involved being in a familiar place for Alexis Pupillo.
"The whole transition from high school weight room to college weight room was probably the easiest," said Pupillo, a Crystal Lake South graduate. "I've been strength training since I was 11 years old. I put a lot of time and effort into strength training."
That time spend preparing for college has paid dividends early on for the University of Northern Iowa freshman catcher.
While starting every game this season, Pupillo leads the Panthers (11-9) in hits (19), home runs (five) and RBI (15) while batting .311. She ranks in the top 10 in the Missouri Valley Conference in four offensive categories, including a tie for most home runs.
Starting immediately as a freshman is something Pupillo does not take for granted.
"It's a tremendous privilege," she said. "I'm very grateful for the people around me and for all the opportunities that I've been given to grow and to be able to show my talent."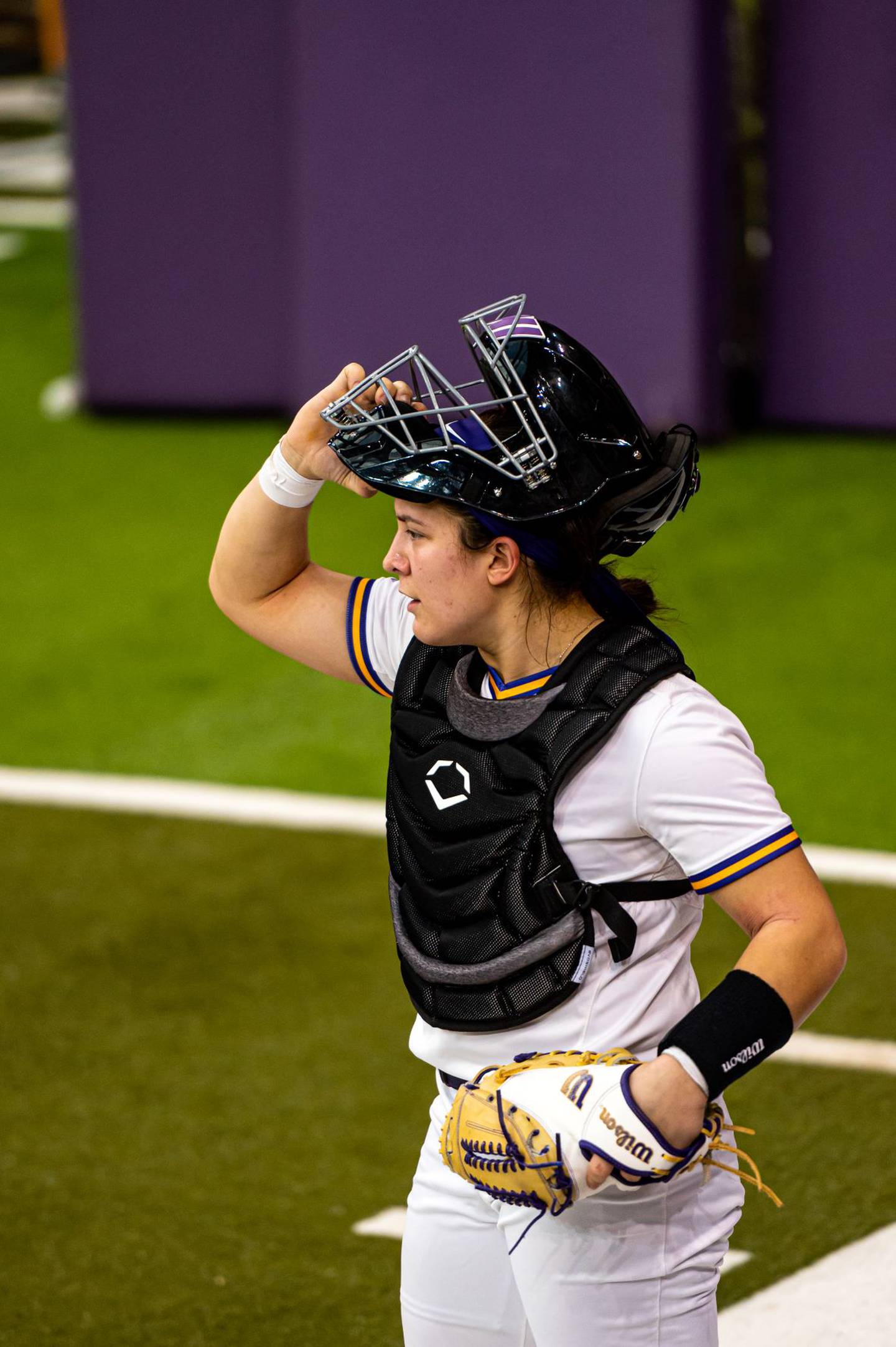 Over the past 10 games, Pupillo has 10 RBI and four home runs while batting .375.
On March 7, she was honored as the MVC's Newcomer of the Week for batting .462 over the previous week with three home runs and six RBI. Against Georgia Tech on March 3, Pupillo was the only UNI player to record a multi-hit game with a home run, a double and two RBI in a 12-2 loss.
Pupillo, who plans to compete in powerlifting and perhaps bodybuilding after college, said her training has allowed her to thrive amid a busy college schedule.
"The strength part transitions over heavily into my game because I'm able to have more stamina and not be so sore after playing," she said.
Pupillo said her father, Phil, a retired minor league and college baseball umpire, has been an important part of her development.
"I've been preparing to play college softball ever since I knew I wanted to play college softball when I was 10 years old," she said. "That's when we really started preparing. He taught me how to play. He was the baseline for teaching me how to hit. Once I got here, everything has kind of been amplified.
"I've been given more tools and more knowledge," Pupillo said.
Her high school experience included time at third base and catcher. But being chosen UNI's No. 1 catcher came as a bit of a surprise.
"I actually didn't know right away," she said. "It just kind of fell into place. If coach wanted me to learn how to play left field, I'd go play left field."
Working with college pitchers has been one of her most rewarding experiences.
"I absolutely love our pitching staff, and our pitching coach (former Indiana University pitcher Monica Wright) is one of the smartest people I've ever met. She's been so helpful, not only with helping me learn different tendencies but she knows a lot about catching as well."
Allen, Holy Cross go dancing: Marian Central alumna Janelle Allen scored 16 points and grabbed five rebounds Sunday to help the Holy Cross women's basketball team win the Patriot League Tournament championship, 66-61, over top-seeded Boston University.
The victory gave Holy Cross its first league title since 2007 and earned the Crusaders (24-8) an NCAA tournament berth.
Allen, a junior forward for the Crusaders, ranks second on the team this season in scoring (10.6 a game), rebounding (4.6) and blocked shots (20).
Heard's winning ways: South Carolina freshman softball pitcher Jori Heard (Huntley) is tied for the team lead with five victories this season.
Heard's 5-0 record and 2.50 ERA have come via 10 appearances, including nine as a relief pitcher. In 28 innings, Heard has collected 28 strikeouts. She posted a career-high six strikeouts March 4 in a 9-1 victory against North Carolina A&T, which was also her longest outing of the season (five innings).
Heard has allowed only six extra-base hits (all doubles) in her 28 innings.
All-region honors at Calvin: Huntley grad Uchenna Egekeze, a junior men's basketball forward at D-III Calvin University in Michigan, was recognized Tuesday by D3Hoops.com as an All-Region 7 third-team selection.
Egekeze averaged 14 points, 5.6 rebounds, 2.4 steals and 2.2 assists a game this season for the Knights (22-5), who won the Michigan Intercollegiate Athletic Association regular-season title. Egekeze earned first-team All-MIAA honors and was named the league's Defensive Player of the Year.
Beau knows all-conference: Beau Frericks, a junior guard at D-II Lewis University, was named second-team All-Great Lakes Valley Conference this month.
Frericks (Cary-Grove) started all 28 games for the Flyers, leading the team in scoring with a career-high 15.3 points per game. While playing more than 34 minutes a game, he also posted team highs with 51 three-pointers and a 42% three-point percentage. Frericks scored in double figures 26 times this season, including a career-high 26 points against Ferris State in December.
• Barry Bottino writes about local college athletes for the Northwest Herald. Write to him at barryoncampus@hotmail.com and follow @BarryOnCampus on Twitter.