RICHMOND – Richmond-Burton's Lyndsay Regnier didn't have productive at-bats in her first two trips to the plate against Stillman Valley on Friday, but the Rockets' junior third baseman didn't let that affect her psyche or positivity.
When she came up to bat with the bases loaded and no one out in the top of the fifth, she had a clear plan.
"They took time [between batters], and I told Hailey Holtz on deck that I'm going to hit right side," Regnier said. "I hadn't really done well the first two at-bats. I knew I had to get on no matter what. Any ground ball, line drive or one run is better than nothing.
"As soon as I hit, I knew it was what we needed. I just kept pushing to third and it got the rest of the team up."
[ Photos: Richmond-Burton vs. Stillman Valley softball ]
Regnier cleared the bases with a line-drive triple over Cardinals right fielder Kiera Carow's head, and the runs stood up as the Rockets came back to beat Stillman Valley, 4-3, in their Class 2A Richmond-Burton Sectional final.
Softball: Richmond-Burton 4, Stillman Valley 3, mid 5th. Lyndsay Regnier with a bases-clearing triple over the right fielder's head on a 3-1 pitch to score 3. Rockets retake the lead. pic.twitter.com/uw7HvtIkeJ

— Alex Kantecki (@akantecki) May 27, 2022
R-B (20-5) moves on to Monday's EastSide Centre Supersectional in East Peoria against Prophetstown co-op or Rockridge, who play at 1 p.m. Saturday in the Class 2A Tremont Sectional championship.
Before Friday's win, the Rockets last won a sectional title 20 years ago. R-B head coach Tylar Stanton was in second grade at the time, and none of Rockets players were born.
"Finally able to take a breath," Stanton said after the win. "We've been working really, really hard from the very first Sunday of practice. We were stuck inside for a long period of time, just working small ball. They all bought in, they played as a family, and they came through."
Regnier's clutch triple came after she flew out to right field and popped out in the infield in her first two at-bats. Regnier tried to avoid the high pitches against Stillman Valley pitcher Addison Wythe in her third trip.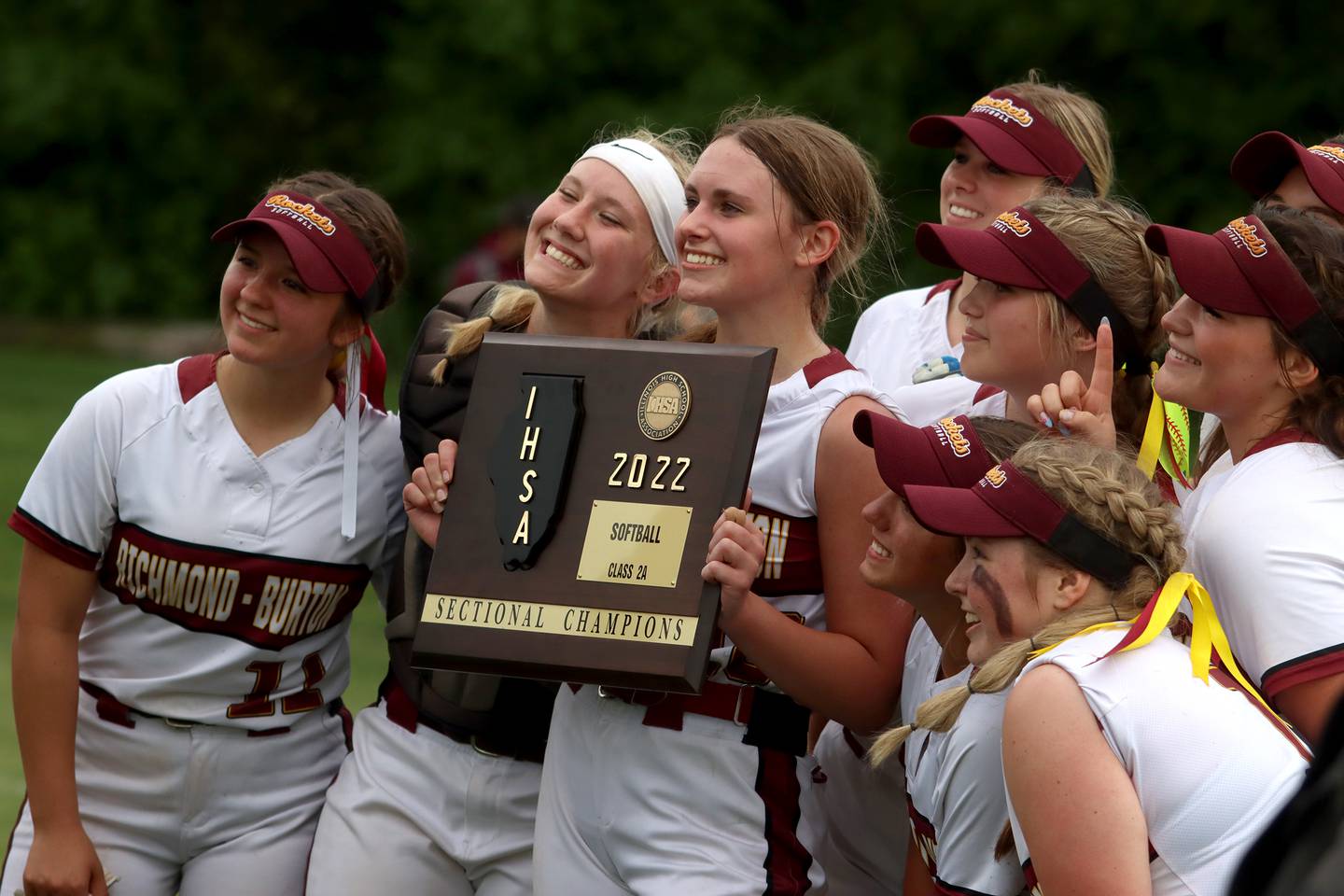 "Her first at-bats she chased a couple she didn't love, and so we had a new approach," Stanton said. "We weren't going to jump on anything up. [Wythe] came up with the first couple and then an inside pitch that was probably ball four, but worked out in our favor.
"She's that girl that does everything you ask of her. She's that leader. The biggest thing is she wanted it."
Tied at 1-all after two innings, Stillman Valley (18-10) grabbed a 3-1 lead on a two-out, two-run double to deep center field off the bat of Grace Pfeiffer, which drove in Josie Larson and Wythe, who both reached on consecutive hits.
After Wythe set the Rockets down in order in the top of the fourth, Stillman Valley looked to add on after a leadoff double by Aurora Lagerhausen. Lagerhausen immediately moved to third on a wild pitch, but Holtz fanned the next three batters on strikeouts to keep the score at 3-1.
"I knew it was my fault that she got to third, and I had to focus in and not let her score," Holtz said of the at-bats in the fourth. "I wasn't even looking for strikeouts, I was just looking for outs."
Sydney Hird got on base on a hit-by-pitch to start the top of the fifth, followed by a single from Adriana Portera and another hit-by-pitch by Madison Kunzer. Regnier then ripped the three-run triple for a 4-3 lead.
Holtz, a freshman, allowed three runs on six hits in seven innings with 13 strikeouts and three walks. She struck out Wythe with her final strikeout after a two-out error brought the game-winning run to the plate.
"As a freshman you wouldn't know it by the way she carries herself," Stanton said. "She's always eager to get the next batter. She never lets anything get to her head. She wanted it, and there was no doubt in my mind that she was going to get it."
Regnier finished 2 for 3 with three RBIs, Hird had two hits an an RBI, and Mia Spohr had a steal and a run.
For Stillman Valley, Lagerhausen was 2 for 3 with a run, and Carow had a triple and an RBI. Pfeiffer had a pair of RBIs. Wythe gave up four runs on seven hits in seven innings, striking out eight and walking none.
Cardinals coach Shawn Byers said his team improved each week this spring. Stillman Valley won its first regional title since 2016.
"If you would have told me that we'd be sitting here after Week 2, I would say there was no way," Byers said. "These girls have come a long way and improved every week. We talked early in in the year about being the best that we could at the end of the year, and I think we accomplished that."
R-B has a chance to earn its first state tournament appearance with a win in its next game. The Rockets have played close games throughout the postseason, with their past three all being decided by one run.
"It's honestly a lot of stress, I'm not going to lie," Hird said. "But Hailey always pulls through, and same with [coach Stanton] with his motivation that he gives us. The team has such a positive attitude, and we all have each other's backs.
"We know that we're going to pull through."