Richmond-Burton girls soccer coach Casey DeCaluwe doesn't have to say much to get his players ready for a big game.
"They have this will and desire to never lose," DeCaluwe said. "I have to stop them in practice sometimes because it gets so physical. There are times we have to dial it down a notch. They just love to compete in anything and everything.
"They're competing for who's going to have the best GPA. That's the type of kids they are. For me as a coach, it's fun to just sit back and watch. I don't have to give a lot of rah-rah speeches to fire them up."
The top-seeded Rockets (22-1-1) will look to add on to a historic season when they face second-seeded Montini (14-4-1) at 5 p.m. Friday in the first of two state semifinals at North Central College in Naperville.
Quincy Notre Dame and Normal University will face off in the second semifinal at 7 p.m., with the winners advancing to the championship game at 5 p.m. Saturday. The third-place game is set for 3 p.m. Saturday.
[ Girls soccer: Richmond-Burton clinches state berth with win over IC Catholic ]
The Rockets can tie the program record for wins in a season with a victory in either of their final two games. R-B last made it to state in 2012, taking third and ending with a team-best record of 23-3-2.
Ten years later, the Rockets are eager to make history.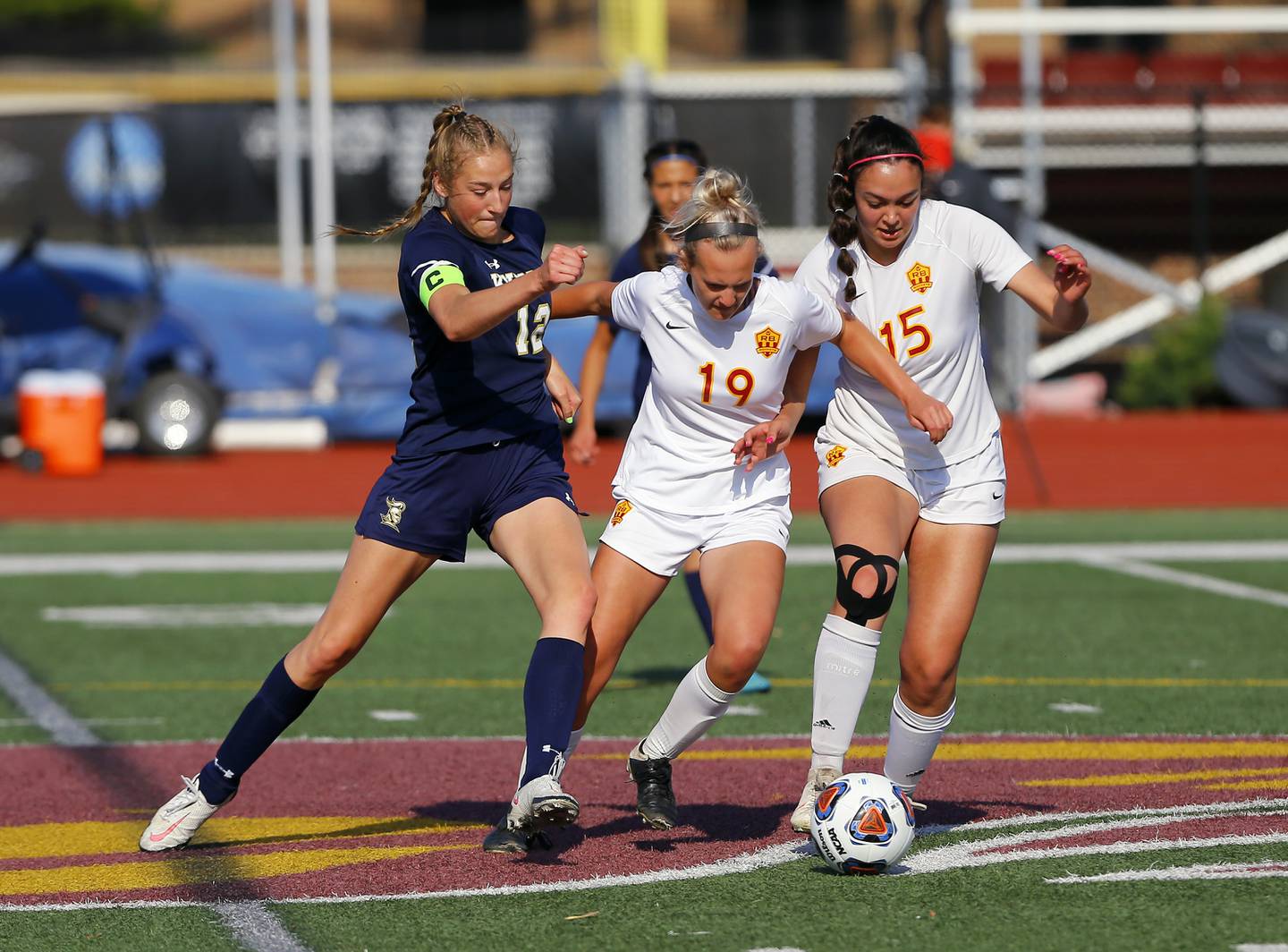 "The same 10 things that have been on our board from Day 1 are still there, and they don't need to be reminded of it," DeCaluwe said. "It's just the mentality they come in with every day. I saw it yesterday when they came in for our meeting. They're ready for a bigger and better goal of just getting to state. They don't want to lose. They want to be playing at 5 o'clock on Saturday."
Richmond-Burton has lost only one game all season – a 6-2 loss to Neuqua Valley, a 3A school, on April 16. The Rockets have won their past 12 games while holding their five postseason opponents to just two goals.
Junior forward Reese Frericks leads the team with 45 goals, followed by junior midfielder Margaret Slove (26 goals) and sophomore midfielder Layne Frericks (25), Reese's sister. Brianna Maldonado and Jordan Otto each have 16 goals.
Slove, who scored the game-winning goal with under five minutes to go in R-B's 1-0 Class 1A Concordia University Supersectional win over IC Catholic on Tuesday, leads R-B with 28 assists, followed by Layne Frericks (15 assists), Otto (14) and Reese Frericks (10).
Sophomore goalkeeper Taylor Labay has allowed only 19 goals in 24 games and has three shutouts in the postseason.
DeCaluwe thinks the Rockets match up well against a Montini team that enters the semifinals on an eight-game winning streak. The teams have two common opponents on their schedules: IC Catholic and DePaul College Prep. R-B beat both during its postseason run, while Montini lost to IC Catholic in its first game of the season and tied DePaul College Prep, 0-0.
"Their girls up top are quite fast, and they look to play through balls into them," DeCaluwe said. "I like our matchups quite a bit. We play wide a lot, and they seem to be a team that plays into their central midfield and looks to spread it to the girls up top."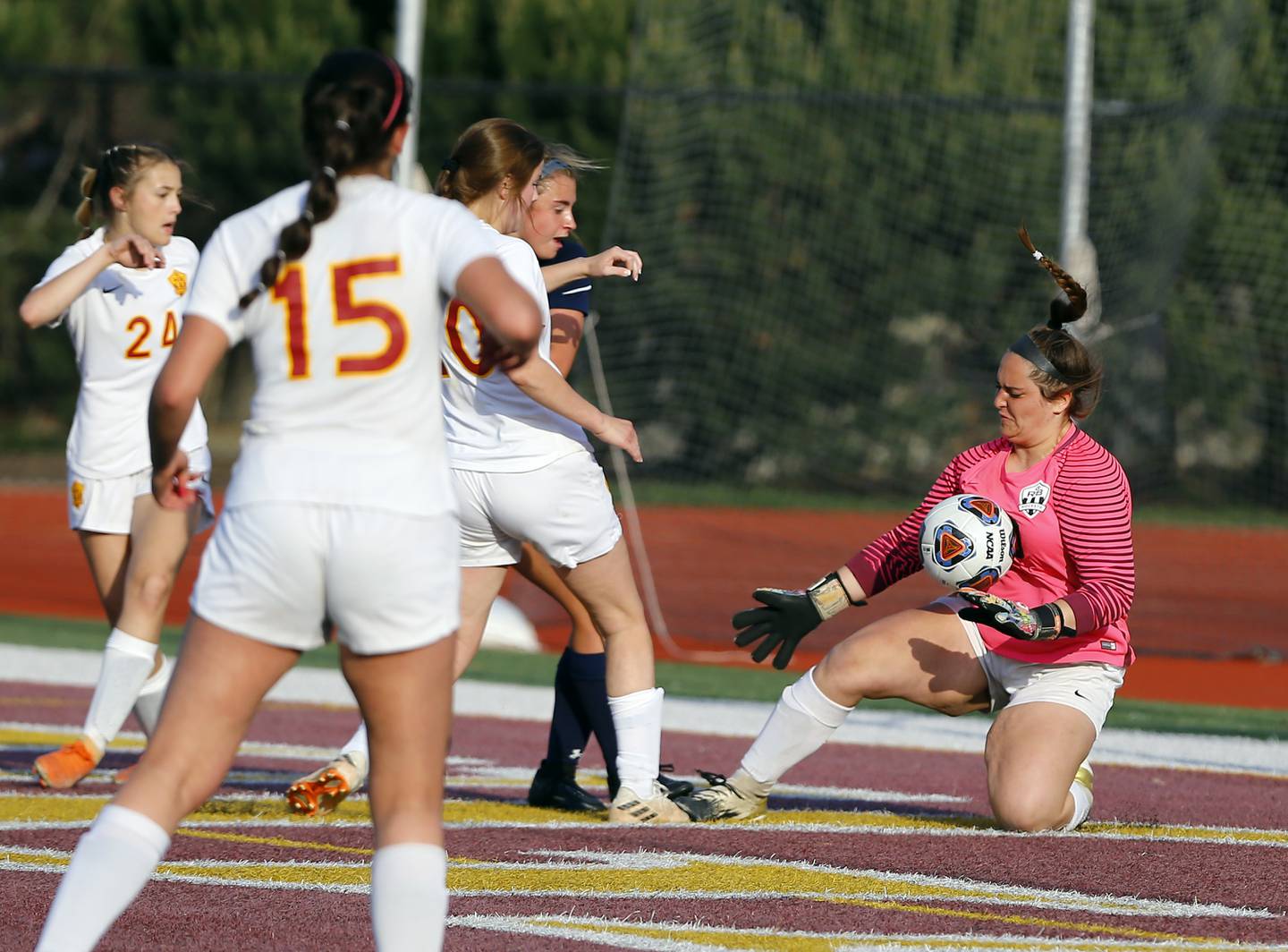 DeCaluwe said a key will be getting into a rhythm early.
"One of the things we've stressed is settling into games in the first five minutes," DeCaluwe said. "Putting teams away early, that's not going to happen in a postseason game. It's going to be 80 minutes of a team coming at you because they don't want their season to end.
"I think we've seen that all postseason. We stress that you may only get one or two opportunities all game, so you can't waste them."
The Rockets returned eight all-Kishwaukee River Conference players from last year's sectional champion. Players believe this team has everything it needs to win it all.
They'll get that chance this weekend.
"We are 100 times better than last year, we are 100 times more determined and 100 times more as a family," Slove said. "We really just took our game to the next level."
IHSA Class 1A State Tournament
Friday, May 27
Semifinals
Game 1: No. 1 Richmond-Burton vs. No. 2 Montini, 5 p.m.
Game 2: No. 1 Quincy Notre Dame vs. No. 2 Normal University, 7 p.m.
Saturday, May 28
Third place: Loser Game 1 vs. Loser Game 2, 3 p.m.
Championship: Winner Game 1 vs. Winner Game 2, 5 p.m.