The fire chief of the Harvard Fire Protection District resigned in "a complete surprise" during a closed meeting Tuesday, one trustee said.
The chief, Lawrence Kane, who was hired in early 2020, said his contract was up and when board members met with him in closed session to talk about his contract, he told them he was resigning instead of signing on for a third year.
"Every year they review my contract. This is the time to renew my contract," Kane said. "I said at this point, because of family reasons, I'm going to resign from my position."
Kane would not say why he did not tell the fire board before the meeting that he was resigning or why he gave no notice.
"I thanked them for their time, and they thanked me for my time," Kane said. "I provided them with a resignation letter at that meeting."
The Northwest Herald received Kane's resignation letter through a Freedom of Information Act request.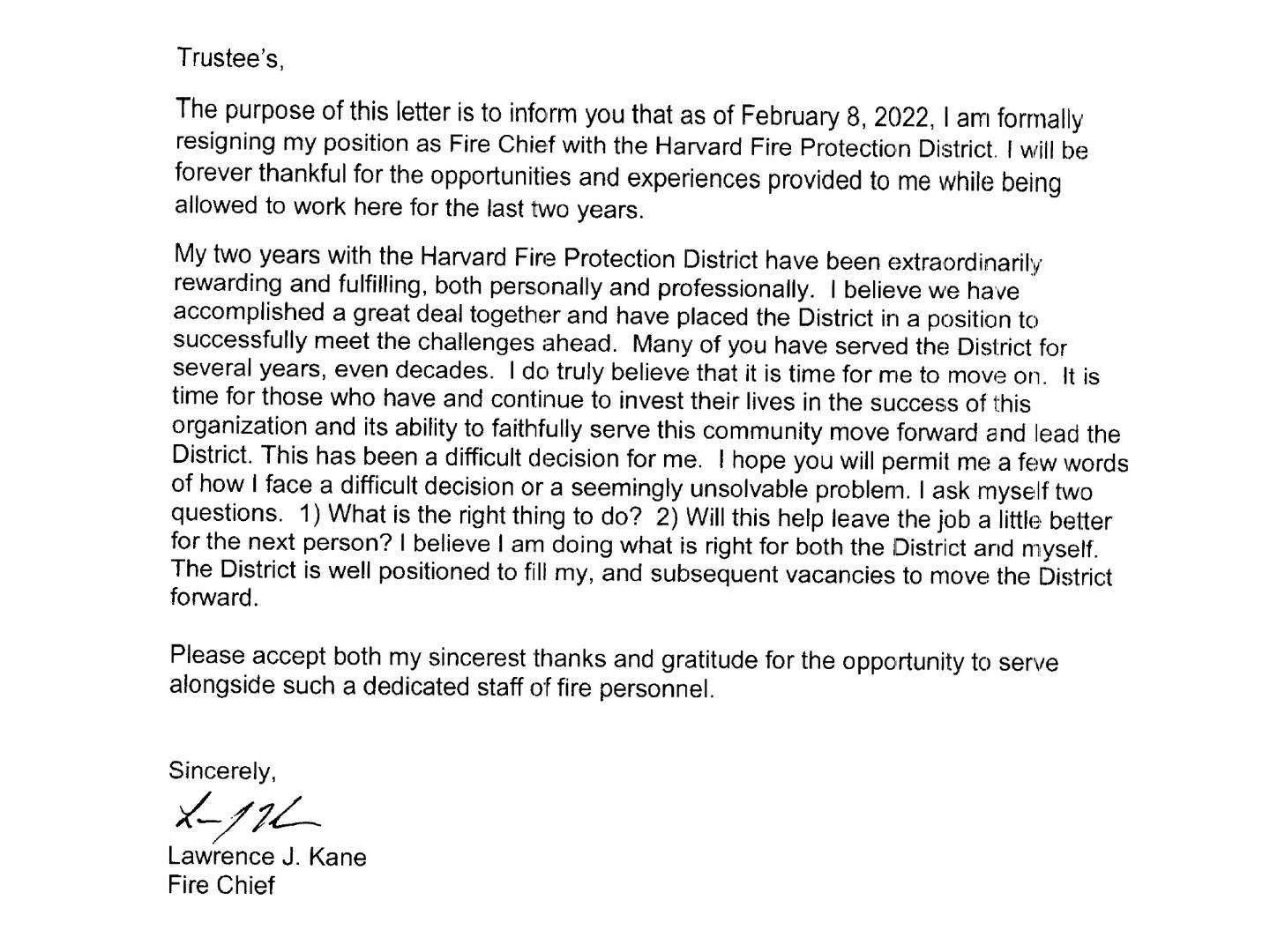 In it, he said he is thankful for the opportunities and experiences during his last two years as chief.
"I believe we have accomplished a great deal together and have placed the district in a position to successfully meet the challenges ahead," according to Kane's letter. "I do truly believe that it is time for me to move on. ... This has been a difficult decision for me. ... I believe I am doing what is right for both the district and myself."
Fire board Trustee and Treasurer Laura Evans said the board was not expecting Kane's resignation.
"It was a complete surprise," she said.
As to a search for a new chief, Evans said, "We're trying to figure that out. Right now, we have two remaining officers and they are going to be covering" management of the department for the time being.
In a statement issued Thursday afternoon, Harvard fire officials said they were in the process of finding a new chief. Lt. Mike Veronese will serve as the district's point person to ensure continued operations of the district until a new chief is hired.
Board President Roger Hugg also resigned as president of the board effective immediately, according to the statement. Hugg will serve out the remainder of his term as a trustee until May 2022 when the newly elected trustees take office.
The board will elect a new president at a special meeting scheduled for 7:30 p.m. Wednesday, according to the statement. Meetings are held in the training room at 502 S. Eastman St., Harvard.
The statement did not provide a reason for Hugg stepping down and an attempt to reach him at his department email Thursday was unsuccessful.
Kane said he decided to resign because he had a full-time job as a firefighter in Glenview and two part-time jobs, one as an adjunct faculty at McHenry County Community College and fire chief in Harvard. One of the part-time jobs had to go and he decided it was the Harvard position.
"You sit there and watch your family grow up all around you … and you miss activities," Kane said. "There's some things you don't want to miss as a father. I make sacrifices for other things."
Kane said as a group working together at the Harvard department, they streamlined emergency services and turned the budget around.
"I put them in a lot better place, I believe," Kane said. "The budget is in better shape than it's ever been."
Kane was appointed chief with his duties to begin Feb. 10, 2020, according to a Jan. 31, 2020, news release on the Harvard Fire Protection District website.
Hugg said in the release that Kane was chosen for his 26 years of experience in public safety, as a police officer and firefighter/paramedic.
The Harvard Fire Protection District was roiled in controversy just four years ago when the previous fire chief, Steve Harter, and Deputy Fire Chief Don Davidson were slapped with suspensions, stemming from a letter that called the conduct of trustee and board secretary Joe Clarke "unprofessional" and "hostile."
Then board President Thomas Condon sent a letter stating that it became apparent that Clarke has "waged a vendetta" against the chief and other officers at the part-time fire district.
"The actions within the last few months have been very unprofessional and have no place in an open meeting," Condon said in the letter. "The belligerent, threatening and overbearing treatment has been escalating to hostile levels of attack."