For almost six decades, the grave of a boy pulled from the Fox River near the McHenry Dam in 1963 has been unmarked and largely forgotten.
Now, two McHenry-area residents, Amanda Helma and Doug Peterson, are hoping to change that. They want to place a headstone – and perhaps renew attempts to discover an identity – for the Black child, who was thought at the time of his death to be about 7 years old. He is buried in Ostend Cemetery west of McHenry off Route 120.
Helma recently delved into old newspaper clippings and found stories relaying the death of the child, who she read was found wrapped in a red blanket. He had been beaten, covered in bruises and lacerations, but it was determined he died of a type of pneumonia common in young children. Area authorities never identified him despite weeks of searching for someone connected to the boy, according to Helma's research.
But local authorities felt it was unlikely anyone would come forward to claim the boy's body at the outset of the investigation, as McHenry County Sheriff's Chief Deputy John Carroll was quoted by the Woodstock Daily Sentinel at the time as saying it was "doubtful" the boy ever would be identified.
So far, Carroll was right.
But in a letter to the editor published last month in the Northwest Herald, Helma said she would like to change that.
"It's strange it wasn't investigated deeper, considering it's not just that he was there, [but] it looked like he had been very badly beaten," Helma said in an interview.
Her interest in this case piqued after she became curious about Ostend Cemetery, which is maintained by McHenry Township, while driving on Route 120 between her home in McHenry and where she previously had worked a part-time job in Woodstock.
When she began to look up documents showing who was buried there, she was caught by one listing that read "unknown." She began diving into why.
The boy's body was sent to Chicago in hopes that it could be identified. The body eventually was returned to McHenry, where local residents volunteered to hold a ceremony in May 1963 to honor the child and bury him in an unmarked grave at Ostend Cemetery.
"He was somebody's son. He was somebody's grandson," Helma said in an interview. "This is such a great place. The fact that people here in '63 got together to give him a proper burial, with a casket and him dressed in a suit – if we were able to come together and do that for him, I think we should do more. We have more tools today to help him out than they did in '63."
The burial was held after the McHenry County Coroner's Office and law enforcement probe into the child's identity proved unfruitful after more than a month, according to a McHenry Plaindealer newspaper clipping.
"At the time that it happened, so long ago, my mom was not even a year old yet," Helma said. "After he was buried, he just disappears."
After Peterson read Helma's recent letter to the editor, he started soliciting donations online through a GoFundMe page to raise enough money to purchase a headstone to mark the boy's grave.
He shut down his effort after it collected $1,600, which he said is enough to purchase a headstone with a discount offered by Adams Memorials and Gifts in McHenry. Peterson said McHenry Township granted approval to place the headstone, and he is waiting to hear a date that could occur.
"It's the right thing to do," Peterson said.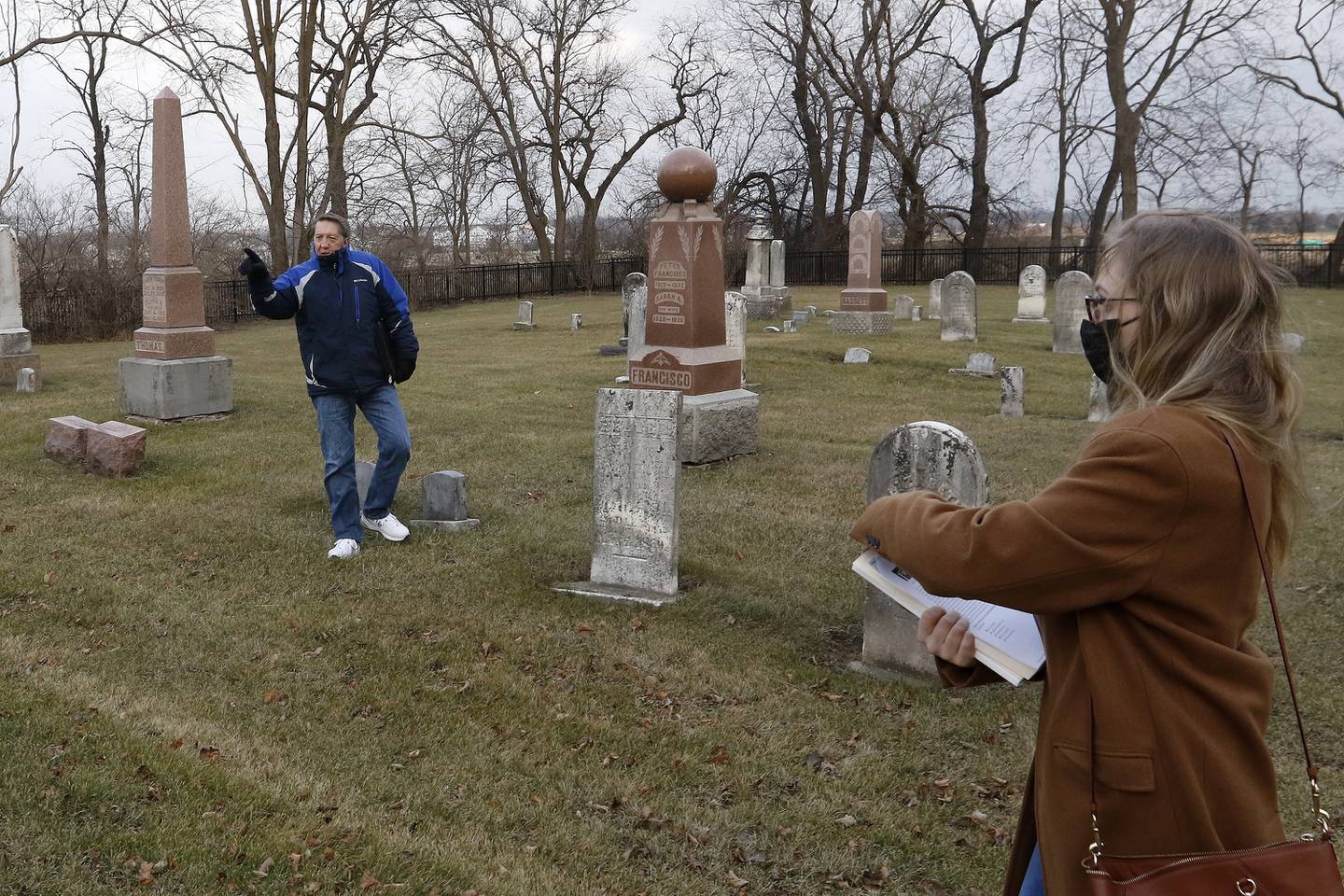 He and Helma met for the first time at Ostend last month after Peterson read her letter and started the fundraising effort.
"I saw what she wrote, and I was like, 'You have to be kidding me,'" Peterson said. "I just couldn't believe something like this happened here."
Peterson and Helma also would like to see the body exhumed so a DNA sample could perhaps be collected and run through databases to see whether there is a potential link to someone who could help identify the boy.
"Maybe the person didn't want to be found because they were guilty," Peterson said.
But he and Helma at least want to place a grave marker that informs the community of the mystery.
McHenry County Coroner Michael Rein said his office is working to track down files related to the case, but the effort is only getting started, and it could take a long time.
He said he cannot promise that he would approve of an exhumation in this case.
"Exhuming a body is typically done in very – for lack of a better term – unusual circumstances," Rein said.
That said, it's a possibility for the future. Rein said his staff also may speak to specialists such as genealogists and anthropologists about the case to determine what is scientifically and realistically possible in terms of finding a solution and an identity.
"We're trying to do our due diligence first," he said. "Obviously, even getting the paperwork, we still have to talk to the specialists to see what their thoughts are.
"Part of it is that you have to talk to these people to find out what the likelihood of finding somebody's parent from 1963, or not even parents but family members, is. This is so far in the infancy stage. It takes a lot of time and phone calls and discussions just to try and figure things out."
Details of the law enforcement investigation into an identity and how the boy's body turned up in the river are scant.
So far, the McHenry County Sheriff's Office has found no records concerning the case, nor have the coroner's and sheriff's offices serving Lake County, officials told the Northwest Herald.
A spokeswoman for the Cook County Medical Examiner's Office, which may have taken a record of receiving the body when the boy was transferred to Chicago while officials were trying to link him with a family member, also was not able to immediately confirm if it had played any role in the case in the past or if it has any records of the case, as its archives from that period have not been digitized.
Cook County said in response to a Freedom of Information Act request that the Cook County Medical Examiner's Office was unable to find any records connected to the case.
"Very, very interesting story," Lake County Sheriff's Office Deputy Chief Chris Covelli said in an email, after reporting that staffers within his agency were unable to find any records related to the investigation. "Crazy to think something like this could just go unsolved, but who knows, maybe with DNA advancements, there could be some furtherance [and] closure."