Retired Army Lt. Col. Ryan Yantis will never forget what he saw and experienced at the Pentagon on Sept. 11, 2001.
Twenty years after the attacks, Yantis, now living in Crystal Lake, is making sure no one, including those who were not yet born, forget what happened that day.
"I'm a living artifact. ... If I don't share my story, someone else is going to fill the void with what they think is the right answer. And I owe it to my coworkers who didn't make it out to share what it was like that day," Yantis said.
Today, Yantis works as a consultant and with community organizations in the Chicago area. He shares his experience with schools and other community groups when asked and is scheduled to speak at a Crystal Lake American Legion event at 12 p.m. Saturday at Union Cemetery.
Twenty years ago, Yantis was a public affairs officer in the Army working in the Pentagon in Arlington, Virginia.
"Sept. 11 was a very routine day at the start. Tuesday morning, it was a beautiful day. I remember thinking later, 'Gee, I wish I'd gone and played golf,' Yantis said.
Yantis was at the Pentagon that morning and watched the second plane hit the World Trade Center in New York City on TV.
"Right then and there, we knew it was a deliberate act," he said.
Yantis told a coworker who was nine months pregnant to go home after watching the plane hit the tower.
"She argued with me for a bit and I said, 'No, I want you out of here because we're next.' That wasn't some great predictive thing. It was just a hunch," Yantis said.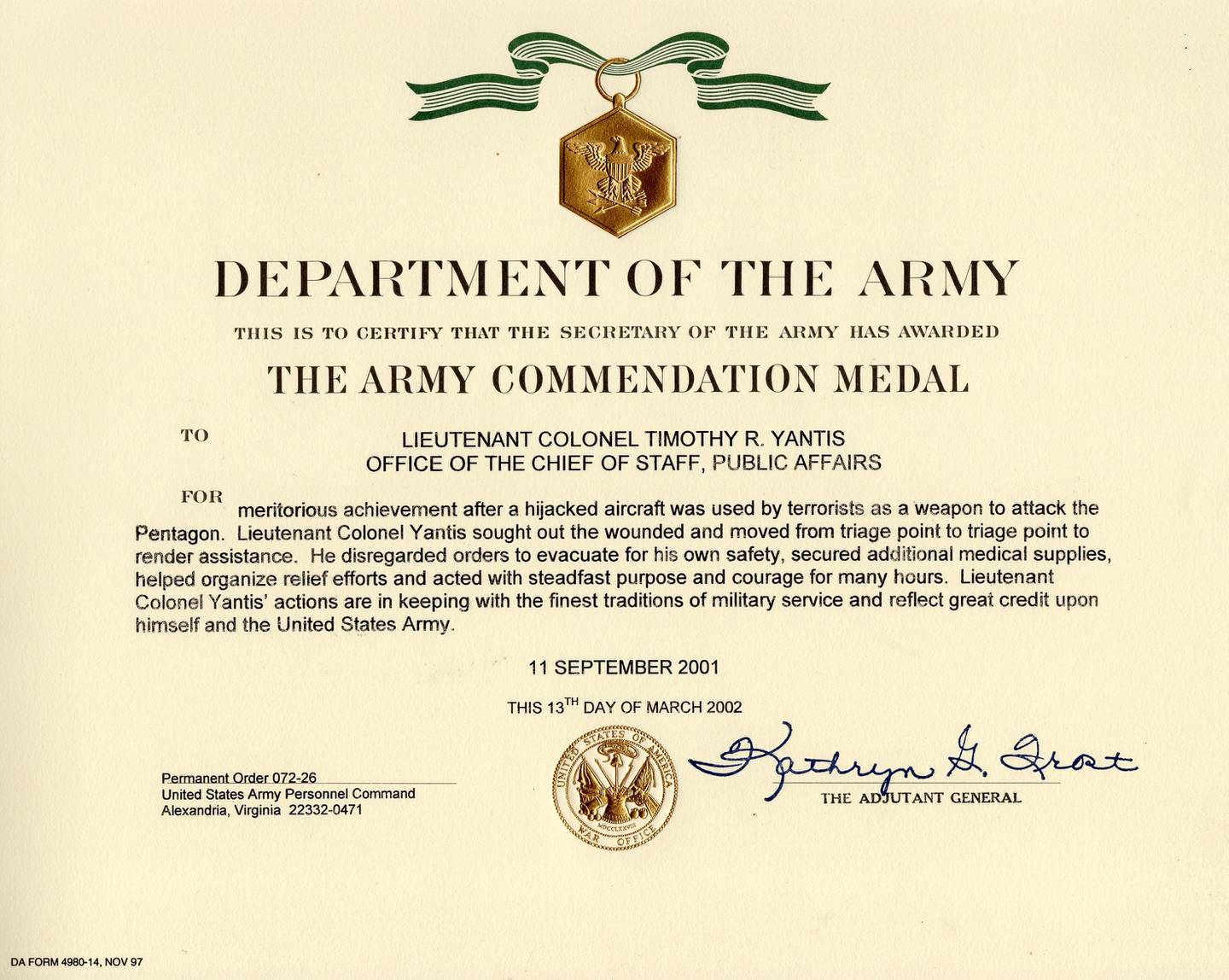 Soon after, Yantis left his office to go to a meeting to discuss the Army's response to the attacks in New York City. His office was located just around the corner on the outside of the building from where American Airlines Flight 77 with 64 people on board would hit at 9:37 a.m.
When Yantis and a senior officer left the office, they began walking down the hall where the plane would hit a few minutes later, going the wrong direction to their meeting. After stopping to figure out where they were going, they decided to turn around and go the other way. As they walked in the door to the meeting, the plane hit the building.
Yantis initially didn't evacuate but went back to his office to call his wife. There he noticed smoke coming down from the newly cracked ceiling and decided to get out.
"I go around, and I can see the face where the plane had hit and the visual I have in my mind's eye is so much of that was on fire. There was a tree that was burning. There were people walking and running from the building and people running to the building to help," he said.
Yantis spent the next several hours helping in anyway he could. He helped get the injured on stretchers, placed evidence markers near plane parts, and gave his T-shirt to a woman who used it to shield her hair from fire as she went into the burning building.
"The fire was so hot and the smoke was so thick, we couldn't get back in the building," he said of rescue efforts.
Later in the afternoon, he went back to his job as a public affairs officer. He worked with other Army officials to get a sense of the casualties at the Pentagon and organized a 6 p.m. news conference with Secretary of Defense Donald Rumsfeld and other high ranking defense department and congressional officials.
Yantis returned home after the press conference, but stopped by his office near the crash site on his way out.
"There was one interesting piece of paper on the fax machine," he said. "It's a fax that was coming in to our office as the plane hit the building ... It was a message that was, 'Hey, this looks like a real-world terrorist attack, not a drill. Heads up.' And halfway down the page, everything goes squiggly. The date stamp on it is 9:37."
It took three days for firefighters to put out the flames at the Pentagon, but Yantis and others returned to the building for work before dawn on Sept. 12, marking the start of 37 straight days of work. A lot of details stick out to him about returning the Pentagon, but one was more impactful than others.
"I'm crossing this abandoned parking lot that has a handful of cars that are still parked, and it's the realization that it's people who didn't go home last night or were never going home."
In addition to the 64 people on the plane, 125 Pentagon employees were killed on 9/11.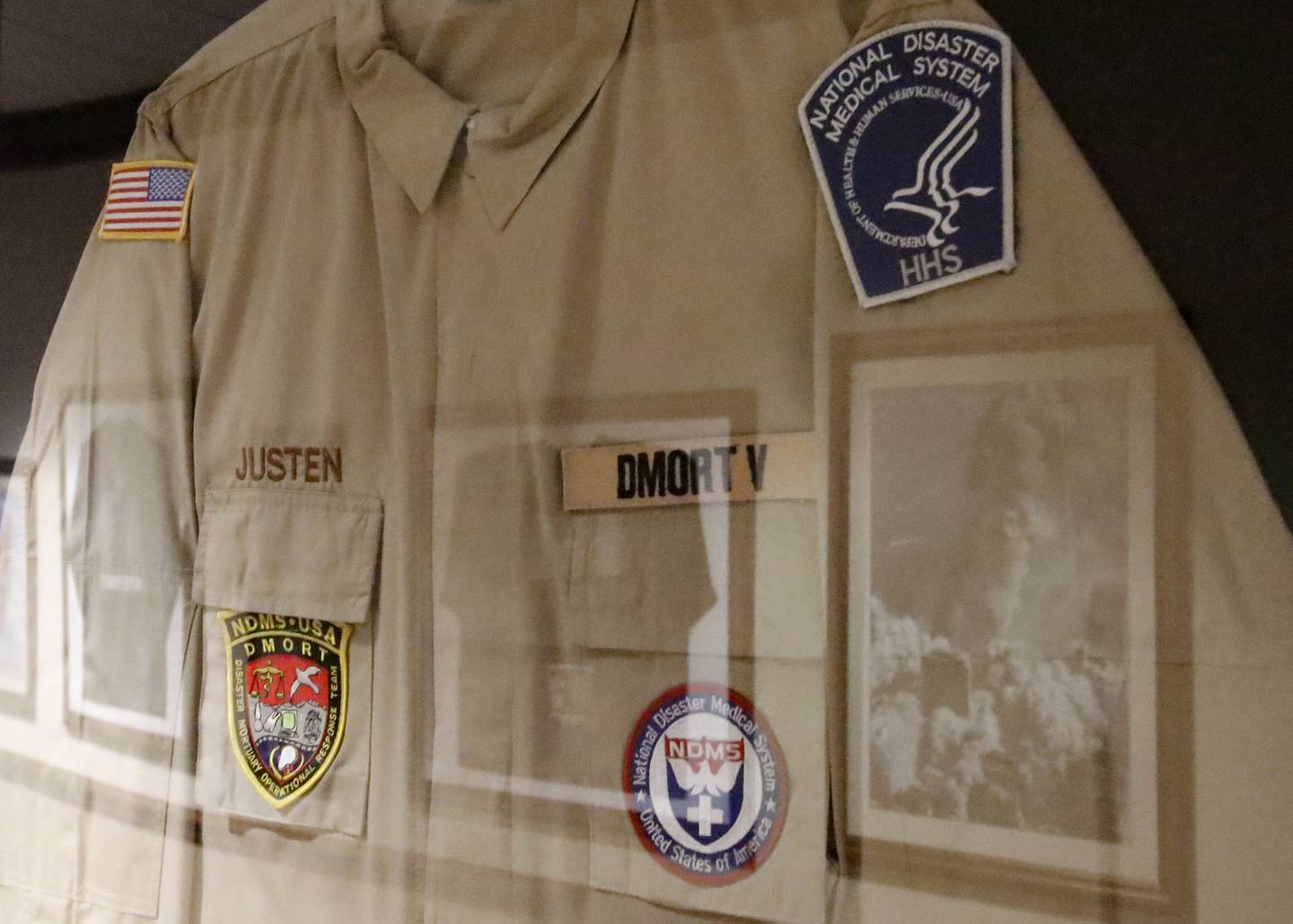 For Robert Justen of McHenry, the days after Sept. 11, 2001, also hold a special place in his memory.
His father, Mark Justen, who died last year, was a part of a federal disaster response group that responded to the World Trade Center in New York City, working with the medical examiner there to identify victims for the next nine months.
"Whenever they identified a body part of a first responder coming up from Ground Zero, he showed all the other first responders working the scene how to fold a flag and drape it over the deceased as a sign of respect," Robert Justen said, who runs Justen Funeral Home in McHenry, Wonder Lake and Round Lake.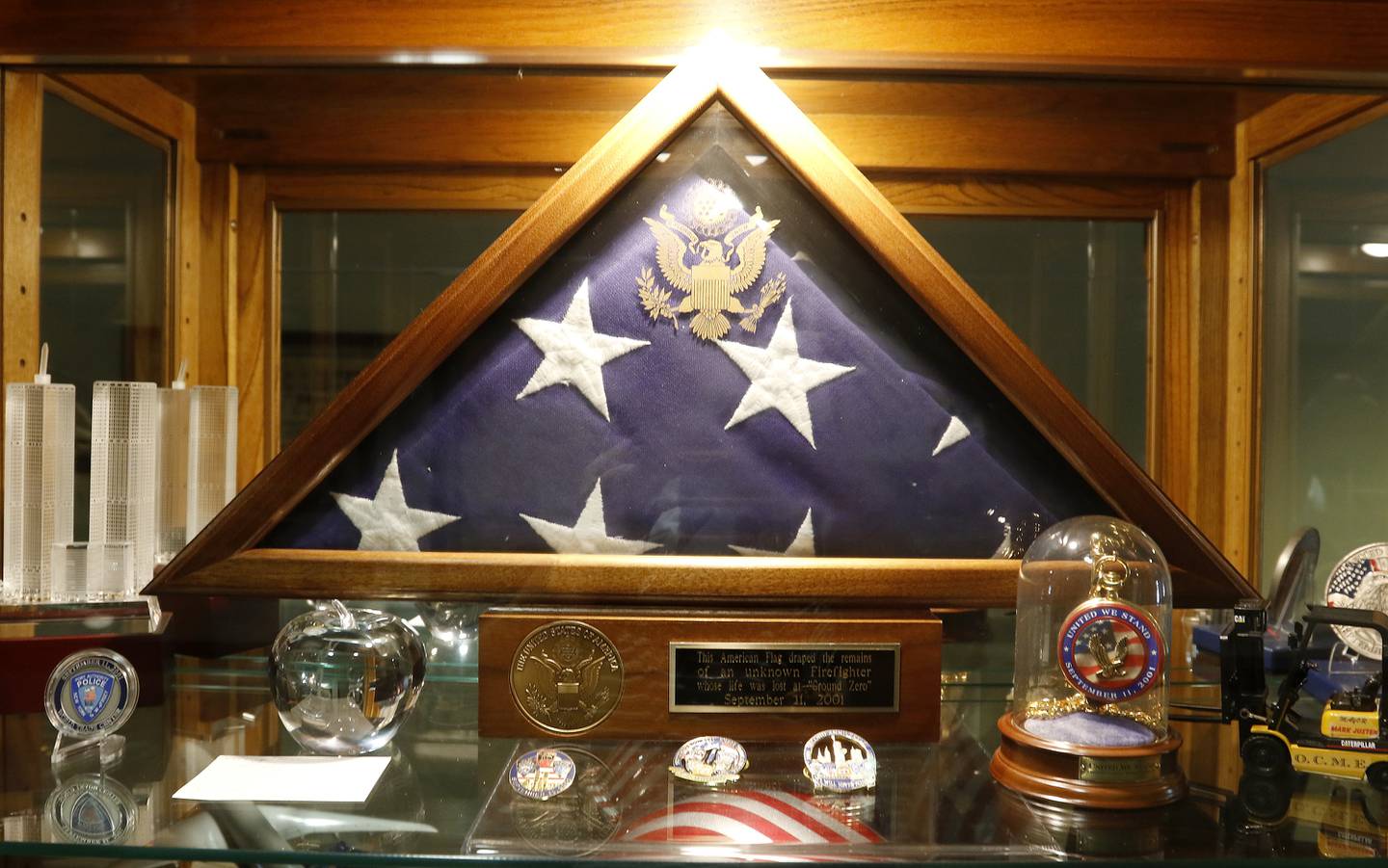 Mark Justen, who was the funeral home director at the time, took home several artifacts and put them on display at the McHenry location. The items include an American flag that flew above Ground Zero, patches from first responders, and diagrams of the recovery effort.
"He chose to hang on to [the flag] and he would hand out pins and everything like that because as they say, 'Gone, never forgotten.' He was of that mindset because everything he saw there was so horrific," Robert Justen said.
Of the 2,977 people killed on Sept. 11, 2001, 2,753 were at the World Trade Center or on American Airlines Flight 11 or United Airlines Flight 175.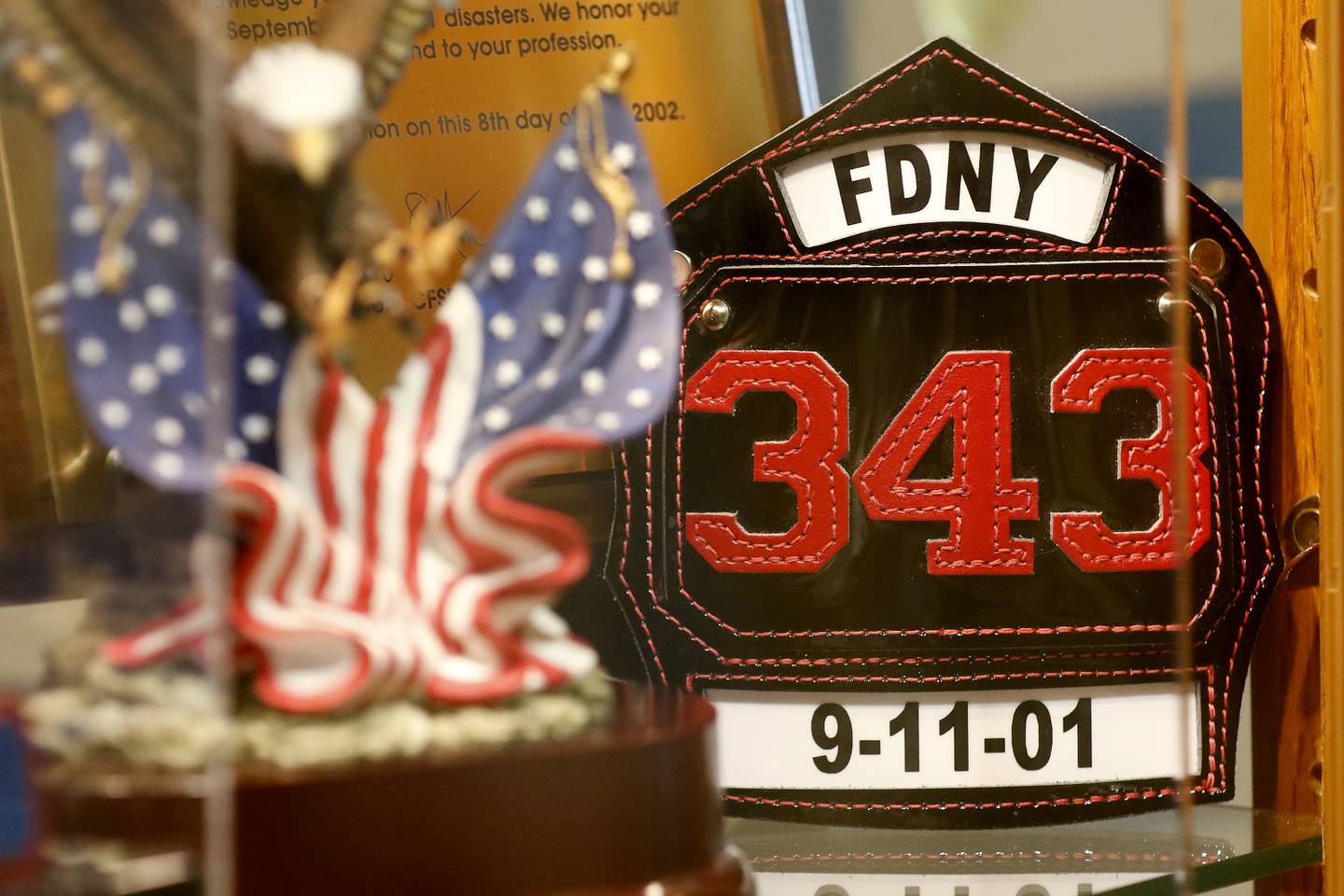 The fourth hijacked plane to crash on 9/11 was United Airlines Flight 93 with 40 people on board, which crashed in Somerset County, Pennsylvania, after passengers tried to take control of the plane from the hijackers.
Petty Officer 2nd Class Ian Zetler of Crystal Lake, who was in kindergarten on Sept. 11, serves aboard the USS Somerset, a Navy vessel forged with the steel of United 93.
"I was so young, I don't remember it happening," Zetler told the Navy Office of Community Outreach. "But I think it's important to commemorate 9/11 because that attack showed how the country could come together. It's more than just remembering those who were lost. 9/11 is a good example of America's tenacity. We proved we can step up and do the right thing."
After 20 years, Yantis also is of the mindset that people need to remember what happened on 9/11. He worked with other 9/11 survivors to publish the book "9/11 Survivors' Stories Midwest Memories," which was released on Amazon on Sept. 1.
Roxanne Boersma of Cary is the book's publisher. Boersma said she was honored to contribute to the project and inspired by the stories of the survivors.
"I am so incredibly honored. It was their resiliency and all of them have expressed that is such a key moment in their life and to really appreciate everything they are able to do now because they did not perish on that day," she said.
"It comes down to people like Ryan and the other survivors that have put their story in print and educate people on what happened."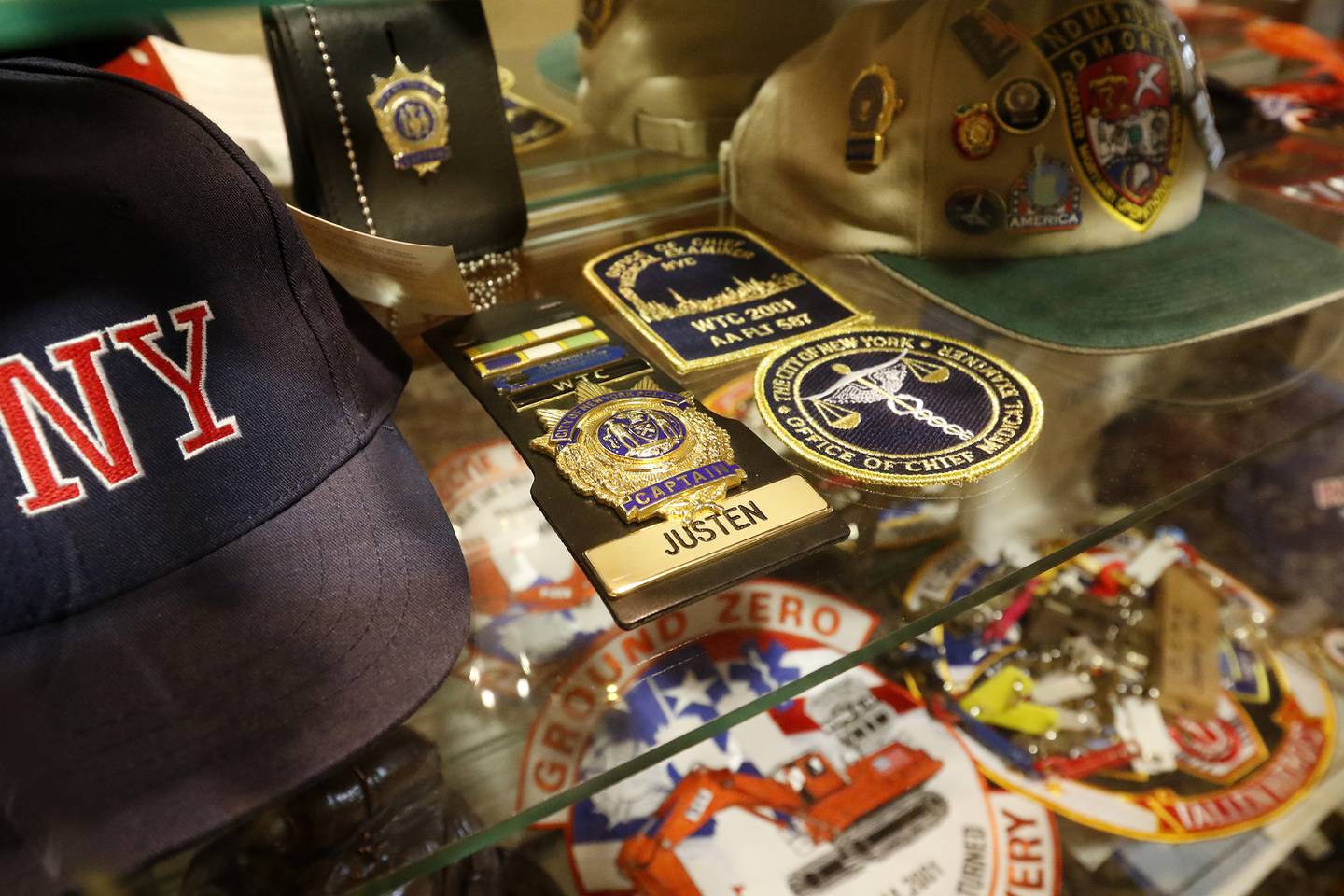 Jen Wiegel, a 7th grade social studies teacher at Northwood Middle School in Woodstock, tries to help her students who were not yet born on 9/11 understand the emotions of that day.
"Most of them know about the twin towers, but when you talk about the other two flights, they don't know how they're related," Wiegel said, who was in her first year at Northwood on Sept. 11, 2001.
Wiegel tries using age-appropriate videos to show her students what happened on 9/11, but focuses on the positive moments that day, such as a businessman who saved several lives in the burning tower who is known as "the man with the red bandana" and the boat lift that helped hundreds escape the dust cloud on lower Manhattan.
"They allow the kids to see our country and humanity in such an amazing way," she said.
Conveying the emotions people felt after 9/11 is hard, but Wiegel tries to teach with that emotion.
"It allows me to be a story teller that educators are and you don't lose their attention when you're talking with emotion and passion," she said.
Yantis also has gone to schools to help new generations understand what happened on 9/11. He first did it about five years ago when his son, who was a student at Prairie Ridge High School, told his dad he should share his experience.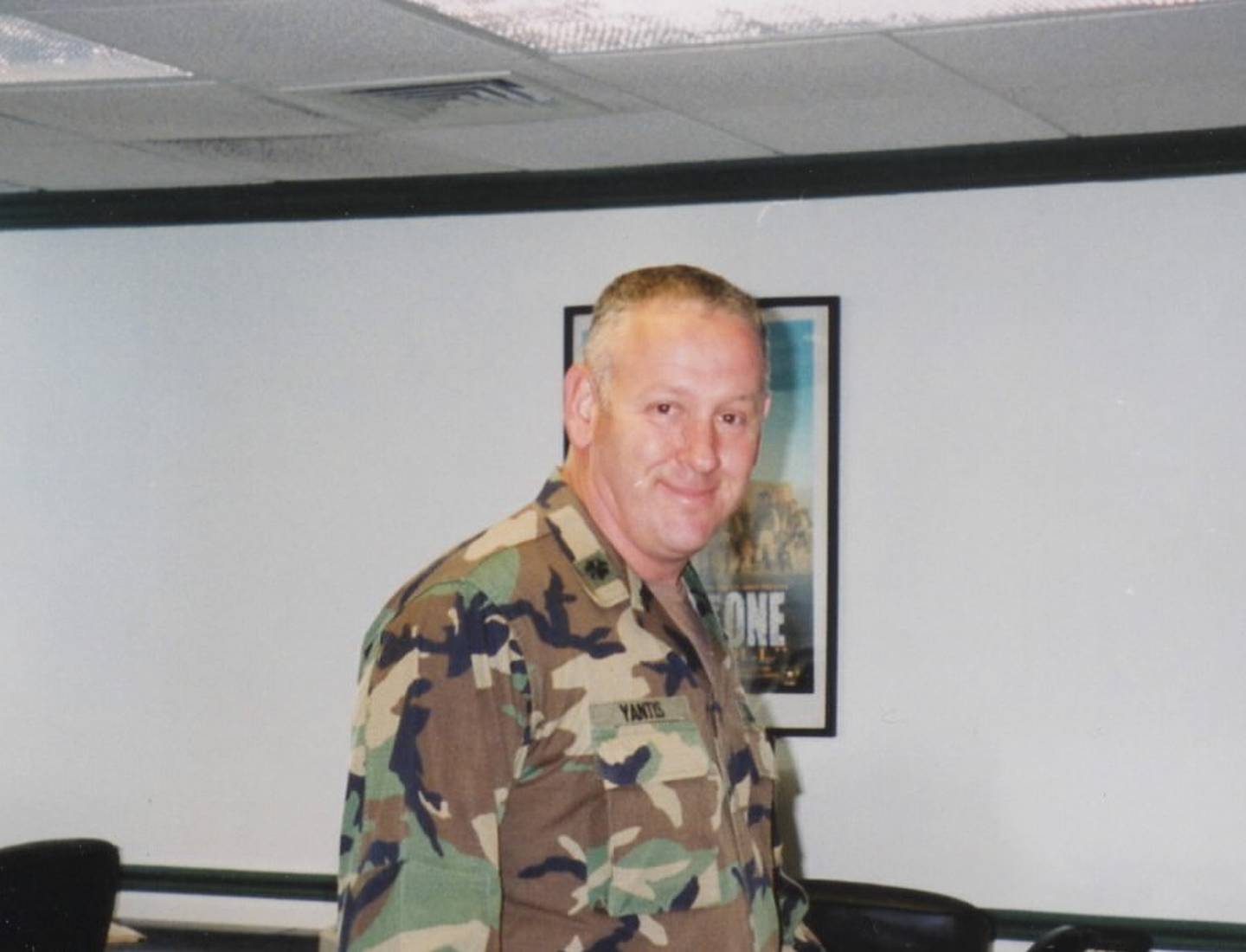 "Talking to kids, I realized there is a finite number of Pentagon survivors," Yantis said, saying about 20,000 people survived the Pentagon attack.
While so much has changed in the two decades since 9/11, Yantis said there are some notable parallels with today's current events: The country is divided over an election like it was in 2000 and worried about the rise of the Taliban in Afghanistan. While division and worry existed prior 9/11, like Wiegel, Yantis thinks Americans need to remember the good things that happened on 9/11 and in the days that followed.
"It was a scary, hot, nasty day. I saw things that wake me up at night. But I also saw that when things were going bad, good people, men and women, all backgrounds, all races, were stepping forward and helping other people, whether it was people they knew or strangers," Yantis said.
"We need to remember what the unity was like after 9/11. We need to focus on the good."