Sweeping changes to the village of Lakewood administration were among the first actions taken by newly elected village president Dave Stavropoulos.
Former village treasurer and former interim RedTail Golf Club manager Jean Heckman will take over as the village's top administrative official as Chief Administrative Officer Jeannine Smith's contract ended with the term of the previous village president and was not renewed.
Former Lakewood Police Chief Mike Roth, who resigned in July 2019, will return to his previous position, and Jeanette LoBosco, who previously served as the police department's records administrator, now will serve as village clerk while Steve Aronson will be treasurer. Also approved at Thursday's meeting was a new law firm for the village, Ancel Glink.
"I think that the village was really looking for change," Stavropoulos said following the Thursday appointments. "I think that was evident in the vote count. The vote was just as much a vote for me as it was a vote for change. And so I think in the spirit of working with the village and recognizing that, I really had to make the change across the board."
Stephan and Smith had been at the center of allegations last summer that Village Hall had a hostile and toxic work environment. Stephan has denied these claims and attempts to reach Smith Friday were unsuccessful.
Heckman's appointment was approved in a 4-2 vote with Trustee Ryan Berman and Trustee Janet Barron voting no, and Aronson's passed in a 4-2 vote with Berman and Trustee Brian Augustine voting no. LoBosco as village clerk and Roth as the new police chief were given unanimous approval.
Berman and Augustine, whose seats were not up this election cycle, as well as Barron, who was appointed as Lakewood trustee by former president Stephan last week, expressed concern that they did not receive more notice about Stavropoulos' appointments. Augustine also questioned why more recruiting hadn't taken place.
"I am seeing this resume for the first time this morning," Augustine said. "I would have liked these on the agenda ... from the get-go. I would have really appreciated that. ... If we're talking about transparency, let's be super-duper transparent."
Stavropoulos said he is not aware of the village advertising for appointed positions in the past.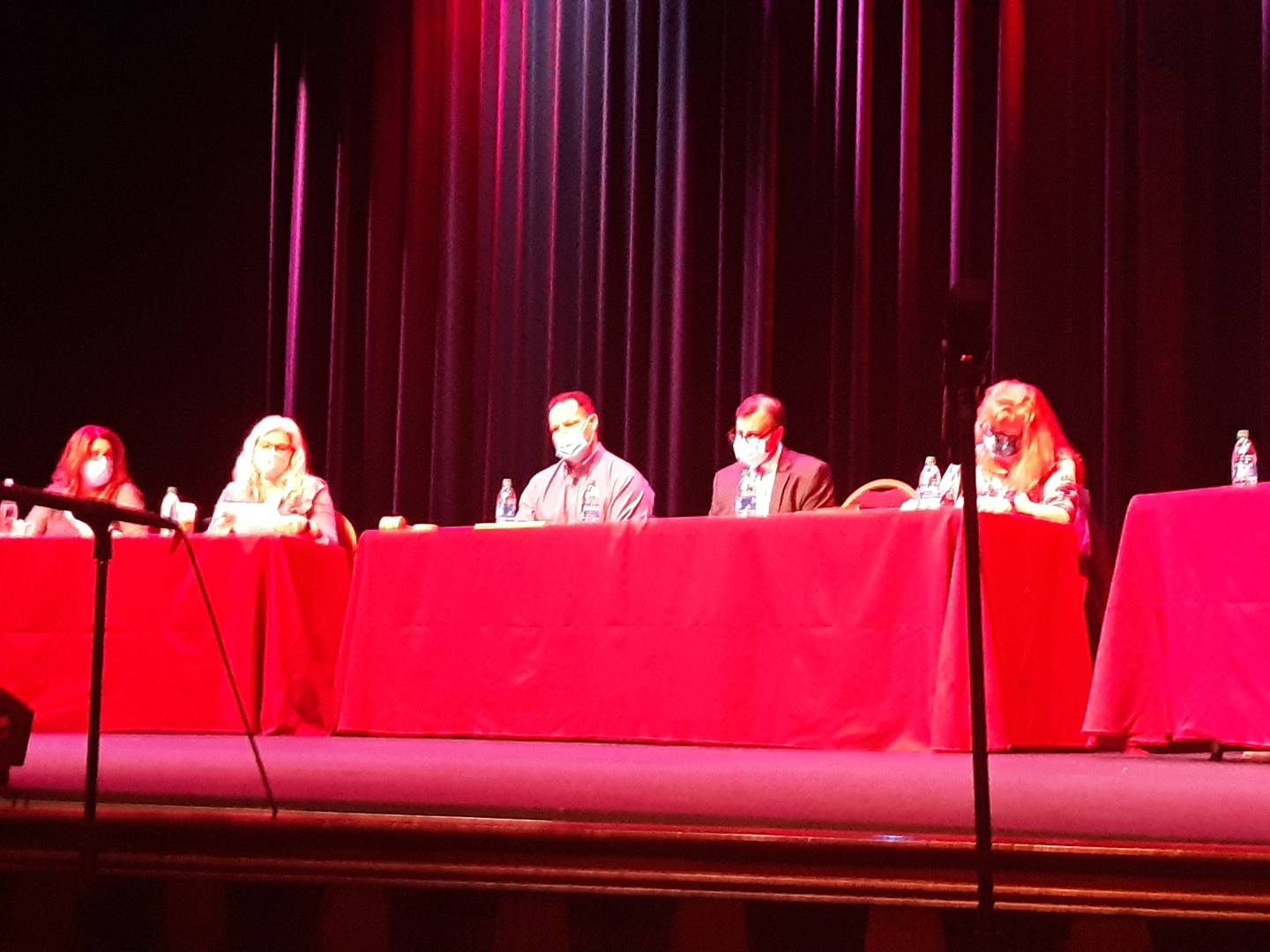 Stavropoulos replaced Village President Phil Stephan following the April 6 election, where three others on the same "United4Lakewood" slate won seats on the Lakewood Village Board. Those new trustees, Tricia Babischkin, April Runge and Michael Fischer, ousted incumbents Pamela Eddy and Dan Alexander.
Babischkin said as Stavropoulos and the other trustees had just been sworn in earlier in the week, it would have been inappropriate to publicly advertise for these appointments, as some of the positions were still filled by the previous officeholders at the time.
"I think that's a fair and reasonable concern," Babischkin said, adding that she understands and appreciates the desire for transparency. In the future, Babischkin said, this is not the way she wants to see appointments happen, but in this case, time was of the essence.
Despite last year's tensions, village officials Thursday expressed a desire to move forward in a more collaborative, positive spirit.
Stavropoulos said he does not want to see any "unneeded and unwanted antics, surprises, harassment or rumors."
"We are an engaged, sophisticated, educated and friendly community," he said.
In addition to a new face in the top administrative position, Stavropoulos said he also hopes to change the way the job is set up.
Currently, the position is titled chief administrative officer, but the new village president wants to change the job description and change the title to village manager.
"We're still defining that," Stavropoulos said. "We felt that village manager was appropriate for a village of our size and responsibilities that Jean Heckman is going to have."
Stavropoulos said he plans on reporting on the more defined roles and responsibilities to trustees at a meeting in the next couple of weeks.
Heckman, calling the village hall and RedTail employees a "great team," said she is on board with the new village president's plans for the village.
"Strategic planning, strategic budgeting is something that we really want to work towards," Heckman said. "We are already looking at all grants possible and want to start going through and getting as much funding as we can. ... We want to examine areas that we've never looked at before."
While some of the appointments drew concerns and opposition, Roth's appointment was unanimously well-received by all trustees and residents attending the meeting.
Augustine called it the "single best news" he's heard come out of the village of Lakewood in the last year, and Berman said Stavropoulos made a solid choice.
Stavropoulos said Roth is a textbook definition of selfless governance and someone who puts other's safety and concerns above his own.
"This village would be blessed and honored to have him as our police chief," Stavropoulos said.