Front-line health care workers received their first doses of the COVID-19 vaccine at hospitals across McHenry County Tuesday, the day after the county received its first shipment of the Moderna vaccine.
While the poke of the needle felt like any other vaccine, Tuesday morning represented a release of a monthslong "build up of emotions," said Dr. Irfan Hafiz, infectious disease specialist and chief medical officer for Northwestern Medicine hospitals in Huntley, McHenry and Woodstock.
"It really didn't hurt at all. No pain, no stinging, barely even felt it, and we're done," Hafiz said. "The actual moment itself was sort of anti-climactic compared to all the excitement that we had around it."
The state's first vaccine shipment was allocated to counties with higher COVID-19 infection rates per capita, which did not include McHenry County. For this reason, Northwestern Medicine hospitals in the county, as well as local Mercyhealth hospitals and some long-term care facilities, did not begin vaccinating their staff until Tuesday after the county received 4,000 doses of the Moderna vaccine from the state.
Northwestern Medicine Woodstock Hospital was able to provide some vaccinations Monday afternoon, according to a spokesperson for the hospital.
Mercyhealth's Harvard hospital began administering the 300 vaccine doses provided to them in this first round at 6:30 a.m. Tuesday, according to a news release from the hospital. The first employee to receive the vaccine was Penny Goad, a social worker at Mercyhealth Care Center in Harvard.
"Today is a great day for our employees in McHenry County," Don Janczak, system director of pharmacy at Mercyhealth, said in the release.
Mercyhealth provided vaccines to more than 50 people on Tuesday including front-line workers as well as a number of patients in the Mercyhealth Care Center's long-term care facility, who are also eligible for the first round of vaccinations, a Mercyhealth spokeswoman said in an emailed statement.
Hafiz had his long-awaited vaccination appointment at 10:30 a.m. Tuesday. He received his vaccine at Northwestern Medicine Huntley Hospital, where vaccination stations were set up in common areas and meeting rooms to accommodate as many employees as possible, he said.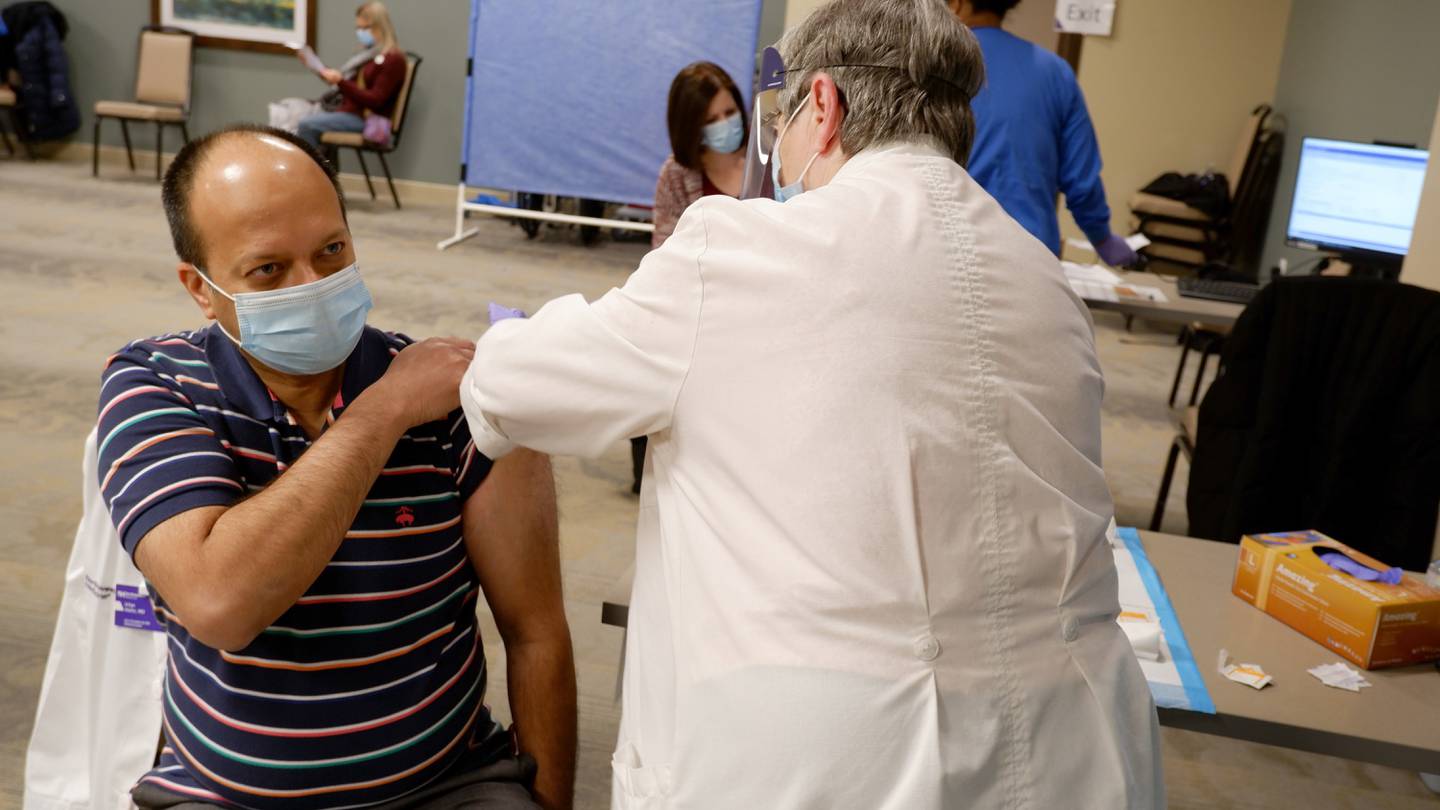 For Hafiz, the day felt "historic" and "humbling" in light of all of the hard work and innovation that led to the vaccine being developed so quickly, he said. There was a palpable "buzz in the air" as Hafiz celebrated his immunization by taking "selfies" with his colleagues.
His team had been through what felt like a lifetime of tension and exhaustion as the COVID-19-related hospital admissions kept rolling in, Hafiz said. They had really needed a win.
"There's been so much misery, anxiety, fear this last year," Hafiz said. "It's been a lot of bad news. But this is like the first big good news that has come out of this and there is hope that we can turn this around."
"Everyone came together when we had the high volumes and did the right thing, took care of our patients the way we needed to, but now we're getting together with a different mission in mind: to get vaccinated," he said.
Hospitals in other counties, including Lake and DuPage, started vaccinating their front-line workers about two weeks ago when they received their allocations of the state's first shipment of the Pfizer vaccine. This was the case for Advocate Good Shepherd Hospital in Barrington, which began vaccinating its staff on Dec. 17, according to a spokesperson.
As of Dec. 28, Advocate Aurora Health had given out the first dose of COVID-19 vaccine to more than 18,500 employees across its network of hospitals in Illinois and Wisconsin, according to a statement sent Tuesday.
"We continue to encourage our team members to get the vaccine when it's available to them, as we believe in its safety and effectiveness in preventing COVID-19 and helping to bring an end to this pandemic," according to the statement.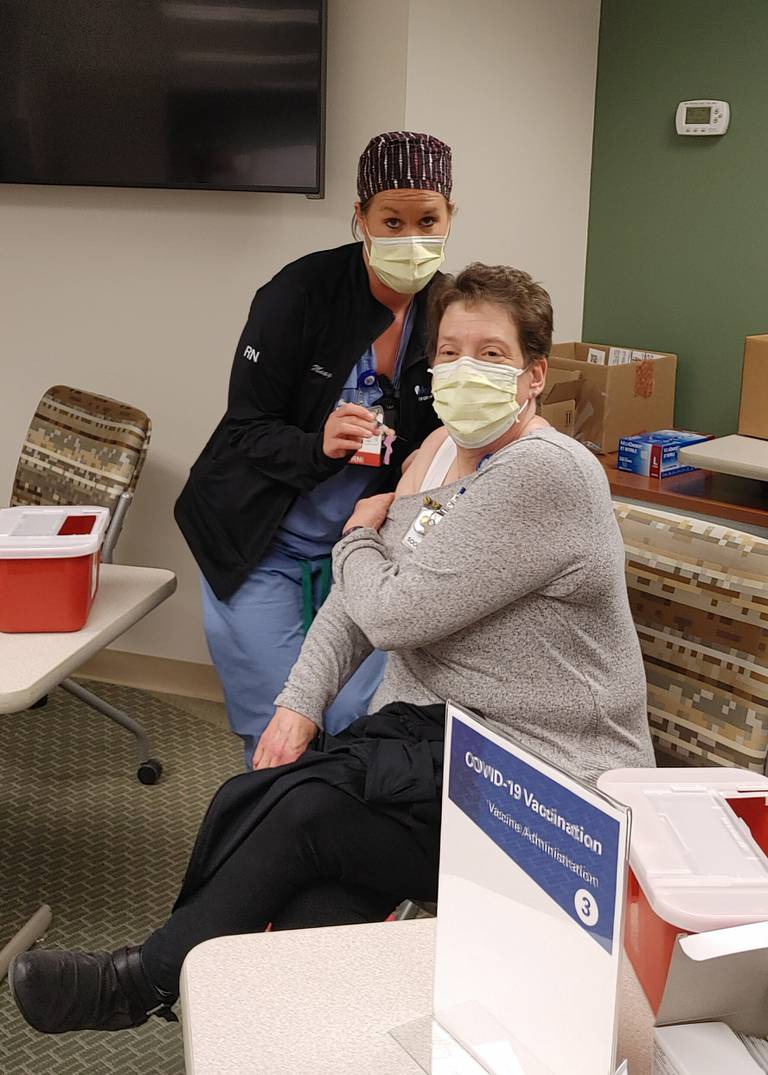 The other groups eligible to receive the vaccine in this first shipment of doses to McHenry County are the staff and residents of local long-term care facilities, according to a McHenry County Department of Health news release Monday. This is outlined in Phase 1a of the Centers for Disease Control and Prevention vaccine prioritization recommendations, which the county will be following.
Long-term care facilities were given the option to work with pharmacies such as CVS or Walgreens to provide doses of the COVID-19 vaccine to staff and residents or to get doses directly from the health department.
Only three facilities in McHenry County chose to get their doses from the health department and administer them using their own team of nurses, health department spokeswoman Lindsey Salvatelli said Tuesday.
These three facilities are Melody Living Lake in the Hills, Pioneer Center in Woodstock and Clearbrook in Crystal Lake, Salvatelli said.
Many members of the general public will need to be patient as the vaccine likely will not be available to them until the summer months once essential workers and high-risk populations have been immunized, Hafiz said.
Jewel Osco recently put out a statement saying that it expects to offer the COVID-19 vaccine at all of its pharmacy locations "when it is more broadly available."
Hafiz encouraged anyone who might be nervous about getting vaccinated for COVID-19 to learn more about the two approved vaccines and how they were developed by consulting trustworthy sources such as the Illinois Department of Public Health.