Several McHenry County Democratic precinct leaders criticized new precinct maps proposed by the McHenry County Clerk's Office, arguing they were full of mistakes and the process lacked transparency.
McHenry County Clerk Joe Tirio, a Republican, unveiled maps last Thursday at the County Board's Committee of the Whole that redraw voting precincts throughout the county in response to changes to legislative and County Board district boundaries.
After a weekend of review, several County Board members as well as other Democratic leaders in the county said more time was needed to fix problems.
"These proposed changes were never mentioned in any previous reports to the Board nor appeared on any previous agendas nor have been brought forward before any committee, which means you, the Board, or the public, or other stakeholders has not had time to give any input," Democratic Party of McHenry County Chair Kristina Zahorik said at Tuesday's County Board meeting.
The reason the County Board is seeing the maps this month, Tirio said, is because a state election bill that includes requirements for drawing the precincts was signed into law in mid-November. He said the law requires precinct maps to be approved by Jan. 14, the day after people running for office are allowed to begin collecting signatures to get on the 2022 ballot.
"I would've loved a lot of extra time," Tirio told the County Board Tuesday. "The issue is whatever decision we make today, there is still a herculean effort to go back and now we're going to have to reapply to all these addresses to new districts."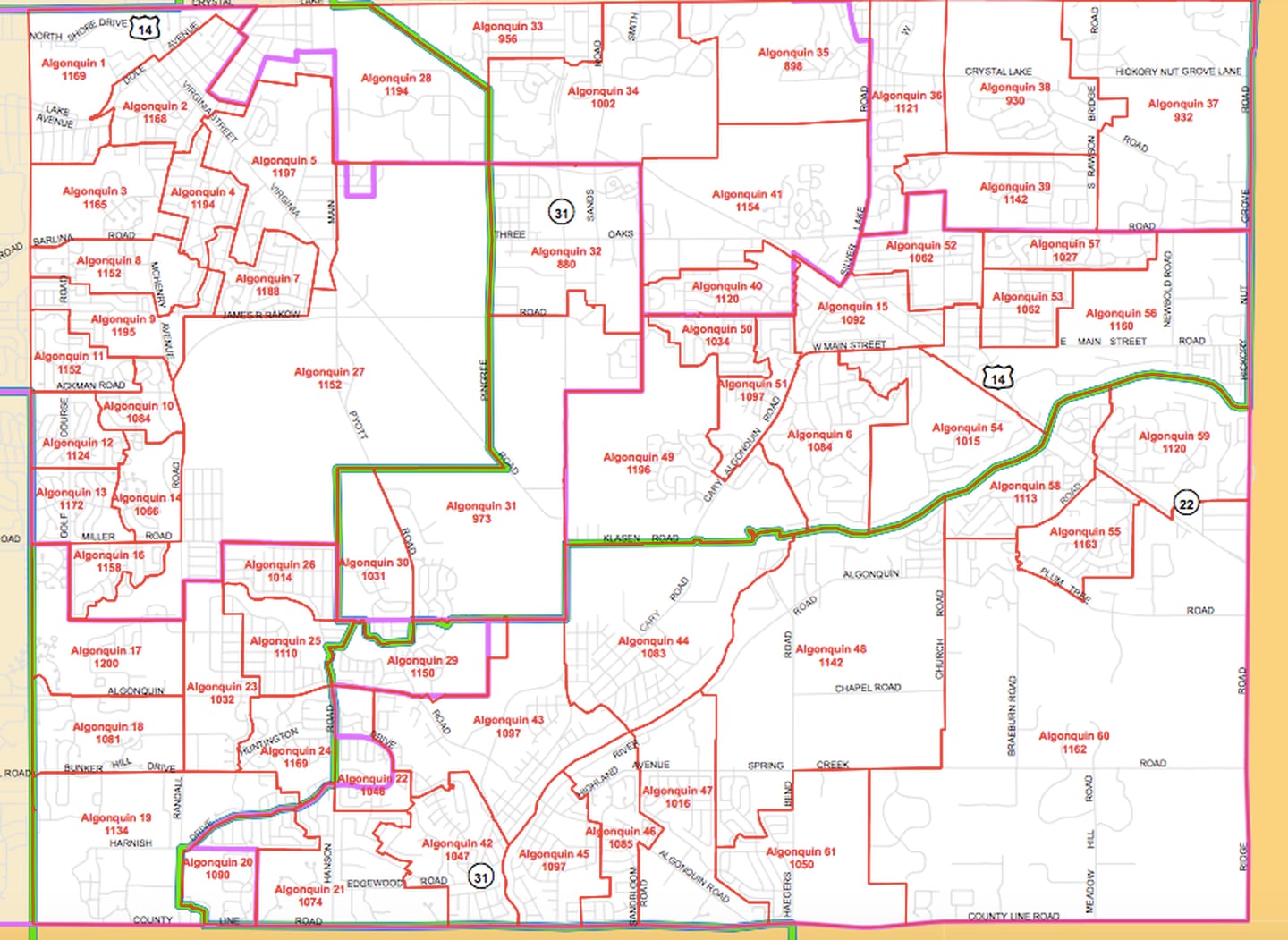 He said the map proposal, which was drawn by geographic information system staff at the county, was "the best we could do" to get a proposal in front of the board this month.
Democratic leaders pushed back and said the map had too many issues that need to be addressed.
Cathy Johnson, the chairwoman for Democratic Party of McHenry County District 6, called the maps as "un-transparent and unethical." She cited numerous issues in the map she saw, which she said divided neighborhoods and would cause confusion for voters.
In one example, she argued changing the precinct number of the precinct that covers the Del Webb neighborhood in Huntley would cause confusion for older residents who already had established voting routines.
"If it was a mistake, you haven't given us time to find these flaws and get them fixed," Johnson said.
For voters, precincts indicate where a person goes to vote on Election Day. Staff from the clerk's office said Tuesday the precincts are supposed to stay within the boundaries of County Board and state legislative districts and contain between 800 and 1,200 voters.
The proposal also increases the number of precincts in McHenry County to 217 from 212 in response to population changes.
"The new boundaries have many incidents of cutting along parcels instead of along streets. How do you explain to a voter where the precinct ends when it's in a neighbor's yard?" said Ruth Scifo, Democratic precinct committee person for Algonquin 50.
In response to the concerns Democratic leaders expressed during the public comment period, the County Board decided to postpone a vote on the map proposal to a special meeting on Jan. 12.
"Unfortunately, this new map has some obvious weaknesses that should be addressed," said board member Paula Yensen, D-Lake in the Hills. "This is not a partisan issue. The problems I've seen in this map will be just as troubling for Republicans as Democrats. Precincts should be drawn to protect neighborhoods."
Board member Joe Gottemoller, R-Crystal Lake, said he was initially in support of the maps coming to the meeting, but changed his mind. He said some precincts in Nunda Township cross into multiple County Board districts.
Tirio warned pushing off approval of the maps to January may cause problems for candidates.
"That's going to make it probably impossible to have that data ready for petition passing," Tirio said.
Board member Kelli Wegener pushed back arguing candidates know the general boundaries of their districts and can still work with those, even if precinct data hasn't been updated by the clerk's office.