A McHenry County judge on Tuesday set bond at $500,000 for a Zion man charged with attempted murder in connection with an exchange of gunfire that happened Sunday at a McHenry intersection and remains under investigation.
Dante L. Terrell Jr., 29, of the 2300 block of Joppa Avenue, is charged with attempted murder, aggravated discharge of a firearm, unlawful possession of a firearm and aggravated unlawful use of a weapon.
If convicted of the most serious charge, attempted murder, Terrell would not be eligible for probation and would need to serve at least 85% of his prison sentence, in accordance with Illinois truth-in-sentencing rules.
McHenry County Judge Tiffany Davis appointed an attorney from the McHenry County Public Defender's Office to represent Terrell on bond matters.
Prosecutors in court Tuesday alleged that Terrell was in the area of Route 31 and Bull Valley Road in McHenry on his way from a football game when another vehicle approached the intersection. Terrell and people in the other vehicle "began shooting at each other," but no one was injured, an attorney from the McHenry County State's Attorney's Office said in court.
Terrell is accused of firing a 9 mm pistol with the intent of killing two men, according to a criminal complaint filed Tuesday in McHenry County court. He also is accused of possessing the weapon while on Prairie Ridge High School property earlier in the day, according to the criminal complaint.
Reached by email Tuesday, Crystal Lake-based Community High School District 155 spokeswoman Shannon Podzimek was unaware of the allegation.
Prosecutors with the McHenry County State's Attorney's Office did not allege that Terrell showed or used the weapon on school property. Officials filed the single count of possession of a firearm at the same time Terrell was charged in connection with the shooting.
[ Zion man charged with attempted murder in connection with Sunday's McHenry intersection shooting ]
The occupants of the other vehicle had interacted with Terrell earlier at a gas station, prosecutors said. The details of that exchange, however, were not immediately clear.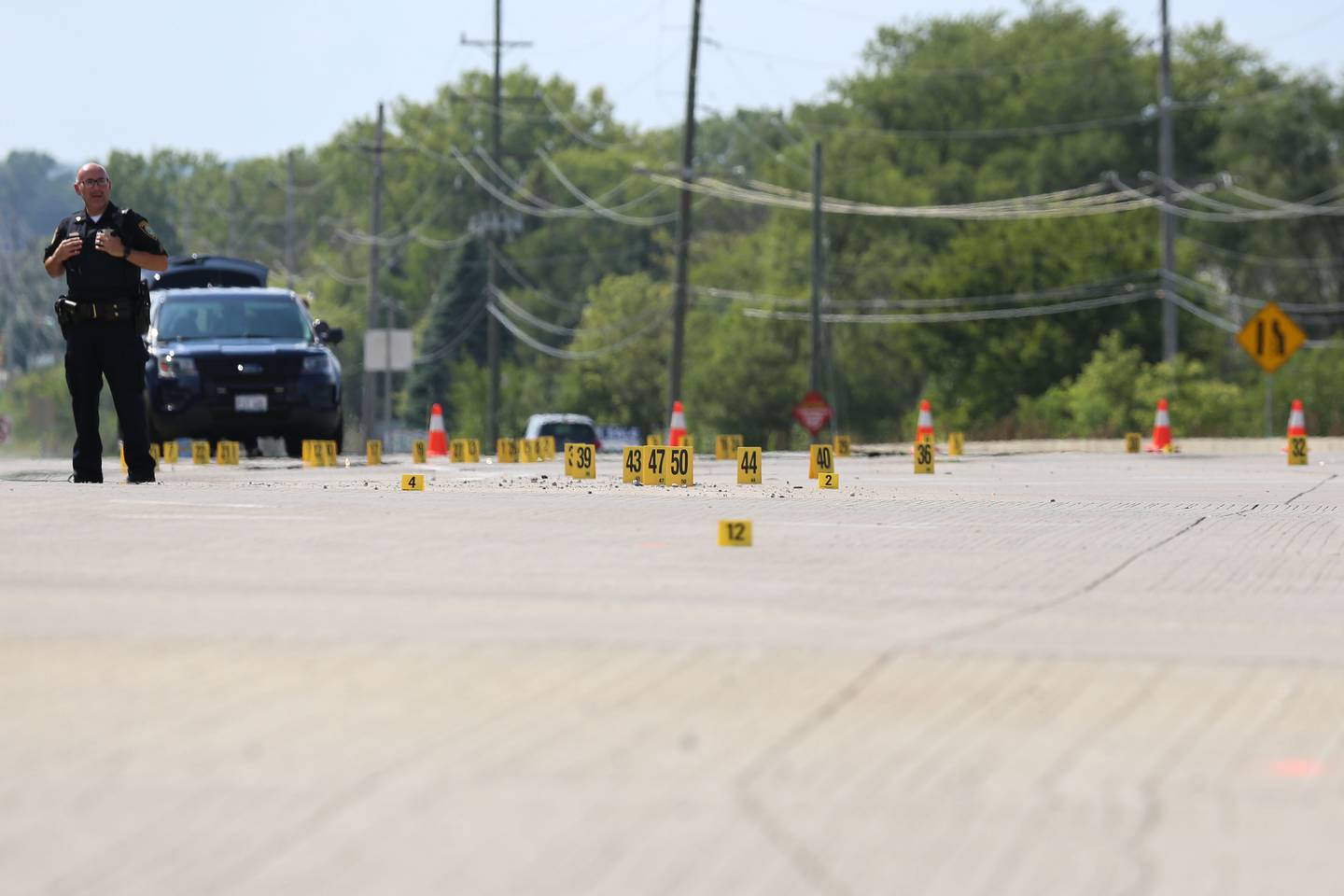 A preliminary investigation determined two vehicles – a red Jeep Compass and a silver Nissan Maxima – were involved in the shooting, which was reported about 1:25 p.m. Sunday.
Gunfire, however, did strike a third vehicle uninvolved in the shooting that was stopped at the intersection without hurting its occupant, McHenry police spokesman officer Michael Spohn said. A bullet was found on the seat of the uninvolved vehicle, prosecutors said.
It was unclear Tuesday how many people might have been involved in the shooting incident or whether additional arrests are expected in the near future.
McHenry police are "aggressively pursuing" other people they think also were involved in the shooting, which left more than 50 shell casings at the scene, according to the McHenry Police Department release.
At the time of his arrest, Terrell wanted on a separate arrest warrant from on an aggravated unlawful use of a weapon charge out of Lake County, according to a news release.
Terrell remained at the McHenry County Jail Tuesday. He would need to post $500,000 bail to secure his release.