Richmond-Burton senior Eleni Gewalt ended her high school career in style, collecting two more state medals and recording one of the fastest swims at Saturday's IHSA Girls Swimming and Diving State Meet finals at the FMC Natatorium in Westmont.
And Cary-Grove sophomore Maggie Bendell did something no one at her school has ever done: win a state medal in diving.
Gewalt finished seventh in the 100-yard breaststroke and 12th in the 100 free, although her time in the 100 breaststroke was third-fastest among all swimmers on Saturday.
Because Gewalt was competing in the "B" finals, which includes swimmers who placed between seventh and 12th in Friday's preliminaries, she was unable to place any higher than seventh.
Gewalt had the eighth-fastest time in the 100 breaststroke on Friday and moved up one spot to take seventh. She stayed 12th in the 100 free and now has three state medals in three seasons and the distinction of being the only Rockets swimmer – girls or boys – to win a state medal.
"My 100 free wasn't great this morning, so I wanted to turn it around with my breaststroke," Gewalt said. "My goal was to get third in the 100 breaststroke, so it was a little deflating that I couldn't get better than seventh today."
"But I was still pretty happy to make it [to the finals] in both. I feel like it's been a really fun and cool experience."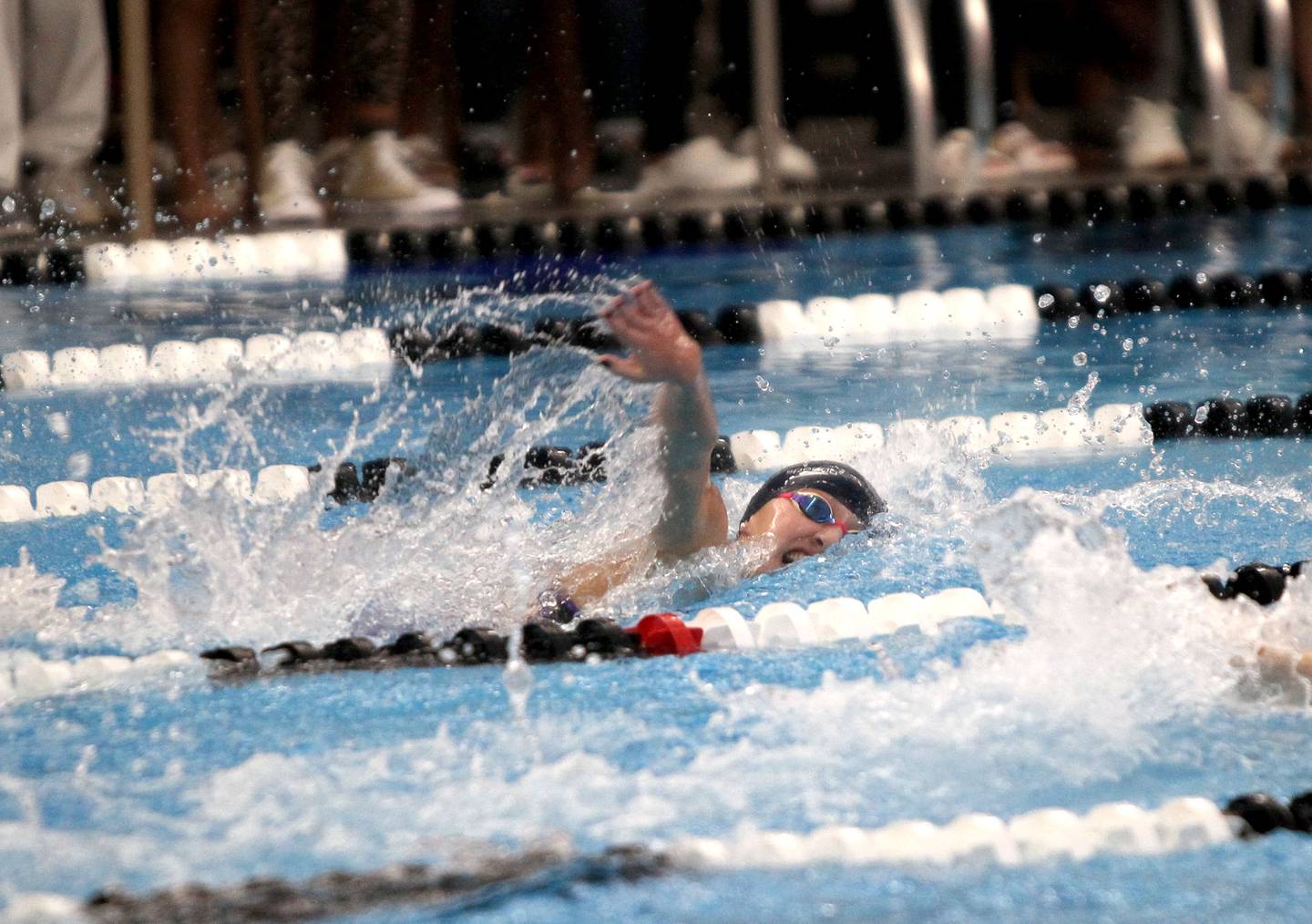 Gewalt went to state two years ago and took fifth in the 100 breaststroke. She became the first swimmer from R-B to qualify for state in 2018 when she was a freshman. There was no state meet a year ago because of the COVID-19 pandemic, but she would have qualified if one was held.
Her time of 1:03.17 in the 100 breaststroke on Saturday trailed only New Triers' Kaelyn Gridley (1:00.13) and Hersey's Maggie Papanicholas (1:01.48), who both competed in the "A" finals.
The Rockets do not have a girls swimming team, but individual swimmers from any school can still compete in the postseason. Gewalt, who will swim next year at Arizona, hopes more swimmers start to come through R-B.
"I wanted to show people that, even if you don't have a team at a school, you can still go out and get it done," Gewalt said. "For any swimmers at R-B or other schools, you can still do what you love and just have fun with it."
Caitlin Pitchford, a former swimmer and swim coach, stepped in to be Gewalt's coach at R-B in 2018 and 2019, when the teacher noticed Gewalt carrying around a swim bag instead of a regular back pack. Kaycee Kaywood was Gewalt's coach this year and accompanied her to state.
Gewalt said both Pitchford and Kaywood have been her biggest cheerleaders.
"The school really does support you in everything you do," Gewalt said. "I give so much credit to my school for supporting me. They really make an effort. I'm super grateful that two teachers gave up two weekends for me."
Bendell became the first diver from Cary-Grove to qualify for state last weekend.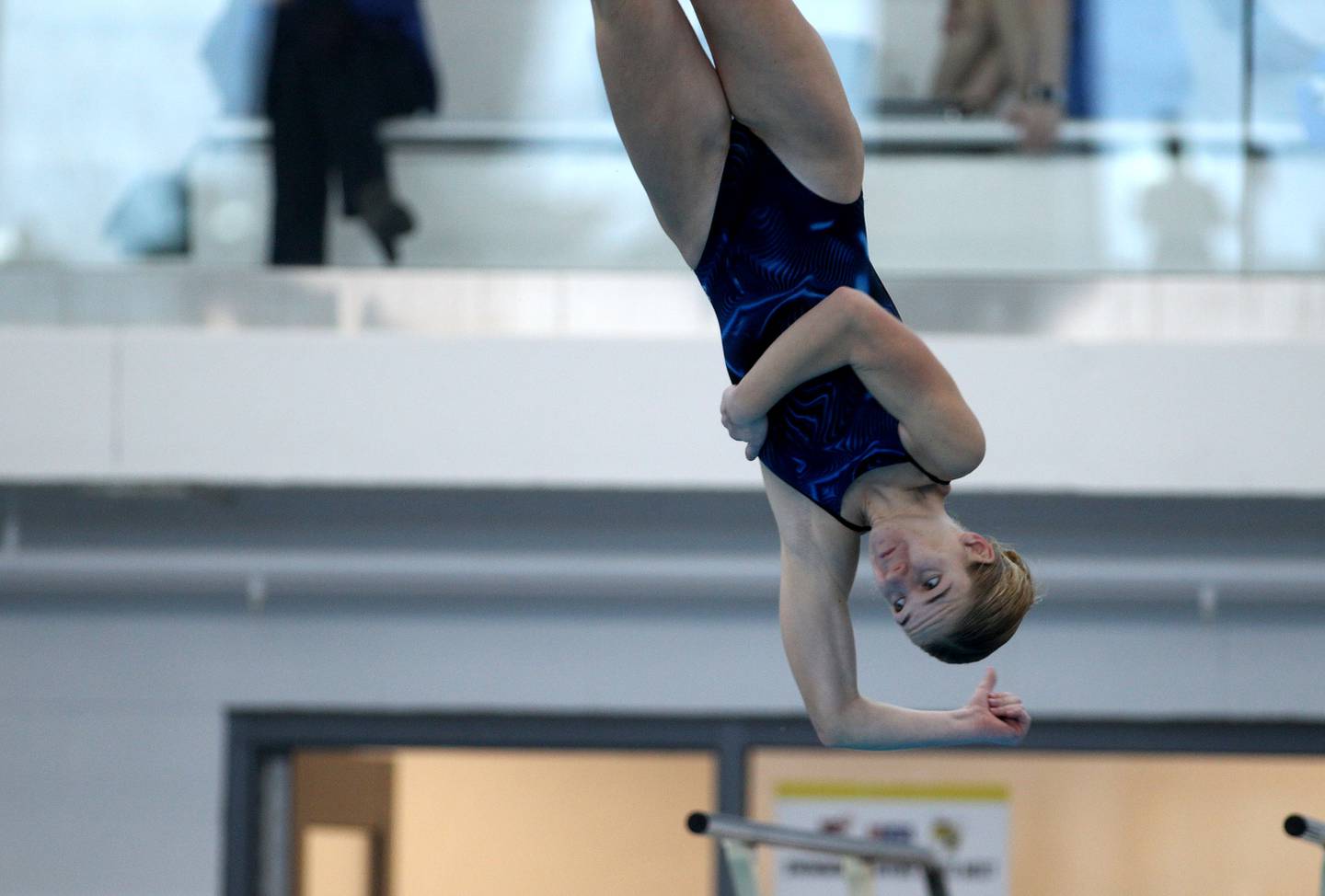 She went one step further on Friday, grabbing one of 12 spots for the diving finals. The Trojans sophomore finished seventh after her three final dives on Saturday with a score of 434.95, only 1.1 points behind sixth-place finisher Taylor Cekay of Lake Forest (436.05).
Bendell is the first C-G swimmer to win a medal in 16 years. Kate Aherne in 2005 was the last, according to records on IHSA.org.
Hersey's Allyson Blumenfeld won the state diving championship with a score of 471, followed by Lincoln-Way East's Kate Mitchell (461.10).