Terri Nietzel entered her daughter in swim lessons as a precautionary measure more than anything else.
For Makayla Nietzel, however, the lessons quickly morphed from learning experience to a passion.
Nietzel, a competitive swimmer from Crystal Lake who is legally blind, next month will head to the Paralympic Games in Tokyo, where she will compete in the 100 butterfly on August 25 and the 400 freestyle on August 27.
"My mom and I were driving home because there was an emergency with my dog, and we had a team [call] to tell us who made it to games," Nietzel said. "They said my name and my mom and I just started bawling our eyes out in the car."
Nietzel was born with a visual impairment called albinism, a genetic condition that reduces the amount of melanin pigment formed in skin, hair and eyes, leading to vision problems. She also has Asperger's syndrome, the highest-functioning form of autism. She has adapted to her impairment over the years, but still struggles to identify people and locations.
Nietzel, a 2021 Prairie Ridge High School graduate, was a back-to-back state champion for the Crystal Lake Central co-op team in four events during her sophomore and junior years. In 2019, when she defended her 2018 titles, she broke her own state records in the 100 breaststroke and 100 free. She also holds state records in the 50 free and 200 free. Nietzel was unable to defend her titles and records in 2020 as the state meet wasn't held because of the COVID-19 pandemic.
Additionally, in 2018, Nietzel began swimming against international competition with the goal of qualifying for the 2020 Paralympics.
[ Related: Crystal Lake Central co-op's Nietzel swimming on international level ]
This summer, she competed at the Paralympics Trials in Minneapolis and achieved her dream.
"I was definitely surprised," Nietzel said. "Competing at that kind of level is something I never would've believed I could do."
Nietzel began swim lessons as a child because of her mother's concern for potential dangerous situations. She quickly fell in love with the sport and began swimming competitively when she was in middle school.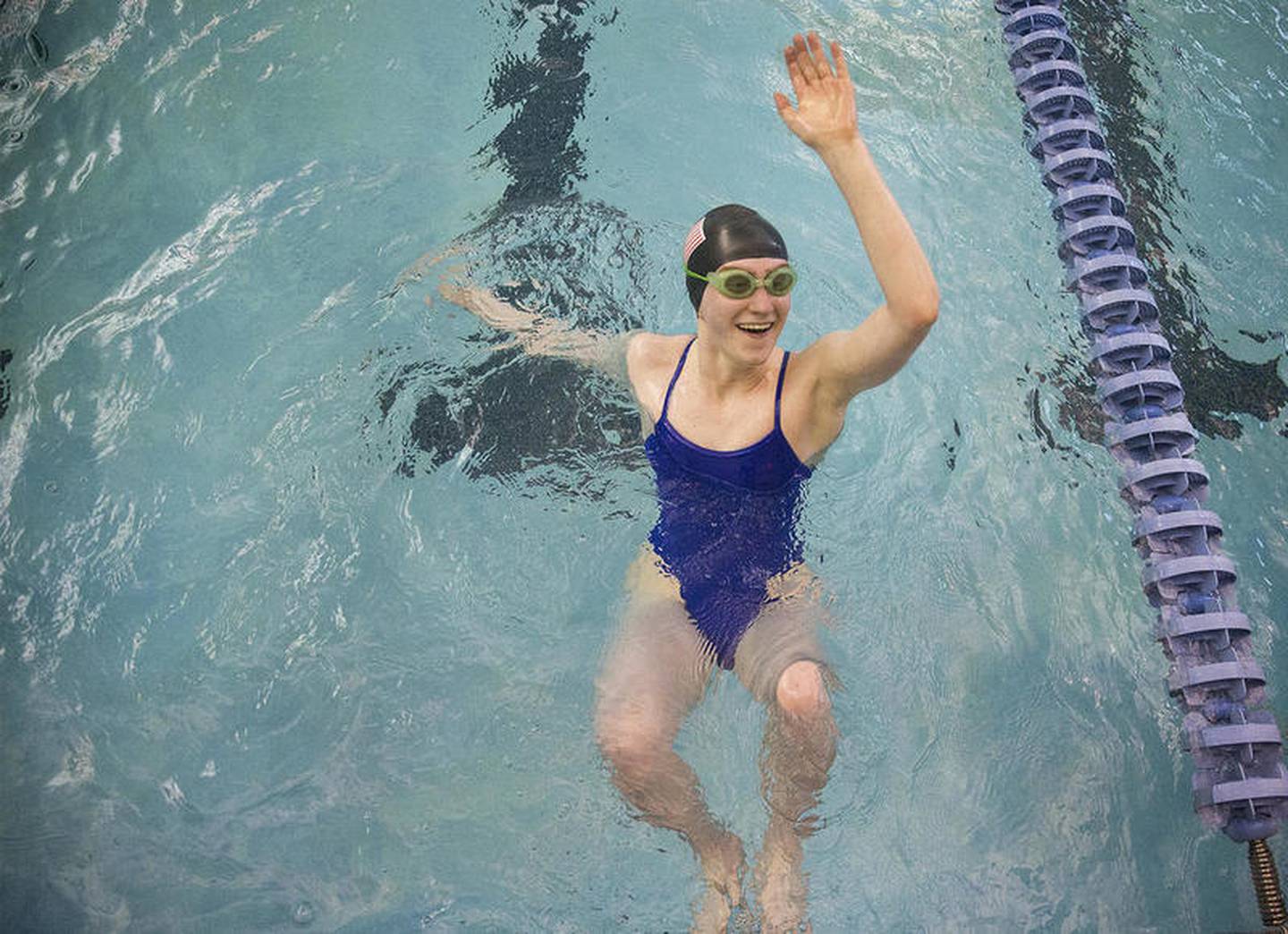 For the past two years, Nietzel has been training with head coach Vlad Pyshnenko as part of the Cats Aquatic Team based in Liberytville and Vernon Hills. Pyshnenko competed in the 1992 Olympic Games in Barcelona for a Unified Team, made up of athletes from the former Soviet Union, and received a gold and two silver medals. He also competed in the 1996 Olympics for the Russian National Team in the 400 free relay and received a silver medal.
"Makayla is one of the really dedicated swimmers to the sport," Pyshnenko said. "When I had a conversation with her and her mom before they moved into our club, I thought it was going to be a lot harder. She can't see things that are written on the board. When we do a regular interval, it's easy for her, but when we do an interval with a 15 second rest, you have to be specific with her. You can't just rely on her to look at the clock because she is not going to be able to do it."
For scoring at the Paralympics, judges separate the athletes by classes: S1-S10 are physical disabilities, S11-S13 are visual (Makayla is S13), and S14s are mental disabilities. Each class swims its given events for that classification and they compete just like every other meet – best time wins. Nietzel is ranked fifth in both of her events heading into the games and is hoping she can drop time and possibly medal.
"I want to swim a 1:04.5 in the 100 meter fly and a 4:39.3 in the 400 meter freestyle because those would be my personal bests and significant time drops that aren't unreasonable or unrealistic," Nietzel said.
Nietzel, who will attend Purdue University in the fall, is excited to compete at a high level and travel to Tokyo, but nervous to be so far from home, especially without her loved ones.
"It feels really weird not being able to have fans cheering us on in person," Nietzel said. "It felt super weird at trials and I know it's going to feel awkward at the Games. As for family not being able to come with, it's frightening. This will be the longest and farthest I've ever been from home without family being there, too. I'll be gone for three to four weeks."
Pyshnenko also is unable to travel to Tokyo with her, but he is confident in the U.S. National Team coaches and Nietzel.
"She has already met all of them from Paralympic pre-meets, which is really good," Pyshnenko said. "I am in contact with them with Zoom meetings, and I'm going to send workouts to Makayla for what she will have to do every day. She's responding; she's really positive; she's serious in the water, but shares a lot of giggles and stuff. I'm excited to watch her compete."