HUNTLEY – Stevenson and Barrington have squared off in sectionals and the state finals for the past few years.
Last year at the state finals, Barrington edged the Patriots for the Class 2A state title.
Stevenson got a bit of revenge Monday at the Huntley Class 2A sectional at Pinecrest Golf Club in Huntley.
Stevenson took an early lead and beat the Fillies by 20 strokes to claim the sectional title.
Stevenson scored a 305, while Barrington finished with a 325. Warren was third with a 346 while Vernon Hills was fourth with a 352.
The top three teams advance to the state finals Friday and Saturday at Hickory Point Golf Course in Decatur.
"The girls made good shot selections today," said Stevenson coach Emma Degen, whose Patriots were state champs in 2019.
"This is a comparable team to the 2019 team. The depth that we have is great. If you look at our scores, it is never the same people in our top four."
Allyson Duan, who was tied for second overall, led the Patriots with a 74.
"I felt good the entire round," Said Dunn, who had 16 pars. "I came out here Saturday and practiced. It helped me to put myself in the best spots."
She got help from Sophia Joeng and Megan Lee, who were tied for fifth with a 76. Allie Santos was tied for ninth with a 79. Chelsea She had an 81 and Rylie Pryor had an 87.
Barrington was led by Simran Singh and Bridget Butler who each carded a 79. Leah Gaidos posted an 83, Sydney Terada had an 84, Kaitlyn Thomas an 88 and Synomi Gardi a 91.
"Our main goal today was to qualify for state," Barrington coach Tim Martin said. "We did that, so we are excited to be going back. We have great memories down there. We battled today. It was a tough day. They batted for 18 holes and got the job done."
Warren coach Leigh Ann Mondrawickas-Boucher has been the Blue Devils coach for 20 years. Her team's performance Monday earned her and Warren their first trip to the state finals.
"This is our first time and we are thrilled, " Mondrawickas-Boucher said. "We really pulled it together today."
Warren was led by Alaina Goeden, who shot an 80. Mia Cosnotti had an 85, Gracie Haupt an 86, Ally Badgley a 95, Sophia Pas a 99 and Josie Leibfried a 102.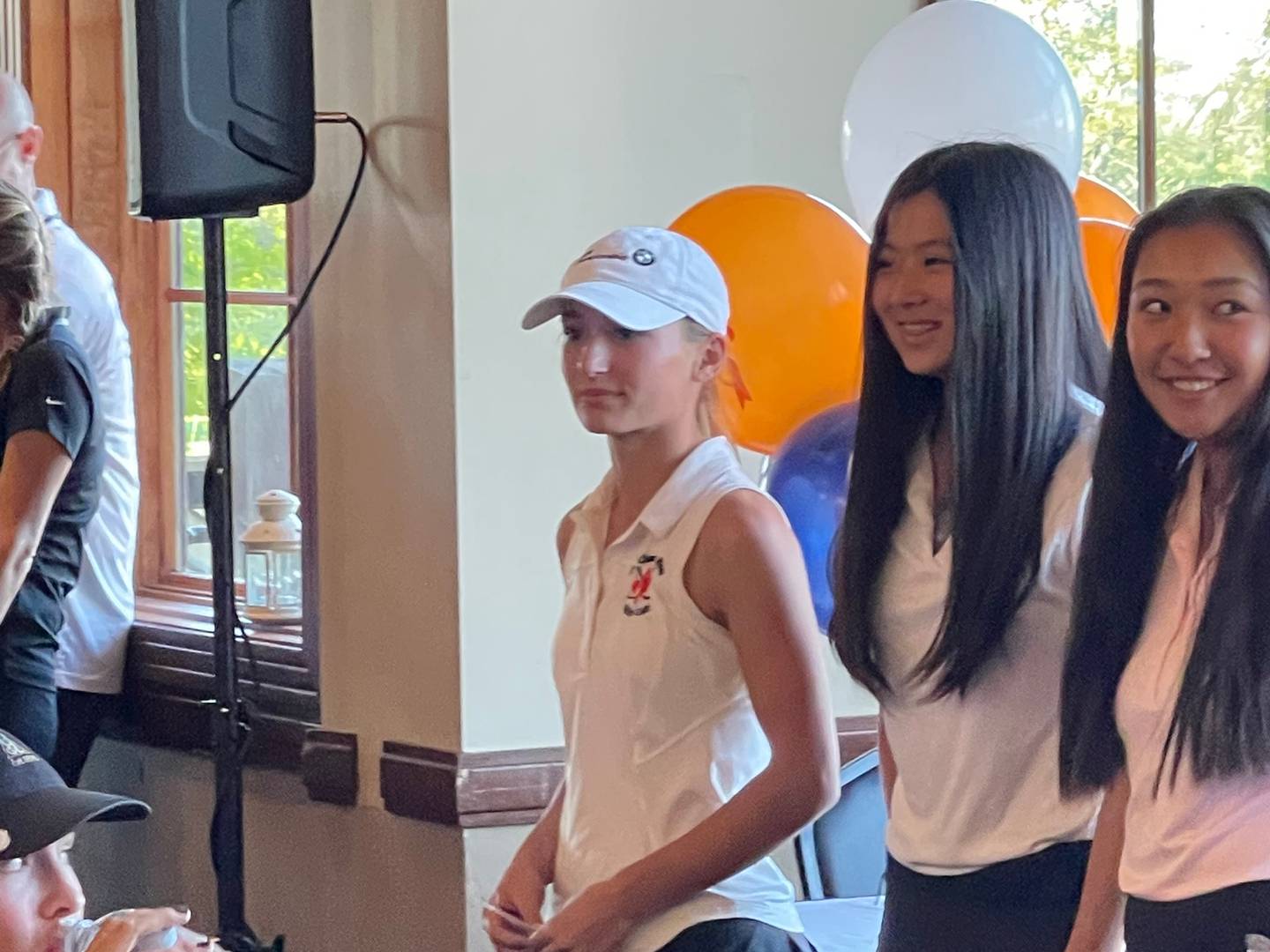 St. Charles East's Emily Charles was the medalist with an even par 72.
"I had no clue," Charles said. "My coach told me on the last hole. I thought he was joking. I had a lot of pars. I played a good round for me."
Charles along with Vernon Hills' Anna Lee, who shot a 74, and Lexi Schumann, who had a 75, advanced as at-large golfers. Sycamore's Brianna Chamoun and Crystal Lake Central co-op's Delaney Medlyn, who each shot a 79, also advanced.
Wauconda's Liv Romer and Deerfield's Amanda Adley each advanced by shooting 80. The final at-large qualifier was Buffalo Grove's Courtney Beerheide who carded an 82.