CRYSTAL LAKE – Cary-Grove came out firing in the second half, scoring on four of its first five offensive possessions and looking to grab momentum against Prairie Ridge after both teams struggled to find the basket in the game's first 16 minutes.
At that point, the Wolves were visibly frustrated.
"I was very frustrated. We weren't playing like ourselves. It was just not how we play," senior guard Karsen Karlblom said. "So we got more aggressive and we started fighting back. We bounced back really quickly."
Karlblom, who missed all six of her shots in the first half, and teammate Elani Nanos started to heat up. The senior guards each scored seven third-quarter points as the Wolves ended the quarter on an 11-0 run.
The Trojans cut the lead to two in the fourth, but Prairie Ridge made its free throws down the stretch and pulled away for a 37-29 victory in the teams' Fox Valley Conference game Wednesday.
The win extended the Wolves' area-best winning streak to 11 games, with their last loss Dec. 15. Prairie Ridge (18-3, 7-2 FVC) next plays FVC leader Huntley (11-4, 7-0), which defeated Crystal Lake Central, 51-47, at home Friday in another key matchup.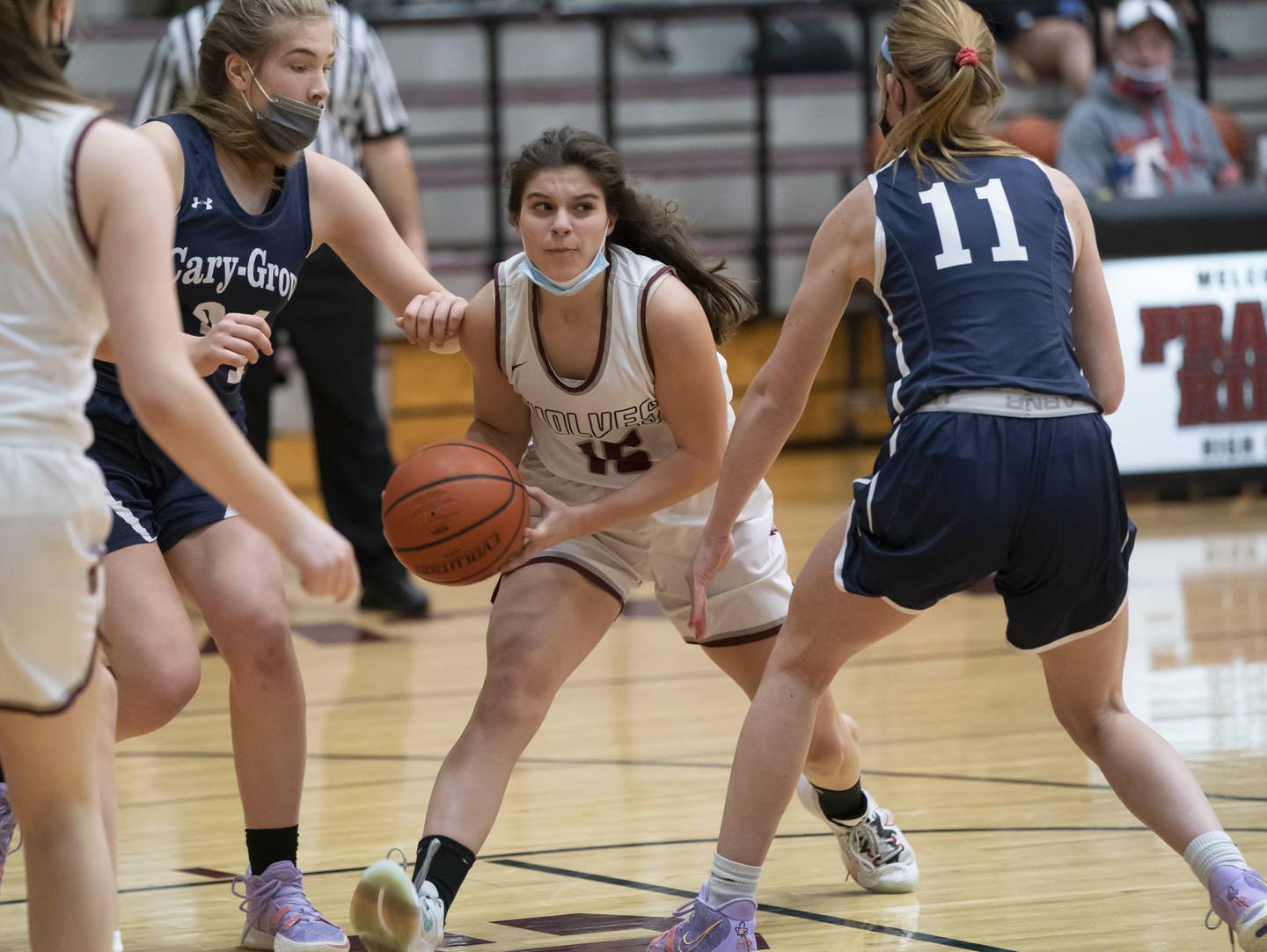 "That's what I've been most proud of this group the last couple of games," Prairie Ridge coach Tim Taege said. "It's not something we had in the past in this program where if we see a run from another team then we don't respond.
"I didn't like our body language. At that point [C-G] had all of the mojo, and everything was working in their favor. We looked deflated, but just a couple of stops and a couple of balls out ahead got us back and gave us our confidence back. It was a little bit of a switch defensively and just getting the ball in transition. That got everyone's confidence going."
After Prairie Ridge and C-G were tied at 12 at halftime, the Trojans (12-7, 5-4) opened the third quarter on an 8-0 run. Back-to-back 3-pointers by Emily Larry and Maddie Scharrenberg gave the them an 18-12 lead.
Emily Lukowski hit a long 2-point field goal out of a timeout to push it to 20-12 before Nanos answered with a 3 for Prairie Ridge. But another 3 from C-G, this time from Lukowski, extended the Trojans' lead to 23-15.
After another timeout, the Wolves responded with an 11-0 run and never trailed again.
Karlblom hit a 3, Nanos drove and scored on a layup and two free throws from Karlblom got the Wolves to within one of the Trojans. A bucket by Karlblom with 1:52 remaining in the third gave Prairie Ridge its first lead since the first half, and Nanos hit a bucket on a nice find from Karlblom, giving Prairie Ridge a 26-23 lead heading into the fourth.
Prairie Ridge held C-G scoreless on 11 straight possessions to end the third.
"We were really focusing on rebounding and defense," Nanos said. "We know that, for us, defense really affects our offense. We were just trying to get as many rebounds as we could. It's all about mindset and staying focused."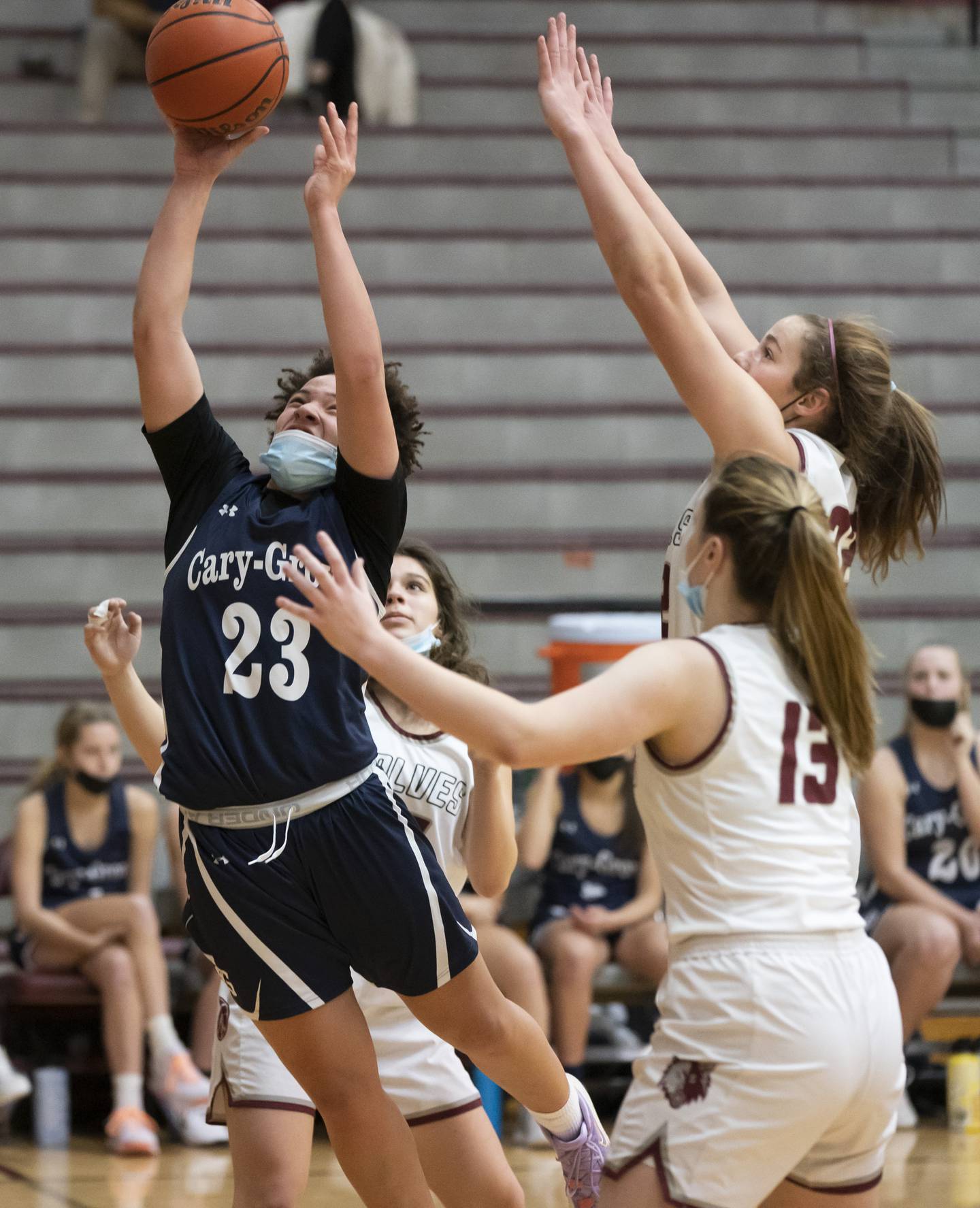 Nanos led the Wolves with 12 points and two 3s, Karblom had 11 points and was a perfect 6 of 6 from the free-throw line, and Kelly Gende added nine points and seven rebounds.
C-G coach Tony Moretti said his team struggled to match up against the Wolves' length.
"They are just so long, and it's like every kid is 6-foot," Moretti said. "Every kid's got their arms out, and we struggle a little depth-wise. We felt like we were in control of the game ... and we just didn't grab it. Those are the things you have to do. You've got to grab it when you have it and you have to finish games."
Scharrenberg led all scorers with 13 points and seven rebounds, Larry scored eight points, and Lukowski tossed in five. Annika Nordin pulled down 10 rebounds.