Whether it's on a tennis court, basketball court or soccer field, Cary-Grove senior Kate Larry always has her game face on.
"The best part about competing in sports is competing itself," the Trojans' three-sport athlete said. "I live for game days."
Larry did it all for C-G this past school year, scoring 13 goals with six assists for the Trojans' soccer team, which finished 11-3, had the Fox Valley Conference's best regular-season record at 8-1 and claimed a Class 3A regional championship.
Larry was the Trojans' defensive MVP in basketball and helped lead C-G to a third-place finish in the FVC, and she was a Northwest Herald All-Area first-team selection in tennis with doubles partner Katie Jannusch, placing second in No. 1 doubles at the FVC tournament and third at sectionals, which would have sent them to state in a normal year.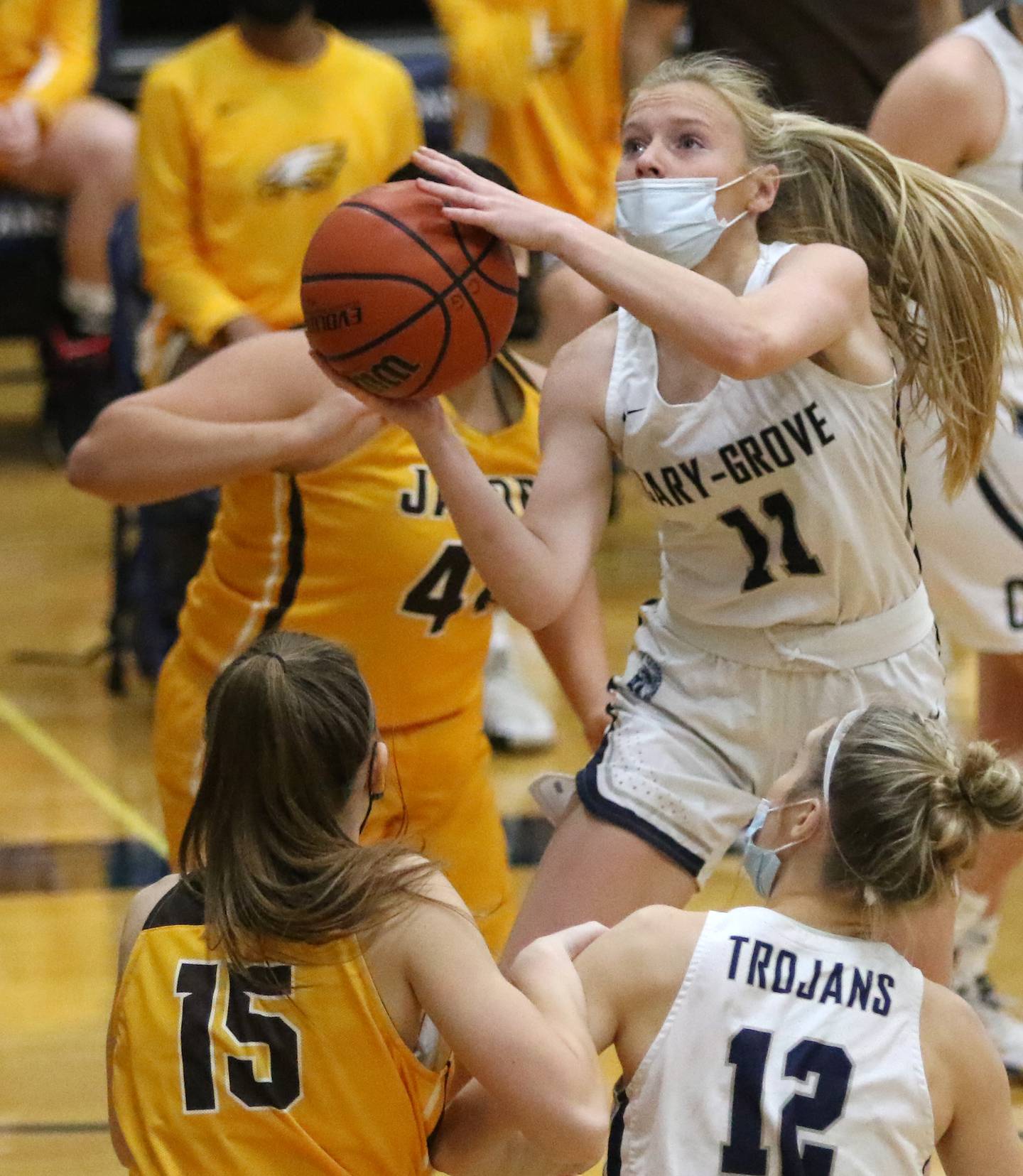 The Northwest Herald sports staff voted Larry as Female Athlete of the Year in a narrow margin over C-G's Lauren Passaglia, Larry's basketball and soccer teammate. The Athlete of the Year winners earn $2,500 for their school from Dr. Steven Rochell, a Crystal Lake orthopedic surgeon. The Rochell Foundation began donating for the Male and Female Athlete of the Year winners in 1993, bringing the total donations after this year to $145,000.
Larry, who was named the Northwest Herald Girls Soccer Player of the Year last week, took a break from an Independence Day weekend vacation to talk about her proudest sports moments, her Starbucks obsession, where she sees herself in 10 years and more.
What is your favorite sport to play and why?
Larry: This has always been a tough question, but I would have to say it's the sport that is in season because I'm fully focused and interested in that sport during that time.
What is one of the funniest things that happened to you during a game?
Larry: In a basketball game, I had a soccer moment and kicked the ball up to my hands from my foot and almost got away with it.
What is the best birthday present you've ever received?
Larry: An Apple watch. You will never see me not wearing it.
Do you have any nicknames?
Larry: I usually go by "KL," which was given to me by the varsity girls soccer team my freshman year.
Who had the biggest effect on you as an athlete?
Larry: My parents, teammates and trainers because they have always encouraged me to play multiple sports even though it's becoming more popular to be hyper focused on one sport all year long.
What's something that people outside your family or team wouldn't know about you?
Larry: I have an obsession with Starbucks. I have 1,061 points on the app.
If you could spend a day with anyone from history, who would it be?
Larry: Serena Williams. She may not be history, but she has made history.
What is your favorite food?
Larry: By far, wood-fired pizza.
What do you like to do when you have some free time?
Larry: Anything that involves exercise. I enjoy walking to Starbucks with friends.
What is your proudest sports moment?
Larry: I have had multiple mini moments in sports where I have felt proud of my team and what I have accomplished. However, receiving this award has to be my proudest moment because there are so many outstanding athletes in this area.
What's the best piece of advice you've ever received?
Larry: There is no replacement for hard work.
Who is your hero?
Larry: My role model is for sure my dad because he has always supported me through everything and shown my sisters and I the power of a strong and positive work ethic.
What is your dream job?
Larry: An NBA wife … you said dream job.
Which teammate inspires you?
Larry: Katie Jannusch. Was there for me as my tennis partner, soccer buddy and best friend.
What is your most prized possession?
Larry: My dog. That guy brings me so much joy.
Where do you see yourself in 10 years?
Larry: Sitting in the front row at my NBA husband's basketball game.
What will you remember most about your time at Cary-Grove?
Larry: C-G is the total package: teachers, administration, friends and the amazing arts and sports program. I am so grateful to have gone there and experienced the amazing environment.