CHARLESTON – Huntley junior Evan Gronewold never found losing a 400-meter race by two seconds so satisfying.
Gronewold had the advantage of running in Lane 6, just to the right of Edwardsville's Brandon Battle in Lane 5, so the whole race he could see and chase Battle.
Gronewold realized, with Battle's seed time, he was probably racing for second place, which was fine. He spent the first part of the race chasing Battle, then the last 100 holding off everyone else.
Battle won the 400 in 46.48 and Gronewold was second in 49.01, his personal-best time, Saturday at the Class 3A Boys Track and Field State Meet at Eastern Illinois University's O'Brien Stadium.
"To have someone to chase was so nice," Gronewold said. "That first 200 meters, it's not as important as the last 100, but to be able to keep up with him and still have that energy [to finish] was important.
"I was giving everything [that last 100]. It felt good. You could probably see the pain on my face. I was pushing and driving, trying to keep up. The people behind me pushed me there more than me chasing the guy 30 meters ahead."
Gronewold held off Plainfield South's Niko Schultz (49.12) for second.
Other local athletes who medaled Saturday were Cary-Grove's Zach Petko (fifth in discus), Huntley's Brad Walker (seventh in shot put), Hampshire's Isai Morales (seventh in the 800) and Jacobs' 4x200 relay team of Connor Frank, Jaiden LaRoss, Sean Dobson and Szymon Czyz.
Gronewold's runner-up finish is the highest finish since Marcus Poppenfoose's second-place shot put finish in 2010.
"Evan's continued to progress throughout the course of the season," Red Raiders coach Chris Maxedon said. "Other than our invite on May 1, when it was 50 degrees and 30-mph winds, he has dropped his [400] time in every race. He's never gone back up. To see him continue to progress is just amazing.
"Beating your personal-best time by one-hundredth of a second, that's what the state meet is all about. Running, throwing or jumping your best in the very last meet of the season. To do that and finish in a place like Evan did and Brad [Walker] did, that's what it's all about."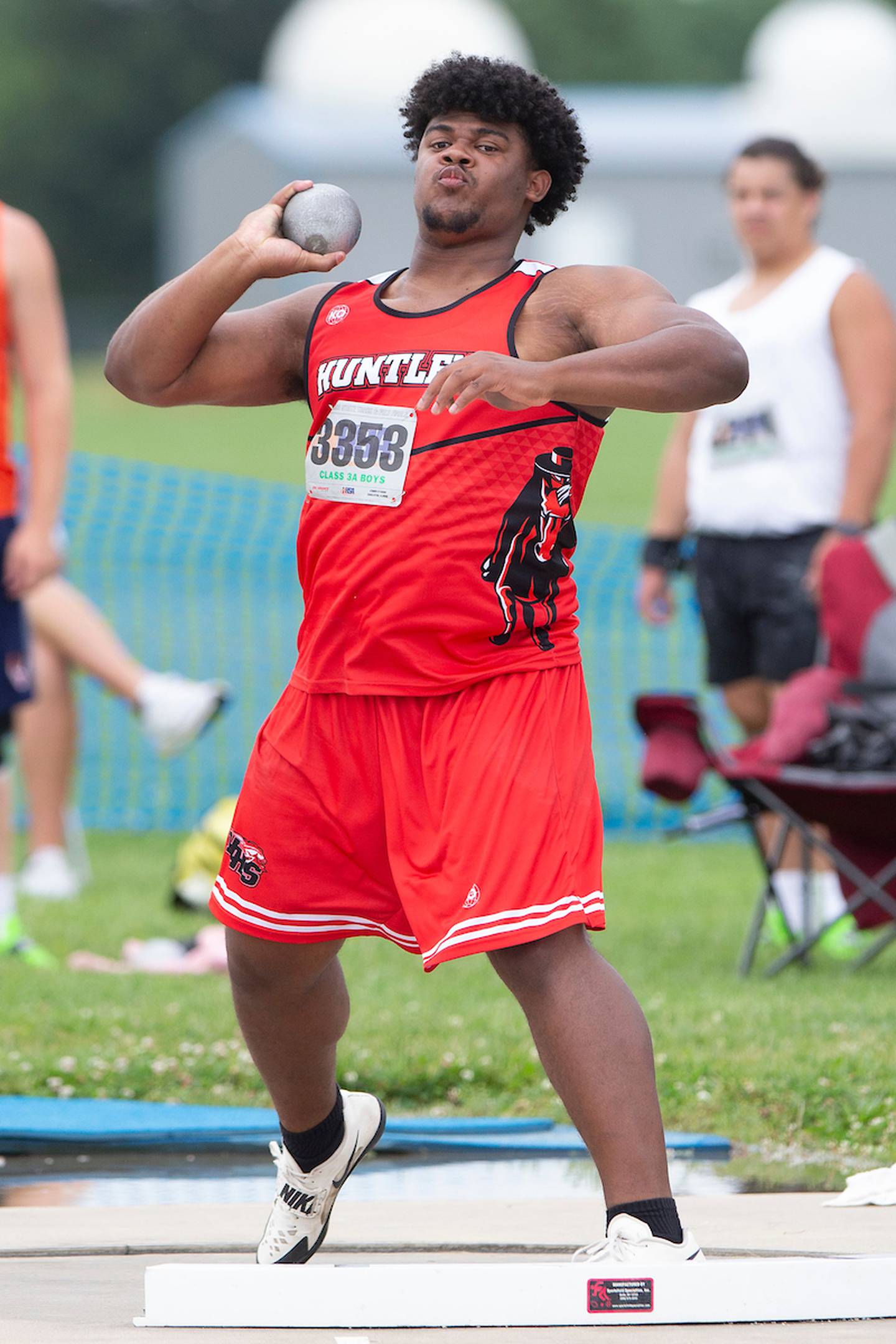 Walker came into the state meet with the 12th seed out of sectionals and moved up five spots in the shot put. He threw a 52-8 for a career-best, then topped that with a 53-2 1/2 for seventh place.
"I just kept focusing on the little things my coach said during the week," Walker said. "Things we tweaked. The height of my release is usually too flat and I look down when I throw. I was trying to get it higher and that helped today."
Walker was thrilled to win a medal, but almost as happy that his throw put him No. 5 on Huntley's list.
Petko threw 158-4 to take fifth in the discus, the same place his brother Jason grabbed in 2019. Jason, who now throws at Missouri, was there to cheer his brother on.
"I felt pretty good. I wish I had kept those two in," said Zach Petko, a junior who fouled twice on the front edge of the ring. "My left foot tapped the edges on both of them. It was crazy. It's a great atmosphere. I love coming down here. The competition's great."
C-G has had an athlete medal in the discus in seven of the past nine state meets.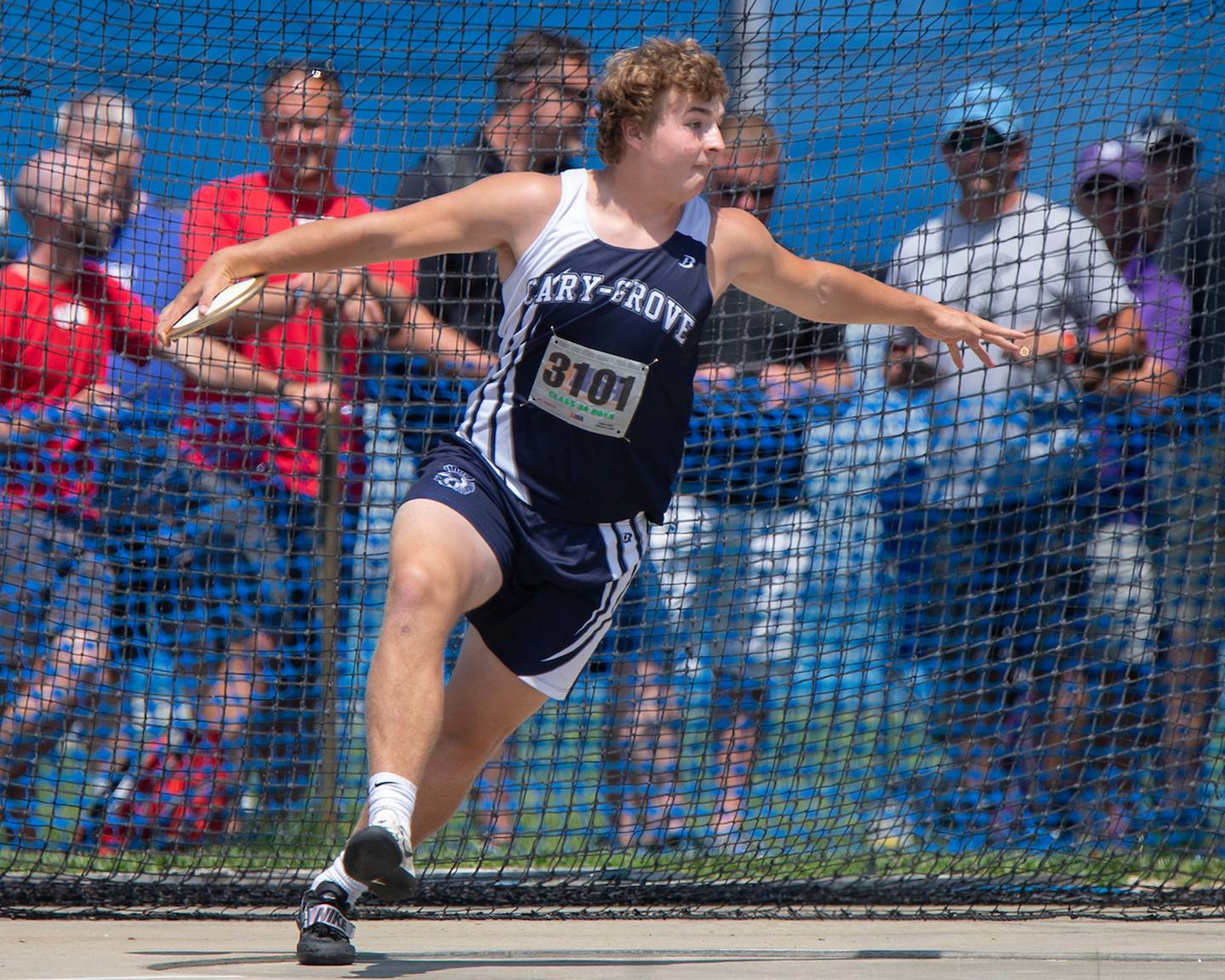 "[Petko] had a great day," Trojans coach Layne Holter said. "Anytime you come down here and go home with a medal, you have to be really happy. To do this his junior year and be able to have fun is exciting. I'm really happy for him."
Morales thoroughly enjoyed himself on the track where he will run next year for EIU. His 1:56.27 was a personal-best time by almost a second.
"My [future] teammate Theo Paxton [of Collinsville] and I were texting yesterday," Morales said. "He said, 'First lap, we have to go 56.' I said, 'I could do that for you.' My race strategy after running that was, 'I just have to run fast [the last lap].' I'm a simple man.
"I had so much fun during that race. It's a once-in-a-lifetime experience. I wanted to experience this one time in high school. I'm super happy about that."
Jacobs' 4x200 team overcame the loss of Ben Ludlum to a sprained ankle in the sectional meet during the 4x100. Tommy Martinez joined Connor Frank, Jaiden LaRoss and Sean Dobson to qualify for state.
Golden Eagles coach Jason Borhart made a difficult choice, with Ludlum still injured, and replaced Martinez with 400 runner Szymon Czyz for the 4x200. The Eagles ran a 1:30.23 for eighth place.
Borhart said the goal for the weekend changed with the different format this year. There are no qualifying heats or flights. All competitions are finals.
"Normally, the goal is to make the finals, then you get a medal," Borhart said. "You have to adjust that a little bit. So it was get a state medal. We told them two or three teams from that second heat were probably going to get a medal."
The Eagles were third in that heat and when the third heat, which had faster times, was completed, their time stood up for eighth.
"It was really cool to see [Czyz] step in and do it and even cooler to see Tommy's reaction to the whole thing," Borhart said. "He really kind of relished his role as the manager. He was the hype man for the team. He was phenomenal with how he took it and his attitude the whole weekend."
Class 3A Boys Track and Field State Meet
Eastern Illinois University's O'Brien Stadium
Local Results
4x800 relay: 20. Crystal Lake Central (Danny Hamill, Austin May, Tommy Landt, AJ Camacho) 8:13.05.
4x100 relay: 13. Huntley (Talon Sargent, Evan Gronewold, Jacob Zastrow, Paul Kerber) 43.34.
3,200 meters: 23. Karson Hollander (CLC) 10:00.39.
110 high hurdles: 22. Jonathan Tegel (CLC)16.50, 23. Gavin Wang (CLC) 16.76.
100 meters: 20. Gronewold (Hunt) 11.02, 21. Kerber (Hun) 11.03.
800 meters: 7. Isai Morales (Hampshire) 1:56.27.
4x200 meters: 8. Jacobs (Frank, Jaiden LaRoss, Sean Dobson, Szymon Czyz) 1:30.23, 12. Huntley (Eddie Wall, Zastrow, Marc Llauderes, Kerber) 1:30.77.
400 meters: 2. Gronewold (Hunt) 49.01.
300 int. hurdles: 19. Tegel (CLC) 44.14.
1,600 meters: 28. Will Gelon (Prairie Ridge) 4:29.58.
200 meters: 16. Kerber (Hun) 22.91.
4x400 relay: 15. Huntley (Sargent, Nate Ary, Gronewold) 3:29.23, 18. CL Central (Hamill, Daivion Lewis, Will Foster, Camacho) 3:30.74.
Shot put: 7. Brad Walker (Hun) 53-2.5.
Discus: 5. Zach Petko (Cary-Grove) 158-4.
High jump: Eric Maher (McHenry) no height.
Long jump: 17. Frank (Jacobs) 21-2.75, 22. Dylan Schmidt (Hun) 20-0.25.
Pole vault: 11. Sebastian Waz (Dundee-Crown) 13-11.25, 19. Matt Alpert (Hun) 13-5.