McHENRY – As one of the last groups to finish and with his team holding a two-shot lead over Prairie Ridge on Thursday, Hampshire senior Tegan Van Wiel knew a bogey was all the Whip-Purs needed to win the Fox Valley Conference Tournament.
That made Van Wiel's finish on the par 4 No. 3 at at McHenry Country Club one of the scariest moments of his life.
"I was shaking so much," Van Wiel said. "My heart was beating so fast, I could hear it. After I hit it on the green, I hit it to about 8 feet, two-putt and got out of there. Looked to my coaches, gave them a thumbs up, and I knew we got it."
[ Photos: Fox Valley Conference Boys Golf Tournament ]
Van Wiel's clutch shooting secured the conference championship for Hampshire (312) by one shot over Prairie Ridge, which had a 313. Huntley placed third with a 314, Crystal Lake Central (322) took fourth and Cary-Grove (323) was fifth. The top seven teams were all 15 shots from each other on a wildly competitive day.
Prairie Ridge's Charlie Pettrone took medalist honors with a 1-under-par 70, giving the Wolves senior his second FVC title in a row. Prairie Ridge has now won the individual title in each of the past three seasons.
Hampshire sophomore Nolan Adamczyk was runner-up with a 78, and Huntley junior Taig Bhathal was third with a 75.
Huntley's Nathan Elm was fourth with a 76, and Prairie Ridge's JJ Lee (fifth), C-G's Brock Iverson (sixth) and Crystal Lake Central's Jack Bice (seventh) each had a 77.
Hampshire came close to winning the conference title last season, but a dual loss to C-G after the tournament gave it to C-G.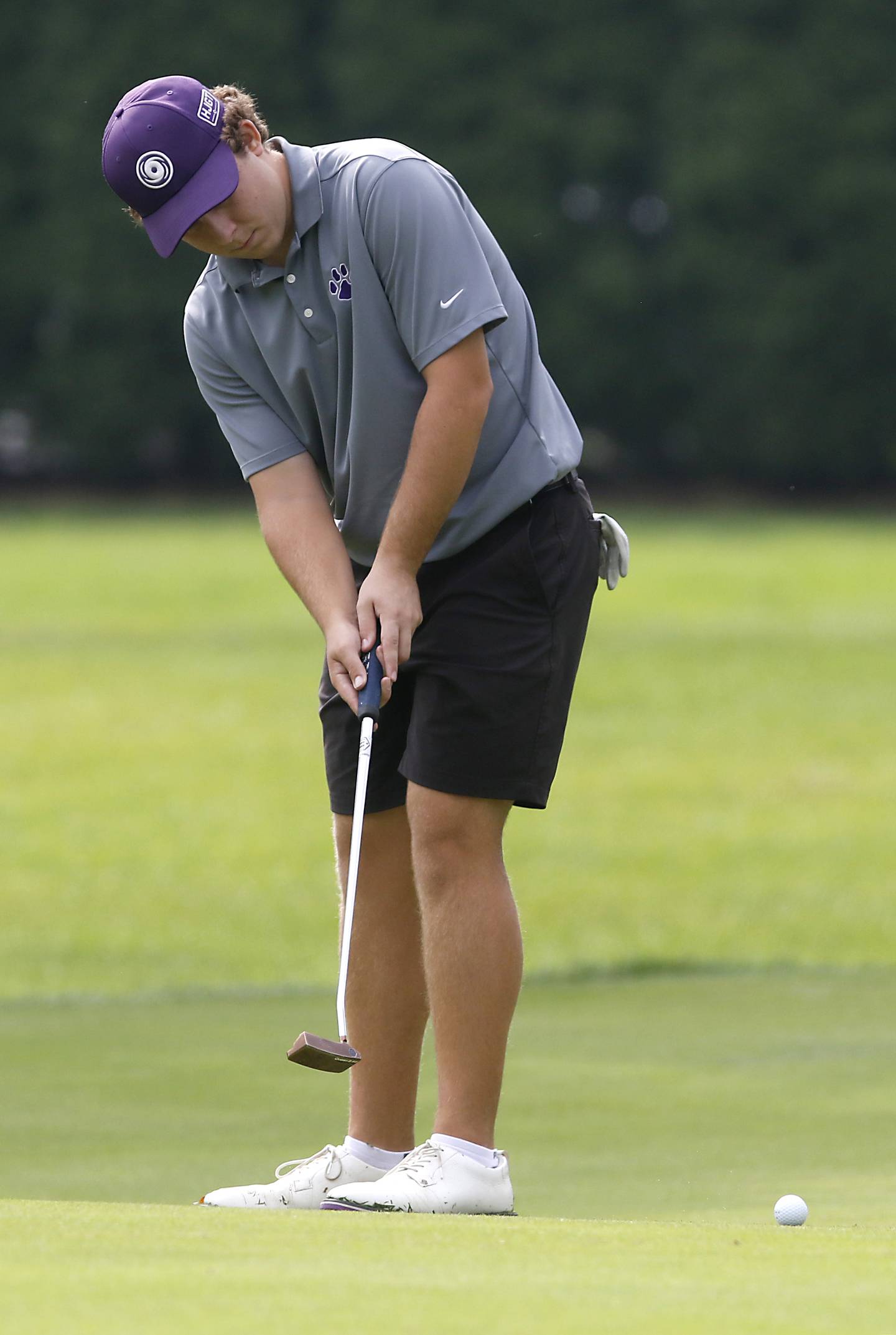 The Whip-Purs, who also got counting scores from senior Eric Brown (eighth, 78) junior Seth Gillie (79) and Van Wiel (83), felt a sense of redemption.
"A lot of fun matches throughout the season," said Adamczyk, who had 16 pars and two bogeys. "With the online scoring, it was tough to not look. I was just playing smart today. Not being too aggressive. It was a lot of strategy and course management. Getting the drives down set myself up good for the approach."
Brown was ecstatic to win the FVC team title in his final year.
"After coming up short last year, it feels really good to win," Brown said. "I feel like when we won the Boulder Ridge Invite to start of the year, it really increased our confidence. It was a good way to start the season, and it's a great way to finish."
Pettrone was the only golfer to shoot under par Thursday. He had four birdies, including three on the back nine.
He said the entire conference schedule was a battle. Huntley and Hampshire both had 7-2 dual FVC records, while Prairie Ridge, Burlington Central and C-G each went 6-3.
"It's a lot of fun, it's definitely a big challenge," Pettrone said. "It's a fight, honestly. All of us our pretty similar with our scores. It just depends on how we happen to play that day. Nolan [Adamczyk] had me on the wire today with those last three holes."
Pettrone, who tied for 17th at last year's Class 2A State Tournament, was happy to take the FVC title once more.
"It's very fun, I love this tournament," Pettrone said. "My last year, so I thought, 'Just give it all I've got.' I'd really love to win as a team, as well. It was a fun day all around."
Prairie Ridge also got counting scores from Lee, Tommy Trax (81) and Jimmy Berg 86.
Huntley was led by Bhathal, followed by Elm, Nooa Hakala (79) and Sam Locascio (85).
Bhathal started on No. 3 and three-putted for a bogey, but he quickly turned it around and finished his day with four birdies.
"To be honest, I don't really like this course," Bhathal said. "I haven't had good history here. The three-putt on the first hole wasn't a great start, but I just kept my mind in control."
Rounding out the top-10 individuals were Crystal Lake Central's Jack Bice (seventh, 77) and Charlie Polash (ninth, 78) and Jacobs' Barrett Rennell (10th, 78).
Burlington Central (328) was led by Matthew Kowalik with a 79, McHenry (338) was led by Alex LaShelle (82), Dundee-Crown (355) was led by Leth Pearson (87), and Crystal Lake South (385) was led by Jackson Bowers (90).
Fox Valley Conference Tournament
at McHenry Country Club, par 71
Medalist: Charlie Pettrone (PR) 70
Team scores: 1. Hampshire 313, 2. Prairie Ridge 314, 3. Huntley 315, 4. Crystal Lake Central 322, 5. Cary-Grove 323, 6. Jacobs 324, 7. Burlington Central 328, 8. McHenry 338, 9. Dundee-Crown 355, 10. Crystal Lake South 385
Top-10 individuals: 1. Charlie Pettrone (PR) 70, 2. Nolan Adamczyk (Hamp) 73, 3. Taig Bhathal (Hunt) 75, 4. Nathan Elm (Hunt) 76, 5. JJ Lee (PR) 77, 6. Brock Iverson (CG) 77, 7. Jack Bice (CLC) 77, 8. Eric Brown (Hamp) 78, 9. Charlie Polash (CLC) 78, 10. Barrett Rennell (Jac) 78
Hampshire (313): Nolan Adamczyk 73, Eric Brown 78, Seth Gillie 79, Tegan Van Wiel 83
Prairie Ridge (314): Charlie Pettrone 70, JJ Lee 77, Tommy Trax 81, Jimmy Berg 86
Huntley (315): Taig Bhathal 75, Nathan Elm 76, Nooa Hakala 79, Sam Locascio 85
Crystal Lake Central (322): Jack Bice 77, Charlie Polash 78, Asher Johnson 83, Tommy Laird 84
Cary-Grove (323): Brock Iverson 77, Erik Pietrzyk 81, Kyle Kotlarczyk 82, Joey Boldt 83
Jacobs (324): Barrett Rennell 78, Braden Behrens 81, Owen Ziaja 82, Chase Garden 83
Burlington Central (328): Matthew Kowalik 79, Tyler Samaan 82, Tommy Wyse 83, Cam Sarallo 84
McHenry (338): Alex LaShelle 82, Bradin Amelio 85, Gavin Cueto 85, Dane Currie 86
Dundee-Crown (355): Leth Pearson 87, Jared Russell 88, Grant Meyer 89, Cam Schmeiser 91
Crystal Lake South (385): Jackson Bowers 90, Jack Wilcox 92, AJ Mitchell 101, Tim Popovits 102