Amber Olson's decisions on the volleyball court helped guide the University of Central Florida to an 84% winning percentage over her five seasons.
The Cary-Grove graduate's skills and aptitude earned her the American Athletic Conference Setter of the Year award this fall for the second consecutive season.
Over the holiday season, she is facing a one of her biggest decisions.
"I just don't know what to do," she said. "I have a lot to think about over this break (from school)."
A graduate student who is one semester from earning her master's degree in accounting, Olson can stay in Orlando and accept a job opportunity with RSM, a global accounting firm.
She can also explore a potential professional volleyball career overseas in the next chapter of life.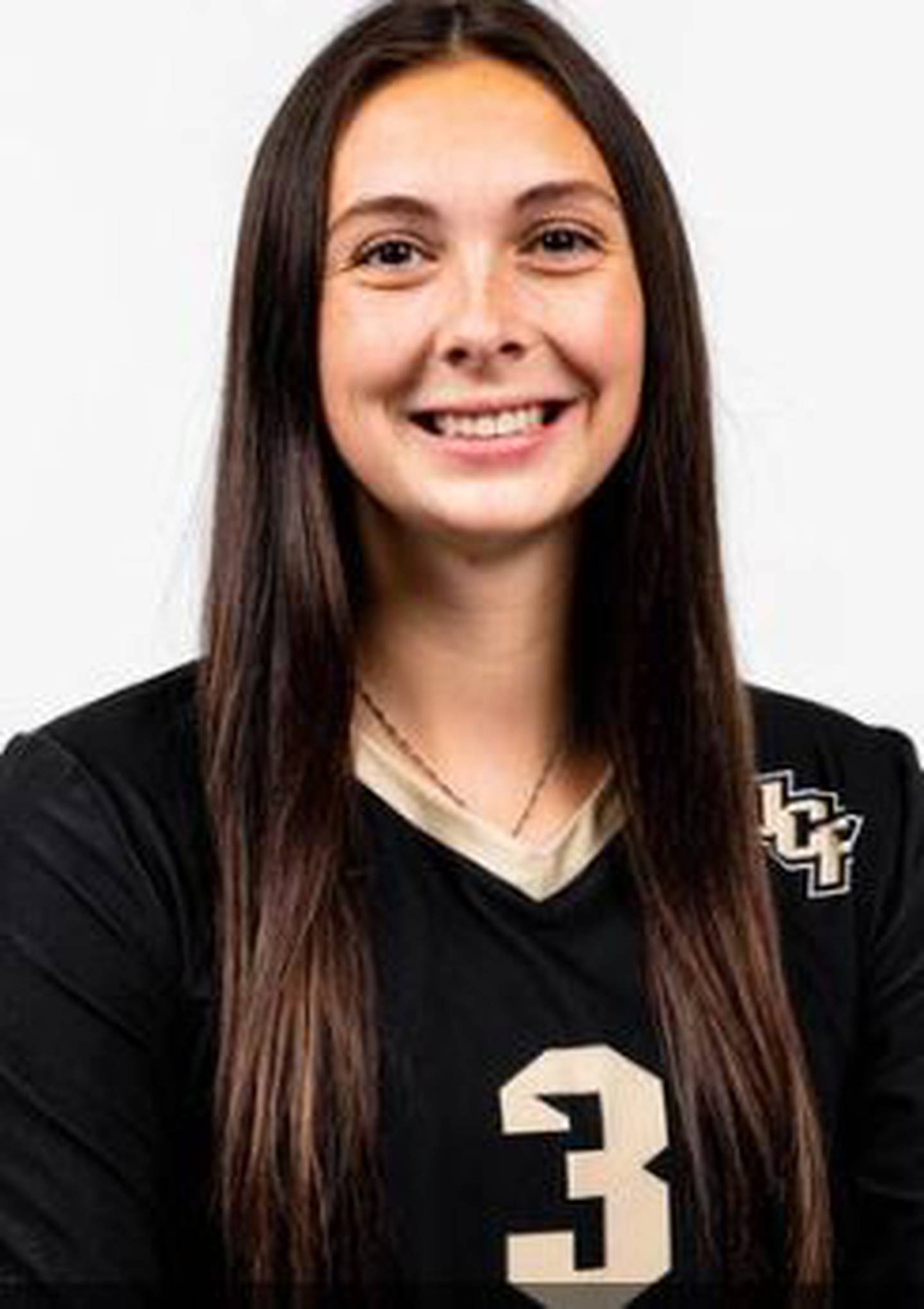 "It's still not written yet," she said. "The pro of going overseas is that I get to keep playing the sport I love. Getting to explore a different culture is something that I've always wanted to do.
"At the same time, I'd be going over there by myself, so that's very nerve-racking," she said. "Am I willing to take that jump and kind of go for it?"
Olson certainly has the resume' for a pro career. She helped the Knights put up a 123-23 record in her career while being named first-team All-AAC in back-to-back seasons. Her 11.83 assists per set leads the conference and ranks third in the nation.
The Knights have won five AAC championships in a row and been an NCAA tournament team for the past five seasons, advancing to the second round three times.
Olson's head coach at UCF, Todd Dagenais, has assured her that opportunities to play professionally could be available for a player of her skill level.
Back in Orlando, she can follow her academic path, which led to an internship at RSM last summer.
"I really like the people at the firm, and I don't want to lose that opportunity," she said. "I fell in love with the company. That's the reason I'm so excited for the opportunity. I know the world is always going to need accountants."
Olson doesn't have to know her future just yet. She still has the spring semester at UCF.
"I know I'm finishing my master's," she said. "That's really important to me."
EMU rides Evans to bowl game: Prairie Ridge grad Samson Evans has rushed for a career-high 1,084 yards and 13 touchdowns to help lead Eastern Michigan's football team to a berth in the Idaho Potato Bowl Dec. 20 against San Jose State in Boise.
Evans, who earned second-team All-Mid-American Conference honors at running back, ranks third in the league in rushing yards and second in rushing touchdowns. He has four 100-yard rushing games this season, highlighted by a 258-yard effort in September in an upset win against Arizona State.
Evans has rushed for at least one touchdown in eight of 12 games this season for the Eagles (8-4).
Sophomore Carter Evans, the younger brother of Samson, collected 14 tackles this season while playing in eight games on the Eagles' defensive line.
Calvin hot shot: Huntley grad Uchenna Egekeze ranks second on his team and eighth in the Michigan Intercollegiate Athletic Association in scoring (16.5 a game) for D-III Calvin College.
A junior guard at Calvin (7-1), Egekeze is also leading the team in steals (12) while shooting 61% from the field. Egekeze has reached double figures in scoring in every game this season and posted a season-high 21 points Dec. 3 in a 74-73 loss to Wheaton College, which is ranked No. 11 nationally in the D3Hoops.com poll.
On Monday, the Knights moved up two spots to No. 15 in the national rankings.
Air Force, Marian grads soar: The Air Force football team has compiled a 9-3 record, won the Commander-In-Chief's trophy and has earned a spot in the Dec. 22 Armed Forces Bowl against Baylor.
The Falcons have done this all with Marian Central grads Thor Paglialong and Jayden Thiergood playing key roles.
Paglialong, the team's starting center, is part of an offensive line that has guided the Falcons to the No. 1 national ranking in rushing yards a game (330.9).
In nine games at defensive tackle, Thiergood compiled 20 tackles, six tackles for loss and 1.5 sacks. He posted a season-best four tackles Oct. 22 against Boise State.
Sengstock among Midwest's best: Division II Lewis University senior women's soccer forward Cameron Sengstock (Crystal Lake South) was selected Monday for the All-Midwest Region second team by the United Soccer Coaches.
Sengstock led the Flyers (9-6-2) this fall with nine goals and 20 points, which ranked second and third, respectively, among all Great Lakes Valley Conference players.
Last month, Sengstock was named a first-team All-GLVC selection.
Titans roar in CCIW: Illinois Wesleyan's men's basketball team is leading the D-III College Conference of Illinois and Wisconsin at 2-0 this season thanks in part to junior guard Ryan Sroka (Huntley).
The Titans (4-3) have used a balanced scoring attack with four players averaging in double figures, including Sroka at 10.6 points a game. While starting every game this season, Sroka is averaging 5.0 rebounds a game. He leads the team in assists (15) and is second in steals (seven).
• Barry Bottino writes about local college athletes for the Northwest Herald. Write to him at barryoncampus@hotmail.com and follow @BarryOnCampus on Twitter.